How do we love white gold wedding rings? Let us count the ways! Available in multiple styles, a timeless yet trendy option pairs seamlessly with your engagement ring yet looks perfect standing alone. White gold wedding rings are an increasingly popular choice. Read on to find out why!
White gold looks amazing, but is it the right metal for your wedding ring? Let's find out! White gold wedding rings are popular thanks to their icy color and how they enhance the shine of diamonds within the ring and adjacent rings. But beauty isn't the only allure of white gold wedding rings. Their durability, as well as being lightweight, makes them the top choice of many with an active lifestyle.
Whether you want a white gold wedding ring to create a seamless look with your white gold engagement ring, you want to mix and match your metals, love the look of platinum but prefer a lower price point, or you simply love the look, we've got you covered!
What Is White Gold?
White gold happens naturally but is not a pure white metal, unlike platinum. (Want to know more about the differences? Check it out HERE). White gold is created when you mix yellow gold with nickel or zinc and is completed with rhodium plating. Essentially, white gold is a beautiful combination of alloys.
White Gold Wedding Rings Pros & Cons
White gold wedding rings are indeed fabulous! But like everything in life, they have pros and cons. Let\s dig in so you can make the most informed decision. After all, this is your wedding ring we're talking about. It has to be PERFECT!
| | |
| --- | --- |
| Pros | Cons |
| Great For Everyday Wear | Not A Pure Metal/Hypoallergenic |
| Affordable | Will Need Replating |
| Lightweight | Color Can Yellow Over Time |
Classic White Gold Wedding Rings
There's nothing like a classic! Classic white gold wedding rings are a simply sophisticated choice, perfect if you prefer a more minimalistic look. It is also a good choice if you want the focus to be on your fabulous engagement ring. Got small hands? This clean style will work well for you.
Diamond White Gold Wedding Rings
Looking to take the dazzle of your diamond engagement ring up a notch? You can't go wrong with a diamond white gold wedding ring. The perfect way to up the dazzle and shine on that all important finger.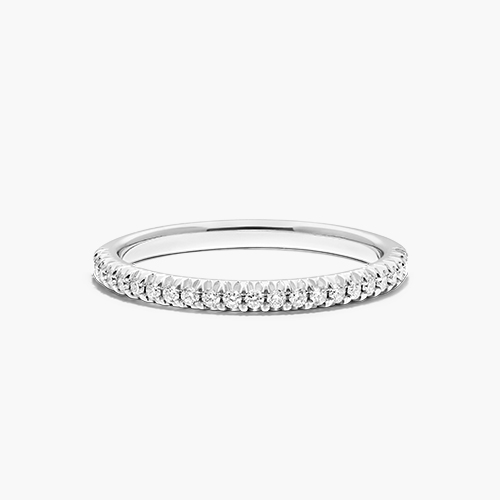 Did you forgo an engagement ring and you need your wedding ring to do the work of two? No problem! Diamond white gold wedding rings can do just that while highlighting your personal style.
Eternity Rings
Showcase your eternal love for your partner…and for sparkle with an eternity ring. Your go-to choice if you love endless sparkle, eternity rings feature diamonds that go all the way around the band offering, wait for it, eternal shine. If you need your rings to dazzle from every angle, you need an eternity ring.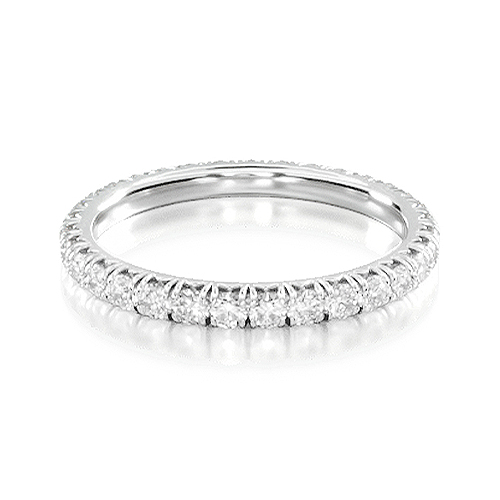 Curved Wedding Rings
Curves. Are. In. Known as "V" or "Chevron rings," these rings are designed with a curve to snuggly fit your diamond engagement ring (or any ring featuring a center stone). Available in multiple styles, these rings have one thing in common, they are fabulous!
Curved wedding rings look great alone or paired with a perfect diamond ring, shine bright, and show off your unique style.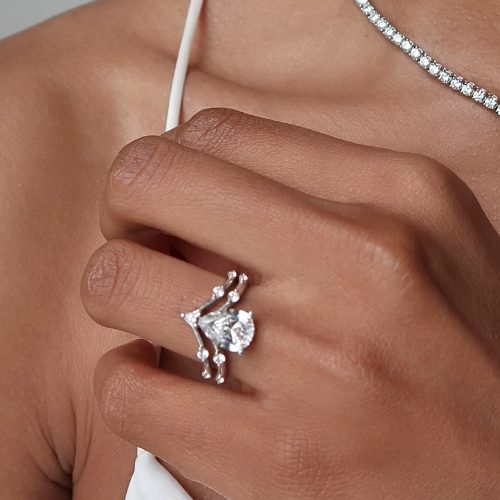 Love this look? Shop these styles below and find more at JamesAllen.com.
Vintage White Gold Wedding Rings
Are you an old soul? Do you have a penchant for that old world charm? Do you want your something old to also be your something new? Enter vintage white gold wedding rings. While even rings as recent as the 1990s can be vintage, there are four popular eras of vintage rings: Victorian (1835-1900), Edwardian (1900-1920), Art Deco (1920-1940), and Retro (1940-1960).
Not to be confused with heirloom wedding rings, vintage indicates a nod to a certain era of time, while heirloom rings indicate they have been passed down through the generations. (We know what you are thinking, can a wedding ring be vintage and heirloom? Yep!)
Related post: Vintage Engagement Rings: Eras & Styles Explained
So get your vintage white gold wedding ring today because, as the saying goes, vintage is the new modern.
White Gold Wedding Ring Sets
Are you and your partner truly two peas in a pod? Have you become one of those couples that dress alike? Then you need to check out our matching wedding ring sets! Now when we say matching, we don't mean the exact same ring (although you can do that too!), we are referring to rings that go together…kinda like you and your partner;-).
For the dazzling duo
The yin to their yang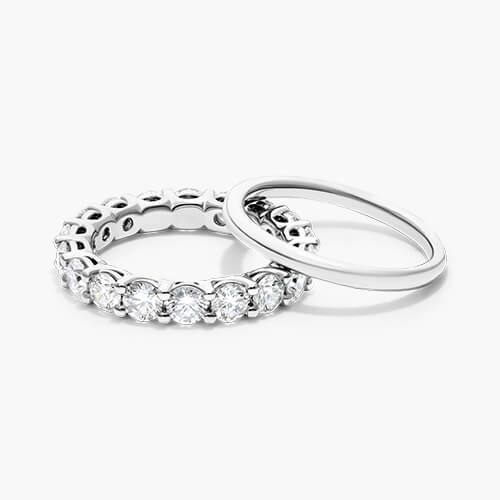 The classic pair…with a twist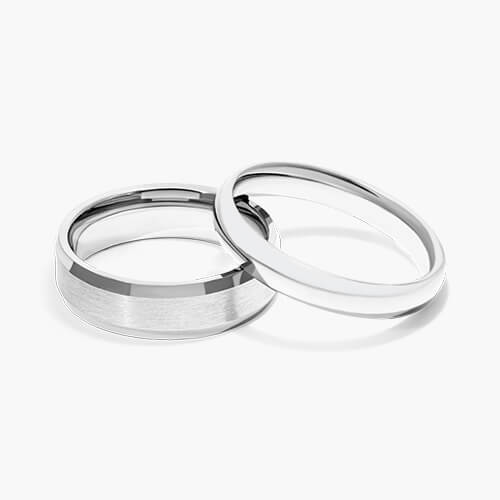 No matter your style or vibe as a couple, we have the white gold wedding rings to ensure you both shine bright.
How Much Do White Gold Wedding Rings Cost?
This is a great question but not an easy one to answer. The cost of a ring is personal and depends on the metal, in this case, 14K white gold vs 18K white gold, the style, and the number of diamonds or gemstones.
Classic wedding rings will be on the more budget-friendly side, starting at just over $200, while dazzling eternity rings will cost more thanks to the unending row of diamonds, and starting from around $2,000.
Another way to maximize your budget is to choose lab created diamonds, which will lower the price, as will choosing a design with fewer diamonds, for example, a half eternity ring that features diamonds on only the top half of the band.
Where Should You Buy A White Gold Wedding Ring?
Online shopping is not just convenient, it is often the most affordable option, particularly if you want to buy your engagement ring together with your wedding ring. This way, you can save money while being sure that your rings go together.
Shopping online also gives you access to an abundance of styles, customization options, and experts to answer your questions, often 24/7. Shopping online can be done alone, as a surprise, or done together as a couple.
Love the idea of online but aren't sure it's for you? Check out an in-person showroom of online retailers (such as our Washington, D.C. location), or if online isn't for you, then head on over to your nearest jewelry retailer.
Wherever you choose to shop, make sure you get that perfect shine for that perfect partner.
Related post: The Best Place To Buy An Engagement Ring
FAQs
Is white gold OK for a wedding ring?
Of course it is! A white gold wedding ring will give a glowing, seamless look when paired with a white gold engagement ring. Or pair it with a yellow or rose gold ring to mix up your metals. And, of course, a white gold wedding ring can hold its own.
Do white gold wedding rings scratch easily?
White gold wedding rings are popular thanks to their durability, making them great for everyday wear. However, they are still susceptible to scratching. White gold is less prone to scratching than yellow gold, yet more than platinum. The bottom line, wear your ring everyday, but wear it with care.
What do white gold wedding rings symbolize?
White gold symbolizes friendship, making it perfect for your wedding ring because, after all, you are marrying your best friend.
White Hot Thoughts
Beautiful, durable, and lightweight, white gold wedding rings are a great choice to seal forever with your love. Match it to your white gold engagement ring, pair it with a yellow or rose gold ring, or let it shine on its own.
If you want a white gold wedding ring because it is a cost efficient alternative to platinum or you just love the way it shines, we have the style for you. So start shopping and find your perfect white gold wedding ring.
Subscribe to our email list for access to secret sales, practical ring-buying tips, and $100 off your first purchase!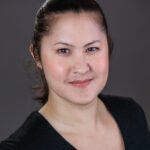 With over 10 years of experience writing and editing on a wide variety of subjects, Sarah is a veteran of the content world. Since joining James Allen, she has focused on all things diamonds and fine jewelry with the goal of educating and empowering consumers.