We have a feeling that Summer 2023 is going to be big, bright, and bold! Discover dazzling gemstone jewelry for that perfect summer look.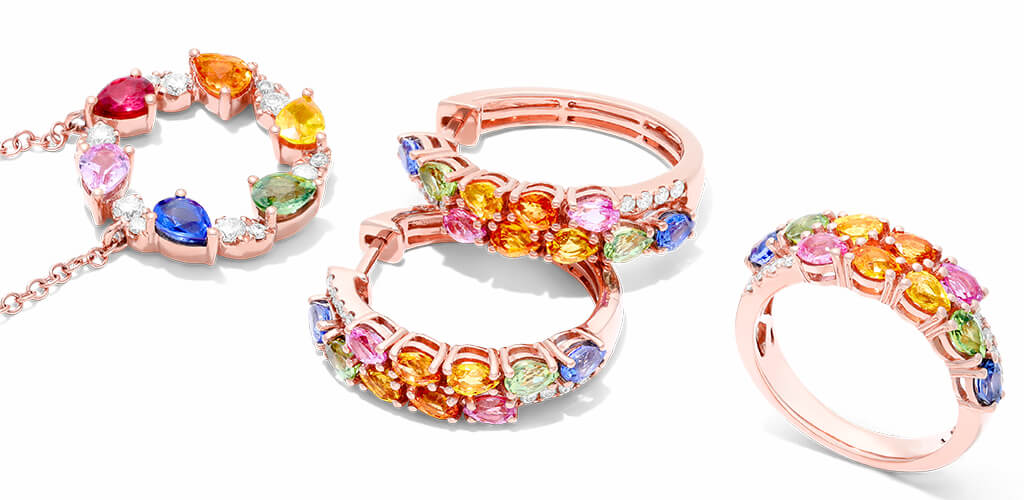 Summer is around the corner, and at JamesAllen.com, we can't wait to throw on our brightest and boldest jewelry! The warmer months are perfect for matching the blooming flowers and showing off our inner colors.
A few styles are growing in popularity this particular season that we know you'll love! Keep reading to learn about the coming trends for this summer.
Gemstone Jewelry Trends For Summer 2023
Vibrant Colored Gemstones
Statement Earrings
Delicate Gemstone Rings
Layered Necklaces
Vibrant Colored Gemstones
In 2023, we will see a boom in popularity for jewelry featuring vibrant-colored gemstones! Now's the time to take inspiration from the summer flowers and throw on your favorite blues, violets, pinks, and yellows. The more color, the better! Gemstones like sapphires, emeralds, rubies, and tourmalines in bright hues will be particularly popular.
Statement Earrings
Statement gemstone earrings have dominated trends for several seasons already, and they're not going away any time soon! Eye-catching earrings are ideal for framing the face and adding a touch of glamor to your look. And what better way to do that than with a touch of color?

Look for designs that incorporate colored gemstones in unique or bold ways. Think bright hoops and rainbow drop earrings- your Summer outfits wow every room!
Delicate Gemstone Rings
While we may be going all out on our ears, we're going delicate and dainty on our fingers! That means small gemstones, minimalist designs, and sleek bands perfect for stacking or wearing individually.
Keep your eye out for gemstone rings that are pale in color, like opal and peridot. Even though these colors may be subtle, they go a long way in creating a Summer-ready confident look!
Layered Necklaces
Layering necklaces has been in fashion for a few years and is still going strong! We all love to mix and match necklaces of different lengths, widths, styles, and colors.
Now is the perfect time to add a minimal necklace to your collection- but with a dash of color. When looking for a necklace for layering, you want a versatile length and a color that will go with everything.
Think of the color palette of your wardrobe and pick a gemstone that will match it. Opt for smaller gemstones that will add a pop of color without overpowering the already statement-making collection of necklaces on your neck.
Nature-Inspired Gemstones and Shapes
Nature-inspired imagery and motifs will surely be a quiet yet strong trend growing in Summer 2023. Look for designs that incorporate gemstones that come in the shape of leaves, flowers, snowflakes, teardrops, and even hearts.
Wearing these designs in the hues of greens, blues, and pinks will evoke a sense of organic beauty and the joys of being in nature!
If you want to add a touch of delicate whimsy to your carefree Summer looks, this may be the perfect trend for you!
Final Notes
While trends may come and go, the joys of the summer season keep coming back! Gemstone jewelry makes the perfect addition to any jewelry collection, as they swing back into style whenever you want to show off a bit of color. 
Whether at the beach with friends or sitting at a family picnic, there are ways to show off your personality and pay homage to this beautiful season.
From layered necklaces, dainty rings, and bold statement earrings to vibrant colors and nature-inspired designs, there is something for everyone this Summer. We're sure it's going to be the best one yet!
FAQs
How can I care for and maintain my gemstone jewelry?
Maintaining and caring for your gemstone jewelry correctly will ensure you can wear it for years to come. We recommend avoiding exposing your gemstones to harsh chemicals, extreme temperatures, or excessive direct and harsh sunlight. Clean your gemstone now and then with a soft cloth with soap and water. Store your gemstone jewelry separately to avoid scratches.
How can I incorporate gemstone jewelry into my everyday style?
First and foremost, choose a gemstone with a versatile color. That color will look different for every person, depending on their wardrobe palette, personal tastes, hair color, eye color, and skin color. Consider all these features and choose a colored gemstone that is ideal for you! You can start with a dainty gemstone ring or a layered necklace to slowly introduce color into your look. Before you know it, gemstone jewelry will be a huge part of your everyday style.
What are the popular gemstone choices for jewelry in recent trends?
Recent trends show that sapphires, rubies, opals, and emeralds are top picks for gemstone jewelry pieces. While these options are beautiful, feel free to pick different colors that suit your tastes and style- we're sure you'll rock them!
Can gemstone jewelry be gifted for special occasions?
Absolutely! Gemstone jewelry makes beautiful gifts for all kinds of special occasions. Consider the recipient's birthstone and favorite colors to make this gift a truly personalized one. With so many color options, birthstone jewelry pieces can make any birthday, anniversary, or milestone memorable.
And don't forget to Subscribe to our email list for access to secret sales, practical ring-buying tips, and $100 off your first purchase!