So you're ready to pop the big question but you're not quite sure where to start looking for that special sparkler…let us help you discover the best place to buy an engagement ring!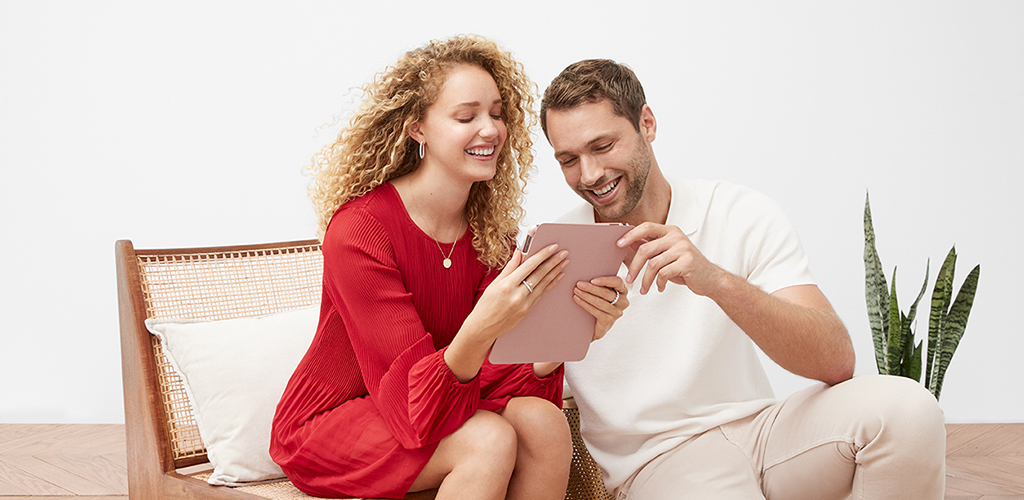 We're going to try and give you a simple answer to that special question you've been asking yourself lately– where is the best place to buy an engagement ring??
If you're looking to take the next step and begin your engagement ring shopping experience, we absolutely recommend starting online! Whether you're looking for a classic solitaire engagement ring with no extra bits or bobs, or you're looking for the perfect halo engagement ring set in your dream fancy shape diamond, we guarantee your preference is bound to be online, and in abundance!
It's no surprise that online shopping has become a comfortable and convenient alternative to in-person shopping over the past few years. But does it take away anything from the ring shopping experience?
Let's walk through the pros and cons of buying your dream ring online, and hopefully, you'll come to agree that the best place to buy an engagement ring is from the comfort of your own home.
Engagement Ring Shopping
Engagement ring shopping is as exciting as it is overwhelming. Not only does it take some research but it's a huge investment, and one you surely want to get right from the get-go.
Many online jewelry realtors understand the stress and unique needs of diamond engagement ring buyers, and so these same realtors are motivated to make sure your buying experience is incredibly easy and that you have every tool you'd need to make the perfect choice!
So what questions should you be asking yourself?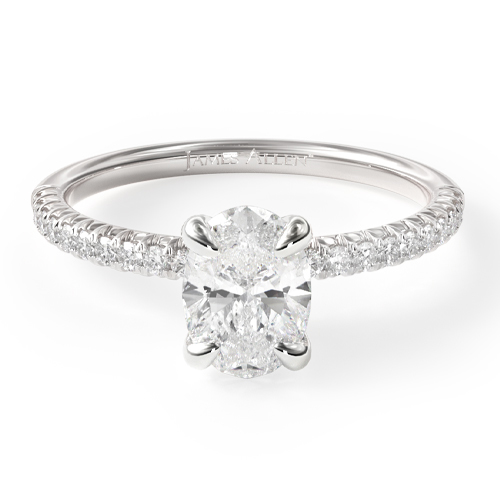 Special Services & Technology
What unique services will an online jewelry store offer you? You want to start by looking at their tech features. Are you able to do a free real-time diamond consultation and learn more about it and also have an up-close look at a particular diamond that has caught your eye?
When searching for the center stone for your engagement ring, it's important that you not only have access to the different types of diamonds available to you but also easy-to-understand information about important factors to consider when choosing a diamond for your unique budget and preference.
Most online jewelry stores will have an education center filled with everything you need to know about choosing a diamond. You'll likely also have access to expert and diamond jewelry consultants who are readily available to jump online with you to answer all your questions, help you pick out your diamond engagement ring, and allow you to view your diamond choices in 360° HD.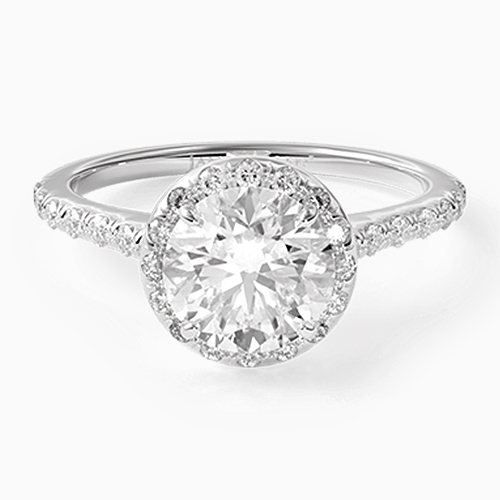 Online Engagement Ring Customization
Next, can you customize your engagement ring yourself? The short answer is yes! The best place to customize your engagement ring is online because you have the ability to see your creation form in real-time. You have all the tools available to mix and match different settings, metal colors, diamond shapes, etc.
Like our very own Ring Studio, online customization is taken to the next level. You are the main designer and creator, as opposed to telling someone in a store what you like and having them create it for you. You don't need to settle for an engagement ring that doesn't quite suit your or your partner's style because you can design one that is the exact representation of what you want down to every minute detail.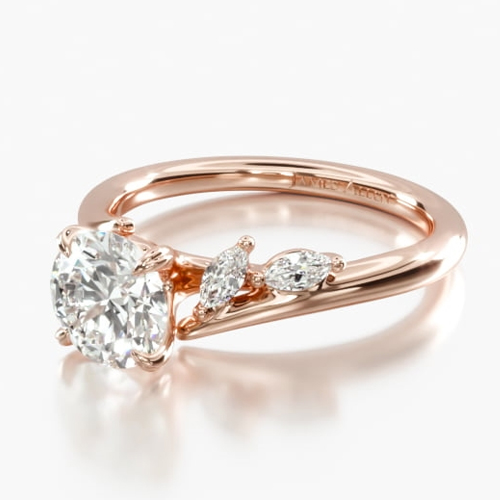 Virtual Engagement Ring Try-On
Worried about being able to try on your ring and get that perfect ring size? To order engagement rings online is a daunting experience- but not one that isn't without surety. Believe it or not, you'll be able to do a virtual try-on. And when we say you'll be trying on rings all day long, we mean it!
You can see what ring styles look good on you, which metals match best with your skin tone, and what size diamond or shape suits your finger best.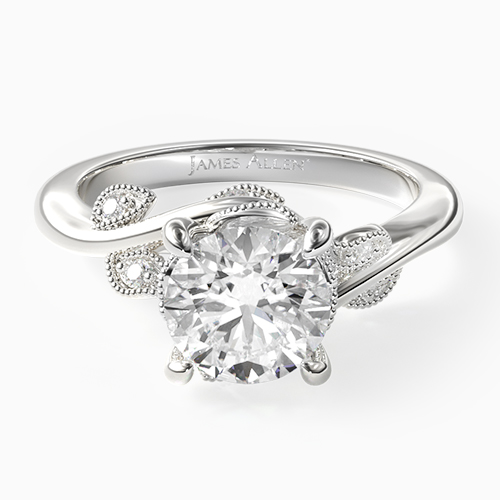 Online Ring Sizer
Next, you can determine your ring size in so many different ways using helpful tips and tricks. There's even an app you can use to get an exact measurement. At James Allen, we offer free resizing, done in a timely manner- in case you have a special proposal planned!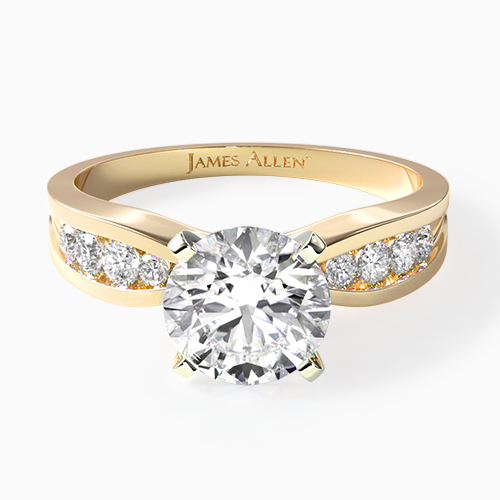 Variety & Budget
When buying an engagement ring online, you'll find you have a much wider variety of diamond and gemstone center stones available to you. While some people prefer the traditional natural diamond, the perks of investing in lab created diamond alternatives are growing exponentially.
Lab grown diamonds and earth created diamonds are optically and chemically identical. If you were to have both diamonds professionally inspected, you would find no differences. The only noticeable difference is the incredible price tag. A lab created diamond is by far the more budget-friendly option, allowing you to get the diamond you truly want, for less!
We can't stress this enough. In-store operations have gemstone and diamond engagement rings available for you to browse and try on, but online stores really do have so much more to offer you at a personal level. Especially if you're looking for variety or to customize a specific ring.
Fun fact: At JamesAllen.com we store hundreds of different ring settings and more than 300,000 natural and lab grown loose diamonds- in every fancy shape and color!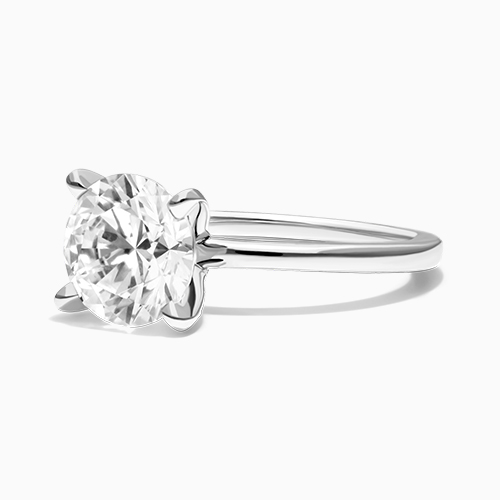 Shipping & Returns Policies
The best place to buy an engagement ring will certainly be one you can wholeheartedly trust to be fair and deliver on their promises. Most online jewelry stores have thorough shipping and return policies. It's needed to ensure trust and long-lasting relationships with customers who have moved to purchase their jewelry online.
Looking at our process and policies, every engagement ring from James Allen is hand-crafted, methodically examined, and checked by diamond and jewelry experts to ensure the quality of a piece before it's shipped via secure delivery methods. Every order includes Free WorldWide Shipping, and Hassle-Free Returns with 100% Money Back Guarantee within 30 days.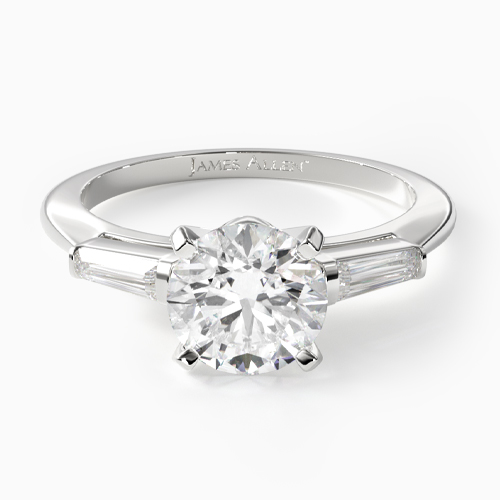 The Best Place To Buy An Engagement Ring FAQs
Is it safe to buy an engagement ring online?
The answer is yes. If you're set on buying your ring online, make sure to do the proper research: choose a trustworthy vendor, verify their certification, read the return policy, and pay attention to the shipping details.
Can I return an engagement ring that I purchased online?
Usually yes, but it's your responsibility to read through the vendor's return policy before making a purchase from them.
Where should you not buy an engagement ring?
Always make sure you're working with a reputable jeweler. Don't buy an engagement ring from any vendor that cannot prove their legitimacy or if you can tell whether their site deals and special offers are too good to be true.
Is it cheaper to buy an engagement ring online or in-store?
Engagement rings are said to be 30-40% cheaper online than they are in physical jewelry stores. Because of the way diamonds are sold and distributed, diamonds are less expensive for online vendors.
We're Here To Help
Finding the perfect engagement ring comes with stress, questions, and a lot of second-guessing. At James Allen, we offer you 100% free advice and will assist you in understanding the best diamond quality for your budget and unique preferences.
Contact our customer service team and chat with non-commissioned diamond and jewelry experts 24/7 regarding any questions you have about buying an engagement ring online and the process around it.
Happy shopping!
Subscribe to our email list for access to secret sales, practical ring-buying tips, and $100 off your first purchase!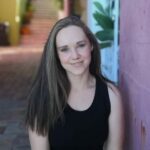 Jessica feels too much anxiety trying to come up with a cool bio. Read her awesome blog post instead.