Our brides and grooms-to-be are choosing vintage engagement rings as their "something old."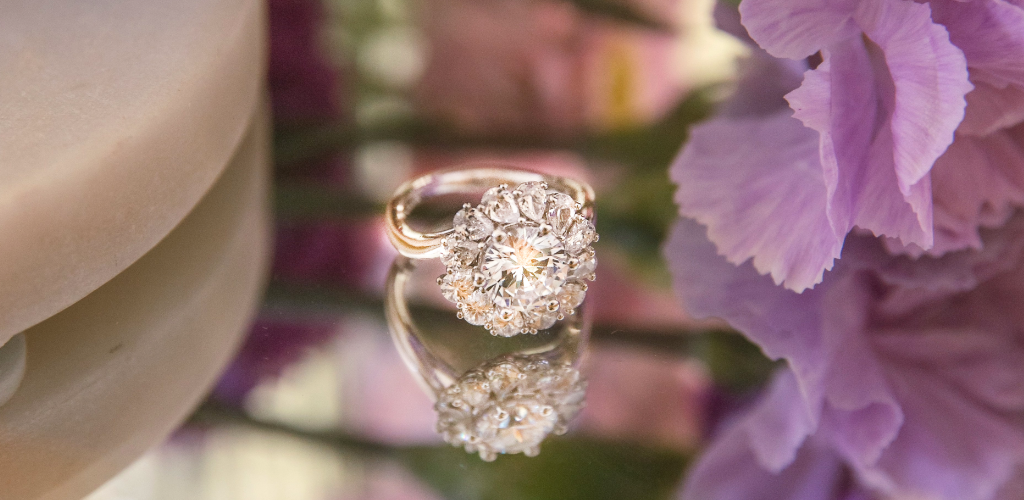 As the saying goes, you can't look to the future without embracing the past. Vintage engagement rings perfectly encapsulate the glitz and glamor of the time, transporting the wearer to a place of romance. Thanks to modern setting techniques and materials, the durability of these rings has greatly improved, allowing for more intricate craftsmanship.
Who doesn't love a sparkly throwback? Our customers certainly do, which is why they've lavished the most praise on these vintage engagement rings. Let's bring on the nostalgia and see why these antique beauties are making their way as the newest craze.
Do Vintage Engagement Rings Have A Meaning?
True vintage engagement rings are usually recycled and passed down from generation to generation. That in itself holds significant meaning and symbolism for families and those who receive these stunning heirlooms.
You're probably wondering if that means any ring can be a vintage ring if it's 50 years or older. While any ring can be a family heirloom, vintage engagement rings are inspired by different eras from the past, and so the vintage title goes exclusively to these styles.
We'll explain which era's inspired your favorite vintage ring styles and how the designs have changed over time.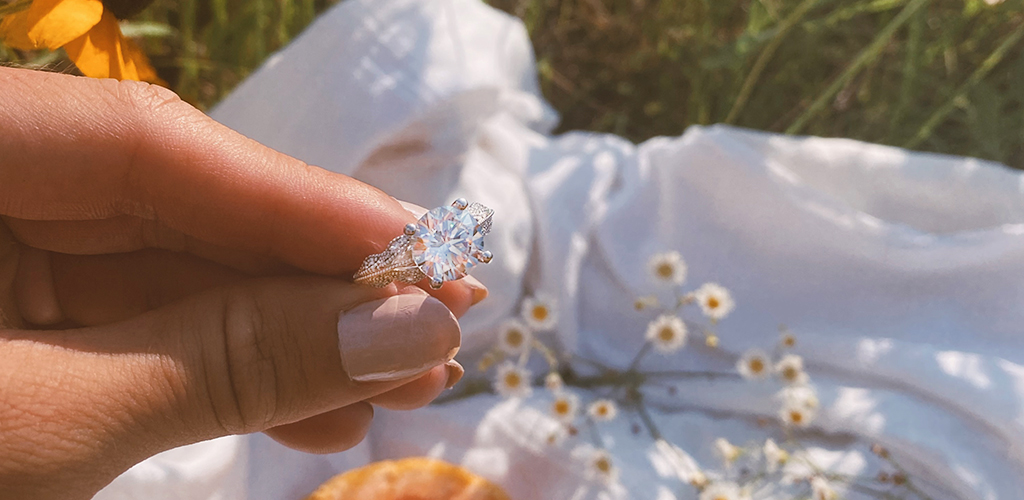 Eras And Inspiration For Vintage Engagement Rings
Aside from age, there's not much to dictate style for vintage engagement rings. Even relatively modern rings from the 1990s can be considered "vintage." But if you're looking for a specific era's inspirations, here are the four ages that modern vintage styles frequently emulate. See what catches your eye.
Victorian Era (1835-1900)
In the Victorian Era, engagement rings vary widely in design and materials. Most Victorian rings were generally yellow or rose gold and often included diamonds. Rows, halos, and clusters of diamonds became popular during this era. So, in some ways, a yellow gold double-halo ring could be an example of a Victorian-inspired vintage engagement ring.
Edwardian Era (1900-1920)
If you're into intricate, lacy designs, you'll love jewelry from the Edwardian Era.
Rings from this period were generally platinum and included intricate metalwork called filigree in designs featuring scrolling, ribbons, and vines. Floral motifs were also popular. Although diamonds and pearls continued to be popular, colored gemstones appeared in jewelry more frequently. Old mine cuts, old European cuts, and rose cuts were the most common cuts for diamonds in this period.
Art Deco Era (1920-1940)
In contrast to the lacy lightness of Edwardian styles, Art Deco was all about bold geometry and repeating patterns. Instead of curvy, flowing filigree, Art Deco rings often included metalwork with repeating, sharp angles and tiny beads called milgrain. This style has enjoyed a resurgence in popularity in recent years.
Step-cut diamonds like emerald and Asscher cuts became fashionable, and colored gemstones, especially rubies, sapphires, and emeralds, were especially popular.
Related post: Obsession-Worthy Art Deco Engagement Rings
Retro Era (1940-1960)
Prior to World War II, few engagement rings featured a center diamond. However, after the highly successful De Beers diamond marketing campaign (to spend a month's salary on the diamond center stone), which began in the 1940s, engagement rings almost exclusively featured diamonds. Unlike earlier rings, engagement rings from this "Retro Era" featured simpler designs.
Solitaire rings and baguette side stones were quite popular, and the typical size of the center stone grew larger once the Depression ended.
Are Vintage Engagement Rings Expensive?
Authentic vintage or antique engagement rings can be seen as highly valuable, given some may be rare in design. However, they might still be considered second-hand and therefore not as desirable as a new engagement ring.
So how much will you spend on a vintage engagement ring? You're looking at anything between $2,000 – $20,000. It all comes down to the 4C's of your center stone and, of course, the ring setting itself (metal, added diamond accents, etc.)
If an authentic vintage engagement ring is too much maintenance or doesn't fit your budget, we suggest buying new. There are plenty of stunning vintage-style rings available that will give you the aesthetic you want and can be customized to fit your exact preference. Buying your ring online can really get you the best ring for your buck with more options than in-store jewelers.
Vintage Is The New Modern
Vintage rings are appealing to many modern-day customers because they offer a wider range of styles. From Art Deco to Edwardian engagement rings, a vintage design on your finger will leave you feeling like you're wearing a one-of-a-kind jewel. These 20th-century-inspired rings are a classic expression of the Victorian romantic era with their floral designs and lacey frames.
Alternative engagement rings are in fashion now more than ever. Why, you may ask? It might be the growing need for a sparkling ring that speaks to the wearer's individuality, or perhaps because antique and vintage engagement rings are more sustainable overall. Both of these are true, but our favorite reason is that these period pieces are simply irresistible.
Related post: Style Series: Inspired Vintage Engagement Rings
A Unique Aesthetic
Rare and timeless are just a few words to express just how unique your vintage engagement ring will appear, no matter the timeline. Whether your style changes in the future, the diversity of your ring's personality and character will evolve with you.
We all have our own tastes, and that is why you deserve to wear an engagement ring that embodies your unique traits through its detailed designs.
More Than A Diamond
We know we've gone on and on about how unique vintage engagement rings are. However, when you take into account what your engagement ring means to you and your partner, there really isn't a better way to express just how special and rare your love is than the very thing you'll be wearing to show off that promise of forever.
That being said, if you love the idea of a truly antique engagement ring, play around with different eras and do your research before you make the big decision. While a dazzling diamond sparkler might seem like the perfect choice, know that vintage engagement rings are also the ideal designs for gemstones too.
Glamorous Beauty
Vintage jewelry tells a story and can be presented as a small piece of art on your finger. There's something intimately appealing to the fact that your vintage engagement ring was created not only with the elements of the romantic era it is influenced by but the imagination behind its craftsmanship.
Vintage-inspired jewelry certainly takes us back to a more glamorous time. We just need to watch films like 'The Great Gatsby' to be reminded of just how well a vintage engagement ring encompasses the very essence of what it means to be glamorous and in love.
Your Style Statement
In a world where trendy engagement rings like sparkle-filled halos are becoming the norm, it's breathtaking to stand out amongst the crowd with an embellished antique.
Stars like Katie Holmes and Miley Cyrus have all worn stunning vintage engagement rings, with excerpt scrollwork, intricate detailing around the band, and center stones that would make anyone jealous.
Pros and Cons of a Vintage Setting
A vintage-style ring provides immense beauty and unique details. However, it's always a good idea to weigh the pros and cons to see if it's the right style for you.
Pros:
Provides remarkable beauty and character
Enhances the prominence of the center stone when well-designed
Matches a time period or personal style preference
Unique and intricately built
Cons:
Can require more cleaning and maintenance due to design details and crevices.
The setting can distract from the beauty and sparkle of the stone (if poorly designed.)
With an actual vintage setting (different from a new vintage style ring), additional time and expertise are necessary to ensure it's well-maintained and securely holds the diamond.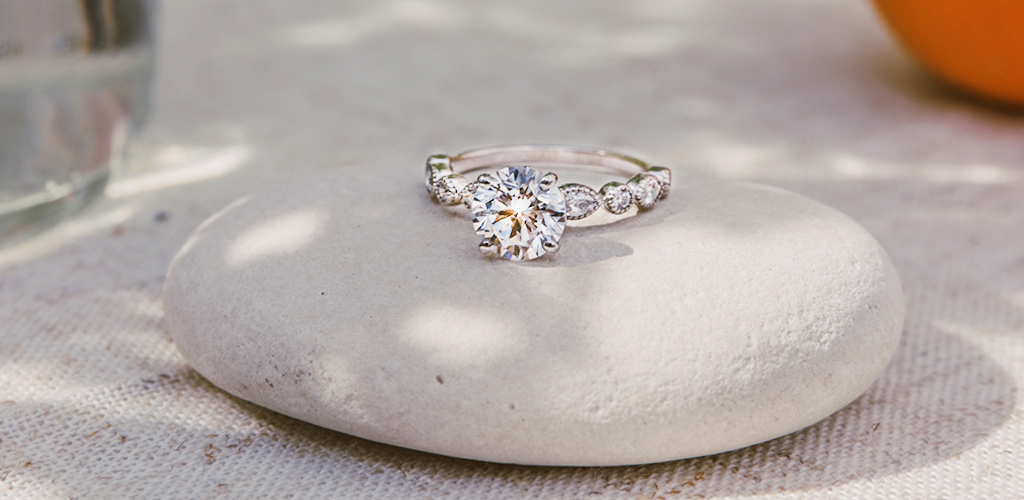 FAQs About Vintage Engagement Rings
What is considered a vintage engagement ring?
A vintage engagement ring is a ring with an antique style, such as one that's designed with inspiration from the Victorian, Edwardian, or Art Deco time periods.
Are vintage-style engagement rings popular?
Because of their timeless beauty, vintage engagement rings have always been popular.
What makes a ring vintage style?
Put simply, vintage rings are rings that have lasted through the years due to their beauty, craftsmanship, and distinct originality. While "antique" rings are generally defined as over 50 years old, the term vintage is thought to have a looser definition and can include rings from eras made after that threshold.
Closing Thoughts
Inspired? We hope you enjoyed this little trip down memory lane and have come to love and appreciate the real vintage-inspired classics as much as we do. We'd love to let you in on a secret:
At James Allen, you can design your very own vintage engagement ring using our Ring Studio. Visit us here and have the time of your life customizing your unique sparkler.
Subscribe to our email list for access to secret sales, practical ring-buying tips, and $100 off your first purchase!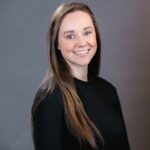 Jessica is a seasoned content writer with four years of experience and a qualified gemologist. She enjoys educating new shoppers on the best practices for buying jewelry.