When it comes to buying diamond jewelry, it's important to make informed decisions to ensure you get the best value for your money.
With so many options available, it's easy to feel overwhelmed. But fear not! We'll walk you through the smart way to buy diamond jewelry. From shopping online to understanding the 4Cs and considering lab created diamonds, these tips will help you make a confident and smart purchase.
Tip 1: Shop Online
Gone are the days of traditional jewelry stores being the only option for buying diamond jewelry. Shopping online offers several advantages. You can explore a wide range of designs and compare prices from the comfort of your own home. Online retailers often have lower overhead costs, allowing them to offer competitive prices. Just be sure to buy from reputable sellers with secure payment options and return policies.
Tip 2: Know The 4Cs
When buying a diamond or diamond jewelry, understanding the 4Cs is essential. The 4Cs refer to the diamond's Cut, Color, Clarity, and Carat weight. Familiarize yourself with these characteristics to evaluate a diamond's quality and value. Educating yourself on the 4Cs will enable you to choose a diamond that suits your preferences and budget.
Related Post: How To Buy An Engagement Ring Using The 4Cs
Tip 3: Don't Compromise On Cut
While all the 4Cs are important, the Cut of a diamond is particularly significant. The cut determines how well the diamond reflects light, resulting in its brilliance and sparkle. Even with excellent color and clarity, a poorly cut diamond may appear dull. Prioritize a good cut grade to ensure your diamond jewelry shines brilliantly.
Tip 4: Try Lab Created Diamonds
Lab created diamonds offer a fantastic alternative to mined diamonds. These diamonds are grown in a controlled environment using advanced technology, producing high-quality stones that are chemically and optically indistinguishable from natural diamonds. Lab diamonds are often much more affordable. Consider this option to get more value for your money – especially if you're looking for the perfect engagement ring!
Tip 5: Fancy Shaped Diamonds Tend To Be Cheaper
Consider fancy shaped diamonds if you're looking for a unique and affordable diamond jewelry piece. Traditional round diamonds tend to be more expensive due to their popularity, while fancy shapes like princess, pear, or cushion cut can offer similar visual appeal at a lower cost. Don't shy away from exploring different diamond shapes to find the perfect fit for your style and budget.
Related Post: How Does Diamond Shape Affect Its Price?
Tip 6: Know Your Metal Preference
When buying diamond jewelry, think about your metal preference. Common choices include gold (white, yellow, or rose), platinum, and sterling silver. Each metal has unique qualities, so choose one that aligns with your style, durability requirements, and budget. Be aware that different metals may require specific care and maintenance; some aren't hypoallergenic.
Tip 7: Make Sure To Inspect The Diamond/Jewelry
Always inspect the diamond or jewelry piece before purchasing whether you're buying online or in a physical store. Look for any visible flaws, irregularities, or damage. If shopping online, ensure that the product images are clear and detailed, and read customer reviews to gauge the quality and customer satisfaction.
Tip 8: Pay Attention To Certification
Before finalizing your purchase, check if the diamond has a reputable certification. Certifications from well-known organizations, such as GIA (Gemological Institute of America) or AGS (American Gem Society), ensure the diamond's authenticity, quality, and grading. A certified diamond gives you confidence in your purchase.
Related post: Your GIA Certification, Explained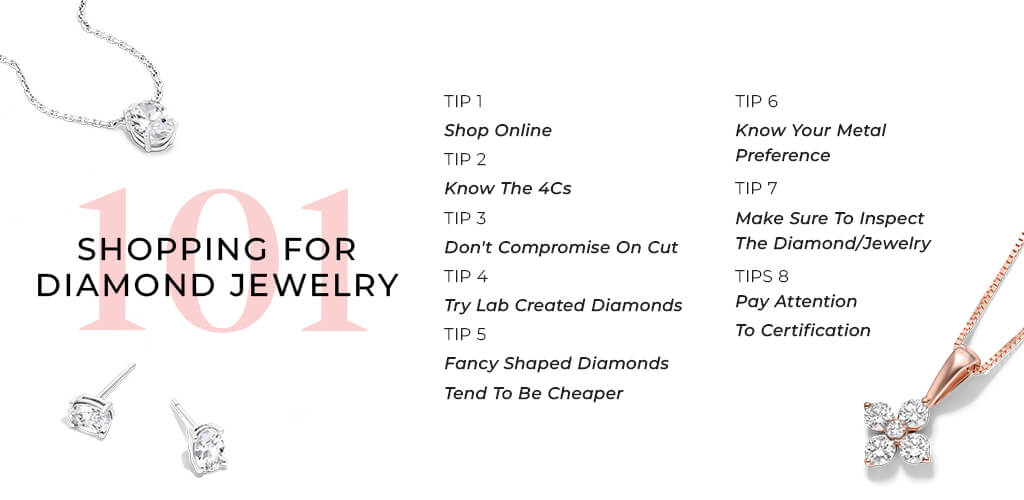 Shop Smarter
Buying diamond jewelry doesn't have to be an intimidating experience. By following these smart tips, you'll be well-equipped to make the best decision and find the perfect diamond jewelry piece for yourself or a loved one.
Still have questions? Contact one of our experts at JamesAllen.com anytime, and we'll be happy to offer you expert advice or a free diamond consultation.
SHOP RELATED PRODUCTS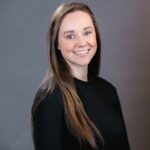 Jessica is a seasoned content writer with four years of experience and a qualified gemologist. She enjoys educating new shoppers on the best practices for buying jewelry.