Are you searching for an engagement ring that combines vintage charm with contemporary flair? A statement-making Art Deco engagement ring is sure to impress. This style is becoming increasingly popular as modern brides choose it for its unique flair and well-crafted design.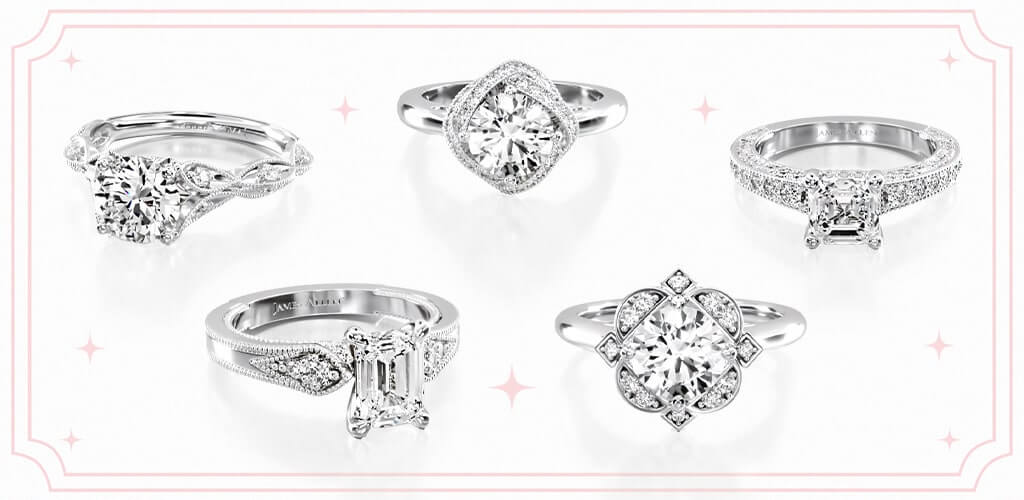 Perhaps you've heard the term "Art Deco" but are unsure what it means? Today on the blog, we're discussing the Art Deco engagement ring that combines elegance and sophistication in the most gorgeous vintage manner. Keep reading to get all the details and get ready to say "yes" to a vintage-inspired engagement ring.
Art Deco Engagement Rings: A Brief History
The Art Deco era was a prominent jewelry style during the 1920s and continued into the 1930s. This was a great time of change and people were eager to embrace "the new". The rapid changes and transformations influenced this style in culture, fashion, and social conditions.
Inspired by ancient civilizations such as Egypt, Greece, and Rome, Art Deco was characterized by bold geometric shapes, intricate details, and rich, bold colors. Art Deco jewelry became popular among the wealthy elite, who prized its sophistication and glamour.
Vintage Art Deco engagement rings are a reflection of this era's design aesthetic, with their unique features and timeless beauty. It is also believed that this style reflected this desire for progress, with its bold, streamlined designs that celebrated the machine age.
Characteristics of Art Deco Engagement Rings
There are a number of design elements that set Art Deco rings apart from other styles. As we mentioned, the Art Deco style is characterized by bold geometry and abstract designs that paid homage to advancement, including sharp angles, straight lines, and symmetry. Chevrons, triangles, rectangles, squares, baguettes, and other sharp shapes are all showcased in Art Deco jewelry, giving Art Deco pieces distinctive flair and instantly recognizable features.
Colorful gemstones are another beautiful feature of Art Deco engagement rings from this era, often highlighting sapphires, rubies, emeralds, amethysts, and other stunning gemstones, in addition to diamonds.
Antique Cut Diamonds
Diamonds were the gemstone of choice during the Art Deco era, however, unique cut diamonds have always been majorly popular in Art Deco jewelry. The most prominent included, baguettes, trapezoids, emerald cut, kite, and Asscher cut diamonds. Although these stones often have larger faceting with a softer look, they tend to be less sparkly. It's said that these diamonds were meant to be viewed in candlelight for romantic tones and optimal glow.
Modern takes on Art Deco also include oval and round cut diamonds set in milgrain-style bezels alongside geometric elements.
Vibrant, Colorful, Geometric Design
Art Deco-inspired styles are characterized by bright, crisp lines and geometric shapes. Additionally, vibrant color gems were a signature style. Most Art Deco rings featured color diamonds or gemstones such as sapphires, emeralds, amethysts, and rubies.
Platinum & White Gold
From the start, vintage Art Deco engagement rings were created in platinum rather than yellow gold, due to their strength and resistance to tarnishing. White gold was born to battle the rising expenses of platinum is seen as a more accessible and affordable choice for many who were after a vintage-style engagement ring.
Related post: White Gold Vs. Platinum: What's The Difference?
Milgrain Detail
Another beautiful style that characterizes Art Deco rings is milgrain detailing. Milgrain is a decorative technique used in the setting process where small beads of metal are used to create borders. It usually creates an ornate border that adds an antique touch to the design.
Bezel Setting
The Art Deco innovation led to new engagement ring settings that arranged stones close together to create eye-catching gem mosaics. The bezel is characterized by a ring of metal that holds the stone in place. This setting has remained very popular for years and is also known as the oldest setting of the Art Deco era. One of the advantages of a bezel setting is that it securely keeps fragile diamonds and precious stones in place.
Tips On Shopping For An Art Deco Engagement Ring
Nowadays, modern brides-to-be are shopping for timeless engagement rings. And nothing says that better than vintage, right? There is something so exquisite about Art Deco engagement rings which shows why the demand for vintage designs has taken off these past few years. Here are some tips to help you find the perfect Art Deco ring:
Do your research: Before you start shopping for an Art Deco engagement ring, it's important to educate yourself on the style. Look at examples of Art Deco jewelry and familiarize yourself with the different design elements, such as filigree work, geometric patterns, and the use of color. This will help you to recognize an authentic Art Deco ring and make an informed decision.
Choose a reputable jeweler: It's important to choose a jeweler specializing in antique and vintage jewelry, particularly Art Deco rings. Look for a jeweler with a good reputation and extensive experience in this area. They should be able to provide you with a certificate of authenticity for the ring and answer any questions you may have about the piece.
Only buy a certified diamond or gemstone: At JamesAllen, we offer both earth and lab created diamonds. A lab created diamond is definitely worth considering if you're looking for more value for your money.
Be mindful of style: Although Art Deco rings are known for their timeless elegance, they may not suit everyone. Always consider personal style and taste before making a purchase. An Art Deco engagement ring may not be the best choice if you or your partner prefer modern, minimalist designs.
Pros And Cons Of Buying An Art Deco Engagement Ring
Art Deco engagement rings are a popular choice for those who want a vintage and unique ring. However, like any type of engagement ring, there are pros and cons to consider before purchasing. Here are some of the main pros and cons of buying an Art Deco engagement ring:
| PROS | CONS |
| --- | --- |
| Truly classic look | Can be extra fragile |
| Non-traditional designs | Limited availability |
| Gorgeous intricate details | Setting can distract from the center stone |
| Matches a time period or personal style preference | More upkeep and cleaning are sometimes required |
Fun Facts
Art Deco Engagement Rings are a reflection of the design aesthetic of the 1920s and 1930s.
Geometric shapes, intricate details, and bold colors are all hallmarks of the style.
Asscher and Emerald cut diamonds were most popular during this era.
Diamond and Sapphire are the most commonly used gemstones for Art Deco Engagement Rings.
Customization is possible for those who want a unique ring that reflects their personal style.
Celebrities such as Natalie Portman, Katy Perry, Emily Blunt and Pippa Middleton, Kate Moss all rock the bespoke nature of a one-of-a-kind vintage engagement ring
FAQs
What makes an engagement ring an Art Deco style?
Art Deco style is characterized by geometric shapes, bold lines, and vibrant colors. In the context of engagement rings, Art Deco style rings often feature geometric lines, and a center diamond or a gemstone set in a symmetrical design with intricate detailing.
Are Art Deco engagement rings more expensive than other styles?
Several factors influence the price of an Art Deco engagement ring, such as the quality and size of the diamond or gemstone, the intricate design, and its rarity. Since Art Deco engagement rings tend to be rare, more expensive, and feature a high level of craftsmanship, they are generally more costly than contemporary styles.
Can I customize an Art Deco engagement ring?
Yes, you can customize an Art Deco engagement ring to suit your personal style and preferences. A skilled jeweler can modify an existing Art Deco ring or create a new one inspired by the Art Deco style. Customization options may include changing the center stone, adding or removing side stones, altering the band, or incorporating other design elements to make the ring truly unique. However, it is important to choose a jeweler with experience in Art Deco style to ensure that the integrity of the design is maintained.
Head on over to the James Allen Ring Studio where you get to jump into the designer's seat and fully customize a truly unique engagement ring. You can choose from hundreds of different designs and a large selection of beautiful diamonds.
Final Thoughts
If you're in love with the design of these Art Deco engagement rings and you want to aim for a timeless, elegant, and vintage look, then there is no better place to shop than JamesAllen.com. With their bold geometric shapes, intricate designs, and use of precious metals and gemstones, these rings are truly a work of art.
Don't forget to share and tag your dream engagement ring with us on one of our social channels: Instagram, Facebook, TikTok, or Twitter.
Subscribe to our email list for access to secret sales, practical ring-buying tips, and $100 off your first purchase!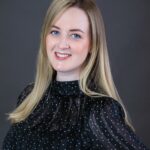 An experienced content writer with four years' experience, Tarryn enjoys educating and guiding jewelry shoppers, providing them with valuable insights and best practices for making informed purchases.