Gemstones are beautiful, fashionable, and a great way to express your style. But how do you know which ones to buy…and where? Read on to find out everything you need to know to ensure you pick out the perfect colored gemstone for you.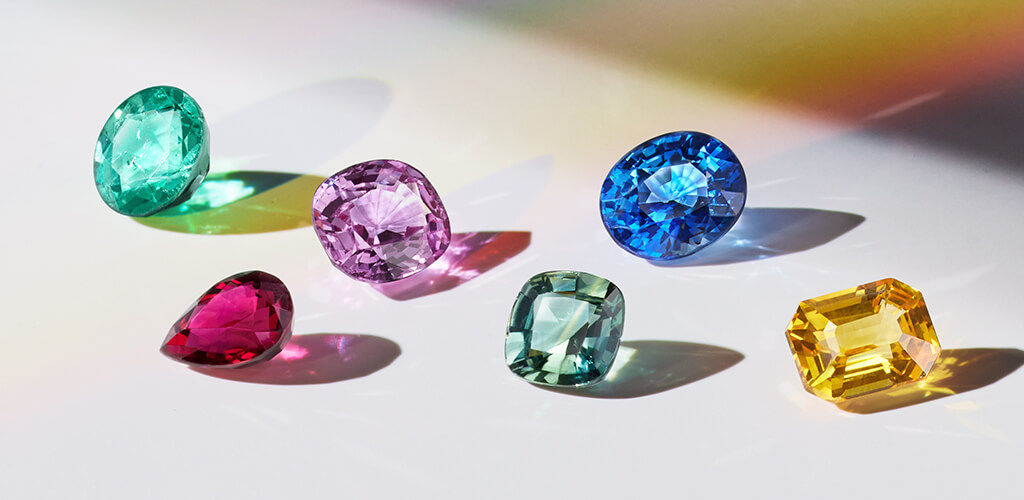 We understand there is a lot to consider when making such a significant purchase. After reading this blog, you may not be a certified gemstone expert, but you might start to feel like one!
Gemstones Basics
Let's start with the basics. Many of us know about birthstones, different gemstones that correspond to the months of the year. But what are these colorful creatures, and how are they created? Are all gemstones created equal? Let's dive in.
What are the Different Types of Gemstones?
There are numerous gemstones, the most popular being garnet, amethyst, aquamarine, diamonds, emeralds, pearls, rubies, peridot, sapphires, opals, citrine, and topaz. Each gemstone corresponds to a month of the year, is associated with a special meaning, and has its own color (or colors…some gemstones come in more than one hue).
Related Blog Post: Birthstone Engagement Ring Ideas For Each Month
How are Gemstones Created?
You may have heard about earth created and lab created diamonds, well their fellow gemstones (yes, diamonds are a gemstone!) are no different. Gemstones can both be found in the earth and created in the lab. Lab created gemstones, like earth created gemstones, are 100% real. The only difference is their place of origin and process of creation. The final result is still a real, vibrant, colorful gemstone.
What is the Difference Between Precious vs. Semi-Precious?
Gemstones fall into two major categories: precious and semi-precious. Only four gemstones are considered precious: diamonds, sapphires, rubies, and emeralds. All other gemstones are part of the semi-precious category. The main difference is hardness. While precious gemstones are incredibly sought after, they are necessarily more valuable than their semi-precious counterparts. The value depends on things like rarity, size, and quality.
What Should I Consider When Buying Gemstones?
There is a lot to know when buying gemstones, we recommend keeping the following things in mind:
Type: Different gemstones have different characteristics. From colors to shapes to availability, knowing which gemstone you are shopping for is important.
Quality: The quality of a gemstone will affect its color and price, among other things. Check out the section on the 4Cs below!
Origin: Gemstones can come from the earth or the lab. While both are 100% gemstones, the origin can affect the brightness of the hue and the price. Some may have a personal preference for the origin as well.
Treatment: Many gemstones receive various treatments to ensure they are the best version of themselves. Some treatments can affect the value. See more below!
Certification: Certifications contain important information about a gemstone's origin, quality, and characteristics. Experts recommend purchasing a gemstone certified by a reputable body such as the Gemological Institute of America (GIA). Fun fact, all gemstones at James Allen are certified by either the GIA or the American Gem Society (AGS).
Maintenance: Different gemstones require different maintenance. From cleaning to circumstances when it's recommended to remove them, it is important to keep this important factor in mind.
The Four Cs Apply To Gemstones Too
While some may be familiar with the 4C's as they apply to diamonds specifically, they actually apply to all gemstones, and it is important to keep them in mind when shopping for them.
Color
The color of a gemstone has three main factors: hue, tone, and saturation. The hue of a gemstone is what most people picture when you talk about color. Frequently, the color of a gemstone is mixed, consisting of a main color and a second color mixed in. Saturation refers to how pure or intense the main color is.
The purer a gemstone's hue or color, meaning the smaller the tints of other mixed in colors, the more valuable the gemstone. Additionally, the brighter and more dynamic the color, the better. Many shoppers prefer gemstones whose color is more mild than dark.
Clarity
When it comes to gemstones, clarity concerns the amount of inclusions or blemishes in the gemstone. This is an important consideration as it affects the value and appearance of the gemstone. Gemstone clarity is rated from "included" to "flawless." The more flawless, the higher the value.
Cut
A gemstone's cut is how it is shaped and polished. This affects the value of the gemstone, as well as its brightness. Gemstone cuts come in round, princess, Asscher, cushion, emerald, oval, marquise, and pear.
Related Post: How To Choose The Best Diamond Shape And Size For Your Finger
Carat
A gemstone's carat refers to its weight, another important factor when determining the value of a gemstone. Larger gemstones are considered more rare and thus more valuable.
All You Need to Know About Gemstone Grading Reports
Gemstone grading reports state details and specifications about the gemstone, such as the carat weight, shape, and other measurements. It also notes if the gemstone has received treatment. You must purchase a gemstone with a grading report from a reputable agency, such as the GIA, IGI (International Gemological Institute), or AGS.
Gemstone Treatments: What Are They?
Gemstone treatments, also known as enhancements, are the processes applied to gemstones to improve their natural state. These treatments generally make the gemstone stronger and improve its brightness. Some treatments have a permanent effect, while others require maintenance.
Common Treatments and Their Effects
The most common treatments are heat treatments, irradiation, dyeing, filling, and coating. Heat and irradiation treatments and coating treatments help to bring out the color and improve the gemstone's clarity. Filling treatments help to repair any cavities or fractures that can affect a gemstone's appearance.
Can You Tell If a Gemstone Has Been Treated?
While a professional gemologist using microscopes can tell if a gemstone has been treated, generally, gemstone treatments are unseen by the naked eye.
Top Tips & Tricks For Buying Gemstones
As you can see, buying a gemstone is a serious business. When making such an investment, it is important to keep the following things in mind:
Choose a Reliable Gemstone Dealer: Make sure you are shopping at a reputable shop that provides certificates for their gemstones and diamonds.
Ask Questions: Think about what is important to you and make sure to ask. Whether it's the 4Cs or treatments, ensure that the gemstone you get has the desired qualities.
Remember Personal Preference: Whether you prefer a dark or light hue, a certain shape, a permanent treatment, or are OK with a gemstone that may require some maintenance, the perfect gemstone is the one you love best.
How To Care For Your Gemstones
Once you have chosen your gemstones, it is important to maintain them so they always shine bright.
Cleaning and Storage
You have two choices when cleaning your gemstones: at home or with a professional. When choosing to do so at home, follow these steps:
Take a small bowl and fill it with mild dish soap or special jewelry cleaner
Mix the solution and take a soft-bristled toothbrush or special jewelry brush and gently scrub the gemstone.
Now take a soft, lint-free cloth and gently pat dry the gemstone.
If unsure, you can always bring your gemstone to a professional for cleaning services. This can be done at most reputable retailers.
When storing your gemstone, keeping them in the original soft packaging is recommended to prevent scratches and other possible damage.
Avoid These Common Risks
Keep your gemstones out of direct heat or sunlight, and always avoid harsh chemicals. It is also recommended to safely store your gemstones when going to the beach, swimming in a pool (hello chlorine!), working out, cleaning, and showering.
Remember, these things can damage the gemstones you spent so much time selecting. Let's keep those gemstones shining bright!
Related Post: How To Protect Your Engagement Ring At The Gym: And Other Times To Remove Your Ring
When To Go To The Pros
If your gemstone is part of an intricately designed piece or you are nervous about undertaking this task yourself, it is best to ask a professional. Most reputable jewelry retailers will provide cleaning services.
Don't Forget to Enjoy Your Gemstones
This may be our most important tip! You have done the research and found the gemstones; now, it's time to show them off! Whether you choose a unique, colorful gemstone engagement ring, a fabulous birthstone pendant, or gorgeous gemstone earrings, make sure to enjoy them!
FAQs
What are the key factors when buying gemstones?
Keep in mind the type of gemstone you want, of course, your budget, and the 4Cs. Don't forget to consider any treatments and look for certification.
What is the difference between earth created and lab created gemstones, and does it matter?
The only difference is where they come from. Gemstones from the lab are just as real as those found in the earth. They just have a different origin story.
What are common gemstone treatments, and do they affect the value?
The most common treatments are heat, irradiation, and filling. While these treatments improve the gemstone's appearance, they can (but do not always) lower its value, making these beautiful pieces more affordable.
How can I find a reputable retailer?
Do your research! Read customer reviews and make sure their products are certified. Check their return policies and always look for jewelry associated with and/or uses certificates from professional organizations such as the AGS or GIA.
How do I care for my gemstone?
Make sure to safely store your gemstone and keep it clean. And, of course, enjoy it!
SHOP RELATED PRODUCTS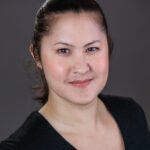 With over 10 years of experience writing and editing on a wide variety of subjects, Sarah is a veteran of the content world. Since joining James Allen, she has focused on all things diamonds and fine jewelry with the goal of educating and empowering consumers.