When it comes to shopping for engagement rings and fine jewelry, we understand that the process can be daunting, overwhelming, and even stressful! With so many options to choose from, how do you even know where to start? That's where James Allen comes in! We're here to make shopping for an engagement ring easier than ever.
In this article, we will explore how JamesAllen.com is part of the revolution of shopping for an engagement ring online by offering an extensive selection, cutting-edge technology, and exceptional customer service.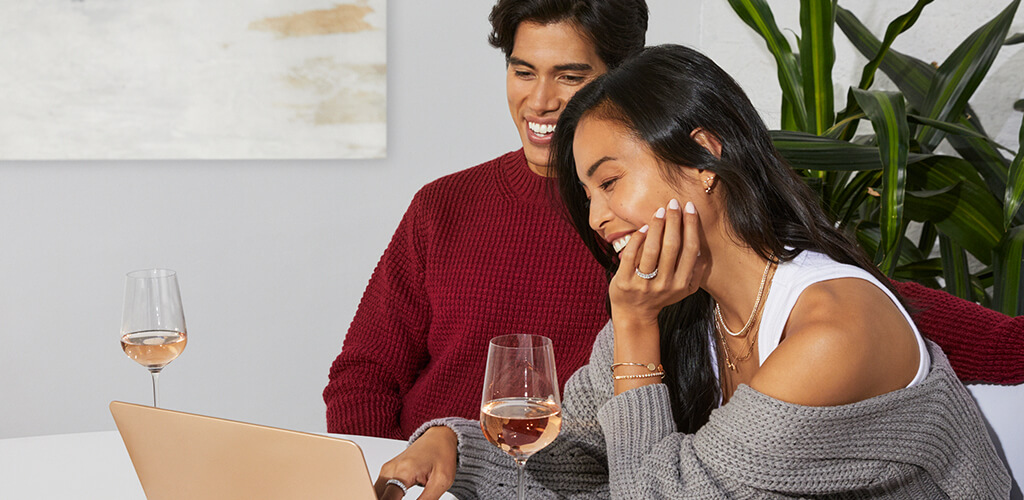 What Is JamesAllen.com?
Founded in 2006, James Allen is a leading online jeweler known for its vast collection of engagement rings, wedding rings, loose diamonds and gemstones, and fine jewelry. Our mission is to provide customers with the highest quality diamonds at affordable prices while also offering a stress-free and unique online shopping experience.
At James Allen, we proudly present all of our diamonds and customizable engagement ring settings in our highly magnified 360° HD Diamond Display Technology. It is this technology that allows us to photograph the majority of the world's diamonds and pick the best ones for you.
The Advantages of Shopping with James Allen
There are so many advantages to shopping with James Allen! From the convenience of our extensive collection at your fingertips, our cutting-edge technology, and top-notch customers, we're here to make sure that shopping with us is a stress-free experience.
Extensive Selection
One of the most significant advantages of shopping for an engagement ring with James Allen is our vast selection of GIA-certified diamonds and engagement ring settings. Unlike traditional brick-and-mortar jewelers, we offer the ability to customize your engagement ring from start to finish.
From selecting the diamond's shape and size to the type of metal used for the setting, our customers have complete control over the design of their ring. Additionally, James Allen offers a range of diamond cuts and shapes, including round, princess, emerald, and cushion, among others, ensuring there is a diamond for whatever your taste and budget.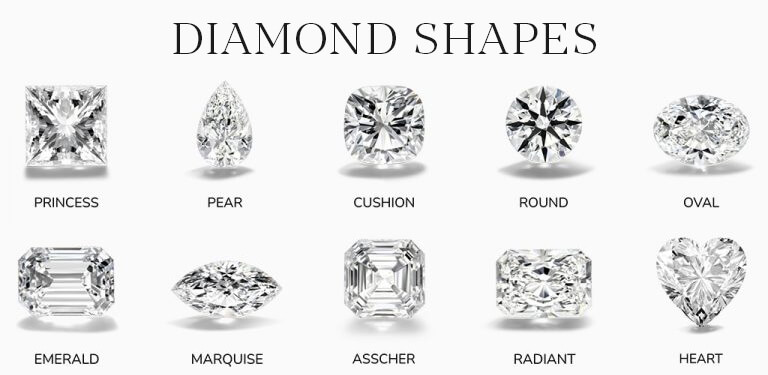 Cutting-Edge Technology
Another advantage of shopping with James Allen is our use of cutting-edge technology. We are proud to show all our diamonds and rings in our highly magnified 360° HD Diamond Display Technology, allowing you to view your diamond from every angle before making a purchase.
We also use advanced imaging technology, which allows our customers to see the diamond's microscopic inclusions and flaws, providing a level of transparency and detail that is hard to find elsewhere.
Exceptional Customer Service
At James Allen, we are committed to providing exceptional customer service to our customers.
What we offer:
1. Global Shipping
At JamesAllen.com, we take pride in our global reach. We offer free and secure shipping to a wide range of countries around the world:
Canada
United States
United Kingdom
Australia
Germany
France
Japan
Italy
Spain
Netherlands
Belgium
Switzerland
Austria
Sweden
Norway
Denmark
Finland
Ireland
New Zealand
Singapore
Note: that this is not an exhaustive list; we ship to many more countries globally. If your country is not listed here, don't hesitate to reach out to our customer support team for more information on shipping availability to your location.
2. Flexible Financing
We understand that investing in high-quality jewelry is a significant decision. To make it more accessible, we offer flexible financing options tailored to your unique needs. Our financing plans are designed to accommodate various budgets and preferences. Whether you prefer a shorter payment term or a more extended plan with lower monthly payments, we have options that will help you bring your dream jewelry piece closer to reality.
3. 1 Year Free Resizing
Finding the ideal ring size can be a challenge, but at JamesAllen.com, we make it worry-free. We offer complimentary resizing within the first year of purchase, ensuring your ring fits perfectly and comfortably.
4. Free Real-Time Diamond Inspection Service
Transparency is key when buying diamonds online. Our real-time diamond inspection service lets you see the diamond you're interested in right from the comfort of your home. Our experts will guide you through the process, providing you with a detailed view of your chosen diamond's characteristics.
5. Free Engraving on Engagement or Wedding Rings
Add a personal touch to your engagement or wedding ring by taking advantage of our free engraving service at checkout!
6. Hassle-Free Returns with a 100% Money-Back Guarantee
We understand that sometimes things don't go as planned. That's why we offer hassle-free returns with a 100% money-back guarantee within 30 days of your purchase. Your satisfaction is our priority, and we stand behind the quality of our jewelry.
7. A Lifetime Warranty on All Jewelry Purchases
When you shop at JamesAllen.com, you're investing in more than just jewelry; you're investing in a lifetime of memories. We back our jewelry with a lifetime warranty, giving you peace of mind knowing that we'll take care of any manufacturing defects.
8. A Lifetime Upgrade
As your love story evolves, so can your jewelry. Our lifetime upgrade policy allows you to upgrade your diamond or jewelry purchase at any time. We're committed to helping you celebrate your milestones with elegance and style.
9. 24/7 Diamond and Jewelry Experts
Have questions or need guidance while shopping? Our team of diamond and jewelry experts is available 24/7 to assist you. Whether you're a seasoned diamond enthusiast or a first-time buyer, we're here to provide you with the expertise you need.
10. Conflict-free and Certified Diamonds
Ethical sourcing is at the core of our values. All of our diamonds are conflict-free and certified by one of the top grading laboratories, including GIA, AGS, or IGI. We believe in providing you with beautiful and socially responsible diamonds.
Customer Satisfaction
Customer service was amazing and very patient and helpful. Will definitely return for any future jewelry investment. Excellent experience!
Jason B
Amazing diamond and ring! I was highly impressed with the fact each diamond on the site is individually photographed. Wonderful customer service and easy-to-use website. Thumbs up to James Allen!
Raina M
Blown away by the quality of this diamond ring. Have nothing but great things to say about the entire process including customer service, shipping, price, and especially quality.
Clayton B
I have a LOT of James Allen items and they never disappoint! They sparkle beautifully, the quality is amazing and the customer service is unbelievable!! Will continue to shop here!
Loren B
What Sets Our Customer Service Apart From Competitors?
We are here to help guide you through every step of the shopping process from start to finish and ensure that you get a product you love.
Technological Features of JamesAllen.com:
360° HD Diamond Display Technology:
One of the most innovative technological features at James Allen is our 360° HD diamond display technology. This technology allows customers to view and interact with high-resolution 3D images of the jewelry items they want to purchase.
This feature lets our customers view and compare diamond characteristics, such as cut, clarity, and color, using our unique interactive visual aids.
This technology ensures that our customers are able to comfortably make a well-informed decision when making such a significant purchase and ensures that they get the best value for their money.
You can zoom in and out of the images, rotate them 360 degrees, and even see how the jewelry looks on a hand thanks to our virtual try-on technology! This feature provides customers with a more immersive and realistic shopping experience and allows them to make a more informed purchasing decision.
Related Post: Try Your Hand at Our Virtual Engagement Ring Try-On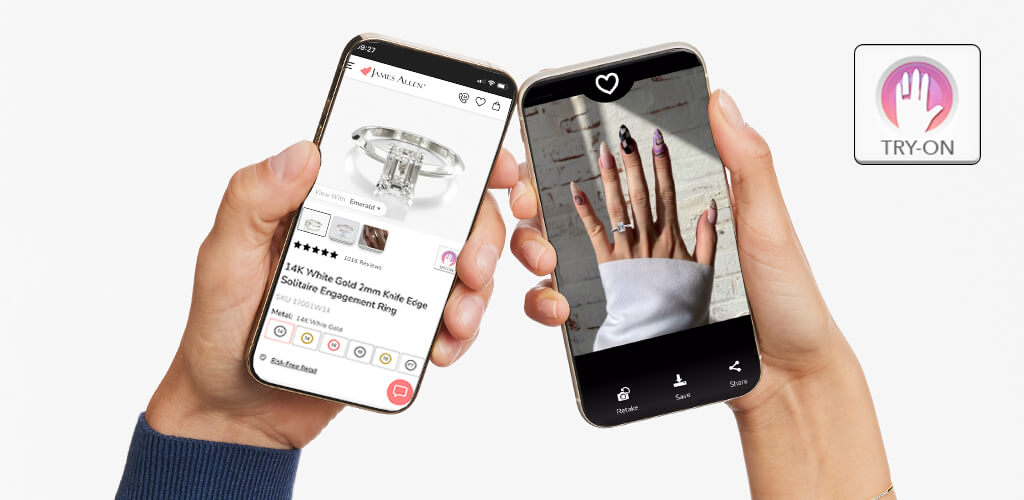 Ring Building Technology:
At James Allen, we offer the ability to design your engagement ring yourself! You start by selecting the diamond, then choose a ring setting, and a metal of your choice.
Then you can view a 3D image of your custom-designed ring and make any adjustments as needed. This feature allows you to create a unique and one-of-a-kind engagement ring that perfectly fits you and your beloved's style.
Related Post: Designing Your Ring Together: Here's Why You Should
How to Shop for an Engagement Ring at James Allen
Shopping for an engagement ring on JamesAllen.com is a straightforward process.
You can either browse our extensive collection of ready-made engagement rings using a number of filters, including diamond shape, setting style, metal type, and more!
You can also choose to design your ring by starting with a loose diamond, gemstone, or setting. And, of course, once your design is complete, you can view the ring in 360-degree detail and make any final adjustments before placing your order.
FAQs
What makes James Allen different from other online jewelers?
Our extensive collection of the highest-quality diamonds and gemstones, our top-notch customer service, and of course, our cutting-edge technology.
Is James Allen a trusted online jewelry retailer?
Yes, JamesAllen.com prides itself on being a trusted online jewelry retailer with a reputation for offering high-quality diamonds and exceptional customer service.
Can I design my own engagement ring on JamesAllen.com?
Yes! At James Allen, you can design your engagement ring from start to finish.
Does James Allen offer free shipping and easy returns?
Yes! JamesAllen.com offers free shipping to customers in select countries and an easy return policy, including full refunds within 30 days of purchase.
How do I take advantage of the free resizing service?
To resize your ring, simply contact our customer support team within one year of your purchase, and they will guide you through the process.
Can I return a customized piece of jewelry?
Yes, you can. We offer hassle-free returns within 30 days of purchase, even for customized pieces. Your satisfaction is our top priority.
Are JamesAllen.com diamonds truly conflict-free?
Absolutely! We source our diamonds responsibly, and they are certified by leading grading laboratories, ensuring their ethical origins.
How do I reach the 24/7 diamond and jewelry experts?
You can reach our experts anytime by calling our dedicated customer support hotline, email us or by using our live chat feature on the website.
What if I want to upgrade my jewelry in the future?
We offer a lifetime upgrade policy, allowing you to upgrade your diamond or jewelry purchase whenever you're ready for a change. Simply reach out to our team, and they'll assist you in the process.
Closing Thoughts
As a leader in the industry, we here at James Allen understand this and are here to make this journey as stress-free as possible…even fun! Between our extensive collection of top-quality diamonds and ring settings all viewable in 360° HD, our numerous, stylish options of ready-made engagement rings, wedding rings, and other fine jewelry, and of course, our expert customer service agents, who are here to help you 24/7; we are here to ensure you have the best for all your milestone moments.
SHOP RELATED PRODUCTS
Subscribe to our email list for access to secret sales, practical ring-buying tips, and $100 off your first purchase!