Good communication is a key tenet of any relationship. This means being open and honest about everything and anything. So why wouldn't you work together on your engagement ring, one of the most significant pieces of jewelry you'll ever wear?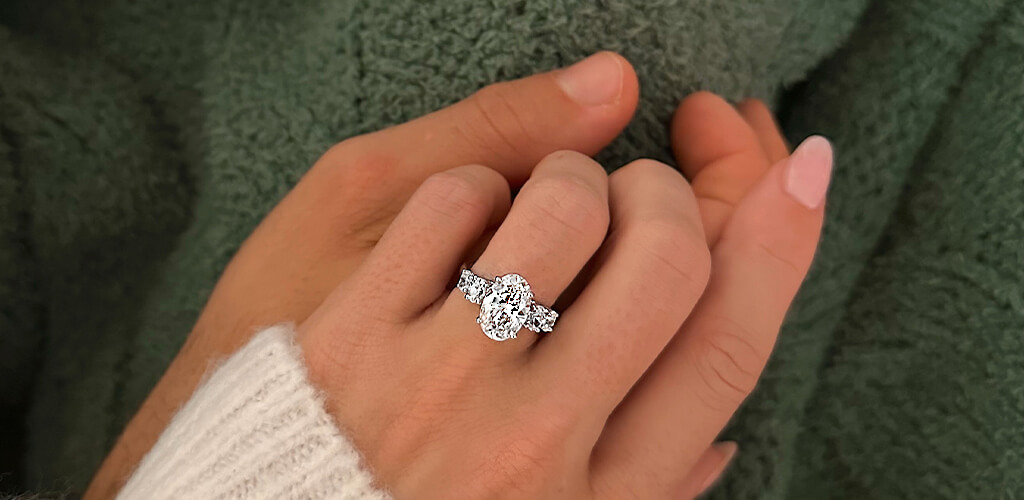 Gone are the days when partners are expected to be mind readers. Thankfully, the days of open and honest communication are here. Don't wait in silence for what you want, work together to ensure your engagement ring is one you both love.
Should You Pick An Engagement Ring Together?
More and more couples are choosing to experience picking out an engagement ring together. By working together, you can ensure it is a ring you will love, that it is your size, and that it contains any and all meaningful touches. This is one of, if not the most important ring you'll ever wear, so why not make sure it's perfect?
Working together is an added benefit when designing the ring. Instead of guessing based on the jewelry you own, you can ensure it is the exact metal, diamond, or gemstone cut, carat, clarity, and of course, style.
Is It OK To Shop For Engagement Rings Together?
Of course! The tradition of surprise, while a lovely one, is something more and more couples are saving for popping the big question itself. After all, a surprise proposal is that much less stressful when you know you are asking with a ring your partner absolutely loves!
What Are The Benefits Of Ring Shopping Together?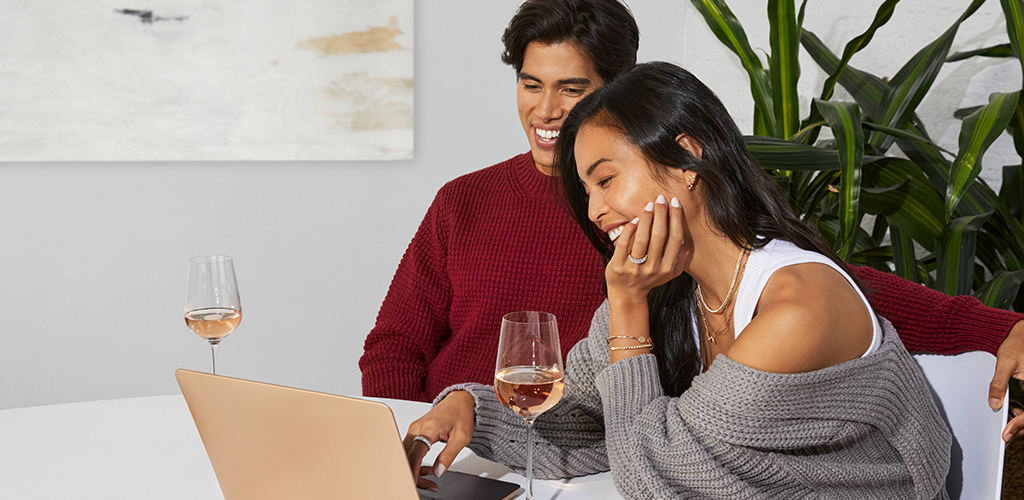 The better question is, what aren't the benefits? Shopping for an engagement ring together has so many benefits! From ensuring it is the right size and style, you can rest easy knowing you won't need to make a return or exchange. Shopping together reduces stress and ensures a successful purchase.
Less Engagement Ring Stress
Most people have an idea of what they want their engagement ring to look like. They have a vision, if not of one design they love, then of a few. But those visions are in their head, and unless you are a mind reader, shopping together takes away the stress of "What if they don't like it?"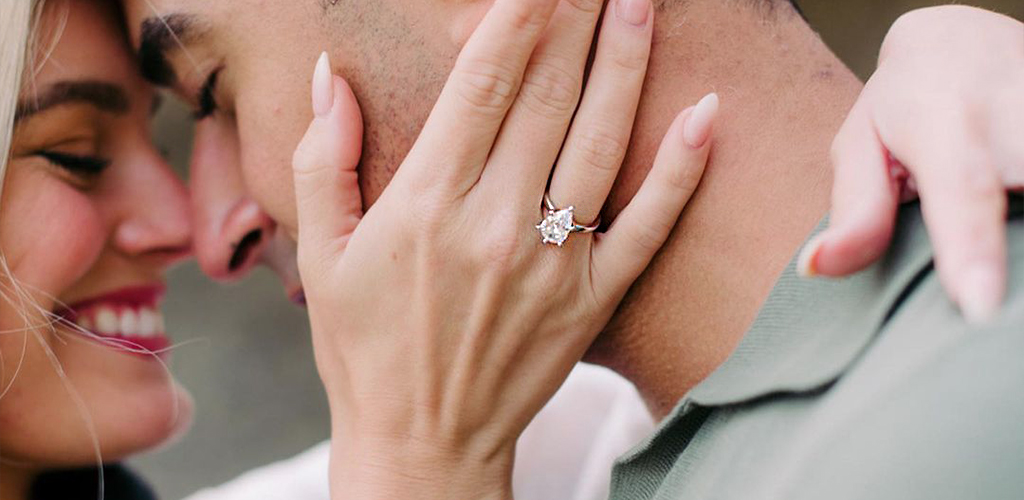 By shopping together, you remove the stress of sizing, and instead of hoping it fits, you will KNOW it does. After all, this is a ring they will wear for the rest of their life, you want it to be perfect.
Openly Discuss Budget
This is a great perk of shopping together for a ring. Instead of overspending or accumulating debt, by working together, you can ensure to buy a ring your partner loves on a budget you can afford and are both comfortable with.
You can also discuss how to get the perfect ring within your budget. For example, choosing a lab grown diamond engagement ring will allow you to get a diamond she loves for a price that you love.
Risk-Free Proposal
Shopping together ensures your partner will say yes. No sweaty palms, no wondering what the answer is. You KNOW they will say yes, so you can save all your stress for planning the perfect proposal.
What Are The Benefits Of Designing Your Engagement Ring Together?
Just like shopping for a ring together, designing your engagement ring together has many benefits. Ensuring it is the right size, it incorporates both of your styles, that it is a ring you love, and of course, making the experience that much more special.
Style Preferences Are Guaranteed
While you can get hints when perusing (see spying) your partner's jewelry box, they may have a totally different vision for their engagement ring. Someone with funky taste may opt for something more traditional for this momentous piece of jewelry.
Not only can you ensure they love every detail, from the metal color and style, to the diamond or gemstone, but you can choose together a beautiful sentiment to have engraved.
Related Post: Engagement Ring Engraving Ideas
Ensure It Fits Correctly
Being sure the ring fits from day one is a huge benefit to shopping together. While James Allen offers free resizing (get more details here), some styles are harder to resize, some styles simply cannot be resized, and of course, resizing takes time. Getting engaged is so exciting! Having to wait to wear your ring because it is getting resized can really take the wind out of your sails.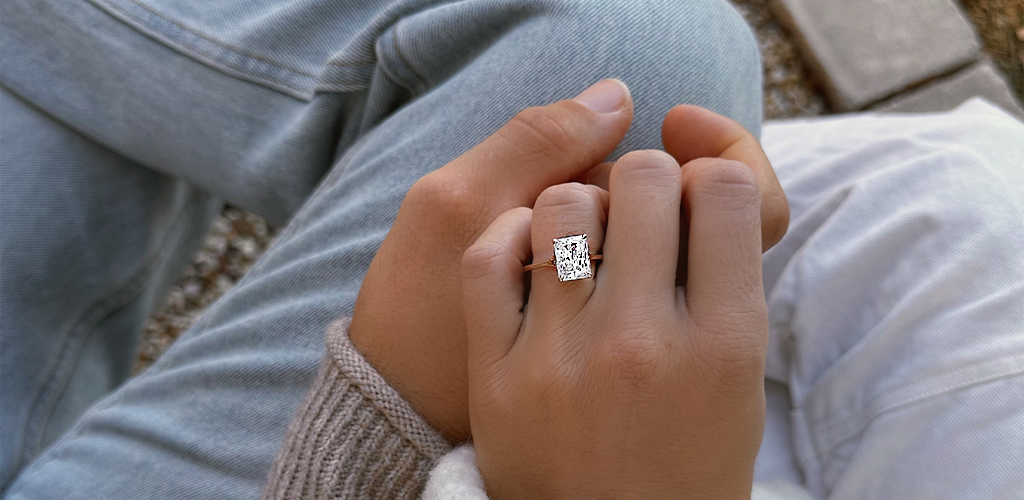 Shopping together guarantees that from the moment you hear "yes," your partner can wear their ring comfortably. And comfort is important because they will wear this ring everyday forever.
No Subtle Hints Needed
Who knows what women are thinking? Who knows what anyone is thinking?! Shopping and designing your ring together removes the guesswork. No worrying your hints are too subtle, no being frustrated when they miss your hints altogether.
Instead, complete security in knowing you will get the exact ring you want. How refreshing!
Avoid Redesigning & Resizing
Shopping for a ring together means you won't hear that dreaded "I love it, but I just need to change a few things." No worrying about the size or style, instead, you'll have the full confidence that it fits because your partner was there with you to give their ring size. No fretting if they will like it because your partner was there to tell you what style they wanted. Instead of getting the ring almost perfect but they wanted a different metal color, you will simply get the ring perfect the first time.
Related Post: How To Measure Your Ring Size
Spend Quality Time Together
Getting engaged is a special time. You are starting your journey to forever, committing to each other in a very meaningful way. Taking the time to design your engagement ring together gives this important piece of jewelry that much more meaning. From start to finish, getting married is a special experience, so make the most of it and start earlier by designing your ring together.
Engagement Ring Designing Tips For Couples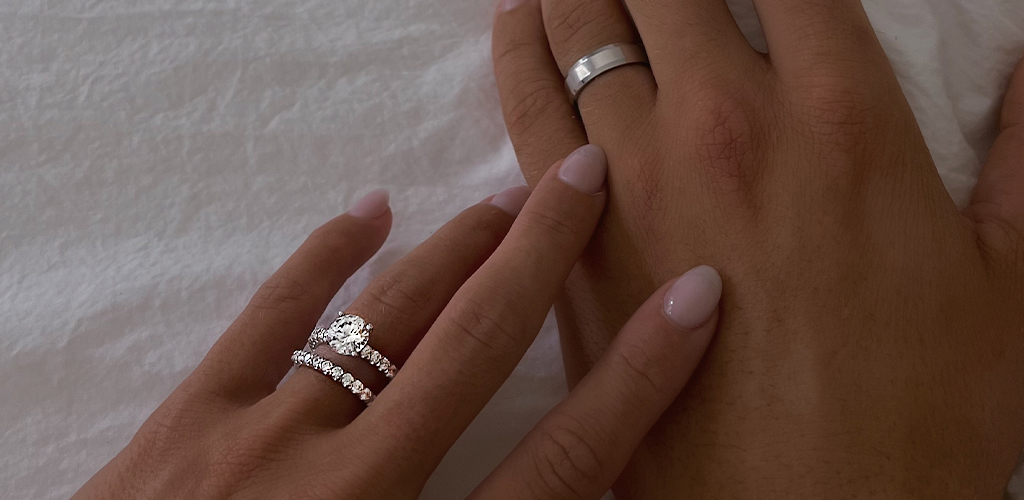 There are a few things to keep in mind when choosing to design your own engagement ring. Read below for some tips and tricks, and of course, our experts at James Allen are always here to help.
Learn The 4Cs
Cut, Color, Clarity, and Carat Weight: these are the 4Cs, i.e., the 4 things you want to keep in mind when shopping for an engagement ring. In addition to applying to a center stone, many styles have accessorizing diamonds and side stones where this information is also useful.
Cut refers to the facets, angles, and proportions of a diamond or gemstone, color refers to the clarity or colorlessness of a diamond, clarity refers to how free of inclusions your stone is, and carat weight refers to the weight or size of your diamonds and stones.
Related post: How To Buy An Engagement Ring Using The 4Cs
Design Your Ring Online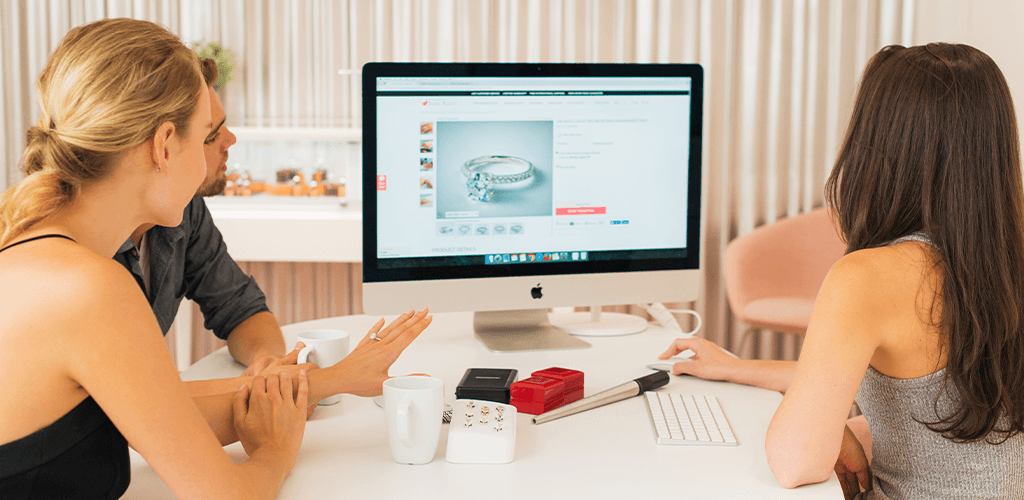 There are many benefits to designing your ring online, most of all convenience. You can start this process anytime, whatever your schedule. No more running to the mall before the store closes or skipping brunch to spend the morning in some office.
Another perk is options! Options online are endless, you can choose from lab grown and earth created diamond options, as well as diamond alternatives like moissanite. You can look together at the different shades of gemstones that are available, see how different sizes will look, try your dream center stone in different settings, and so on and so forth.
Designing a ring online ensures you will get a ring you and your partner love, the only limit is your and your partner's imagination!
Consult An Expert
There is a LOT to know about diamonds and fine jewelry, and at James Allen, our experts are here to help. Our Real-Time Diamond Inspection allows you to browse our loose diamonds while simultaneously speaking to one of our diamond experts. You can ask about everything from the specs of a diamond to reviewing a grading certificate.
When making an investment purchase like an engagement ring, speaking to an expert is just as important as doing your research, so make sure you get all the advice. Speaking to experts and consulting with couples who have already gone through the process will help ensure that together, you pick out the perfect engagement ring.
FAQs
Is it rude to change your engagement ring?
We don't think so! Your engagement ring is for life, you and your partner need to absolutely LOVE it! Just make sure to check the return policy of wherever you shop.
Should your rings match?
This is entirely up to you. Some couples choose to get matching engagement rings, some choose to get matching wedding rings, while some brides choose to match their engagement ring to their wedding ring. While you are shopping, discuss with your partner the various options as you may want to purchase your engagement and wedding rings together.
What is the rule for engagement rings?
The rule is…there are no rules! How much you spend, what style you choose, going for a diamond or gemstone as your center stone, these are all decisions that are personal. You will wear this ring for the rest of your life, so whether you go for a blinged out diamond engagement ring or prefer a simply sophisticated solitaire style, your engagement ring needs to be your way.
Better Together
It is not an easy mission to find the ring of your dreams. Even if you have a style in mind, the shopping process can be overwhelming. There are many factors to consider, including choosing a retailer, deciding on your budget, and picking a style.
When embarking on such an important mission, why not have your partner by your side? After all, they will present the ring when popping the big question; let's make sure it's one you both love!
Visit us at JamesAllen.com and start designing your dream ring today!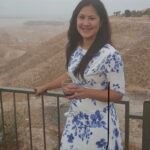 Sarah is a stickler for grammar and prefers to use the Oxford comma. She enjoys her career as a writer since being a professional snowboarder/powerlifter/pastry chef didn't pan out.