Shopping for an engagement ring is exciting but can be a daunting task, especially when you're looking for something that is unique and special.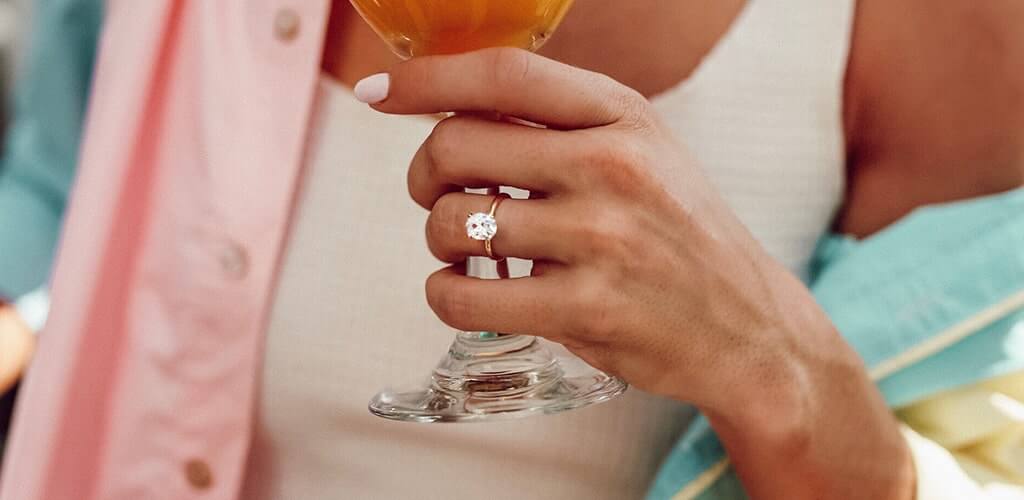 One of the most popular choices right now is an oval diamond engagement ring as it is both classic and modern. It also features the perfect blend of sparkle and sophistication. Still not sure how to find the perfect oval diamond engagement ring? Keep scrolling.
What Are Oval Cut Diamonds?
An oval cut diamond is a popular choice when it comes to engagement rings. It is similar to the round brilliant cut diamond, but it has a more elongated shape that makes the stone appear larger. Diamonds with an oval cut are typically cut to maximize their carat weight and brilliance, and they have a unique sparkle that is very striking.
The oval cut diamond is also a versatile option, as it can be used in both classic and modern designs. Whether it's an engagement ring or a piece of jewelry, oval cut diamonds can make the perfect statement.
What Does An Oval Engagement Ring Symbolize?
An oval engagement ring is a beautiful and timeless symbol of love and commitment. But did you know that the shape has a special meaning? The term oval is derived from the Latin words ov or ovum, which means egg.
Traditionally, the shape has been associated with rebirth, fertility, and immortality since ancient times. Additionally, the oval is said to represent the never-ending cycle of life, love and eternity. An oval engagement ring is a beautiful way to begin a new life together.
Pros & Cons Of Buying An Oval Engagement Ring
The oval cut engagement ring is definitely a stunning option, but, as with all settings, there are advantages and disadvantages. So what are the pros and cons of buying an oval engagement ring? Let's find out.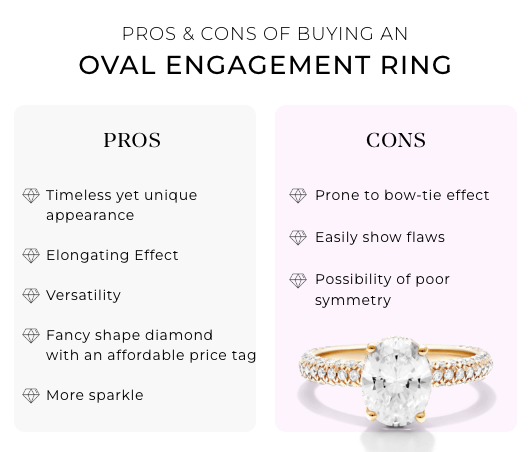 Ultimately, choosing an oval engagement ring will depend on your preferences. But, it's also a good idea to weigh up the pros and cons before making a final decision, to see if it's the right diamond ring for you.
What Does An Oval Engagement Ring Cost
If one of your goals is to shop for an affordable engagement ring, then an oval engagement ring is a great choice, as many options fit various budgets.
It's important to understand that several factors affect the cost of an oval engagement ring, such as the type of metal used, the complexity of the setting, and of course, the color, carat, and clarity of the diamond or gemstone.
For example, a simple oval engagement ring with a smaller size diamond and a plain metal band could cost anywhere from $1,000 to $3,000. On the other hand, a more detailed oval engagement ring with a large diamond and intricate setting design could cost approximately $10,000 or more.
Oval Diamonds Compared To Round Diamonds
Both oval and round diamonds are popular engagement ring choices, but they differ in several ways.
Shape
The most obvious difference between oval diamonds and round diamonds is their shape. Oval diamonds are elongated and have an oval shape, while round diamonds are perfectly round. If you love both diamond shapes but can't decide, an oval cut is the perfect twist on a round cut diamond.
Appearance
Oval diamonds can create the illusion of longer, more slender fingers, while round diamonds tend to have a more classic and traditional appearance. Diamonds with oval shapes have a larger surface area than round diamonds of the same weight, which makes them look bigger as well as more sparkling.
Brilliance
As a result of their symmetrical shape and the way they reflect light, round cut diamonds are known for their exceptional brilliance. Diamonds with an oval cut are also quite brilliant, but their elongated shape sometimes produces a bowtie effect – a dark area at the center.
Price
Generally, oval diamonds are less expensive than round diamonds of the same carat weight and quality. This is mainly because round diamonds are more sought after, they require more cutting and polishing to achieve their symmetrical form.
Oval Engagement Rings With Wedding Rings
FAQs
Are oval engagement rings popular?
Yes! More and more couples are seeking non-traditional and unique engagement ring styles in recent years, which has led to the popularity of oval engagement rings. Its distinctive shape is not only super trendy but very versatile as well.
Are oval diamonds cheaper than round diamonds?
The cost of a diamond is primarily determined by the 4Cs, the carat weight, cut, color, and clarity. Although oval diamonds can be less expensive than round diamonds of the same carat weight, their specific qualities determine their price. As a result of their high demand, round cut diamonds usually cost 10% to 30% more than oval diamonds.
Is oval a good diamond shape?
Yes, the oval is a great choice, especially if you're looking for a diamond shape with lots of sparkles. The oval cut has a striking appearance with its distinctive elongated shape and rounded edges. The versatility of this shape allows it to be designed in various engagement ring styles, from classic to contemporary.
How do I care for an oval cut engagement ring?
To care for an oval cut engagement ring, it is important to keep it clean and protected. You can clean the ring at home using a soft toothbrush, warm water, and mild soap, or you can take it to a professional jeweler for cleaning. To protect the ring, avoid wearing it during activities that could cause damage, such as sports or heavy lifting.
Related post: How To Clean Your Jewelry At Home & Other Useful Tips
Ask A James Allen Expert
Whether you're dreaming of a minimal and timeless design or something more unique and contemporary, an oval cut engagement ring is one of the more popular choices for a reason. With its ability to feel fresh and feminine but still very trendy, the endless options show there really is something for everyone.
Still haven't found the perfect engagement ring? Don't hesitate to reach out to us at JamesAllen.com. Our customer service team is always available to help and answer any queries you may have. We look forward to assisting you!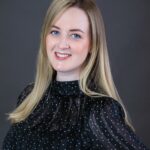 An experienced content writer with four years' experience, Tarryn enjoys educating and guiding jewelry shoppers, providing them with valuable insights and best practices for making informed purchases.