Fine jewelry, engagement rings, and wedding rings – what does it take to properly maintain your gold and platinum jewelry? We'll give you the complete rundown on how to clean jewelry at home.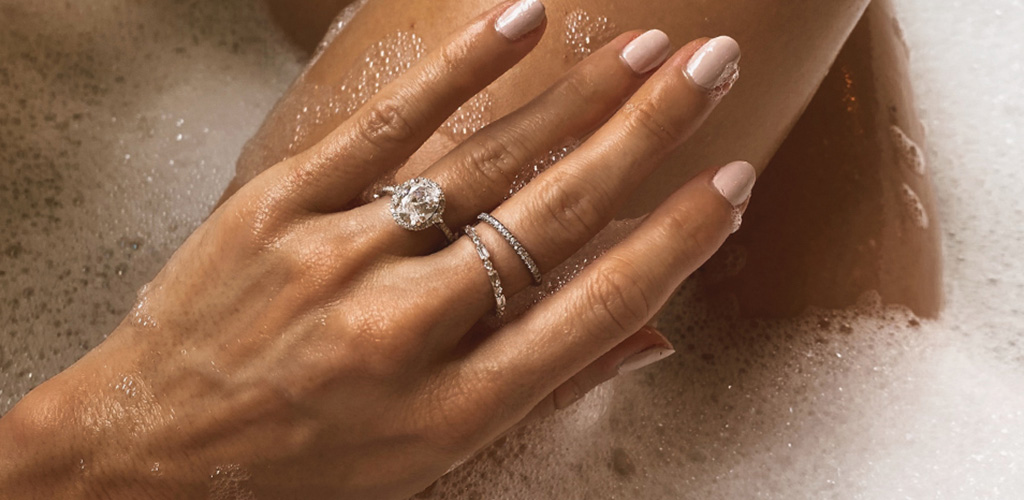 Why Should You Clean Your Jewelry Regularly?
For sparkle: Your jewelry shines its brightest at its cleanest. Over time, thin layers of dust and oil accumulate and block light from reaching your jewelry's surfaces. Without light, there's no reflection, refraction, brilliance, or fire. So if you notice that your jewelry is looking a bit dull, your first thought should be to clean it.
For sanitization: jewelry is full of prongs and crevices that collect grime. This doesn't just dull your jewelry's shine; it also means your jewelry is constantly transferring germs between you and your surroundings. Think of regular cleaning like hand-washing for your jewelry; it keeps your jewelry sanitized and keeps you healthy. Particularly in the era of COVID-19, sanitization is critical.
For safeguarding: A dirty ring is a damaged ring. Particulate build-up can scratch and/or discolor your jewelry metal. On the other hand, cleaning your jewelry too often or too vigorously can also seriously damage your jewelry. Harsh cleaners on some metals can wear away plating, causing permanent discoloration.
How Often Should You Clean Your Jewelry?
How often should you clean your jewelry? That depends on how thoroughly you want to clean it. Regular, gentle cleaning should be performed weekly, while more thorough cleansing should only occur occasionally so that the harsh chemicals don't damage your jewelry.
Light Cleaning: Every Week
Warm water + dish soap + soft toothbrush. Make your own jewelry cleaner by filling a bowl with warm (not hot) water, and then adding a few drops of dish soap. Put your jewelry in the mixture and let it sit for 15 minutes. Afterward, take your jewelry out of the bowl and scrub it clean with a soft-bristled toothbrush. Rinse, dry with a soft towel, and layout on a soft surface to dry.
Polishing cloth. In a pinch, a normal microfiber cloth will do. However, specialty jewelers' cloths are the best, since they contain particular cleaning compounds formulated to both polish and remove small scratches in your jewelry.
Occasional Cleaning: Every 1-2 Months
Ammonia. For a deep cleaning at home, create a strong jewelry cleaner by adding one-part ammonia to six parts water. Let your jewelry sit in this mixture for no more than 1 minute. Remove, rinse under running water, dry with a soft cloth, and place on a towel to air dry completely.
Deep Cleaning: 1-2 Times Per Year
Free jewelry cleaning with James Allen. Either send your jewelry to James Allen for maintenance or take your jewelry to a local James Allen partner for a complimentary professional cleaning. Minor repairs are also free!
Ultrasonic jewelry cleaning machine. These are similar to the machines used by professional jewelers. Ultrasound waves loosen grime from even the smallest of niches, and it only takes about 5 minutes. If you want to give your jewelry a regular deep clean, it may be worth investing in one.
Expert Tip: Ultrasound jewelry cleaning doesn't sanitize your jewelry, so it's worth following up an ultrasonic treatment with a simple dish soap + water cleaning. The ultrasonic waves can also damage jewelry that contains tungsten or soft, porous gemstones like pearls.
Daily Habits To Protect Your Jewelry
To prevent tarnishing and scratching, it's worth learning a few helpful jewelry habits. These actions are most important for protecting softer metals like yellow gold and plated metals like white gold, which can be most easily scratched or discolored.
Store each piece of jewelry in its own cloth bag to prevent scratching.
Purchase a jewelry box that has a soft inner lining to stop pieces from scratching each other.
Keep a jeweler's polishing cloth in your bag or backpack for quick use.
Take your jewelry off when you're sleeping.
Remove your jewelry during strenuous activities, like gym or construction.
Don't wear jewelry when you're using caustic materials like household cleaners – or wear rubber gloves.
Keep your jewelry off while you apply makeup or hairspray.
Remove your jewelry before you swim in chlorinated pools and salt water.
How To Clean Your Engagement Ring At Home
Related Post: How To Clean Your Diamond Jewelry
How To Clean Yellow Gold Jewelry
Most yellow gold jewelry is offered in two different karats of metals: 14k and 18k. While 24k is pure gold, lower carats are actually mixed with other metals (like nickel, copper, and silver) in order to strengthen it to the point that it's suitable for jewelry.
If you're wondering how to clean gold jewelry, you're in luck: yellow gold is slow to tarnish and dull and doesn't require maintenance as frequently as other gold jewelry metals.
Use: Dish soap + water, ammonia, or a polishing cloth.
Avoid: Bleach and tough scrubbing brushes
How To Clean White Gold Jewelry
White gold's silvery luster is created by alloying yellow gold with white metals like nickel or zinc and finishing with rhodium plating. Normal wear and tear will result in the need for rhodium re-plating every 5-10 years in order to maintain white gold's silvery appearance.
This rhodium plating can also be worn down by strong chemicals, so take off your white gold rings when cleaning.
Use: dish soap + water or a polishing cloth
Avoid: harsh chemicals which can strip the rhodium plating.
How To Clean Rose Gold Jewelry
Rose gold is a yellow gold/copper alloy. The gold gives it a malleability and sheen that's perfect for jewelry, and the copper gives it its distinctive pink hue. It's also the strongest of all the gold metals, so your rose gold jewelry can be worn more often, with less chance of scratching.
Use: dish soap + water or a polishing cloth
Avoid: abrasive chemicals
How To Clean Platinum Jewelry
Platinum is a rare, valuable metal with a gorgeous silvery sheen that retains its white luster with minimal maintenance. It's also the most durable of all the ring metals! In general, you'll have to clean platinum jewelry less regularly than gold, and it will also scratch less.
Use: dish soap + water or a polishing cloth.
Avoid: Ammonia
A Tidy Summary
No matter what metal your jewelry is made from, it's important to maintain its sparkle via weekly cleanings with dish soap, warm water, and a soft-bristled toothbrush.
For a squeaky-clean professional shine, either send your James Allen jewelry to us for a quick and complimentary deep cleaning or take it to one of our brick-and-mortar partner jewelers. Or spend a bit of money to DIY and deep clean it with either an ammonia-water mixture or purchase an ultrasonic jewelry cleaner.
Treating your jewelry right will help it look continuously brilliant throughout the years.
Subscribe to our email list for access to secret sales, practical ring-buying tips, and $100 off your first purchase.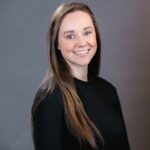 Jessica is a seasoned content writer with four years of experience and a qualified gemologist. She enjoys educating new shoppers on the best practices for buying jewelry.