Despite the excitement, we know buying an engagement ring can be one of the most stressful and time-consuming activities. That's why we've come up with ten helpful tips on how to buy an engagement ring for men and women. Let's get started!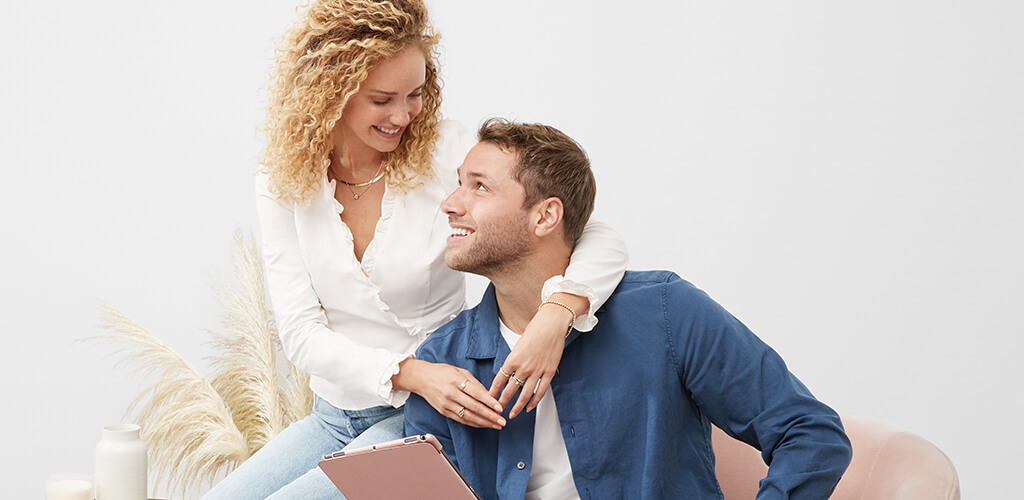 Research The Best Place To Buy An Engagement Ring
Before considering the what, when, and how, you should establish the where. There are plenty of places to buy your engagement ring, each with its own pros and cons. From online retailers to reputable jewelry stores, finding a vendor you can trust is key to getting the best ring for your buck.
Shop Online
Buying your engagement ring online may seem daunting, but the right company can ensure a perfect fit with more convenience than you imagined. Not only will online vendors offer you a wider selection of diamonds and ring settings, but you'll have more options to personalize your ring due to their larger inventory and technological features.
Online vendors are the way to go if your main concern is getting a gorgeous ring that works with your budget. They're consistently cheaper than jewelry stores by 20-100%. Not to mention, many, if not all of them, offer lab created diamonds which are 30% cheaper than earth made diamonds.
You'll almost always find the best value diamond rings online, not in local stores.
Related Post: The Ultimate Guide To Buying An Engagement Ring Online
Shop In The Wholesale District
Shopping locally may give you a sense of ease if you're familiar with the stores, but you could be limiting your ring options. Chances are your partner has something specific in mind, and the best way to meet those expectations is to find out if those stores offer what they want. Whether the proposal is a secret or you're shopping for the ring together, you'll need to know if your partner experiences love at first sight with the ring options available to them.
The sad truth is that engagement rings can often be marked up well beyond reasonable margins. Don't be afraid to negotiate! It's your job to find a jeweler willing to work with your budget and get you the best quality ring.
A great way to start looking for reliable jewelers is by finding one that is affiliated with a professional trade association, like the GIA. We definitely recommend that you shop around and make comparisons to get the best deal on your dream ring!
Know The 4Cs
Having a solid understanding of the 4 C's (Cut, Color, Clarity, and Carat) will help you make an educated decision on buying a diamond or gemstone for your ring. The quality and beauty of each gem can differ dramatically.
Diamond Cut
The cut of a diamond not only refers to the diamond's shape but also refers to how effectively the diamond returns light back to the viewer's eye. A well-cut diamond will appear brilliant and fiery, while a poorly-cut diamond can appear dark and lifeless, regardless of its color or clarity.
Diamond Color
When shopping for a diamond, choosing a stone with the least amount of color is generally preferred. Diamond color is graded on a scale from D-Z and is divided into five broad categories (colorless, near colorless, faint, very light, and light). Diamonds come in all colors of the spectrum. The predominant color in a diamond is yellow, which is caused by the trace element nitrogen.
Diamond Clarity
It is important to select a diamond that does not have any inclusions that will affect the overall beauty and durability of the diamond. If you want to be 100% sure that your diamond will be completely clean of "eye-visible" inclusions, stick with diamonds graded "VS2" or higher.
Diamond Carat Weight
Carat is a term that refers to the weight of a diamond. Before the twentieth century, diamonds were measured using carob seeds, which were small and uniform and served as a perfect counterweight to the diamond. The word "carob" is the origin of the word "carat" used today.
Understand Your Diamond And Alternative Center Stone Options
Traditionally, a diamond center stone was expected, but modern times call for more innovation and definitely a smarter financial choice for your forever ring.
Popular gemstones like sapphire, ruby, and emerald can look just as glamorous as any diamond. Gemstones can be cut to any fancy shape and fit well in every metal color. They're also cheaper per carat, making things easier on your bank account.
Still want a diamond? Try a lab grown diamond as opposed to a more expensive natural diamond. Remember, lab created diamonds are optically and chemically identical to earth created diamonds; the only difference is the price tag. Lab diamonds are three times less expensive than natural diamonds and shine just as brightly.
Narrow Down The Diamond Shape You Want
The fun part of buying an engagement ring starts here. The classic round diamond is the most popular center stone, known for its fiery brilliance and glamorous appeal. But don't let that steer you away from other shapes.
Other round shapes like oval and cushion cut diamonds are just as stunning on the finger. Square shapes like radiant, Asscher, and princess cut offer a bolder aesthetic, while emerald, pear, and marquise cut diamonds have the wonderful tendency of looking larger than diamonds of the same carat weight and giving the finger a slimming effect.
Check out our virtual engagement ring try-on to find out which diamond shape suits your hand best!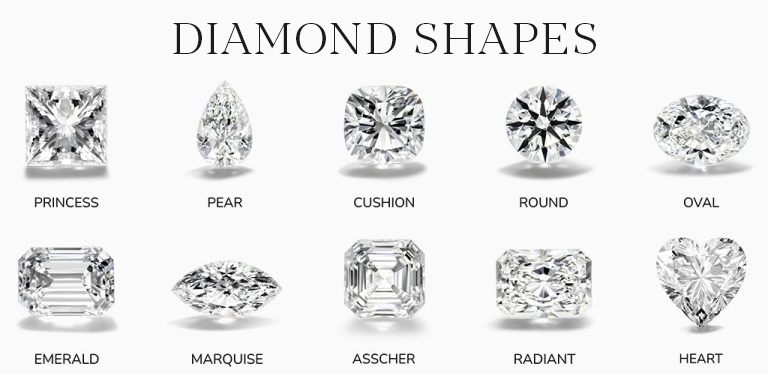 Pick The Metal You Want For Your Band
From style to budget, there are plenty of factors to consider when deciding on the metal for your engagement ring. The most popular engagement ring metals are yellow gold, white gold, rose gold, platinum, and sterling silver.
Before buying your engagement ring, it's important to determine which metal color your partner prefers. Once that's been taken care of, it's easier to make a solid choice.
Choosing a metal color should go hand in hand with the color grade of your diamond choice. Our next point is all about a diamond inspection. Read on to understand why it's important to inspect your diamond and how that knowledge will help you to make better decisions about metal colors and even setting choices.
Related Post: White Gold Vs. Platinum: What's The Difference?
Make Sure You're Able to Evaluate Your Diamond Up Close
Before buying your diamond, we highly recommend that you have a diamond consultation where you're able to inspect your diamond up close with a professional. Why is this so important?
To find the best diamond for your budget.
To have important details about your diamond pointed out that you might miss on your own.
To save money.
Guide you to the perfect diamond and, eventually, engagement ring.
Inspect your diamond in 360° HD and 40x zoom with the guidance of a professional gemologist! Our Real-Time Diamond Inspection is a game-changer for online ring shoppers.
Choose The Best Setting For Your Budget
While the diamond or gemstone center stone will likely be the first thing people notice about your engagement ring, picking the right setting is still imperative.
Depending on the size and shape of your stone, some settings will either work, or others will no longer be options. Personality also plays a huge role in picking a ring setting. For plain and simple, we always love a good solitaire or bezel setting. For maximized sparkle, three-stone, halo, and pavé ring settings will never let you down.
When picking a ring setting, always have your budget in mind and the style expectation of the ring recipient.
Get An Accurate Ring Measurement
You can save yourself a lot of stress and heartache by making double-sure you have your partner's correct ring size. This ring buying tip is one we recommend you don't skip!
There's nothing worse than proposing to your favorite person only to get the ring stuck or have it fall right off. You can get the correct ring size by:
Asking a friend or family member to help you get your partner's finger measured.
Take one of their existing rings to a jeweler and get it measured in a store.
Use the old string and ruler method while they're sleeping.
Try our virtual ring try-on using your smartphone.

Make Sure Your Jeweler Is Certified
We always encourage buyers to ask for diamond certification and to shop with jewelers who provide them. Check that your chosen retailer can produce a certificate from these reliable laboratories (GIA and AGS). These labs provide accurate, reliable, and consistent gradings of factors such as cut, color, clarity, and more.
Having one of these certificates verifies that the diamond you're receiving is 100% the diamond the vendor is selling you.
Consider How Your Engagement Ring Will Look With Your Wedding Ring
Matching engagement rings and wedding bands are kind of a thing, so there is no shame in preemptively buying both simultaneously. Matching ring sets can ensure your partner's two rings fit perfectly together and may save you time and money closer to your wedding.
The fancier the ring setting, the harder it may be to find a well-fitting wedding band. So remember to keep that in mind while you shop for your engagement ring.
Let's Wrap It Up
We hope our ten tips for buying an engagement ring help you during your shopping process and prepare you for all the many boxes you need to check off before you swipe your credit card.
You can also contact us if you need help finding your dream engagement ring. Our diamond and jewelry experts at JamesAllen.com are always available to answer any questions you may have.
Subscribe to our email list for access to secret sales, practical ring-buying tips, and $100 off your first purchase!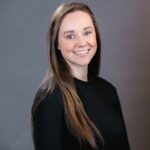 Jessica is a seasoned content writer with four years of experience and a qualified gemologist. She enjoys educating new shoppers on the best practices for buying jewelry.