When choosing the perfect diamond engagement ring, size matters. BUT this does not mean that bigger is always better. So how do you know the perfect size diamond for you? Read on to see how different diamond sizes look and learn how to choose the best diamond size (& shape)!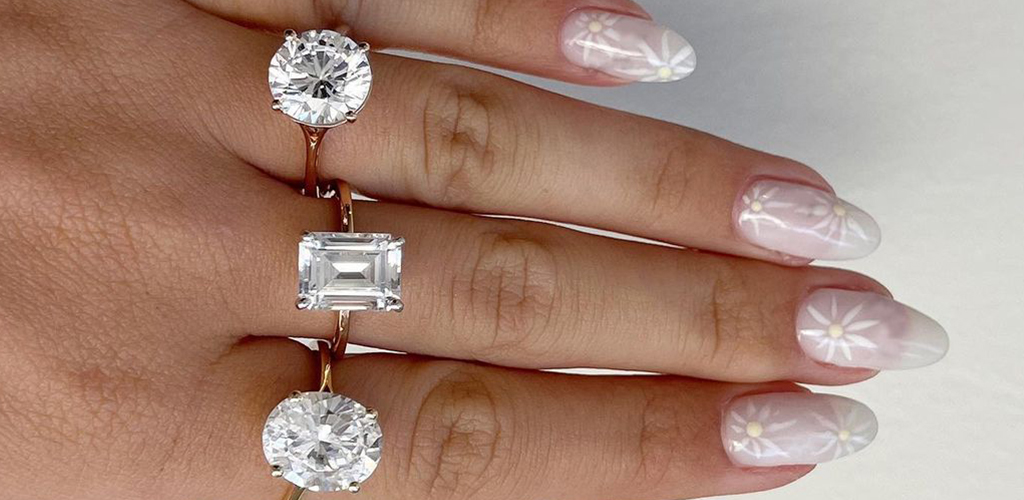 No two fingers, hands, or taste are exactly alike. Some people want as large a diamond as possible, some people prefer a smaller one. Whether it's a lifestyle, budget, or a fashion choice, different diamond sizes and shapes work best on different hands.
Join us as we explore how different sized diamonds measure up and choose the best diamond size and shape for your beloved's finger.
The Best Size & Shape For Small Or Short Fingers
A smaller, more petite hand requires proportion. A lower carat weight that will not overwhelm the hand may look best. Shapes like the popular round cut, asscher, and princess cut diamonds are exceptionally pleasing to the eye on a smaller hand.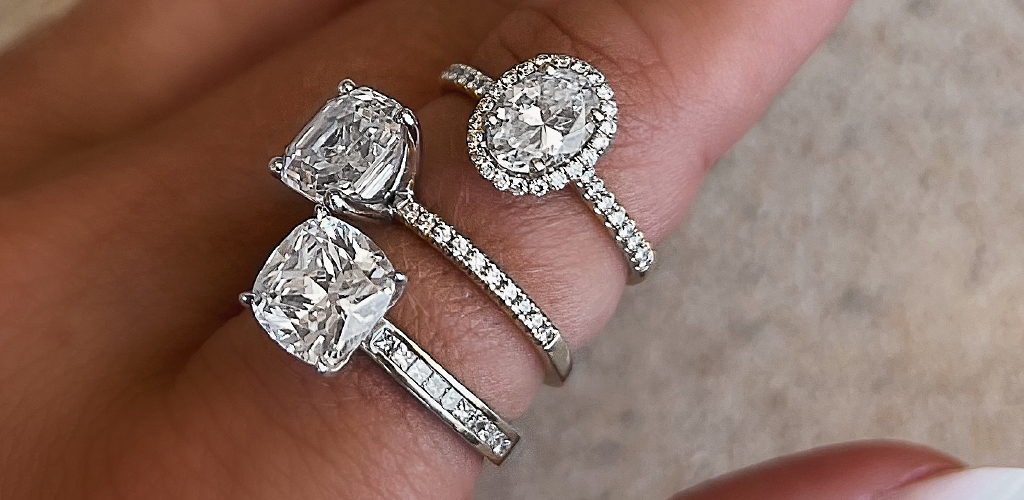 Set these shapes in a simpler setting, which will enhance and not overwhelm a smaller, more petite hand. Solitaire or split shank bands are ideal. Larger side stone settings can make a smaller hand look unbalanced.
The Best Size & Shape For Wider Or Longer Fingers
Wider or longer fingers, and larger hands are generally flattered by diamond shapes that have an elongating effect such as oval, marquise, pear, and emerald cuts. If you feel your fingers are a bit too long, then go for shapes like round, princess or asscher cuts. Their width will help balance out the length.
While a lower carat weight can be more fitting to a petite hand, larger fingers and hands can more easily support a larger carat weight, whatever your preferred shape.
If your budget doesn't quite allow for a larger diamond, then bump up the shine with a halo setting.
Shapes That Punch Above Their Weight
Different cuts and shapes shine in their own way. Shapes like the emerald cut, oval, and marquise diamonds have a larger table surface, which can make them appear larger than other shapes in the exact same carat weight.
Oval not only has a large table surface, making it appear bigger than its actual carat size, but it also elongates shorter fingers. Along with pear and marquise shaped diamonds, oval is great if you are looking to give the impression of longer, leaner fingers.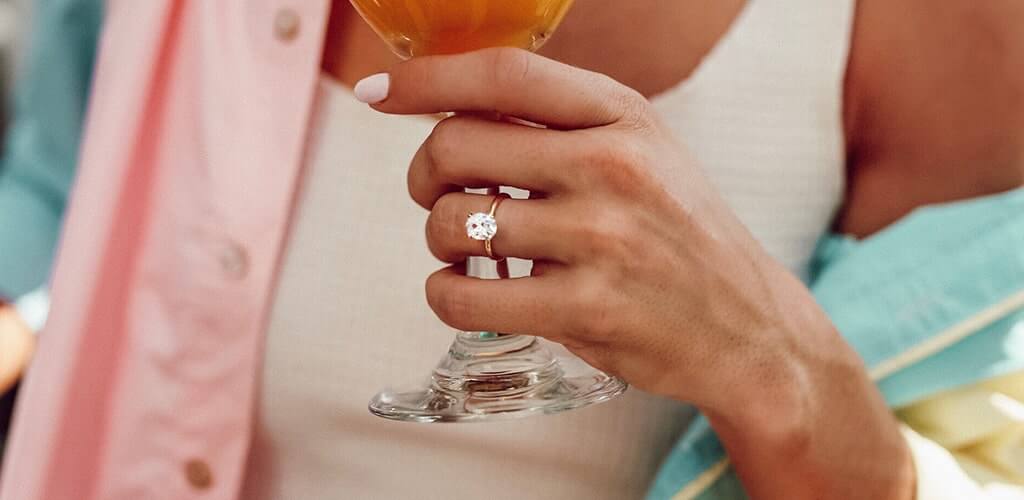 Learn more about table surface and other diamond characteristics in our Education Center.
Is There A Shape For Everyone?
Yes! While the most flattering shape is the one that will be beloved, round cut diamonds are universal. They are the most popular shape for engagement rings for a reason. Looking good on any hand, in just about any setting, a round diamond is always a great choice!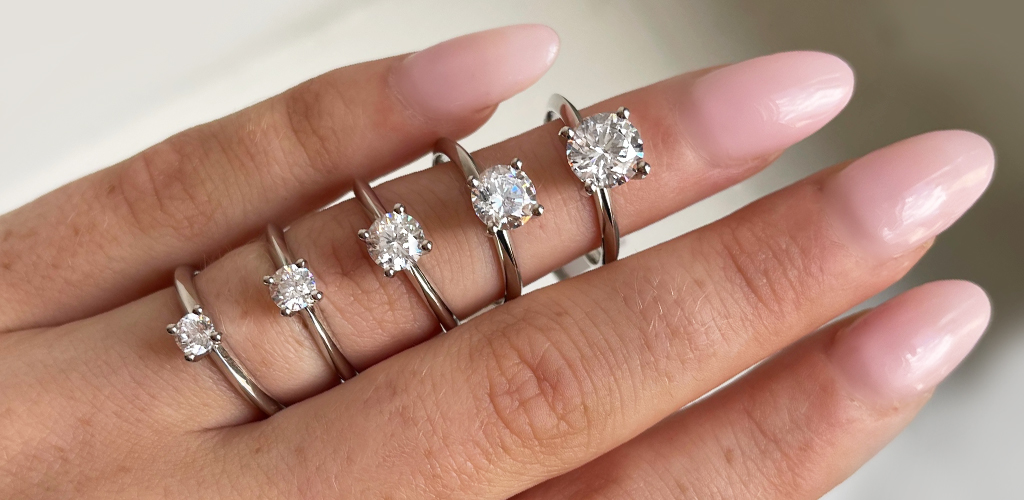 See For Yourself
Seeing is believing! It is one thing to read about different diamond sizes on a finger, it is another to see it. Below you can see a scale of round cut diamonds from 0.5 carats all the way to 2.5 carats.
Check Out Our Virtual Try-On
Sometimes the best way is to see for yourself. Lucky for you, James Allen has the technology to let you do this on the go or from the comfort of home. No pants, no shoes, no problem!
Our virtual engagement ring try-on allows you to see how different rings, different diamond shapes, and different metals will look on your hand using your smartphone! You can "try on" a limitless number of rings until you find the diamond shape, setting style, and metal that works best for you.
Top Factors For Choosing The Best Diamond Size & Shape
While there are many things to consider when choosing the perfect diamond, the factors below will ensure you choose the perfect diamond for your partner's hand.
Finger Size
Shorter or wider fingers with diamond shapes like emerald or oval will appear longer. Whereas longer or skinnier fingers can appear truncated by round cuts. This rule is certainly not universal, but a good guide.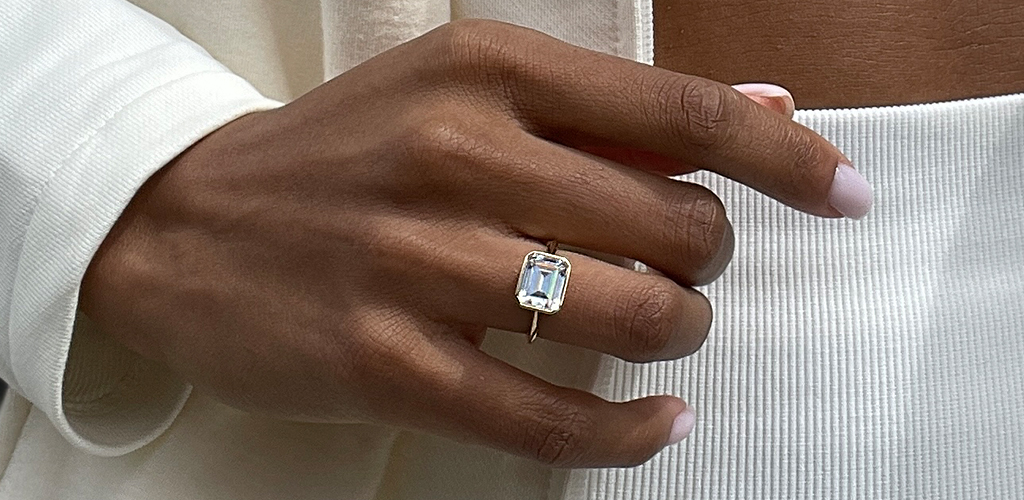 If your partner is more self-conscious about their hands, the above is important to keep in mind. This is the ring of a lifetime, so you want them to feel as comfortable as possible.
Band With
Simple, thinner bands, such as solitaire engagement rings, will allow the focus to be on the center stone. This focus will allow the diamond to appear larger on the finger.
A thicker band may diminish the apparent size of a diamond or gemstone. A thicker band may also be overwhelming on a smaller, skinnier finger yet be wholly flattering and fitting on a larger finger or hand.
The band and the center stone go hand in hand (pun intended), so keep both in mind when choosing your perfect setting.
Accent & Side Stones
Sparkle begets sparkle. Accent diamonds and side stones can greatly enhance the shine of a center stone, making it appear bigger and dazzle brighter than its actual size.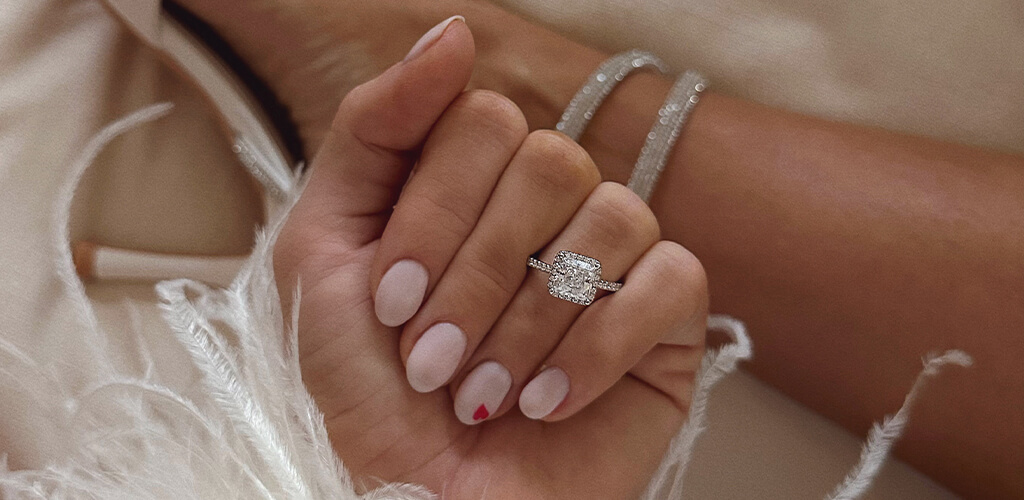 Pavé, halo, three stone, and side stone engagement rings perfectly highlight your diamond.
Shape
Certain shapes are more flattering to smaller or larger fingers. Just like certain shapes look larger or smaller than their actual size in different settings. A smaller diamond in the perfect shape may be the best bet over a larger diamond in an unflattering shape.
Lifestyle
Certain shapes and settings are better for more active lifestyles. Rounded shapes are less likely to catch than more pointed edges. A bezel setting can be more protective than a vintage setting.
While it is recommended to take off your engagement ring during activities like working out or going to the beach, if the recipient will wear the ring frequently and has a more active lifestyle, such as working with their hands, this is something else to keep in mind when choosing the perfect diamond shape.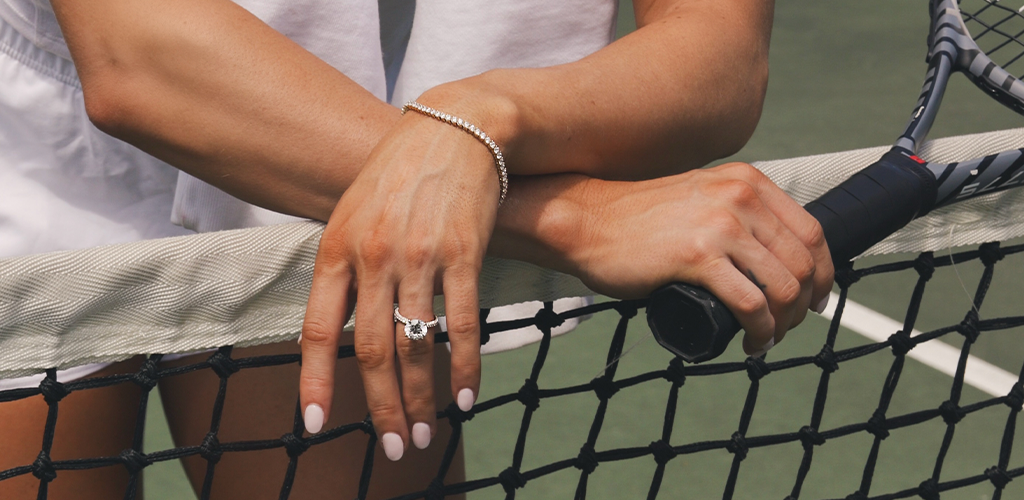 Budget
Budget is a key factor when shopping for a diamond engagement ring, but it is not the only one. A lower budget does not equal a smaller stone, less shine, or minimal shimmer.
Factors including shape and color grade will allow you to not only get the best fitting diamond but ensure you get the biggest bang, or in this case, sparkle, for your buck. Visit the James Allen Education Center to learn all about the different diamond color grades.
FAQs
Which diamond cut is versatile and universally flattering?
The round brilliant cut is timeless and usually suits all finger types, and is the safest bet if you're not sure what your partner likes.
Is it possible to combine rings with different diamond shapes?
Of course, mixing shapes can result in an interesting and distinctive look and is an engagement ring trend we are seeing in 2023.
What diamond shape is known for its brilliant sparkle?
The round cut diamond is known for its superior sparkle, making it the most popular diamond shape.
How can I select a diamond shape that aligns with my personal style?
Take your style preferences into account – whether they're classic, modern, or vintage – to guide your decision.
Do specific diamond shapes follow current trends?
Yes, currently, fancy shapes like oval, pear, and cushion cut diamonds are particularly trendy.
Final Thoughts
You found The One, you may even have an engagement ring style, but choosing a diamond is a whole other animal. Different sizes and shapes flatter different size fingers and hands.
There are so many factors to consider but luckily, James Allen has a selection of over 500,000 diamonds in a myriad of sizes and shapes. Our large selection ensures you get the best quality diamond, whatever size and shape you choose!
SHOP RELATED PRODUCTS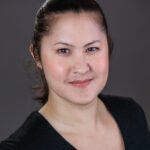 With over 10 years of experience writing and editing on a wide variety of subjects, Sarah is a veteran of the content world. Since joining James Allen, she has focused on all things diamonds and fine jewelry with the goal of educating and empowering consumers.