When it comes to the "right way" to wear a wedding ring, there are many options. But it is important to keep in mind that it generally comes down to your personal style. We've put together the most frequently asked questions when it comes to both engagement and wedding rings. From age-old traditions to popular fashion statements, these answers might surprise you.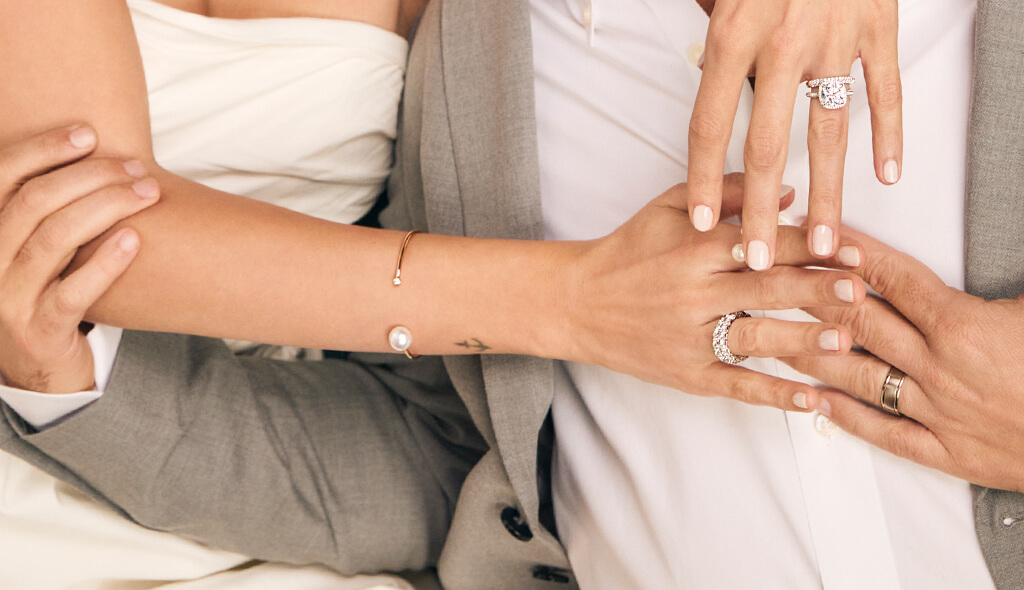 We pretty much have diamonds and rings on the brain all day every day. But there is a lot more to it than just carat sizes and diamond shapes. Giving and receiving of engagement and wedding rings is rooted in tradition and also has a great personal meaning.
Soon, you'll be walking down the aisle and you might be wondering, is there a right or wrong way to wear a wedding ring? Let's get started and help you figure this one out.
The Basics: Engagement And Wedding Rings 101
1. What Is The Ring Finger?
In many Western cultures, the ring finger is traditionally the fourth finger on the left hand. However, the "ring finger" is not the same in all countries and cultures.
2. What Is The History And Meaning Behind The Ring Finger?
The idea and symbolism of a "ring finger" dates back to Ancient Rome. The Romans believed that this particular finger has a vein that directly runs to a person's heart, called "Vena Amoris," which means "vein of love." Therefore, it is believed that a ring should be placed on this finger to signify the romance of a newly married couple as their two hearts would be connected.
Unfortunately, due to modern-day understanding of anatomy, it's clear that all fingers have venous connections to the heart. Yet, for the most part, tradition still stands for many couples who designate the same finger to signify their commitment to each other.
3. Can I Wear A Ring On My Ring Finger If I'm Not Engaged Or Married?
There are no rules when it comes to this answer. You may have heard the old wives' tale that says, wearing a ring on your "ring finger" when you are not married could bring you bad luck.
For women who are not superstitious, this may not bother them at all, while for others, this might be something they strongly believe in and avoid at all costs – of course until the right moment comes. The truth is, this is completely up to you!
4. Engagement Ring vs. Wedding Ring: What's The Difference?
Nowadays, there is a lot of tradition mixed with modernism when it comes to engagement and wedding rings, yet each ring signifies a different milestone. An engagement ring is typically given at the time of the proposal or soon after the couple decides to get engaged.
While the wedding ring is traditionally given at the wedding ceremony. Most often a wedding band is a relatively simple design while an engagement ring tends to feature diamonds or gemstones, depending on the wearer's individual style.
5. What Does A Wedding Ring Symbolize?
For many, a wedding ring simply represents a start of a new chapter. However, there is a lot more significance to a wedding ring than we may know. Firstly the shape of the ring – a circle universally symbolizes infinity and eternity.
Historically, the idea behind a wedding ring is that it has no beginning and no end. This brings us to the next symbolism, eternal love, and commitment.
6. What Is A Promise Ring And Which Finger Does It Go On?
Believe it or not, promise rings actually date back to Ancient Roman times too and are believed to be tokens of love that were exchanged between couples, and often were gifted with short love poems. Today, a promise ring is for the most part gifted in the same way, but the actual "promises" behind this ring can have different meanings for different people.
Commitment is the general idea here, but whether that commitment is to an upcoming engagement, abstinence until marriage, the idea of forever, or just the immediate future.
In terms of placement, no rules exist here but many people wear it on the left ring finger, as a placeholder for a future engagement ring, or on the right ring finger.
7. How To Wear A Wedding Ring?
Traditionally, and in most cultures, your engagement ring and wedding ring are worn together on the same finger, commonly known as the ring finger (on the left hand). Generally, the wedding ring is placed on the finger first so that it resides closest to your heart, with the engagement ring following on the outside.
As most people prefer to wear these two rings together, there are many wedding ring sets that are specifically designed to match each other. For many, this is a very popular choice when planning their engagement and wedding rings.
However, another option that some people choose is to wear their wedding ring on top of their engagement ring to keep it secure on the finger.
8. In What Order Should I Wear My Engagement And Wedding Ring?
Conventionally, couples wear the wedding band "closest to their heart," meaning the wedding band is stacked below the engagement ring on the left ring finger. However, some people like to wear their wedding band on top of their engagement ring as a way to secure it on the finger.
9. How Much Do Wedding Rings Cost?
While there is no one size fits all answer, experts have found the average couple spends approximately $1,100 for a female wedding ring. While the average cost of a male wedding ring is $500. Of course, this also depends on the type of metal you choose as well as any other detailing such as diamonds, gemstones or even a black wedding ring.
10. When Did Men Start Wearing Wedding Rings?
Even though wedding rings have been a part of wedding traditions and etiquette, men only began to wear wedding rings during the middle of the 20th century. It is believed this was done so as it was a symbol of their marital status. Additionally, many men at the forefront of the wars chose to wear their wedding rings as a remembrance of their wives and families at home.
11. Can Men Wear Engagement Rings?
The answer is YES! Despite that in many cultures the vast majority of men do not receive or wear an engagement ring, today, there are many men who choose to do so. There have even been many popular celebs seen sporting dazzling engagement rings.
For the most part, men only choose to wear a wedding ring, however, some men want an engagement ring to show that they are in a committed relationship. And the good news is there are so many options.
In case you're looking for some inspiration, did you know celebs like Ed Sheeran, Johnny Depp and Michael Bublé have been seen sporting bold men's engagement rings.
12. Which Finger Do Men Wear Their Wedding Rings On?
To put it simply, there is no difference between the fingers that men and women wear their wedding rings on. Most couples typically choose to wear their rings on the same finger and hand as their spouse. However, in the United States, and many other Western cultures men's wedding rings are traditionally worn on the ring finger on the left hand.
13. Should We (As A Couple) Have Matching Wedding Rings?
The answer to this question completely depends on your preference (and of course your partner). For some couples, this is one of the most perfect ways to symbolize their love and show how they are coming together as one.
However, for other couples expressing individuality in a marriage is important so this might not be desirable or even practical. Your wedding ring is something that you will be wearing for the rest of your life so if you and your spouse decide to not have matching wedding rings…it's totally OK! Don't be afraid to be original!
14. What Is The Most Popular Metal For Wedding Rings?
Gold has traditionally been the most popular metal for wedding rings. Even though there are several different types of gold that can be used for both wedding and engagement rings, yellow gold engagement rings have been a long time classic for many people all over the world.
Nowadays, white gold has become a very popular choice for wedding rings and of course, the very trendy rose gold too.
Still Have Questions?
At James Allen.com, our customer service agents are available to you 24/7. Feel free to contact us, and one of our non-commissioned diamond and jewelry experts will help answer all your questions.
You might also enjoy these from the James Allen blog:
Subscribe to our email list for access to secret sales, practical ring-buying tips, and $100 off your first order!