Looking to buy the perfect ring for yourself or that special man in your life, but unsure about their ring size? Men's ring sizes can differ considerably, but don't sweat, James Allen is here to provide you with a better understanding of all there is to know about men's ring sizes as well as what the best wedding ring is to suit your lifestyle and personal taste. Let's dive in and help you take the stress out of ring shopping.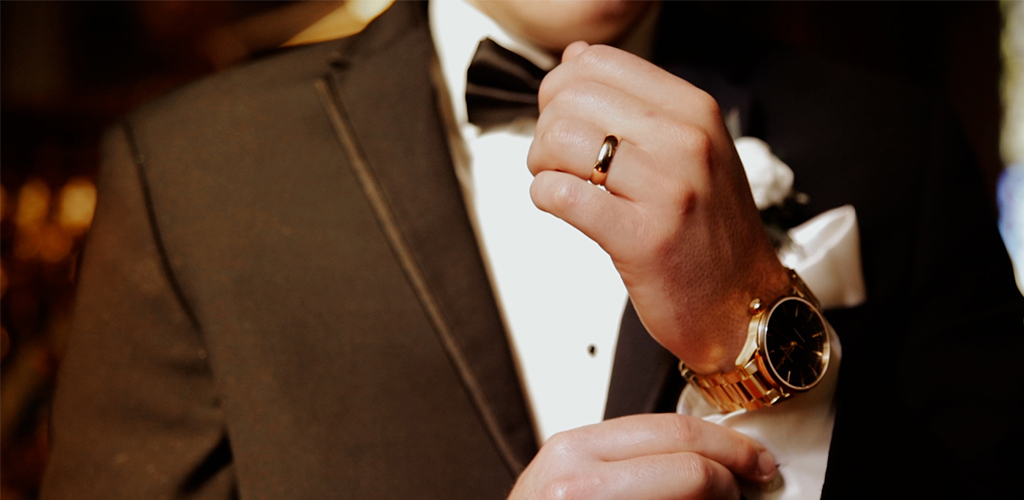 One of the most important factors to consider when shopping for men's wedding rings is the ring size. For many men, a ring is sometimes the only piece of jewelry they choose to wear every day. So, ensuring the ring is correctly sized is not only essential for comfort but will also prevent you or your loved one from losing it. Did you know, that a ring that fits well exudes elegance and is also said to be part of ring etiquette for men?
Before we get started with finding the correct ring size and some of the different measuring techniques you can use, it's good to know that figuring out a man's ideal ring size is much easier than you may think.
What is the Most Common Men's Ring Size?
In the U.S.A, the most common men's ring size is 9, which converts to approximately 19.8 millimeters in diameter. But of course, as all men's fingers are not the same, their ring size can vary from a size 6 to 20. But the big question still remains, how do you know what size ring to order?
Did you know that men's ring sizes and how they are measured actually differ from country to country? While a man may wear one size in the USA, his sizing may be completely different in New Zealand or the U.K. But fortunately, ring size conversion charts are available to assure that you order the correct size, regardless of where in the world you may live.
How to Determine A Man's Ring Size?
Found the perfect ring? Now all you need to do is find the correct ring size! Luckily, it's a lot easier than you think and there are numerous ways to help us figure out a man's ring size before shopping for a ring at James Allen. Take a look at these amazing tricks to help you out.
Get Measured At A Jewelry Store
Even though you won't be shopping for a ring in the store, this is still one of the most professional ways to find your ideal ring size. Head over to your local jewelry store and have the jeweler measure your ring size. Besides their nifty gadget, ask if you can also try on some of their men's engagement rings or men's wedding rings to ensure both comfort and the most accurate ring size.
2. Grab Some String and A Ruler
This next method is simple and works well for those who don't have a ring nearby. All you need to do is take some string or ribbon and wrap it comfortably around your ring finger or the finger that you are going to rock the ring on. It's important not to measure a different finger as the ring may not fit properly.
Now, once the piece of string is around your chosen finger, carefully mark the spot where the string overlaps. For an accurate result, try to make the smallest mark possible. Then, take the string and measure it against a ruler or measuring tape. Enter your measurements here in either millimeters or inches. We'll do the calculations for you and, voila, you now have your ring size.
3. Do It All Online
You may be asking yourself, how is this even possible? But it's true, when purchasing a wedding ring and figuring out your ring size, James Allen can help you with it all and from the comfort of your own home. Take a look at our free online ring sizer
Alternatively, you can simply request a free ring sizer that will be delivered to your home.
Nervous that you've ordered the incorrect ring size? Don't fret! We will resize your ring once, for free up to 1 year after the purchase. If you live in the United States, you can even get your ring resized locally at a location near you.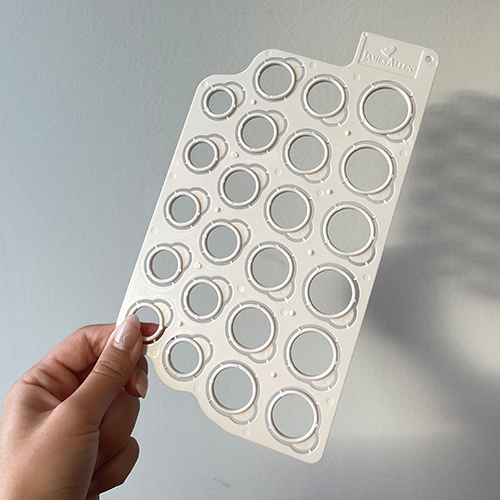 Factors To Consider When Choosing A Ring
While a size 9 may be the most common ring size in the U.S., it's vital to remember that no two hands are the same. In other words, we do not recommend taking a wild guess when it comes to the correct ring size – even if you want to surprise your loved one. With that being said, 'size' is just one important factor that affects the fit and appearance of a ring. You should also take into account how a ring looks on the hand and other style elements such as the shape, bandwidth, and metal type.
Metals
It's good to note that certain metals and their colors may look better with specific skin complexions while for other men, this detail may just be a personal preference. Warm metals such as yellow gold or rose gold may look great on men with warmer undertones, while light metals like platinum or white gold may be a better option for men with cooler complexions.
So, keep this in mind when choosing the perfect ring for you or the man in your life. We stock men's rings in yellow gold, white gold, rose gold, platinum, Tantalum, Cobalt and Titanium.
Ring Shape And Style
Men's rings come in a variety of different shapes, from flat to domed to knife edge and even slightly curved. Let's face it, when it comes to wedding rings, men don't always have an abundance of options. Even though the domed shape is the most classic shape and is often a popular choice for many men, luckily the days of boring and 'traditional' men's engagement or wedding rings are over.
We totally understand that men want to show off their style too. This is why James Allen offers men's rings that are perfect for the modern man who is searching for something less traditional and a lot more unique. Take a look at our range of contemporary black wedding rings that are trendy and very unique. In fact, black wedding rings for men come with many advantages such as;
Many of them are hypoallergenic
Some black metals resist scratches
Black wedding bands are typically more affordable
They are very fashionable at the moment
Width
By now we know that rings offer all sorts of various options, another important thing to think about is the width of a ring. Ask yourself, how wide do I want my ring to be? Here, experts recommend trying on a few men's rings in a variety of different widths to help you decide what you like best.
The average width for a men's wedding band is 6 mm, but different widths are available to complement both small and large hands. For men with bigger hands and long fingers, a wider ring band is recommended. While men with smaller hands or shorter fingers, a wider band may not be the best choice. Then again, this also depends on personal style and how much of a statement you want to make.
Consider Your Lifestyle
As you or your partner will be wearing the ring every day, you need to make sure that the engagement ring or wedding ring you choose should completely fit your lifestyle. One of the biggest things to consider is how much you work with your hands during the day. For example, if you play sports or have a career as a mechanic or chef, you definitely need a ring that offers maximum comfort. 
You would generally stay away from rings with diamonds or gemstones and possibly even consider a platinum ring as they tend to be more durable. In addition, the domed shape is perfect for men who work with their hands and may need to quickly remove their ring in the event of an emergency. Read more here about Men's Wedding Rings For Different Lifestyles
Men's Ring Size Measuring Tips
Experts recommend that before you measure your ring size, make sure you follow these tips. This will ensure the most accurate results and maximum comfort.
We Recommend You Don't Measure Your Ring Size:
In the morning – our fingers tend to swell overnight, so it is better to measure your finger in the middle of the day.
After an intense workout
When the weather is either too hot or cold – as our hands tend to expand in the heat and shrink in the cold, it's best to take your measurements at room temperature. Don't start measuring straight after ice-skating or after a long day at the beach.
After a large fluid intake
After a long flight as the body tends to swell
If you are sick or have a fever.
Final Thoughts
We hope this was helpful! For more information regarding ring sizing, feel free to contact our Customer Support team. We are available and happy to help you 24 hours a day, 7 days a week.
Subscribe to our email list for access to secret sales, practical ring-buying tips, and $100 off your first purchase!
Looking for inspiration or more information? Check out these related articles below: