There are no hard-and-fast rules in the world of how to wear wedding and engagement rings. As you'll soon see, even the most "universal" traditions are subject to variations. It all depends on the ring wearer's particular culture and style.
So what should YOU do? Read on to find out.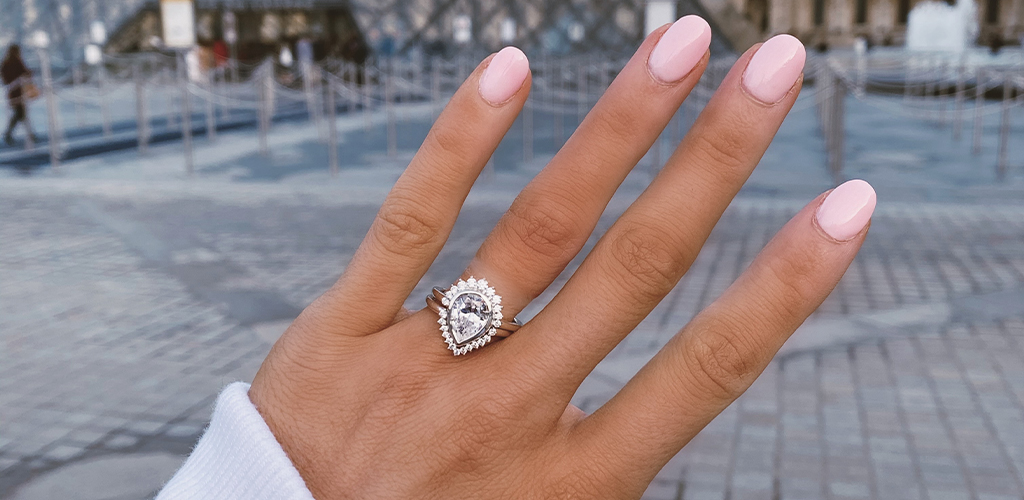 Now that you've started thinking about the perfect way to stack on your bands, you might be wondering how exactly to wear engagement and wedding rings together. It's easy to feel confused about wedding rings or bridal sets. There is no right or wrong way. It's all completely up to you!
It is impossible to define a 'traditional' manner of wearing a wedding ring set, but there are a variety of popular ways of wearing them. And yes, some do follow various traditions. Still unsure? We're here to help. Keep scrolling to learn everything you need to know about how to wear a wedding ring set.
What's The Right Way To Wear A Wedding Ring?
When it comes to the "right way" to wear a wedding ring, there are a few options. However, it's important to keep in mind that it generally comes down to comfort and your personal style.
However, in many Western cultures, the wedding ring finger is traditionally said to be the fourth finger on the left hand. But, the "ring finger" is not the same in all cultures and countries. It also may depend on local tradition, religion, and personal preference.
What's The Difference Between A Wedding Ring And An Engagement Ring?
First, let's talk about the rings. Though there are a few key differences between a wedding ring and an engagement ring, one of the main features that sets these two rings apart is when they're given. An engagement ring is typically given during the proposal, while wedding rings are exchanged during the marriage ceremony between both partners.
And while an engagement ring typically features a prominent center stone, a wedding ring does not have a particular focal point. They sometimes feature rows of smaller stones or a clean solitaire band.
The Best Wedding Ring Styles
Experts recommend that you don't just buy a wedding ring simply because it's currently trendy. These are rings you'll be wearing every day for the rest of your life, so it's important that the design and style reflect your personality.
Say 'I do' and begin yours forever with a distinctively beautiful James Allen wedding ring. Choose from our large selection of gorgeous ring styles, including classic wedding rings, diamond wedding rings, and eternity rings.
Classic Wedding Rings
Classic wedding rings complement any engagement ring. The simplicity of a classic metal band directs all the attention to your engagement ring. So if you're struggling to find a matching wedding ring or simply want to highlight your engagement ring, a classic wedding ring could be the perfect style.
Curved Wedding Rings
If your engagement ring has a distinct shape, your wedding ring can curve to accommodate your center stone. This gives your wedding set a unique interlocking quality. As an added bonus, a curved wedding ring's complimentary shape reduces friction on your skin by preventing unnecessary slippage.
Eternity Rings
In some cultures, it's a custom to wear circular eternity rings. In this case, eternity rings are considered to symbolize eternal love. A meaningful expression between a couple on their journey of everlasting love – a promise of lifelong commitment. Even though traditionally, eternity rings are gifted to mark a special milestone within a relationship, nowadays, they are often worn as wedding rings as they pair so beautifully with many different engagement ring designs.
Which Hand Should You Wear Your Engagement & Wedding Ring On?
Your wedding ring set can be worn on either hand, and there is no right or wrong way to do it. It differs worldwide and is often not the same in all countries and cultures. But there are at least 3 common ways to wear a wedding set.
On The Right Hand
How a person wears their engagement and wedding band may determine the area they are living in or the cultural traditions they are accustomed to. 
In certain Northern and Eastern European countries, wearing these rings on the right hand is customary. This tradition actually comes from an ancient Roman belief that the left hand was untrustworthy. As a matter of fact, the Latin word for "left hand" shares the same root as the modern-day word "sinister."
On The Left Hand
The most common choice for most people is to wear their engagement and wedding rings on their left hand. The tradition of wearing a wedding ring, specifically on the fourth finger, originated from the belief that this finger has a vein running directly to the heart. As this idea has been passed down for many generations, people still enjoy the symbolism of wearing their wedding rings closest to their hearts, showing how important marriage is. 
In addition, many people prefer to wear the engagement and wedding rings together on the same finger (on the left hand). Generally, the wedding ring is placed on the finger first so that it is positioned with the engagement ring following on the outside. For this reason, numerous gorgeous wedding rings and bridal sets are specifically designed to match each other. And many couples choose this option when they plan their engagement and wedding rings.
However, another option that some people choose is to wear their wedding ring on top of their engagement ring to keep it secure on the finger.
On Different Hands
The engagement ring and wedding ring don't necessarily have to be worn on the same hand. Some women wear their wedding ring on the left ring finger and their engagement ring on the right ring finger. Whether you uphold a time-old tradition or create your own is entirely up to you.
How Do I Match A Wedding Ring To An Engagement Ring?
The answer: however you'd like. As the bride-to-be, you can choose to express yourself in whatever way you wish. There are few, if any, customs regarding how you pair your wedding ring with your engagement ring. So what does this mean for you? You have three main elements to mix and match: metal, stones, and style.
Match By Metals
As we've mentioned before, there are truly no wrong answers when it comes to engagement rings and wedding bands. While you may prefer to have a perfectly matching set of rings, others might prefer a mix of metals. All ring metals look great together as long you love what you're wearing! At JamesAllen.com, we provide you with four beautiful metal options: yellow gold, white gold, rose gold, and platinum.
Match By Stones
Diamonds are definitely marriage material, but so are gemstones. Gemstones are a gorgeous alternative for those who prefer a twist on the classic wedding ring. Don't be shy to choose a wedding ring with the right stones to make you smile.
The beauty of gemstone wedding rings is that there is a huge selection!
From sapphires and rubies to opals and emeralds…these can make the most perfect, personalized piece. Whether you choose a particular stone for its beauty or you want to embrace a certain stone's meaning, the options are endless! For instance, you may wish to have a unique wedding ring set that features a respective birthstone.
Match By Ring Setting Style
Finding the perfect wedding ring set can be tricky as there is a diverse range of styles to choose from.
Of course, style often comes down to personal taste and preference. But luckily, at James Allen, you can perfectly match your wedding ring to your engagement ring or go with something completely unique. The beautiful settings options are plentiful, and range in style and design, from stunning pavé wedding rings to rose gold stackable rings – you're guaranteed to find the one.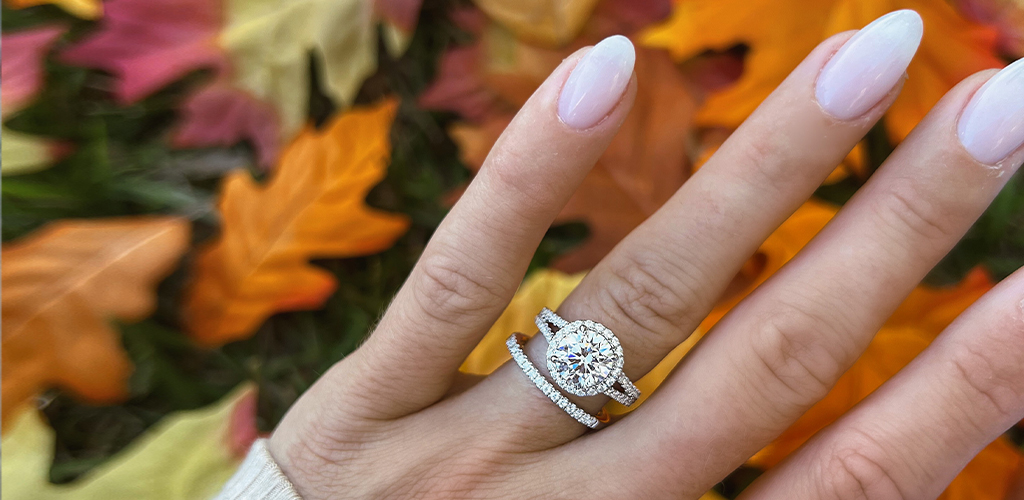 What Should You Do If You Can't Wear Your Wedding Ring The Traditional Way?
Remember that tradition is purely just a suggestion.
If you can't wear your wedding ring on the "right" finger, wear it on another one!
If you are unable to wear it on your hand, slip it onto a chain and wear it as a pendant necklace.
If your wedding ring doesn't fit with your engagement ring, wear them on separate fingers.
If you don't like rings, bracelets can be excellent substitutes.
What matters most is that it's your wedding, your marriage, and your ring. Regardless of how you choose to wear it, it's completely up to you!
Final Thoughts
Your wedding ring set is more than a beautiful set of jewelry. It's also a symbol of your love, devotion, and bond as a couple. And just as your love is unique, how you want to wear your wedding ring set is just as special.

Still searching for the perfect ring to add to your wedding ring set? At JamesAllen.com, our diamond and jewelry experts are always available to help you find your perfect ring and answer any questions. We look forward to assisting you! Contact us here.
SHOP RELATED PRODUCTS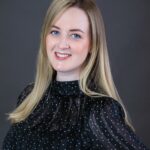 An experienced content writer with four years' experience, Tarryn enjoys educating and guiding jewelry shoppers, providing them with valuable insights and best practices for making informed purchases.