Finding the right curved wedding ring to make your engagement ring shine can be tricky, especially with so many options! But no matter what, your engagement ring truly deserves a perfect match.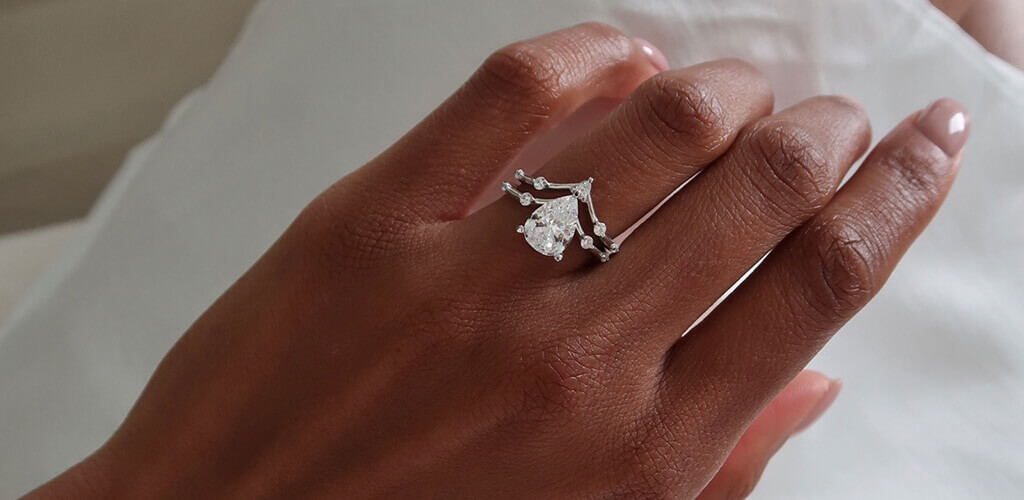 At James Allen, our curved wedding rings provide a flawless complementary fit, so finding the perfect wedding ring to complete your bridal set and showcase your dazzling engagement ring is so much easier than you think.
What Is A Curved Wedding Ring?
Curved wedding rings first became noticed during the Victorian era, then rose to popularity in the Art Deco period as the decade's new and modern take on wedding bands. This style was then associated with the symbolism of two soulmates coming together as one for a lifetime.
These rings can easily be worn alone or beautifully matched to complement your engagement ring with a diamond or gemstone.
Curved wedding rings are available in various styles, chic designs, and metals, including white, yellow, rose gold, and platinum.
Are Curved Wedding Rings Trendy?
Did you know that curved wedding bands have been around since the Victorian era? Over the years, curved rings have gained significant popularity, especially for contemporary brides, after a more unique and stylish design.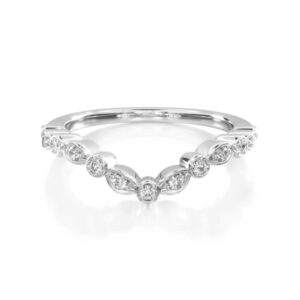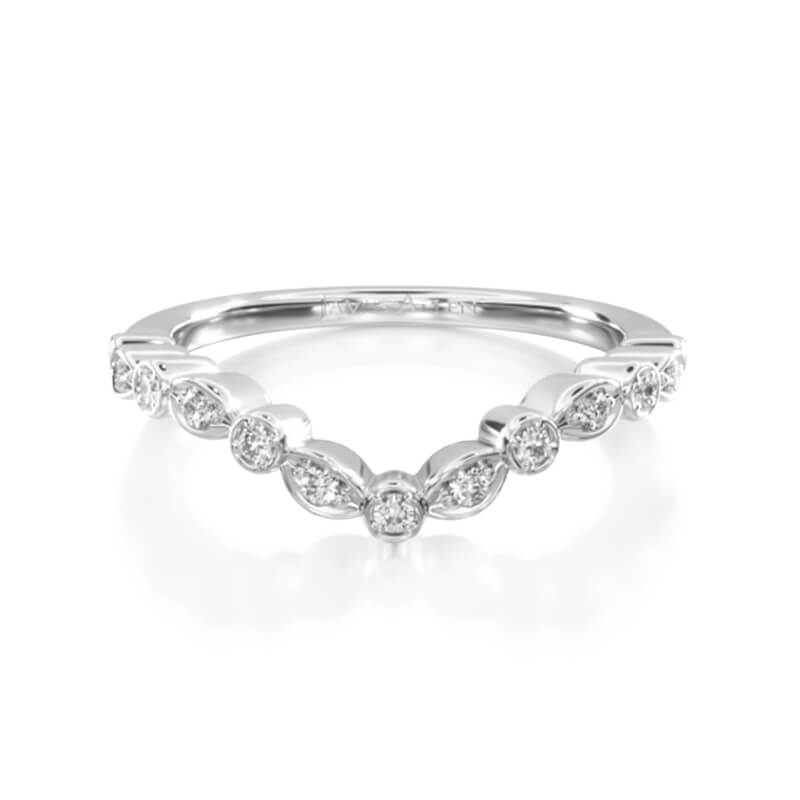 Curved wedding rings have become popular for several reasons, including their versatility. They can also be perfectly customized to match various engagement ring styles. These distinctive rings have a gentle curve or contour that effortlessly complements the shape of the engagement ring, creating a beautiful and harmonious look when worn together.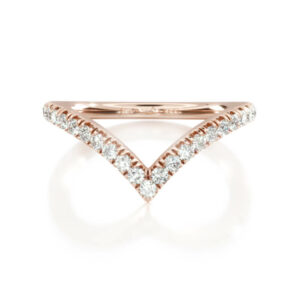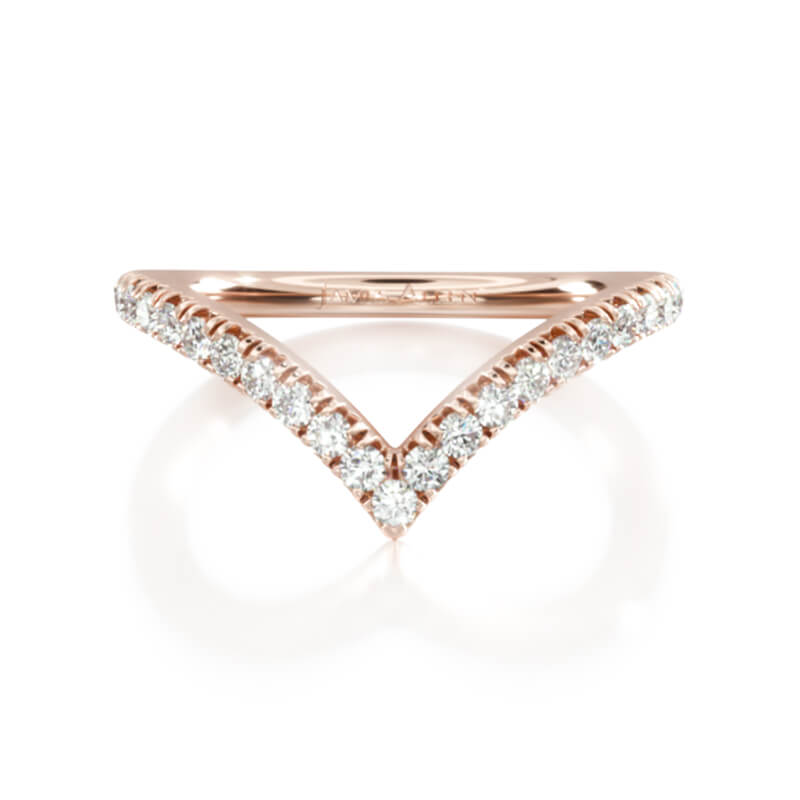 The curved design allows the wedding ring to sit comfortably against the engagement ring, resulting in a seamless and elegant fit.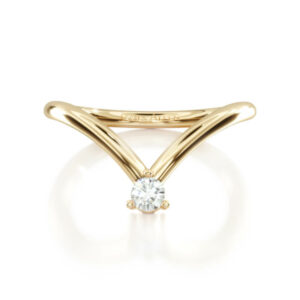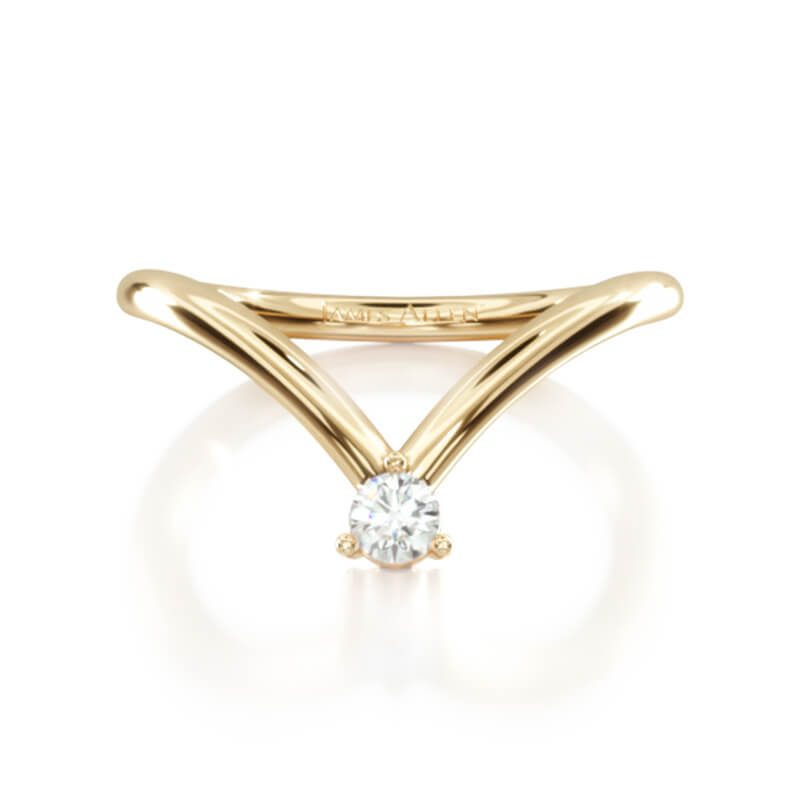 In addition, the curved shape gives the bridal set a unique, eye-catching appearance, adding a touch of sophistication and femininity.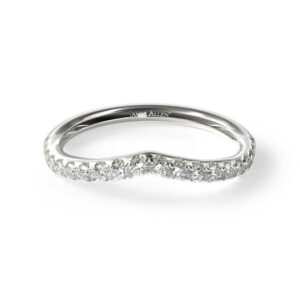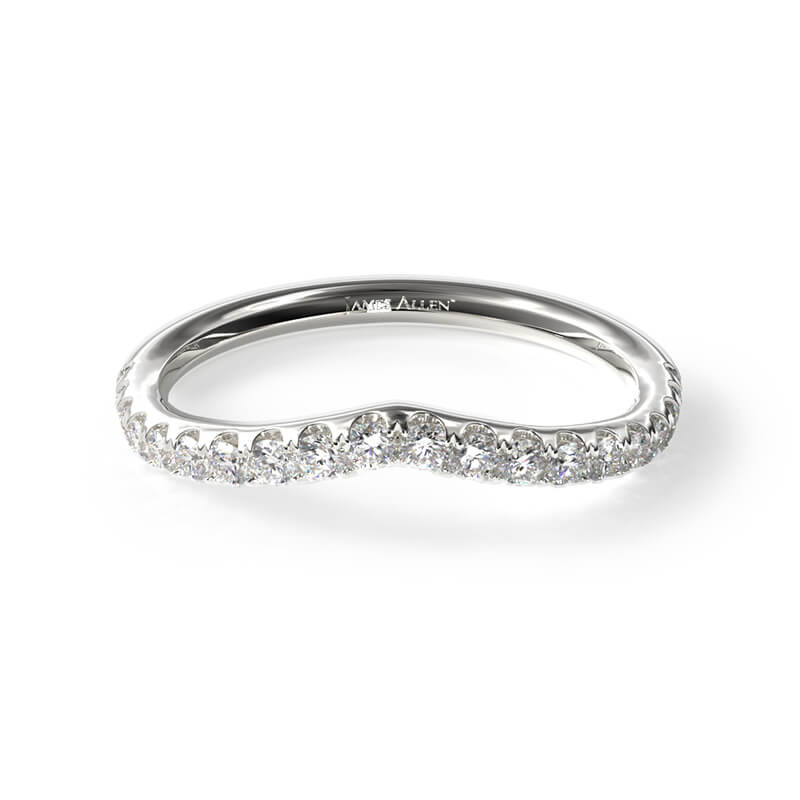 No matter what style you prefer, curved wedding rings are undeniably fashionable and quickly become the talk of the town. Their versatility, practicality, and aesthetic appeal offer a beautiful yet unique option for the modern bride-to-be.
Pairing Curved Wedding Rings With Engagement Rings
When it comes to wedding rings, there are no hard and fast rules. Here are a few tips to keep in mind to help you create a unified look.
Consider the shape of your engagement ring: If your engagement ring has a unique shape or design, it's important to choose a curved wedding band that complements it.
Choose the same metal: To create a cohesive look, opt for a curved wedding band made from the same metal as your engagement ring. However, there are no rules. You can, of course, choose what you love best!
Think about the size of the stones: If your engagement ring has large diamonds or even a halo design, a curved wedding band with smaller diamonds or a more subtle curve can balance the look. On the other hand, if your engagement ring has a simpler design, a curved band with larger stones or a more dramatic curve can add some extra sparkle.
Try them on together: The truth is that the best way to see if a curved wedding ring is right for you and if it perfectly complements your engagement ring is to try them on together. This will give you a better picture of how they look and feel on your finger and if they create the cohesive look you are looking for.
How Much Do Curved Wedding Rings Cost?
The cost of curved wedding rings can vary greatly depending on a few factors, such as the materials used, the design, and whether or not it includes diamonds. Because of the added complexity of the design, curved wedding rings are generally more expensive than straight wedding rings.
On average, a curved wedding ring can cost anywhere from $200 to $2,000 or more.
Pros & Cons Of Buying A Curved Wedding Ring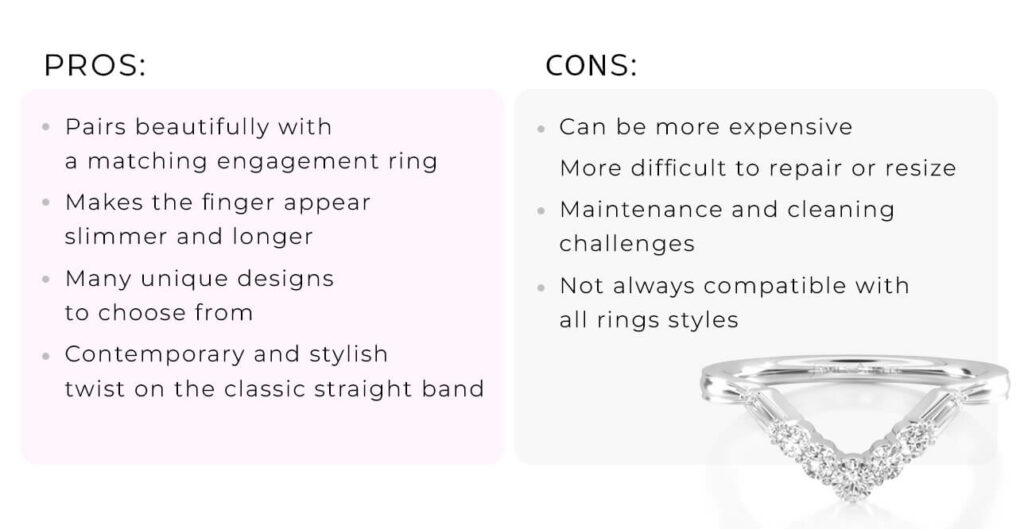 FAQs:
What is a curved wedding ring called?
Curved wedding bands, also known as notched wedding bands, chevron wedding bands, or V wedding bands, are rings designed with a curve on one side. It is designed to fit comfortably both on its own and when worn with an engagement ring.
Do curved wedding rings come in different metal colors?
Yes. Curved wedding rings can be made in all precious metals, including platinum, white, yellow, and rose gold.
What does the shape of a wedding ring symbolize?
A wedding ring's symbolism is closely associated with its shape: the circle. In addition to representing unity, infinity, eternity, and ultimate perfection, the circle is a universal symbol with deep meaning. In addition to symbolizing the lifelong commitment of two married people, wedding rings also represent their unbreakable bond of love.
Wrapping Up
The curved wedding bands present something unique and fresh. They are a delightful detour from the traditional choice of wedding bands yet tend to blend flawlessly with all your looks.
Still wondering whether a curved wedding right might be the right fit for you? Browse our gorgeous collection of curved wedding rings at JamesAllen.com or let one of our dedicated customer service team members assist you in finding the perfect wedding ring.
SHOP RELATED PRODUCTS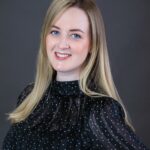 An experienced content writer with four years' experience, Tarryn enjoys educating and guiding jewelry shoppers, providing them with valuable insights and best practices for making informed purchases.