Caps off to the graduates! It's time to celebrate their achievements in style and start thinking about the best-in-class gift for your family and friends who are graduating in 2023.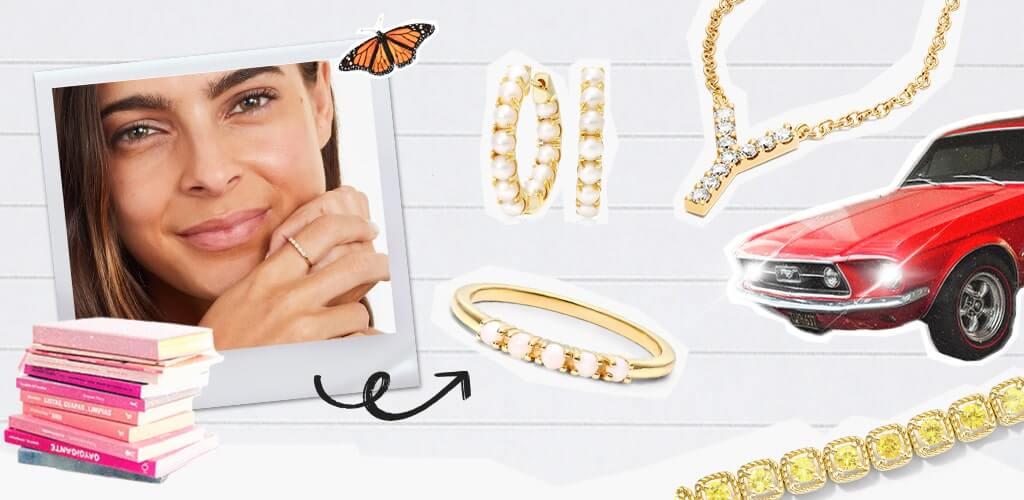 A+ Gifts for Graduates
Graduating high school, college or university is a significant life moment and deserves to be recognized with something special. We know that finding the perfect gift to commemorate this special day can be a challenge, but nothing marks a milestone and says congratulations better than a beautiful piece of James Allen jewelry.
Despite the variety of options available out there, jewelry has become a go-to graduation gift for a reason. It is a timeless and meaningful gift that the graduate can wear and cherish for years to come.
Whether you're shopping for a graduate who loves classic pieces or someone who enjoys more modern, chic designs, our 2023 Graduation Jewelry Gift Guide will help you master gift-giving and show your graduate-to-be just how proud you are of them. We have plenty of gift options to choose from in our wide range of beautiful graduation gifts and styles for all budgets.
Choosing the Right Piece of Jewelry
Jewelry is a timeless and thoughtful gift that anyone will definitely treasure for years to come. It's the perfect way to show your loved ones how proud you are of them.
As an added bonus, it's something they can wear every day with their favorite outfit or boost their confidence during their first job interview after college. However, just like with any gift, there are a few factors to consider before buying
1. Metal Preference
One of the first decisions to make when choosing a stunning piece of jewelry is the type of metal your graduate likes to wear. Do they prefer sterling silver, rose, yellow or white gold? Choosing a metal that complements their skin tone is always a good option if you aren't sure which metal they prefer.
Related blog post: How To Choose The Right Jewelry For Your Skin Tone
2. Personal Style
Knowing what style of jewelry your graduate likes is the key piece to gifting something to help mark this special milestone. Is their personality subtle and reserved or are they more outgoing and love the social scene? It's also important to take into account if they prefer something classic or statement jewelry pieces that are unique and trendy. Answering this question will definitely help to find the recipient's next favorite accessory so much easier – trust us!
3. Symbolism and Personalization
Sometimes you may find that the perfect jewelry gift lies in the gorgeous details. In addition to making your gift more sentimental, it will also show that it was chosen specifically for them.
Luckily, we have a beautiful selection of personalized jewelry pieces. You can treat them to a signet ring from our zodiac collection, gorgeous initial necklaces, or beautifully handcrafted constellation stud earrings. 
Our variety of birthstone jewelry pieces is the perfect choice if you're looking for something modern and trendy with a pop of color. Birthstone jewelry is unique and special that holds significant meaning and symbolism for many people. These types of jewelry items are typically adorned with gemstones that are associated with a person's birth month. Each stone holds a specific meaning. For example, January's birthstone, garnet, is believed to promote good health and happiness, while May's birthstone, emerald, is said to bring peace and balance. 
How Much Should You Spend On A Graduation Gift?
The amount you should spend on a graduation gift depends on your relationship with the graduate and of course your personal budget. In general, it's more important to think about the sentiment behind the gift than how much it costs.
Graduation gifts can be anything from heavy price tags and investment pieces to precious metal jewelry to suit all kinds of budgets. Ultimately, the amount you spend should be based on your own financial situation and what you feel comfortable with. Keep in mind there are no rules when it comes to how much you need to spend, it's more important that the gift is meaningful and memorable, regardless of the cost.
Gifts For Her
When it comes to graduation jewelry, classic pieces never go out of style. This can be anything from a pearl necklace to an elegant pair of diamond studs or even a simple gold bracelet. 
However, if your graduate would prefer something more unique or a statement piece, bold earrings or layered necklaces would be an excellent choice.
What else would pair beautifully with a shiny new diploma? Dazzling stackable rings of course! This jewelry gift. Whether she prefers to stack multiple rings on many fingers or pile sparkle on one finger, both make a shining statement. Stackable rings will add the perfect personal touch to her style and are also the perfect foolproof gift to spoil a loved one to mark a special occasion.
Gift Ideas for Male Graduates
Jewelry may not always come to mind as a graduation gift for men, but it should definitely be considered. A simple yet sophisticated piece of jewelry adds to a polished look, both day or night. At James Allen, we have some excellent choices for all kinds of men. Dog tags are popular options and have a very classic masculine look about them. Additionally, a religious piece of jewelry is also a great option. Some of our other top picks for male graduates include men's fashion rings and bracelets.
More Tips for Gifting Graduation Jewelry
Plan Ahead
Consider the Presentation
Include a personalized note
Be Mindful of Religious and Cultural Considerations
Choose a piece that complements your graduate's style
Collaborate with family & friends
Ask the scholar! There may be a piece of jewelry they've had their eye on?
Reviews From Our Customers
We always love hearing from our own happy customers! Read what some of them said about the graduation gifts they purchased.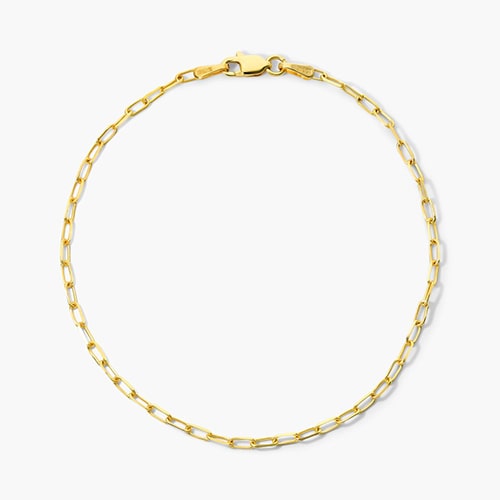 Purchased the bracelet for my granddaughter as a keepsake to remember her graduation. It's a truly quality piece of jewelry that she'll have for her lifetime. The bracelet is a fine-quality piece of jewelry that my granddaughter cherishes.
Katharine M.
I chose these unseen earrings as a graduation gift for my granddaughter. The order was filled promptly and arrived on time. The stones matched perfectly, and were gorgeous! The packaging made the gift a perfect presentation. I'm sure this will not be my last purchase! Thank you!
Evelyn F.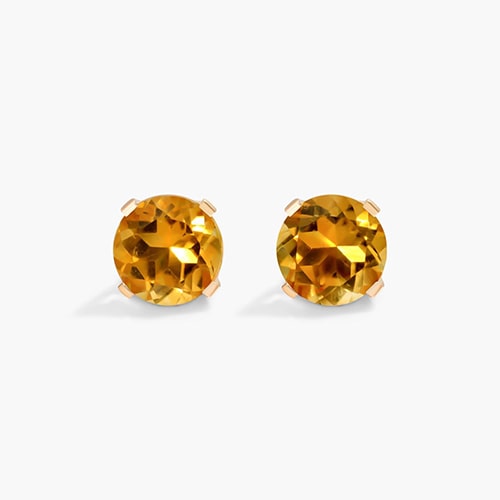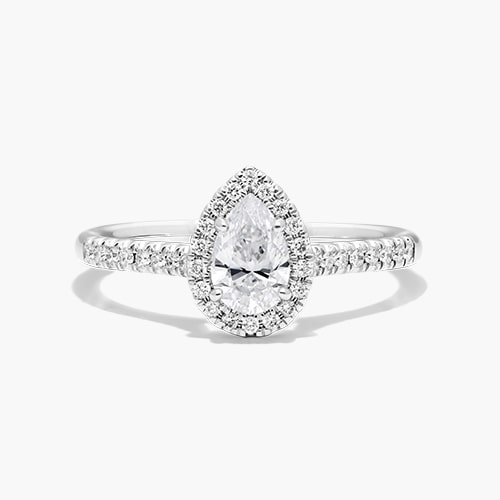 This ring made for an amazing surprise when I proposed in front of 50+ people at her graduation party. She and all of the other women could not stop staring at the ring in awe of how much it shone and sparkled. Everyone kept asking where I found such a beautiful setting and stone. Thanks, James Allen!
Nicholas R.
This bracelet was my high school graduation gift, and I couldn't be happier! It is impossibly elegant yet simple enough to wear with sweats. The diamonds are brilliant, they shine brightly even in low light. The size is perfect as well! It seems durable, but I suppose only time can determine durability. Highly recommend it!
Claire S.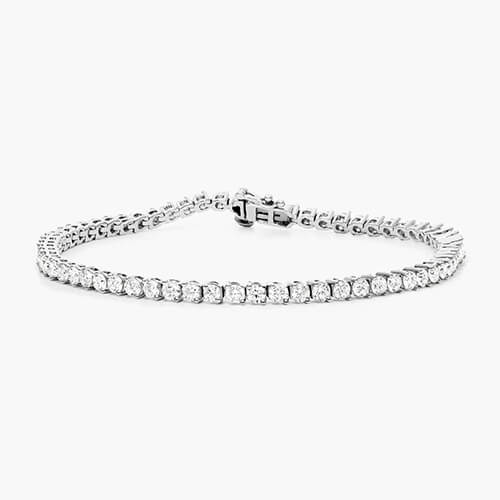 FAQs
What is an appropriate amount to spend on a graduation gift?
The amount you spend on a graduation gift will depend on your budget and your relationship with the graduate. Typically, a gift between $50 and $100 is appropriate for acquaintances, while closer friends and family members may choose to spend more.
What type of jewelry is appropriate for a graduation gift?
Any type of jewelry can be an appropriate graduation gift, as long as it suits the recipient's personal style. Classic pieces like pearl necklaces or diamond studs are always a safe choice, while more modern pieces like personalized birthstone necklaces or layered necklaces can add a unique touch.
What are the most popular gemstones used in graduation jewelry gifts?
Gemstones used in graduation jewelry gifts differ depending on personal preference and even cultural traditions. However, certain gemstones are more commonly associated with graduation.
One of the more popular gemstones for graduation jewelry is the blue topaz, which often symbolizes wisdom, courage, and communication. Another popular option is amethyst, which is believed to be associated with spirituality, purity, and royalty. Additionally, gorgeous garnets are often thought to bring blessings, success, and protection.
Con-grad-ulations!
Choosing the perfect graduation gift can be a daunting task, but with our Graduation Jewelry Gift Guide, you'll easily find the perfect piece to celebrate their success. Whether you choose a classic piece or a more modern design, your loved one will cherish their gift for years to come. So, don't wait any longer – start shopping today at JamesAllen.com!
Subscribe to our email list for access to secret sales, practical ring-buying tips, and $100 off your first purchase!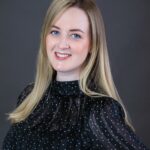 An experienced content writer with four years' experience, Tarryn enjoys educating and guiding jewelry shoppers, providing them with valuable insights and best practices for making informed purchases.