A well-crafted chain necklace is among the most quintessential accessories. A classic chain fashioned in gold or silver adds a thoughtful touch to even the simplest of outfits.
While men's necklaces are available in a wide range of lengths, styles, and metal types, when shopping online, it can be difficult to visualize where they will rest and how they will look. But there's an easy way to ensure you get the right fit on every piece you like. Keep reading to find out everything you need to know.
Why Chain Length Matters for Men's Jewelry
Chain length in men's jewelry is essential for many reasons and plays a significant role in their overall aesthetics and functionality. To begin with, the correct length can accentuate a man's neckline, complement his physique, and express his style preferences. Furthermore, an appropriate length ensures that the chain doesn't interfere with his lifestyle and daily tasks, providing a seamless blend of style and practicality.
Common Types of Men's Chains
Men's chains, both timeless and trendy, have been a symbol of status, style, and individual expression for many generations. These accessories come in a variety of designs, each with its own aesthetic and purpose. The most common chains are available in yellow gold, white gold, and silver. Gold chains for men have grown in popularity, becoming a staple accessory that combines timeless elegance with a bold statement of personal style.
From the classic curb chain to the intricate rope design, there's a style to suit every man's taste and occasion. Here are a few different types of men's chains:
Box Chains: square chain links made from square or box-shaped wires, each box is cut into four equal sides with a flat surface
Figaro Chains: a classic piece of jewelry designed with a single elongated rectangular link followed by two or three smaller round links
Cuban Link Chain: Cuban link chains are very sturdy and tend to be much heavier because of thicker, rounder walls
Cuban Link Chain: curb chains are made up of oval links and have a flatter appearance
Cable Chain: a popular chain typically meant for holding pendants or charms, made up of oval rings linked together
Rope Chain: series of links carefully woven together forming a twisted appearance or look
Factors to Consider When Choosing the Right Chain Length
Everyone wants their chain to fit as if it were tailor-made! In order to find jewelry that suits you perfectly, consider these factors:
Face Shape: Certain chain lengths can accentuate or balance specific facial structures. For example, shorter-length necklaces are more suited for pointed faces such as diamond, triangle, and square. While medium-length necklaces are good for round faces. However, with oval-shaped faces, you're in luck – any necklace length beautifully complements your features!
Outfit and Neckline: Clothing style and neckline are key in determining the best chain length. For example, a V-neck shirt or sweater might be best paired with a chain that sits just above or within the V, creating harmony with the garment's design. On the other hand, with a crewneck, one might choose a chain that either sits closely around the neck or one that is long enough to drape below the shirt's line, ensuring it doesn't get lost against the fabric. Also, formality can influence whether a subtle or statement chain would be more appropriate.
Height: Height plays another important role in selecting the right chain length. Longer chains may be preferred by taller individuals for a proportionate visual appeal, whereas shorter chains may complement those of shorter stature. Ultimately, choosing a length that works with one's height ensures a balanced, flattering appearance.
Maintenance and Durability: Longer chains may be more prone to getting caught or tangled, requiring more care, while shorter chains might be more durable for active individuals.
Pendant Consideration: When adding a pendant to a chain, several aspects of the pendant come into play in determining the optimal chain length. Firstly, a larger or heavier pendant may require a sturdier and potentially longer chain to allow it to hang appropriately without seeming overpowering. On the other hand, a dainty, lightweight pendant often pairs well with a shorter chain, allowing it to sit prominently against the chest or near the collarbone. The pendant's design, weight, and size can greatly affect the choice of chain length for a cohesive look.
Choosing the Right Chain Length
Choosing the right chain length is a blend of personal style, comfort, and aesthetics. As we've mentioned it's important to consider how the chain interacts with the wearer's physique, attire, and any pendant it might hold. Additionally, the right length should complement the neckline as well as reflect the formality of the occasion. Ultimately, while guidelines can assist, individual preference remains the deciding factor in finding the perfect fit.
Overall, chain lengths range from 18-30 inches with each size corresponding to the look you are going for. Multiple chains of varying lengths can be worn for a layered look top. If the chain includes a medallion, cross, or dog tag, a slightly longer length is recommended.
Necklace Chain Lengths for Men
Classic Chain Lengths
An 18-inch chain length is generally meant for smaller neck sizes. This is usually the shortest chain length for men. These necklaces tend to be very tight and fall right around the base of the neck. An option like this is great for men who want to show off their entire chain without covering it with a shirt collar.
A 20-inch chain is the most common length for men, falling right beneath the collarbone. The chain falls between the first and second buttons of your shirt, and can also be worn inside or outside your shirt, depending on your preference.
A 22-inch chain is another common chain length for men. This chain falls a few inches below the collarbone. At this length, other jewelry pieces like a medallion or pendant can be added for additional styling.
A 24-inch chain is another great length for men, as the chain length falls right in the middle of the breastbone or several inches higher. For those who plan to wear pendants like dog tags, crosses, or medallions this is a great length to maximize visibility. Often, men wear 24-inch chains outside their shirts, especially if other pieces are attached.
Chain Lengths for Different Necklines and Occasions
The right chain length can accentuate a neckline and elevate an outfit for any occasion. For V-necks or open collars, shorter chains that mirror the neckline's depth are often ideal. On the other hand, crew necks and turtlenecks benefit from longer chains that drape below the fabric or shorter ones that sit close to the neck.
For formal occasions like weddings or business events, a shorter to mid-length chain provides a sophisticated touch without drawing too much attention. In contrast, casual or social gatherings offer a platform to experiment with longer, more prominent chains, letting them serve as conversation starters or focal points of the outfit.
How to Measure for the Right Chain Length
Here's how you can precisely measure to find the ideal fit for your style and comfort.
Measuring an existing necklace: If you already have a necklace in a length that you love or one that you'd like to layer with other designs simply lay it flat and measure it from end to end with a ruler, including the clasp. If it's a necklace with several fastening options, measure from the clasp to the hook you wear it on most often. Alternatively, if the necklace is too long for the ruler, fasten it to the hook you like to wear it on and measure it from end to end – double that number to find out the length.
Measure with string, ribbon, or tape measure: If you don't have a necklace to use as a reference, you can use a flexible tape measure, a piece of string, or a ribbon. Wrap the tape around your neck, following the same path your chain would take, typically just above the collarbone for a standard hang, then mark where the ends meet. If you're using string, measure to determine what length necklace you'll need.
Styling Tips for Men's Chains
Choose a chain that complements the occasion, with thinner, more understated designs for formal events and bolder chains for casual wear. Align your chain with your shirt's neckline, short chains for high necklines, and longer ones for lower cuts. If you're layering, it's great to mix lengths and textures but try to stick to one metal type for cohesion. Remember to always let your personal style shine through, ensuring the chain's scale fits your body's proportions.
FAQs
What's the Most Popular Chain Length for Men?
The most popular chain lengths for men typically range between 18 to 24 inches. These lengths sit comfortably on the chest and are versatile for various styles. Individual preferences and styles can, however, influence the ideal length.
Can I Wear a Chain with a Suit and Tie?
Yes, you can wear a chain with a suit and tie. When styled correctly, a subtle chain can add a touch of sophistication and personal flair to a formal outfit.
Are There Chain Length Rules for Different Necklines?
Yes, there are general guidelines for pairing chain lengths with different necklines. For scoop or boat necks, longer chains (28-34 inches) usually complement best. V-necks pair well with chains that match the depth of the "V", or are slightly shorter. For crew necks or turtlenecks, both shorter (16-20 inches) and longer chains can work, depending on the desired look
Final Thoughts
Take the guesswork out of shopping for chains and necklaces online with our necklace lengths guide. You can easily determine the right length for you right at home! Whether sizing for a gift or a new chain for yourself, we know how important it is to find the perfect piece. So, if you need any more help or advice, or would like a hand narrowing down your options, our jewelry experts at JamesAllen.com are always available to answer any questions you may have.
SHOP RELATED PRODUCTS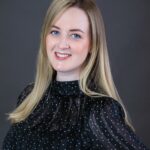 An experienced content writer with four years' experience, Tarryn enjoys educating and guiding jewelry shoppers, providing them with valuable insights and best practices for making informed purchases.