Looking for the perfect cross necklace to add to your collection or gift someone special? We've got the perfect design for every type of style.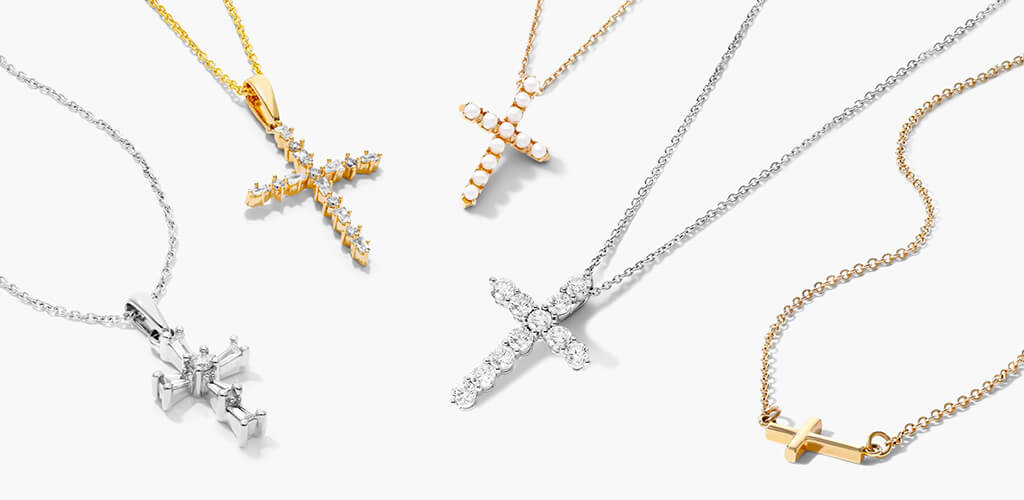 Cross necklaces have been a popular accessory for centuries and are a staple in many people's jewelry collections. They not only serve as a symbol of faith but also a personalized fashion statement.
With so many styles and designs, finding the perfect cross necklace that fits your style and personality can be tough, but not impossible. That's why we've come up with a list of our top 10 favorite cross necklace styles at JamesAllen.com to make your search easy.
Our Top 10 Most Popular Cross Necklace Styles
Whether you like your jewelry with a bit of extra sparkle or more simple as plain metal, here are the best designs our customers love.
Alternating Diamond Cross Necklace
This modern choice features round diamonds alternating with tapered baguette cut diamonds along a cross shape. It's the perfect pendant, suspended along an 18-inch cable chain with an extra jump ring at 16 inches for versatility and secures with a lobster clasp. It comes in yellow, white, and rose gold!
Duo Cross And Infinity Necklace
This necklace features a sideways cross and infinity pendant that hang 16 and 18 inches below the neckline. It's the ideal piece for someone who enjoys a layered and minimalist look. This cross necklace is available in the ever-popular yellow gold.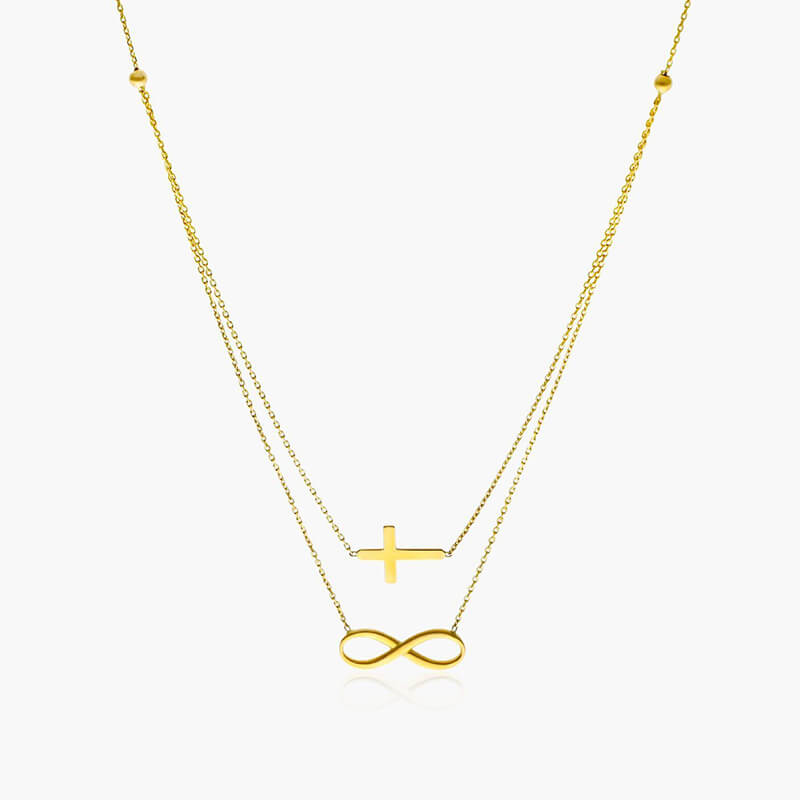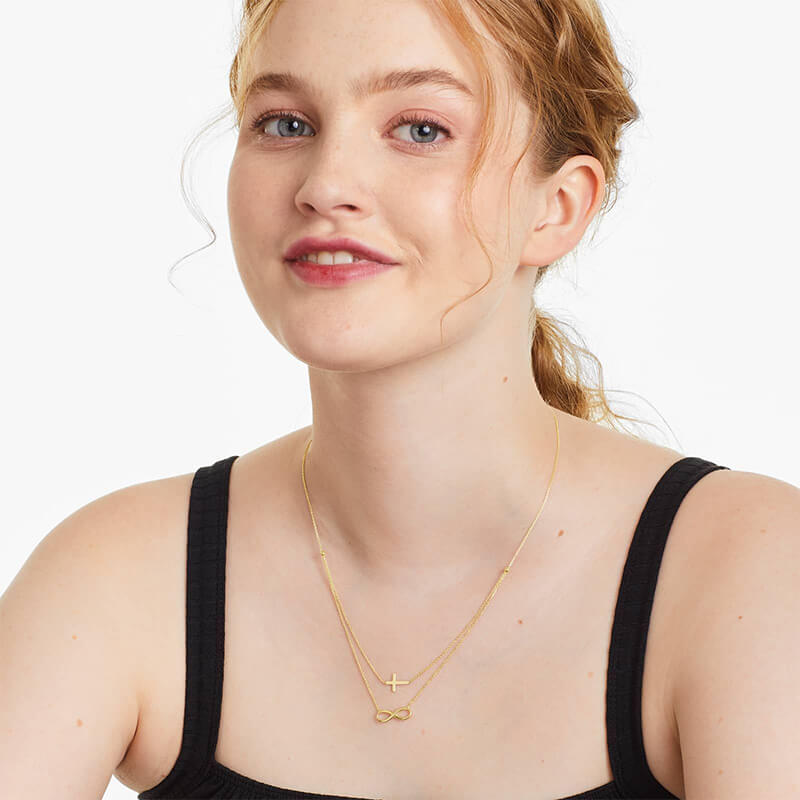 Pearl Cross Necklace
Who doesn't love pearls? The world's oldest gemstone and a staple for every jewelry box. Our next favorite is a delicate cross necklace, lined with 1.5-2.0mm freshwater seed pearls for a modern take on a timeless look. We love this piece because of its chic aesthetic, and the pearls make it a great gift for those June babies.
Shared Prong Diamond Cross Necklace
Looking to spend extra on more shine? Look no further than our ultimate diamond cross necklace, available from 0.18ct-1ct. This stunning piece is crafted in 14K white gold with glimmering diamonds set in elegant baskets that beautifully showcase the stones.
Sideways Cross Diamond Necklace
Here's one for the minimalist who loves a little color and sparkle. This dainty cross worn sideways is a new approach to a timeless look. Set on a gold cable chain, it is the perfect addition to your daily collection. Choose between yellow, white, and rose gold.
Infinity Cross Diamond Necklace
If you're searching for a statement piece, we believe we've got it right here. Our infinity diamond cross necklace has elegant loops of 14K white gold and pavé diamonds form to create this airly and beautiful cross pendant. With a 16-inch cable chain, it's the perfect standalone necklace.
Mini Cutout Cross Disk Necklace
This mini cross necklace is a bestseller for a reason. Not only is it an affordable accessory at $190, but it looks great on everyone. It's a modern take on a classic style, and can be paired with other chains and necklaces for a layered look.
Moderne Cross Diamond Necklace
This diamond cross necklace is a beautiful display of faith, with unique tapered baguette cut diamonds lining the design with a classic round diamond at the center of the cross. It hangs at 16 or 18 inches and has a lobster clasp. Don't forget it comes in yellow, white, and rose gold!
Sideways Cross Necklace
Next, we have a petit cross positioned sideways in this adjustable necklace finely crafted in 14K gold and secured with a spring clasp. This is a minimalist favorite, as the cross is small and dainty on a thin cable chain. This specific piece also has a pair of matching cross earrings, if you're looking for a symbolic gift for someone special.
Fancy Black Enamel Accent Cross
A style you can truly cherish, this enamel cross pendant looks elegant alone and will seamlessly accompany any piece of your collection. It has a bolder, more modern look, and can be paired with a chain of your choice as it comes as a standalone piece.
FAQs
Are James Allen cross necklaces made of real gold and diamonds?
Yes, our cross necklaces are made of real gold and diamonds. We also offer a variety of materials to fit different budgets and preferences.
What does a cross necklace mean?
Usually, a cross necklace is a sign of faith, particularly for Christians. However, it can be said that cross necklaces have become fashionable to those who aren't of this faith.
When should you wear your cross necklace?
When to wear your cross necklace is entirely up to you. There are no rules on when to wear it, so feel free to wear it on special occasions or daily.
Is it OK to shower with your cross necklace on?
Wearing jewelry in the shower, ocean, and swimming pool is risky as it can easily be damaged or lost. It's highly recommended to remove your jewelry before entering the water.
Why wear a sideways cross necklace?
A sideways cross necklace or a horizontal cross necklace is seen by Christians as a symbol of Jesus achieving his salvation and not having to carry the burden of the cross anymore. Therefore, it's perfectly acceptable to wear a sideways cross necklace.
Happy Shopping
We hope you found the necklace you've been searching for. If not, we still have plenty of stunning cross necklace styles for you to explore. Check them out here at JamesAllen.com.
Subscribe to our email list for access to secret sales, practical ring-buying tips, and $100 off your first purchase!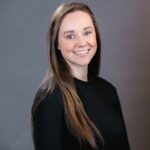 Jessica is a seasoned content writer with four years of experience and a qualified gemologist. She enjoys educating new shoppers on the best practices for buying jewelry.