Calling all jewelry lovers! Want to know the foolproof way of shopping for jewelry when you're unsure of what you want? Try shopping by color! We'll walk you through this fun process and help you find the best new accessories for your wardrobe.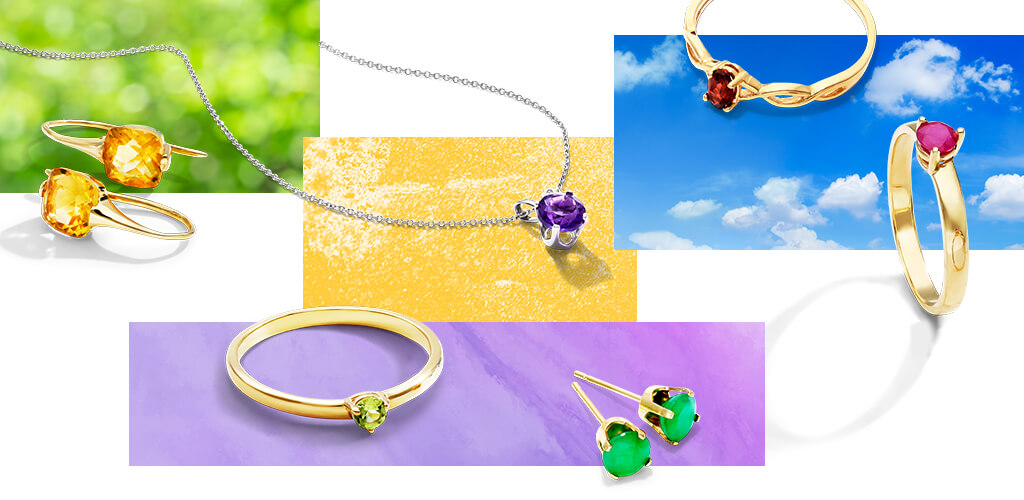 How To Shop By Color
Step 1: Open up your closet and think about the colors you typically wear. Do your outfits consist of bold and bright colors or more neutral tones? This will help you determine which jewelry colors will complement your personal style.
Step 2: Open up your trusty friend Google and search for a "color wheel." This visual aid will help you see that complementary colors are opposite on the wheel. Realizing opposites attract is the exact formula here to help you shop jewelry by color.
Step 3: Monochromatic looks might be your new go-to if you prefer sticking to singular colors. Pick a color you love and add shades and textures, like pearls, to your all-white outfit and white gold or silver jewelry pieces.
Blue
Blue jewelry mainly consists of some of the most breathtaking birthstones, like blue sapphire, aquamarine, and blue topaz. You'll be sure to find a blue shade that fits you perfectly.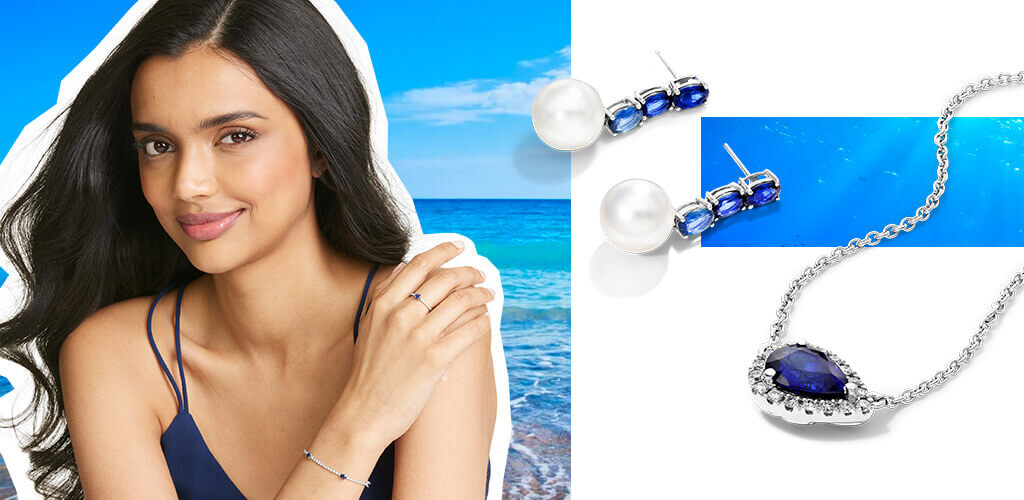 It's easy to add blue jewelry accessories to look if your usual outfits include red, orange, beige, and grey clothing.
Green
Green jewelry is a must for good energy. With the ever-vibrant birthstone emerald and a unique favorite, peridot, you'll have plenty of green hues to choose from.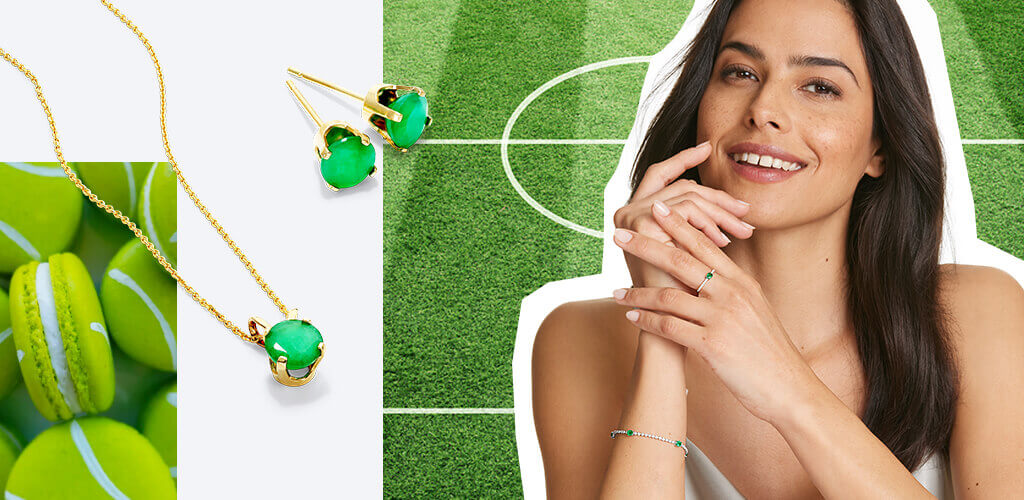 Add green pieces to your outfits if you're wearing yellow, grey, and neutral tones.
Purple & Pink
Take it from us; every day is perfect for wearing purple and pink jewelry. From pink sapphire, morganite, and breathtaking amethyst, you're sure to stand out with these summery gemstones.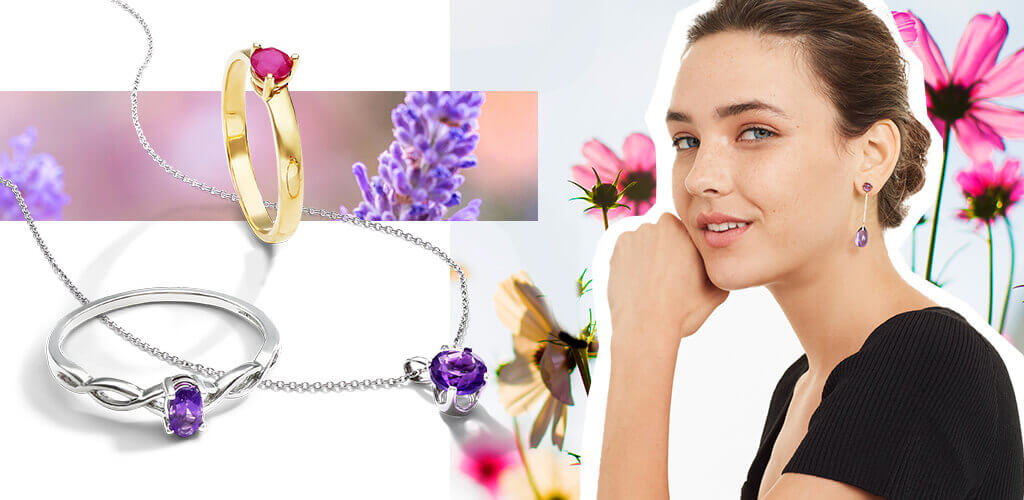 We recommend you shop for pink and purple jewelry colors if your wardrobe consists mostly of off-white, black, and green tones.
Yellow & Orange
There's nothing but happy vibes when wearing orange and yellow pieces with your day and night looks. These warm citrine and yellow sapphire hues will attract compliments and bring out your inner shine.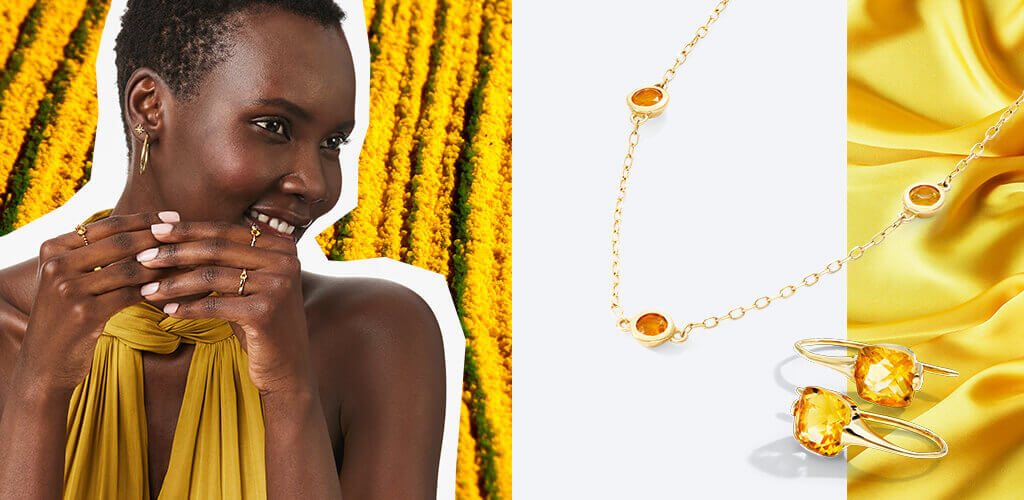 If your daily outfits are mainly light blue, pink, and violet, yellow and orange jewelry colors are what you should shop for.
Don't be afraid to experiment! Jewelry is meant to be fun and expressive, so try mixing and matching different colors and styles until you find what works for you. Who knows, you may just discover a new favorite color or style.
Happy Shopping
Get to know what jewelry is trending at JamesAllen.com! Our large collection of gemstone jewelry is fun to browse and will help you see which colors are out there for you.
Subscribe to our email list for access to secret sales, practical ring-buying tips, and $100 off your first purchase!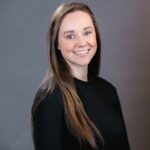 Jessica is a seasoned content writer with four years of experience and a qualified gemologist. She enjoys educating new shoppers on the best practices for buying jewelry.