Happy birthday to all our pearl-loving June babies! You've lucked out with this luminescent June birthstone. Gorgeous and affordable, this marine beauty upgrades any personal style. Read on for our favorite pearl birthstone jewelry gifts.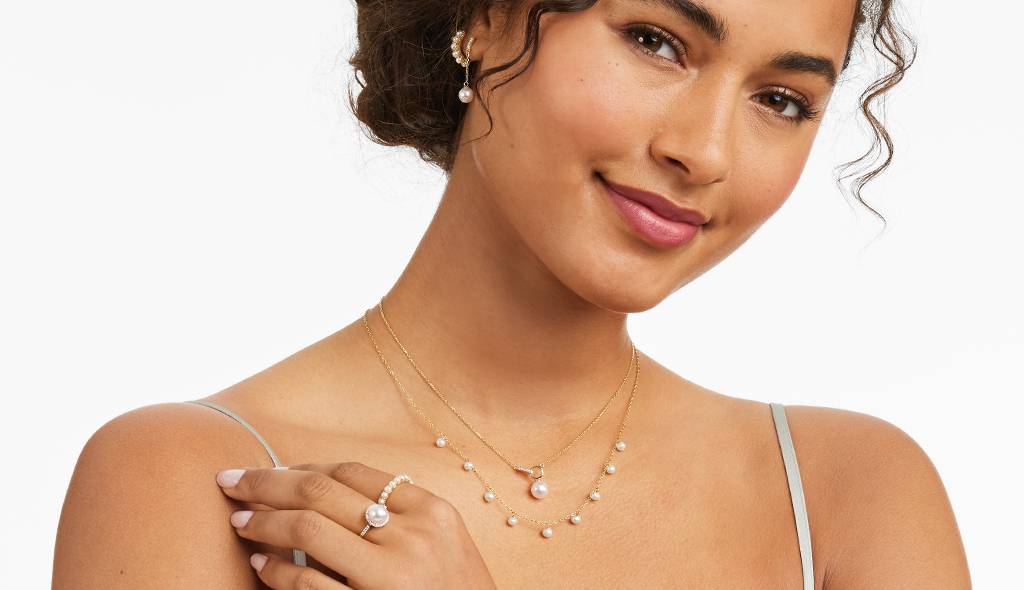 Let's start off with a fun fact. Only two months out of the year have three birthstones, June and December. That means that June babies, aka Geminis and Cancers, are lucky enough to have some stunning stones to choose from, none better than the classic pearl. In our humble opinion, of course.
What Is The June Birthstone?
Aside from moonstones and alexandrite, pearls are perhaps the most popular choice as June's birthstone. Pearls are the only gemstone created from a living animal- the mollusk! They can be found in clams, oysters, and mussels. So, the next time you're enjoying these shellfish, remember they're also responsible for one of the world's oldest gems.
The June birthstone is extra special because it doesn't need to be mined like other gems (natural pearls). In fact, it doesn't need any specific cutting or polishing to look incredible. It just is!
What Are The Different Types Of Pearls?
South Sea Pearl
Originally exclusive to Australia, South Sea pearls are now cultured in Indonesia, Burma, and the Philippines. Colors range from white pink and silver pink to dark gold. Australian pearls also come in fancy colors, including red gold which is extremely rare and highly regarded. These sizable pearls work well in strands and statement pieces.
Tahitian Pearl
Often called black pearls, Tahitian pearls grow in the warm, turquoise lagoons of French Polynesia and other islands in the South Seas. Colors range from gray to black, shimmering with peacock green, gray, and purple overtones. Try these dark devils for an edgier look.
Akoya Pearl
Coming from Japan, the most valued Akoya pearl colors are white and white with pink undertones. The most common of the cultured pearls, their roundness, nacre depth, and consistent luster have positioned them as the preferred choice for a timeless statement.
Freshwater Pearl
Though originally produced in Japan, 90% of the world's freshwater pearls now come from China. Supply is abundant and each shell can produce up to 100 pearls simultaneously. While typically irregular in color and shape, freshwater pearls are the most affordable and are widely used in sterling silver jewelry because of their availability.
How Is A Pearl Created?
There's a big misconception that natural pearls are formed from a grain of salt when it's actually the result of a parasite. The parasite lodges itself inside the mollusk, and as a defense, the animal emits a fluid called nacre. The fluid coats the irritant with milky layers of nacre, eventually forming a pearl.
Given how popular pearls are, especially as bridal jewelry, pearl farmers have learned ways to recreate the natural process of pearl cultivation. These pearls are called 'cultured pearls' and come in a variety of hues. Along with the popular cream and white colors, farmers can create pearl jewelry in lilac, grey, and even black.
Since natural pearls are rare and hard to find, cultured pearls are more common in the jewelry industry. Like lab created diamonds, these pearls are just as real and exhibit the same high quality as natural pearls.
Pearl Birthstone History
The world's oldest pearl, the "Abu Dhabi Pearl," dated back 8,000 years to the Neolithic period and was discovered in 2017 on Marawah Island, off the coast of Abu Dhabi. The oldest known pearl necklace was discovered in the sarcophagus of a Queen who died in 520 BC.
Pearls, which were known in ancient Greece as the tears of the gods, have been worn and used as adornments for centuries. Only the very rich could afford them as they were extremely rare. As of the early 1900s, pearls have become more accessible because of commercial culturing and are a classic and affordable gemstone for nearly any budget.
Pearl Birthstone Symbolism
Pearls, given their long history, have racked up a pretty good symbolism portfolio at this point. For some, pearls are symbolic of wisdom- hence the term "pearls of wisdom." Moreover, they're said to offer protection along with good luck and wealth.
And if that weren't a good enough reason to invest in this little gem, they're also supposed to be symbolic of the wearer's purity, kind nature, and generosity.
For those on their wedding day or anniversary, pearls represent the broader idea of seeing love as a treasure. Why? Because pearls were so hard to find and so rare, they became a treasure to anyone who found them.
Pearl Jewelry Sets For Any Occasion
Pearl jewelry will always remain in the spotlight. Despite the idea that it's only worn by the older generation, we're seeing pearls trend in 2022, for men and women of all ages!
One piece of pearl jewelry is wow, but a set is next-level elegance. Whether you're a bride or groom-to-be looking for some milky pearls, or you like things that match your everyday outfits, we recommended our catch of the day.
Come out of your shell with these top pearl jewelry sets and we guarantee all eyes on you no matter which way you turn.
"The pearl is the queen of gems and the gem of queens." – Anonymous
"The rarest things in the world, next to a spirit of discernment, are diamonds and pearls." – Jean de la Bruyère
"Pearls are always appropriate." – Jackie Kennedy
Why Should You Buy A Pearl Engagement Ring?
Pearl engagement rings are a unique alternative to classic engagement rings.
Believe it or not, pearl engagement rings are the perfect budget-friendly option.
They're the June Birthstone, something your June-born partner may appreciate.
They come in a variety of designs, from ring settings to metal, pearl sizes, and colors!
Pearls go with everything, as will your pearl engagement ring.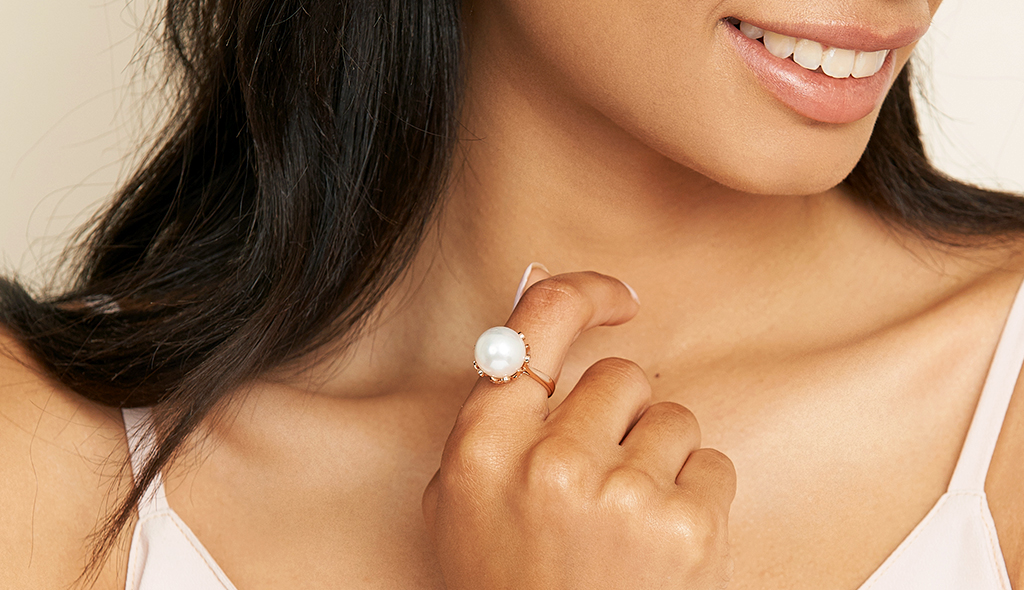 FAQs About Pearls & The June Birthstone
What is the true birthstone for June?
People born in June are lucky enough to have three true birthstones. These include pearl, alexandrite, and moonstone. June is one of three months, including August and December, that have more than one stunning birthstone.
Are there multiple birthstones for June?
Yes, June has three beautiful birthstones, pearl, alexandrite, and moonstone.
Why does June have 3 birthstones?
One of the main reasons June has three birthstones is because some ancient gemstones have become too rare and therefore aren't as easily accessible on the market.
What color is the birthstone for June?
Pearl birthstone comes in a variety of different colors, from white to black/grey, and even pink. Alexandrite can change colors depending on the light from bluish-green to purplish red.
Why is June's birthstone the pearl?
To astrologists, the pearl represents the birthstone for June. They also say that the gem is aligned with the zodiac sign of Gemini.
Is alexandrite more expensive than diamonds?
Alexandrite and diamonds have a similar value and it's not uncommon to find alexandrite jewelry priced the same as diamonds. This is because alexandrite gemstones are becoming rarer.
What is the rarest birthstone?
Painite is the rarest gemstone. It's not just the rarest gemstone, but also the rarest mineral on earth.
How much is alexandrite worth?
Currently, it's said that a 1-carat alexandrite gem can go up to $15,000.
Final Thoughts
For more about pearls and other birthstone jewelry, check out our related pearl posts! We're always happy to help you find the perfect gift whether it's for yourself or that special person in your life. Visit us at JamesAllen.com today and find out what fine jewelry, engagement rings, and wedding rings are perfect for you!
Subscribe to our email list for access to secret sales, practical ring-buying tips, and $100 off your first purchase!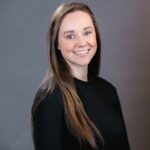 Jessica is a seasoned content writer with four years of experience and a qualified gemologist. She enjoys educating new shoppers on the best practices for buying jewelry.