Find out everything you need to know about morganite engagement rings and fine jewelry, from the stone's history to its romantic symbolism.
What Is Morganite?
Morganite is a pink semiprecious stone and belongs to the beryl family, along with emerald and aquamarine. This stone is a stunning diamond alternative and comes in hues from orange to coral to salmon to subtle pink, although you'll notice light peachy pink is the most common.
This stone is relatively free of inclusions, given its desirable clear appearance. Morganite is essentially colorless, but the presence of magnesium creates its pink effect while the presence of iron impurities gives a slight yellow or orange hue, combining for the iconic peachy color.
Morganite Origin & History
Morganite was first discovered on the coast of Madagascar in the early 1900s. It is currently mined mainly in Afghanistan, Brazil, and Madagascar. It was first named pink beryl- but later renamed by a famous gemologist, George Frederick Kunz who wanted to honor his patron, John Pierpont Morgan.
Morganite Characteristics
Morganite owes its beautiful salmon pink color to the presence of manganese. Usually, Morganite is eye clean, which means that no inclusions are visible to the naked eye at a distance of about 15 cm.
Primarily subtle and pale in color, some of the larger specimens demonstrate deeper saturation. Skilled cutters can also elicit richer colors by cutting the stones a little deeper than the norm.
When he first discovered it, George Kunz conducted several different experiments with morganite to examine all of its unique properties. One such characteristic is its intense red fluorescence upon exposure to x-rays.
Morganite Symbolism
With its soft pinkish hue, morganite is often associated with innocence, sweetness, romance, and love. In general, morganite is connected to the heart and is attuned to the heart chakra– talk about a perfect engagement ring center stone. Morganite is believed to bring healing, compassion, and promise to those who wear it.
Morganite is said to open its wearers to unconditional love while dissolving the ego. Though not an actual birthstone, morganite is said to be an excellent stone for fine jewelry and non-traditional engagement rings.
How Valuable is Morganite Jewelry?
Morganite fine jewelry is often scarce, which is why many avid collectors are on the lookout for high-quality morganite pieces.
A morganite carat can cost between $200 and $400 and remains an affordable option for couples who want this stone as the center of their dream engagement ring.
When shopping for morganite fine jewelry or your morganite engagement ring online, remember that cut, color, carat, and clarity are essential for consideration.
Morganite Necklaces
A morganite pendant necklace will be a stunning gift for anyone who has a refined sense of style. This gemstone's peachy radiance is even more captivating when paired with a sparkling halo setting.
Morganite Earrings
Morganite earrings are not something you hear about every day, but it has grown in popularity across the world due to their brilliance and appealing feminine colors. Their durability and affordability also make them great for daily wear. Their beautiful, demure hues offer an excellent centerpiece to anyone's gem collection.
Morganite Fashion Rings
Whether the occasion is a birthday or an anniversary, this piece of jewelry will never fail to gain attention or make a unique statement. When crafted in rose gold or yellow gold, a morganite's elegance magnifies.
With a variety of options available in shape, setting, and design, you will certainly be able to find something that complements your personality.
Should You Buy a Morganite Engagement Ring?
Morganite has become a popular choice for brides looking for an alternative to the traditional diamond. Of course, the primary allure of morganite is its pink and peachy hues. If you're attracted to color gemstones, it comes as a refreshing alternative to a colorless diamond or a beautiful and affordable alternative to a pink diamond.
Morganite stones offer intense brilliance and sparkle and are low-cost which makes them perfect as budget-friendly engagement ring options. Because the gemstone is fairly soft, it's important to have your morganite stone set in a four or six-prong setting to avoid unwanted chipping.
FAQs About Morganite
1) Is morganite a durable gemstone?
Morganite is a fairly durable gemstone having a hardness of 7.5 to 8 on the Moh's scale.
2) Morganite vs pink tourmaline, what's the difference?
Morganite has a peachy-pink hue, whereas pink tourmalines can range from pale pink to bright pink. Also, morganite is a member of the beryl family just like emerald and aquamarine, whereas tourmalines are made of boron silicate minerals.
3) How to clean morganite jewelry?
Like most jewelry, the best way to clean your stone at home is by using lukewarm soapy water and a soft toothbrush.
4) What are the major sources of morganites?
Morganites are mined in Afghanistan, Brazil, Namibia, China, Madagascar, and Mozambique.
5) What does morganite symbolize?
Morganite symbolizes love, passion, romance, and innocence. It is believed that morganites are connected to the heart chakra and can bring unconditional love to couples.
Final Thoughts
Morganite is a stunning vivid center stone and at James Allen, we have all the tools and convenience you need to browse and design your own engagement ring online and find the wedding ring of your dreams. Visit us for all you need to know about diamond options, ring settings, your fine jewelry favorites, and more!
Read on for more about this year's top trends:
Subscribe to our email list for access to secret sales, practical ring-buying tips, and $100 off your first purchase!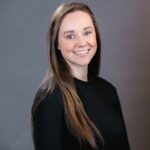 Jessica is a seasoned content writer with four years of experience and a qualified gemologist. She enjoys educating new shoppers on the best practices for buying jewelry.