Obsessed with yellow gold rings? So are we! Just remember, the diamond color you pick matters if you want your center stone to sparkle just right. Join us as we explore the best diamond color options for your dream yellow gold engagement ring.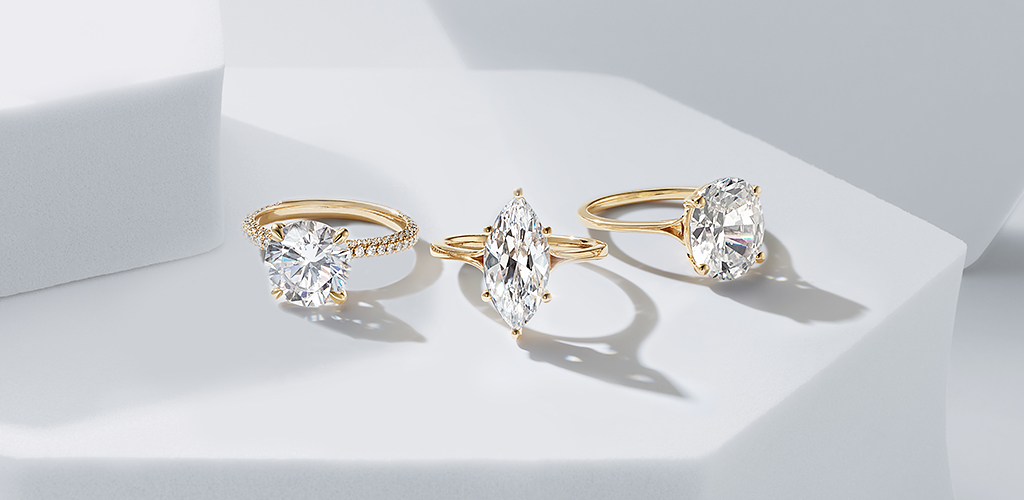 What Is Yellow Gold?
Yellow gold, or simply gold, is a precious metal that occurs naturally and is best used as jewelry and other decorative objects. This soft metal, in its purest form, can bend easily and therefore be manipulated into our favorite accessories, from gold earrings to yellow gold wedding bands, when combined with harder metal alloys.
Fun fact: the first-ever engagement ring was made from yellow gold with a simple bezel set diamond center stone.
What Does A Diamond Color Grade Mean?
GIA (Gemological Institute of America) sets the benchmark for the diamond industry. The world's oldest, largest, and most reputable institute of gemological research and learning is responsible for analyzing and certifying the color, cut, clarity, and carat weight (the 4Cs) of all diamonds. Learn more about the 4Cs here.
The GIA color scale goes from D to Z, categorized into five groups: colorless, near colorless, faint, very light, and light. As the letter or category goes, the yellow tint increases as well. The tint is basically indistinguishable to the untrained eye, especially in lower grades. However, these same differences greatly affect how a diamond's quality is assessed and, of course, its price.
Generally, the tint becomes more noticeable as the color grading system gets lower.
Colorless Diamonds For Yellow Gold Rings
Color grades D-F are absolutely colorless, setting the colorless standard. When you hear diamonds being described as ice, it is likely a D, E, or F color diamond. They are simply spectacular, and they look stunning with any metal color ring setting.
Remember that the higher the color grade, the more expensive the diamond. That being said, if you have the budget for a colorless diamond, know that it will look perfect and shine with brilliance when set in your preferred yellow gold engagement ring.
Near Colorless Diamonds For Yellow Gold Rings
G, H, I, and J color diamonds make up the near-colorless range. Generally, one cannot tell these diamonds have this subtle warmth unless they are placed side by side with another diamond that is truly colorless.
When viewed and graded by an expert gemologist, a near colorless diamond might appear to have a very faint yellow tint.
Although these diamonds have a slight hint of color, they're almost impossible to detect with the naked eye. Generally, near colorless diamonds are recommended to be set in lighter metals to avoid the color reflection from yellow or rose gold ring settings. However, we know plenty of ways around this!
If you're leaning towards a diamond in the near-colorless range, fancy shapes such as emerald, marquise, Asscher, radiant, and cushion-shaped diamonds aren't ideal for concealing color and usually tend to have a darker appeal. For this reason, it's best to opt for a round or oval cut diamond to set with your yellow gold engagement ring.
Related post: Fancy Shaped Diamonds: Discover Your Unique Style
Faint Diamonds For Yellow Gold Rings
It's worth noting that color is not the only thing to consider when purchasing a diamond. The other 3Cs can also play a huge role in the way your chosen color grade presents on an engagement ring or piece of fine jewelry.
Nevertheless, diamonds in the faint color grade, K, L, and M, are considered to have a faint tint. So, in short, they do show a slight tint of color. But does that mean they aren't suitable as the center or accent stones for your yellow gold engagement ring? Not at all.
If you have your heart set on a faint diamond, it's best to choose a diamond shape that is able to conceal or even disguise the color. Luckily you have many options to choose from, from classics like the round brilliant or princess cut, to edgier shapes like emerald and Asscher.
Try to avoid shapes like cushion cuts or radiant cuts as the color will be more noticeable, especially in a yellow or rose gold ring setting.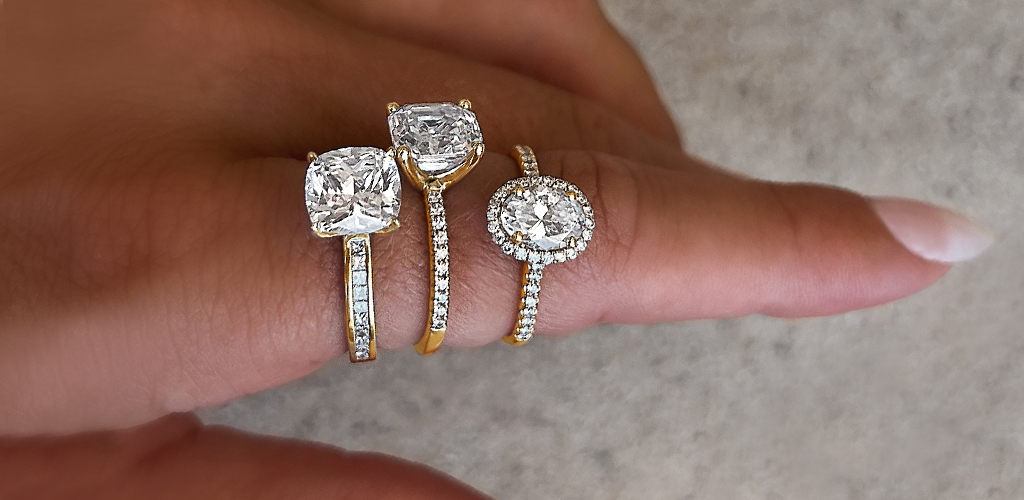 Ring Settings and Diamond Color
Whether you're customizing your dream engagement ring online or buying it in a store, there are plenty of different ring settings to choose from. But when it comes to yellow gold rings and diamond colors, not all gold settings are going to do your chosen diamond color justice.
The Best Ring Settings For A Colorless Diamond
For colorless diamonds, your choice of ring setting is virtually unrestricted. Whether you want your diamond to stand alone in a solitaire engagement ring or you want it surrounded by diamond accents in a pave setting, your center stone will steal the show every time!
The Best Ring Settings For A Near Colorless Diamond
Near colorless diamonds are a little trickier because of their almost light yellow tint. If you'd prefer settings with side stones or a pave setting, it's best you don't go below H color, with an exception for round, princess cut, emerald, or Asscher, in which case you can go as low as an I color diamond.
Halo settings are even more restrictive for near colorless diamonds in yellow gold, so don't go below H color no matter the cut.
The Best Ring Setting For A Faint Color Diamond
The best settings for faint-colored diamonds are solitaire and bezel settings, where ideally, the center stone is the only diamond. In this sense, diamond side accents will have no effect on how the center stone is presented. Often side diamonds can make the yellow tint more obvious, but when the diamond stands alone, it's harder to identify the color. 
Related post: Solitaire Engagement Rings: Your Complete Guide
Diamond Prices for Different Color Grades
Buying a diamond is no easy decision. You have to consider your budget, your partner's expectations and preferences, and where the best place to buy it is.
See the chart below for some price comparisons of loose earth-created diamonds at JamesAllen. It's important to remember that the diamonds of similar color grade, cut, and carat weight will be more than 3 times more affordable when choosing the lab created counterparts.
We'll compare diamonds of the highest color grade to the most popular near-colorless and faint-colored diamonds.
Prong Metal Color
When you're choosing a setting, make sure you take note of the prongs that will hold your diamond center stone in place. It's not always a given that your yellow gold ring settings will also have yellow gold prongs, some may have white gold prongs. If that is the case with your chosen ring, the white metal will make diamonds with low color grades look a little off.
Pro tip: For white gold prongs, it's best to stick to an H or I color diamond. Your jeweler may be able to switch the prongs to yellow gold instead. If you're customizing your ring online, you'll have a wider variety of similar settings to choose from with yellow gold prong options.
FAQs
Does yellow gold affect diamond color?
Yes, dark-colored metals like rose and yellow gold have the biggest effect on diamonds because the diamonds will reflect some of the metal's color.
What gems go with yellow gold?
Of course! Apart from colorless diamonds, gems that are blue, red, purple, pink, orange, and green pair surprisingly well with yellow gold. The more vivid the gem, the better it looks set in yellow gold jewelry.
Do diamonds look better in rose or yellow gold?
Not all diamonds look better in warmer golds. K to Z color grade diamonds will be noticeably yellow and so expert gemologists and jewelers often recommend going with a yellow gold engagement ring setting to give your diamond ring a more vintage look.
Is yellow gold outdated?
Yellow gold continues to be a fashion mainstay year after year. Yellow gold jewelry is essentially a timeless staple anyone should add to their jewelry box.
Parting Thoughts
We hope this helped you, and if you're still left unsure about which diamond color is the best choice for your yellow gold engagement ring, our 24/7 diamond and jewelry experts are at your service!
Visit JamesAllen.com today to find the perfect diamond for you, all viewable in 360°HD, with a real-time diamond inspection consultant. Book your free consultation today!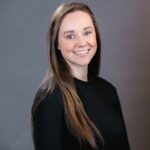 Jessica is a seasoned content writer with four years of experience and a qualified gemologist. She enjoys educating new shoppers on the best practices for buying jewelry.