Although you can never go wrong with a classic solitaire engagement ring, there are many brides who dream of an engagement ring that screams unique. We along with many brides-to-be are completely smitten with the non-traditional engagement rings trend, and we think it's here to stay!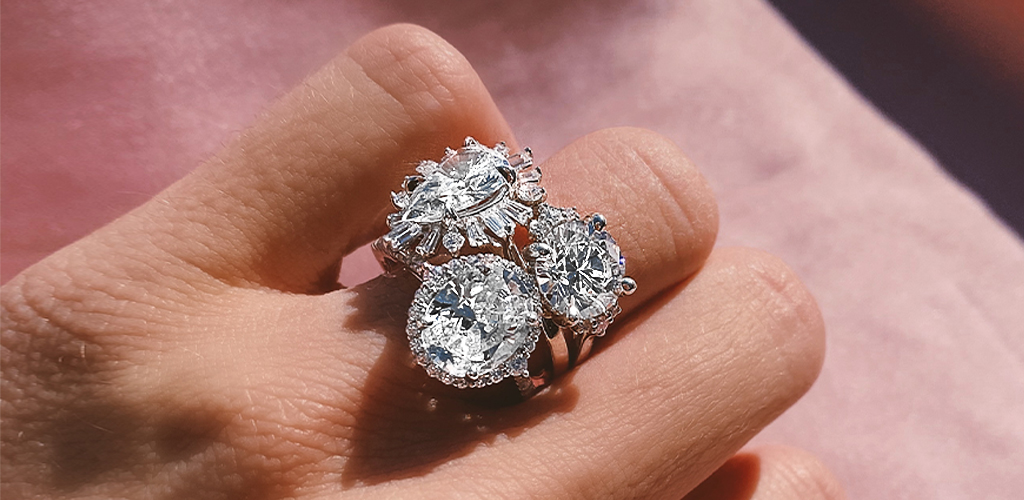 Diamonds may be some girls' best friends, but the truth is they're not for everyone. Like your personal style, many women want to stand out with a unique or unconventional engagement ring. Although you can never go wrong with classic solitaire or pavé band, today those wanting to veer off the traditional path have no shortage of gorgeous engagement rings to choose from.
As we are loving the move toward gemstone engagement rings and alternative options, we've pulled together some of our favorite non-traditional diamond engagement ring styles. From contemporary settings to dazzling gemstones and everything in between, these rings will definitely be the statement you're looking for.
Shape Shifters
Did you know that diamonds come in a variety of beautiful shapes? While round and princess cut diamonds are amongst the most popular shapes for engagement rings, this may not appeal to every person but luckily there are many other shapes that are stunning and full of sparkle. 
If you're thinking of going for something super unexpected with a ring with an extreme wow-factor you can choose from diamond shapes like pear, emerald, cushion, marquise, heart, Asscher, or even radiant cut.
Your "Something Blue"
Thanks to old traditions that have been passed down many generations, the color blue has been connected to weddings for centuries. It is believed that a bride should have "something new, something borrowed, and something blue" to bring her good luck on the big day.
Luckily nowadays there are so many lovely ways to incorporate this custom into any wedding. Whether it be a small headpiece, beautiful nail polish, statement shoes, or an elegant blue James Allen engagement ring.
If your desired shade of blue is sapphire, you will be guaranteed a one-of-a-kind engagement ring as no two sapphires are alike. Not only are sapphires commonly associated with royalty but they also have a symbolic meaning. Known as the 'wisdom stone', sapphires are said to protect against negative energies, attract blessing and indeed enhance wisdom.
So, why not be bold and different and choose a sapphire engagement ring? The perfect balance between classical beauty and contemporary expression
Another fabulous blue hue is Topaz. With its dazzling array of colors and luxe clarity, Topaz is also becoming an increasingly popular choice for engagement rings. Also known as the December birthstone, blue topaz is often perceived as a gift of eternal and committed love. It is also believed to symbolize loyalty, deep emotional attachment, and communication.
Blue topaz engagement rings are not only feminine, contemporary, and great for everyday wear, but they are also more affordable than diamond engagement rings.
Vintage
Vintage engagement rings capture the perfect mix of "something old" and "something new". No matter the style or design that captures your heart, vintage-style engagement rings certainly make a stunning, non-traditional choice. With intricate detailing and distinctive elegance, you as a non-traditional bride will be guaranteed a timeless engagement ring.
A Pop Of Color
Colored gemstones can be a gorgeous alternative to a classic diamond engagement ring. In fact, gemstone engagement rings have been popular amongst many celebs and royalty for quite some time.
Not only do we love this magnificent trend, but stars like Elizbeth Hurley, Megan Fox, Kate Middleton, and Victoria Beckham are rocking beautiful gemstone engagement rings. In fact, colored gemstones have re-emerged as a popular choice for the modern bride.
At James Allen, we stock a stunning selection of gemstone engagement rings to choose from.
The Look: Girl With a Pearl
Much like other unique engagement rings, pearl engagement rings carry a lot of symbolism and meaning. Pearls are believed to signify purity, generosity, knowledge, and sincerity which are all important in a relationship with your partner.
Pearl engagement rings are now being worn by women of every age as they are not just a beautiful choice but are also totally timeless and chic. Whether you choose an exquisite antique design or a modern ring setting, there is definitely a variety of gorgeous choices when it comes to pearl engagement rings.
Stand Out From The Crowd
Choosing an engagement ring that matches your one-of-a-kind personality is actually a lot more simple than many people think. Another alternative for non-traditional brides is opting for a different metal type, such as rose gold. Rose gold engagement rings are not only trendy and super popular right now but they are also available in a variety of styles and designs that are sure to make a distinctive statement.
Final Thoughts
When it comes to picking the right fancy-shaped diamond for you, James Allen has all the tools and convenience you need to browse and design your own engagement ring online. Visit our education center for all you need to know about diamond shapes to fine jewelry, and more!
Searching for more unique ring ideas? Browse on!
Subscribe to our email list for access to secret sales, practical ring-buying tips, and $100 off your first purchase!