Whether you are planning a grand destination wedding or turning your backyard into a DIY wedding venue, you need an engagement that will make your spine tingle. Read on to find the ring for your perfect wedding location, because no matter where you get married, that IS the destination.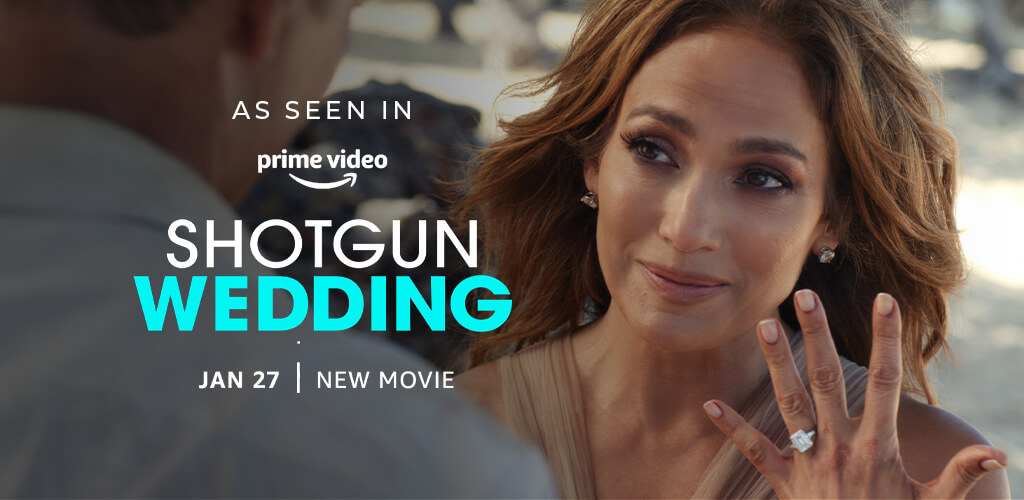 Are you looking for some ring inspo? Need a unique way to drop a hint? How about a movie night featuring your favorite faces, filled with laughs and action? Shotgun Wedding, streaming now on Prime Video, is the perfect blend of the rom-coms you love, the action movies he loves, and the comedies you both enjoy.
Oh, and it's the perfect opportunity to show him this beautiful James Allen engagement ring that's featured in the film that can go straight from the main character's hand to yours.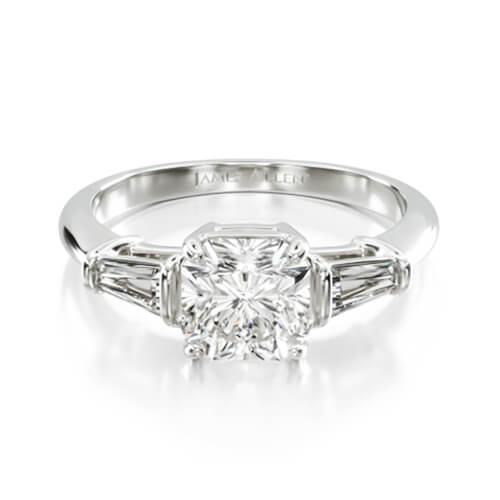 Call Shotgun And Get A Front Row Seat
Weddings are a magical time, but they are also filled with family, stress, endless checklists, and sometimes cold feet. Your wedding party may not get taken hostage, unlike our favorite bride and groom-to-be in Shotgun Wedding, but when push comes to shove, that love will get you down the aisle.
And when you do walk down the aisle, why not sport this ring worn by Jennifer Lopez's character Darcy in her latest blockbuster? Oh, and you can complete the look with the matching wedding ring!
So grab some snacks, get cozy, and when you're done watching the movie, check out JamesAllen.com for even more engagement ring inspo!
Creating Your Own Three Stone Engagement Ring
Much like Tom and Darcy, the film's two main characters, you and your partner will need to work together to make sure the big day is a successful one. That's marriage, right? Start that teamwork with the engagement ring. Take that movie inspo and design your very own three stone engagement ring.
Pick a setting, choose your metal color, and even add a personal engraving (for free!). Go for a traditional colorless diamond, or choose a colorful gemstone or fancy colored diamond for the center stone. Another option, select colorful gemstones for the side stones!
There are a plethora of styles to choose! From pavé to halo, three stone engagement rings come in every style, every color, and every sparkle, the choices are endless!
Shotgun Wedding Three Stone Engagement Ring Lookalikes You'll Love
Did you love the movie AND the featured James Allen ring, but you need options? We got you covered. These three stone engagement rings aren't just great because they look like the one featured in the movie!
They are stylish, unique, have incredible sparkle, and of course, a special meaning. It is said that three stone engagement rings represent a couple's past, present, and future…what could be more beautiful! It is no wonder this style, nicknamed the Holy Trinity, is one of the most popular styles of engagement rings.
Top Shopping Tips For Three Stone Engagement Rings
Lifestyle: Keep in mind your bride-to-be's habits. Generally, a more active lifestyle tends to give more opportunities for the ring to get snagged or damaged. This also applies to people with physically active jobs or hobbies.
Color Grade: It is recommended to choose all three stones or diamonds from the same color grade to ensure fluidity with the stones' shine.
Budget: A lab created diamond is definitely worth considering if you're looking for more value for your money.
Check it Out: Inspect each diamond carefully with our remarkable Diamond Display Technology and get help from one of our diamond experts. We offer a free, interactive Real-Time Diamond Inspection service. With the use of Super Zoom magnification, our experts will walk you through the specifications of your diamonds.
Shine Like A Star
Hopefully your wedding day is a little less eventful than Darcy and Tom, but either way, we are here to make sure your ring shines just as bright. Whether you choose Darcy's exact ring, a lookalike, or a whole other style, we have the ring for you. Now don't forget to stream Shotgun Wedding on Prime Video out now and be wowed by the movie, her ring, and your future ring too!
Ring shopping can be hard, but it doesn't have to be. Utilize our experts, review our guides and get top tips at our blog, and we'll make sure you have the perfect ring and a stress-free shopping experience.
Subscribe to our email list for access to secret sales, practical ring-buying tips, and $100 off your first purchase!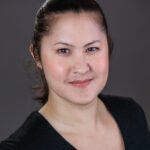 With over 10 years of experience writing and editing on a wide variety of subjects, Sarah is a veteran of the content world. Since joining James Allen, she has focused on all things diamonds and fine jewelry with the goal of educating and empowering consumers.