Summer is here, love is in the air, and wedding season has arrived. You found the one, you've decided to ask, and now you have to decide where to ask, how to ask, and most importantly, to pick out the ring for your perfect summer proposal.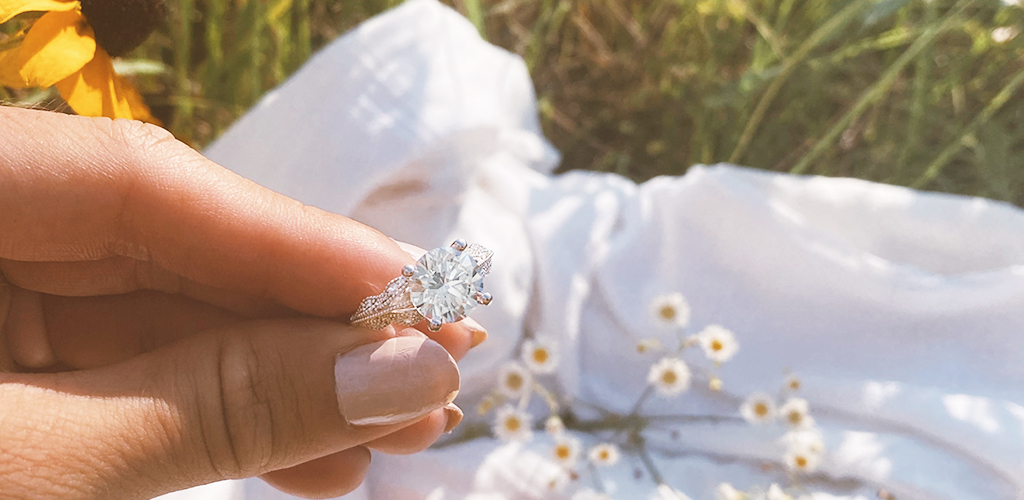 Getting engaged is a moment you'll never forget. Everything has to be perfect, from the setting to the story, and of course the ring. This is a story you, your family, and your friends will be telling until your wedding day and beyond.
Whether you jet off to Paris, do it at dinner, or make it a family affair, we are here to help you pick the perfect place and the perfect engagement ring for your dream summer proposal.
Destination Proposal Tips
They say go big or go home, and you've decided to go big. You've got a special trip planned, so let's make it the vacation of a lifetime. Let's start with a few tips to ensure it is the most epic yes!
Propose early. Don't spend the entire trip being a nervous nelly, instead, start your vacation off with a bang.
Practice, practice, practice. Prepare what you are going to say ahead of time. You WILL be nervous, so rehearsing what you say will ease some of the stress.
Do your homework. No matter if you are going for romance, quirk, or privacy, make sure you have researched your location. Proposing will be difficult if you are amidst a sea of tourists if there's another event taking place, or gasp, your location is closed! Take out the guesswork and take out the stress.
Trick them into it. Everyone should be dressed for the occasion. Nails did, hair did, everything did…right? So a little white lie here is OK. Plan a fake outing with a dress code similar to what you would like the big question to be. Going for glam? Fake an opera night. You get the idea.
Pics or it didn't happen. You've gone through all this trouble. Make sure it is documented. Hire a photographer to document the moment. Remember, the more isolated and private, the harder incorporating a photog will be. Hire a pro and you're sure to come up with a master plan no matter the scenario.
Celebrate. You've asked, and they said yes! (Congrats by the way!) Have something on hand to celebrate. A bottle of champagne, their favorite cookies, or reservations at their favorite restaurant.
Check out these halo engagement rings that will stop them in their tracks!
Private Locations For A Private Moment
This is a huge moment between two people. If you want your proposal to be something for JUST the two of you, then pick a private location. Does that mean no one else can be around? Of course not. It just requires some research. Here are a few ideas to get you started.
New York, New York. We know what you're thinking, New York?! Privacy?! Actually yes! This iconic city is so sizable, so large, that you are sure to find a private spot. A romantic picnic, a private stroll, or grabbing a view of the unforgettable New York City skyline, are just a few ideas.
Pagosa Springs, Colorado. These hot springs ooze romance. With multiple secluded spots and a gorgeous natural background of mountains and forest, give your partner a piece of ice hotter than any spring in the state.
Isle of Skye, Scotland. You'll feel as if you are in a fairy tale at this gorgeous location that feels straight out of your fantasies. As beautiful as it is private, jump into the pools of the cascading river to celebrate….if you dare!
Bora Bora, French Polynesia. You don't get much more private…or romantic than the bungalows of Bora Bora. Take an intoxicating vacation to the next level by popping the ultimate question.
These engagement rings sparkle so bright they will light up the night sky!
Budget Conscientious Proposals
Your proposal is a special moment, that does not mean it has to be an expensive one. Sometimes simple is best. Or maybe, you want the ring to have all the budget! Either way, check out some of these ideas for a great summer proposal that will be easy on your wallet.
Summer Proposal At The Beach
Most public beaches are free, and if you manage to find free parking even better! Go for sunset (or if you're an early bird, sunrise). The sand, the water, the view, and you! Write it in the sand or celebrate by frolicking in waves, you just can't ask for a better spot!
Propose At Your Local Park
Being out in nature and enjoying the summer breeze is about as cute as it gets. Being somewhere familiar will make it feel like home. So pack a picnic and make a day of it (make sure to pack it yourself so you can hide the ring!). Find a secluded spot, snuggle under your favorite tree, or have fun on the swings. Your local park is the perfect spot to create a million-dollar summer proposal for mere pennies on the dollar.
Have Your Proposal At A National Park
National parks are not only beautiful, but they are also affordable too. Choose one with free entry for the utmost frugality. But don't worry, if your chosen national park has an entry fee, it will be minimal and only exists to help support the park. Feel the romance of nature when you pop the question. The beautiful, awe-inspiring geological features of national parks make them a perfect, economically conscientious scene to ask the most beautiful of questions.
Picture Your Summer Proposal On A Scenic Drive
Fancy a drive? Beauty is literally all around you. For this summer proposal, all you need is a bit of gas in your tank and the open road. We recommend getting your car cleaned first (fast food wrappers have a tendency to take away the romance) and pulling over (no distracted driving here!). This proposal is low cost, high intimacy, and all romance. Pick your spot and head out on the open road.
Check out these solitaire engagement rings that are so beautiful you'll forget they don't break the bank.
Make It A Family Affair
If you and your partner are very family-oriented or maybe mom is their best friend, perhaps they have a gaggle of cousins who are just always around? More and more people are making their proposals a family affair. After all, they say you don't just marry the person, you marry the whole family.
Having the family involved can be VERY helpful. They can help with everything from the ring all the way through to the big moment. Mom can find out the ring size, dad can insist they come to your desired location, big sis can find out what styles they love….and hate! And baby brother can record it all on his new phone.
Not only will having the family involved let them know you have their family's blessing, but your partner will also appreciate having the people who love them most around for their biggest moment.
Whether it's a family dinner, a family vacation, or maybe the family pops up out of nowhere, having family around for such an important moment can make it that much more meaningful.
Here are some pavé engagement rings the family is sure to approve of and will make amazing selfies with your family furbaby!
Proposals Fit For Royalty
They are royalty to you so make them feel like a monarch for a day. Here are some ideas to get you started:
Roses Are Red. For a romantic summer proposal, we suggest you fill the room with their favorite flower. Whether it's roses or lilies, fill the room from top to bottom with their favorite petals. The scent will be gorgeous, the scene unforgettable, it will be a moment fit for royalty.
I'm On A Boat. Summer proposals and boats? we think yes! Something about being ferried on a boat feels simply regal. Oh captain! Take us towards the sunset! Go for the wine and cheese package (if offered – if not BYOW&C) and amidst the luxury of the moment, present them with a diamond engagement ring just as elegant.
Viva Italia! From the balconies of Verona to the canals of Venice, Italy is filled with regalia. Luxuriate with wine for the ages and the best pasta of your life. Enjoy views straight from a postcard and create a straight up Cinderella moment as they stare nonstop at their new icy finger.
Literally A Castle. Europe's royal families left castles all over the continent, many are open to visitors, and some even allow you to stay overnight. Visit one for the big moment and have a location as fabulous as the ring you are presenting. It does not get more regal than being in an actual castle.
Want a ring fit for a coronation? Here are some of our favorite summer-inspired engagement rings they are sure to love….almost as much as they love you!
Find Out Your Partner's Ring Size
You know what ring you want but you need the right size. We are here to help! Firstly, you can order a free ring sizer from JamesAllen!
Looking to be more sly? Check out the tips and tricks below to ensure you get their ring size right the first time!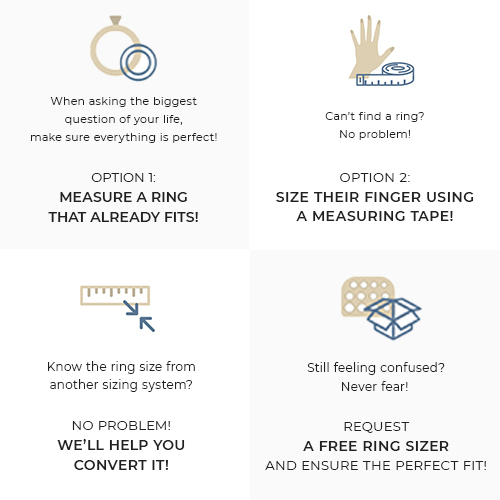 No Time Like The Present
The perfect time, place, and ring are personal to you and your partner. Whether you want no one there or everyone there, want to save your pennies or prefer to put on a big show, we have the ring perfect for your summer proposal moment. Love what you saw here but need some more options? Visit JamesAllen.com to see all our engagement ring options or design your own!
Subscribe to our email list for access to secret sales, practical ring-buying tips, and $100 off your first purchase!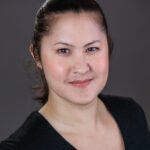 With over 10 years of experience writing and editing on a wide variety of subjects, Sarah is a veteran of the content world. Since joining James Allen, she has focused on all things diamonds and fine jewelry with the goal of educating and empowering consumers.