With your sparkler safely in the bag, the next crucial step is keeping the ring a secret so you can successfully pull off your surprise proposal.
Buying the engagement ring is the easy part. Keeping it a secret from your SO is where the real challenge lies. You're up against an opponent whose curiosity knows no bounds. No sock drawer is safe, no bookshelf off-limits. To pull this off, you're going to need an airtight game plan and nerves of steel!
Keeping the Ring a Secret
: Leave No Trace
In a recent blog post, we weighed the benefits of shopping for a surprise ring versus collaborating with your SO. If you're dead set on keeping the ring a secret, you'll want to ensure you don't leave a footprint – digital or otherwise – that could blow your cover.
Online
When ring shopping online, we strongly recommend doing your homework. However, if you happen to share computers/devices with your SO, make sure you sign out of all their accounts before starting to plan your surprise proposal. Likewise, if you absolutely must print something out (though we're not sure why you would – this is 2018, people!), don't leave that smoking gun sitting in your printer tray.

Offline
For obvious reasons, you should never use a joint bank account to pay for the ring. Consider setting up a new account specifically for that purpose (you can close it once the deed is done). Another option is to pay with an old credit card that only you know about. This one's kind of a no-brainer, but you shouldn't leave bank/credit card statements lying around the house. Oh, and don't withdraw a large sum of money from the ATM; that's a dead giveaway.
Keeping the Ring a Secret
: Unboxing Your Bling
Who doesn't love a good unboxing? Not your curious partner, that's for sure!
At James Allen, we realize that having a mysterious package show up at your door is likely to arouse suspicion. That's why we've taken care to ensure the outer packaging is as nondescript (read boring) as possible so as not to ruin your surprise proposal. It's literally just a standard, no frills FedEx box. For all your SO knows, it could be nothing more than that drone you've been droning on about.
It's worth noting that our packages require a signature upon delivery. If you're uncomfortable receiving yours at home or are worried that someone else might intercept it, we can help you find the best place to ship to.
Only once you peel back the outer carton does it start to get more interesting.
The first thing you'll notice is an elegant presentation box embossed with the James Allen logo. This doubles as a jewelry box and even has a drawer for keeping your diamond certificates, cleaning cloth, and whatnot. Nestled on top is a small red box that houses the main attraction: the engagement ring.
Where to Stow Your Glow
Now, ordinarily, we'd tell you there's no safer place to store your ring than the ring box it came in. Not only does it offer maximum protection, but it also makes for the most impressive presentation. However, there's no getting around the fact that it's still a box and, as such, somewhat bulky. Unless your partner is already aware of the ring, you might consider switching the box for something altogether less obvious.
"Is that a ring box in your pocket or are you happy to see me?"
– Your suspicious SO
Some suggestions: a glasses case, a wallet, a briefcase. It's fine to get creative with the container, as long as it fits the occasion. For example, a backpack or camera bag on a hike makes sense. A cello case does not. A rolled-up blanket or empty Thermos on a picnic makes sense. A suitcase does not. You get the idea.
Keeping the Ring a Secret
:
Conceal
the Deal
OK, we've looked at ways to carry the ring around with you, but what about leaving it unattended? Here are some dos and don'ts for the times you're not around to guard your precious new acquisition.
Keep it locked away in a safe place where your other half won't accidentally come across it e.g., a spare bedroom, home office, or even a relative's house. Avoid obvious places such as your bedroom, living room, or car glove compartment.
If traveling, pack the ring in your carry-on, never a checked bag. Don't let a TSA agent blow your surprise proposal! Make sure it's very secure and follow all airline security rules to avoid being stopped and searched.

Don't leave it in your hotel room safe if your SO is likely to use it; instead, ask the concierge if you can leave it in the safe at the front desk.
Keeping the Ring a Secret
: Your Silent Partner
If the logistics of keeping the ring a secret seem like Mission Impossible, our Customer Service reps are on hand to help you plan your sneaky setup. These masters of misdirection can be reached 24/7 via live chat, phone, and email. They know every trick in the book and can even suggest ways to distract your unsuspecting SO (don't worry, we've trained them to only use their powers for good).
Hoard
of the Rings
Where did you stash your sparkler pre-proposal? Whisper it to us in the comments below or over on Instagram, Facebook, Snapchat, or Twitter.
If you liked this post, check out our men's FAQ series for more practical ring-buying tips and tricks.
Next up: How Do I Find Her Style Preference?
Can you keep a secret? (Pin it!)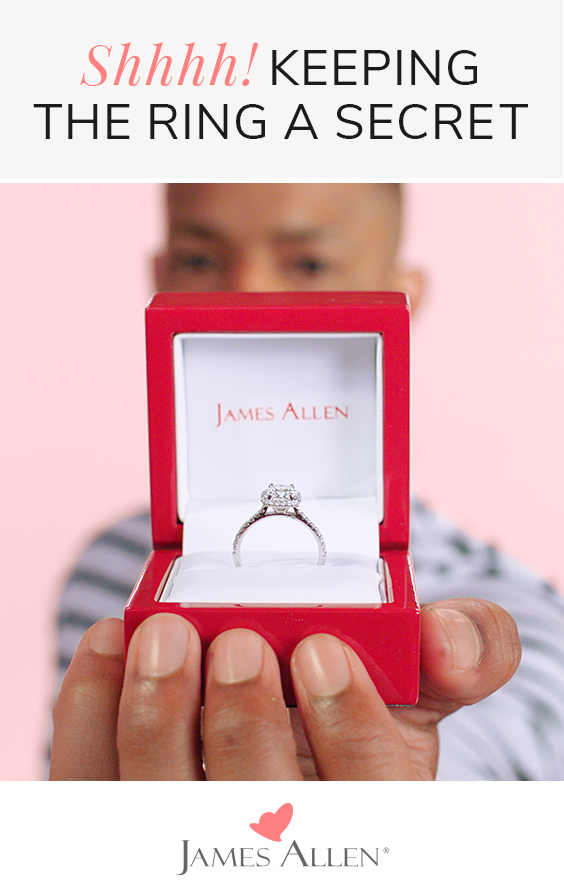 Subscribe to our email list for access to secret sales, practical ring-buying tips, and $100 off your first purchase!
Jonny is passionate about puns, adores alliteration, and finds diamonds positively facet-nating! Since joining James Allen, he has written the word 'sparkle' 9,732 times and counting.