Fancy color diamond engagement rings are rare and unique, not usually part of the traditional engagement ring styles category. If you have your heart set on a fancy color diamond and want to know more about your chosen color's symbolism, perfect shape, and metal setting, keep reading to find out!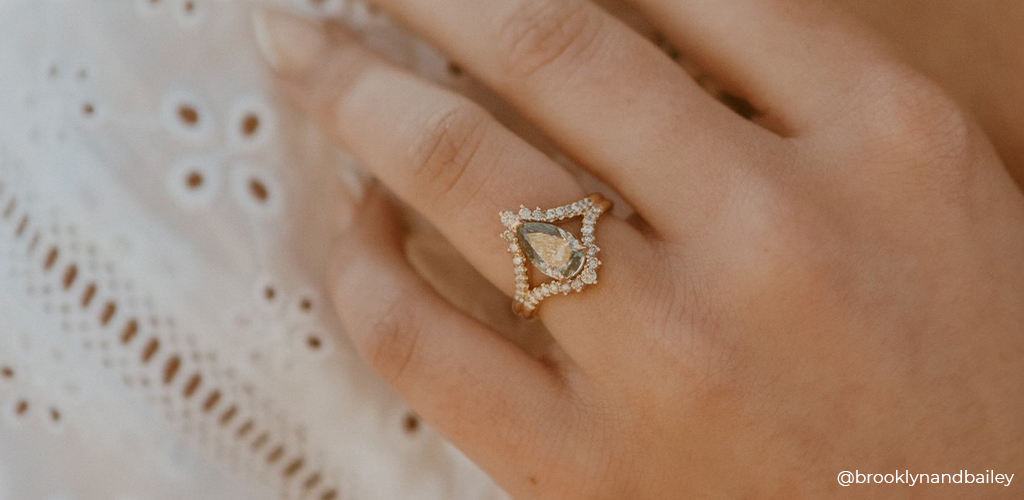 What Are Fancy Color Diamonds
Fancy color diamonds are rare precious gems that come in an array of different colors. There are only 12 different fancy colored diamonds. However, each color has nine levels of intensity and 90 secondary hues. This means you can purchase a colored diamond from a faint color grade to an intense and vivid color grade.
Diamond buying tip: The value of colored diamonds increases exponentially with the saturation of the color. The higher the color grade of the diamond, the rarer and more expensive it becomes.
Fancy Yellow Diamond Engagement Rings
Yellow diamonds have a higher market demand than other fancy color diamonds, making them slightly more common. Depending on their color grade, they may be less expensive than their colorless counterparts. To get the best value and look for your yellow diamond engagement ring, you need to have the perfect diamond cut and metal color.
Yellow Diamond Engagement Ring Symbolism
If you're considering a stunning yellow diamond engagement ring, here's what your ring will symbolize. Yellow diamonds represent love, happiness, and optimism, while yellow diamond engagement rings mean the beginning or the continuation of a long and happy relationship.
What Is The Best Diamond Cut For Yellow Diamonds
Fancy yellow diamonds shine their brightest when cut into the cushion and radiant shapes. These particular diamond cuts maximize the saturation of the color while still maintaining a fiery brilliance.
What Is The Best Metal Color For Yellow Diamonds?
Fancy yellow diamonds can look incredible set in yellow gold or lighter metals like white gold and platinum. For darker metals, it's better to use a faint to intense yellow diamond, whereas lighter metals look exceptional with vivid to darker yellow diamonds.
Fancy Pink Diamond Engagement Rings
Unlink other fancy color diamonds; gemologists still aren't sure what makes pink diamonds pink. Pink diamonds are one of the rarest colored diamonds that exist, rarer than every type of colored diamond, apart from red diamonds. Their rarity means pink diamonds are exceedingly valuable. But what makes them perfect as center stones for engagement rings?
Pink Diamond Engagement Ring Symbolism
A pink diamond engagement ring speaks volumes about the beauty and rarity of the love you share with your partner. Pink diamonds exhibit the qualities of love, creativity, and romance. There's also a level of mystery and intrigue about these colored diamond engagement rings because the exact reason for the pink color is not completely known.
What Is The Best Diamond Cut For Pink Diamonds
In order to enhance the color of a rare fancy pink diamond, these diamonds will often be found in fancy shapes like emerald, cushion, radiant, oval, and pear shapes. Some of the most sophisticated pink diamond engagement rings are set with emerald cut pale pink diamonds.
What Is The Best Metal Color For Pink Diamonds?
Choosing the metal for your pink diamond engagement ring depends on the color grade of your pink diamond. However, one quick trick of the trade is knowing that any light metal, like platinum or white gold, will make a paler pink diamond look more intense. Deep-colored pink diamonds can be set with darker metals for a bold look.
Fancy Blue Diamond Engagement Rings
Natural blue diamonds are far rarer than one might imagine. A fine blue diamond of any carat size can cost hundreds of thousands of dollars. If a blue diamond is the dream center stone for your engagement ring, remember, you can always invest in a lab created blue diamond. Lab grown fancy color diamonds are just as real as mined diamonds but will likely always be the more budget-friendly option.
Blue Diamond Engagement Ring Symbolism
Blue diamond engagement rings are said to represent faith and trust, two very important elements in any relationship. Blue diamonds are believed to help protect against misunderstandings and unnecessary fights- also a huge plus for a newly married couple.
What Is The Best Diamond Cut For Blue Diamonds
Blue diamonds, like most fancy color diamonds, are cut to achieve the best color possible. But that doesn't always mean diamond buyers want the most intense or dark blue tones for their diamond engagement ring. For a softer hue, go for a round cut blue diamond. If you want a more vivid blue, definitely aim for fancier shapes like pear, radiant, and cushion cuts.
What Is The Best Metal Color For Blue Diamonds?
The most popular metal color for blue diamonds is white metals like white gold and platinum. As we mentioned before, these lighter metals will always help to highlight the color of the diamond and make it appear more intense.
Given that blue is a dynamic color, darker blue diamonds can be set in yellow gold without the metal diluting the color of the diamond.
Fancy Orange Diamond Engagement Rings
Pure fancy orange diamonds, which are extremely rare, are also referred to as "pumpkin diamonds" because these diamonds occur in the same tone and intensity as the color of a pumpkin. If you love fall colors, an orange diamond engagement ring may be just up your alley.
Orange diamonds have less than a 25% saturation of the color orange, which makes the orange a secondary hue. The primary color for these diamonds is often yellow, brown, pink, or, more uncommonly, the much sought-after red.
Orange Diamond Engagement Ring Symbolism
Having an orange diamond engagement ring means you'll own a diamond that represents courage, good energy, and enthusiasm.
What Is The Best Diamond Cut For Orange Diamonds
Like most fancy color diamonds, having them cut into fancy shapes is the best way to enhance the stone's color. If you want a show-stopping orange diamond engagement ring, try to set your ring with a pear, radiant, cushion, or marquise cut orange diamond. If you'd prefer a softer orange tone, go for the ever-popular round cut shape.
What Is The Best Metal Color For Blue Diamonds?
Pairing white gold with an orange diamond creates a unique effect. The diamond and metal create a stunning contrast which makes the diamond stand out.
Orange diamonds are flexible and can be paired with yellow gold, too. The diamond and darker metal blend easily, with the transition from metal to diamond occurring smoothly.
Fancy Purple Diamond Engagement Rings
Natural fancy purple diamonds can vary across the color spectrum from a very light shade of lavender diamonds to much deeper shades of purple, including violet diamonds. The deeper the shade, the more valuable the loose diamond or center stone is likely to be.
Purple has been associated with nobility, wisdom, and power for centuries. Purple diamond engagement rings are one of the more popular choices for the upper echelons of society.
Purple Diamond Engagement Ring Symbolism
Purple is a color that symbolizes passion, mystery, magic, and royalty, making it the perfect addition to any engagement or promise ring. It is also said that purple jewelry can bring a feeling of calm and help bring balance to your life or relationship.
What Is The Best Diamond Cut For Purple Diamonds
Purple diamonds are often light and pastel in tone, even with intense and vivid grades. A fancy shape cut is encouraged to keep your diamond's value as high as possible. Like pink diamonds, purple diamond engagement rings look exceptionally chic set with an emerald cut center stone.
What Is The Best Metal Color For Purple Diamonds?
Purple diamonds can honestly look incredible in light and dark metal ring settings. But we believe a truly royal-looking purple diamond engagement ring deserves a bold yellow gold band with added diamond accents.
Fancy Green Diamond Engagement Rings
Green diamonds rank among the rarest and most valuable of diamonds. Green diamonds get their color from additional exposure to atomic radiation during their formation, which only occurs in a tiny portion of natural diamonds.
A green diamond engagement ring may seem an odd choice, but these diamonds are as rare and magnificent as your love.
Green Diamond Engagement Ring Symbolism
Green diamonds are symbolic of the natural world and harmony. There are many variations of green diamonds, as some have blue or purple undertones. Green diamonds also symbolize abundance, long life, prosperity, and strength. To wear a green diamond engagement ring is a sure way to bring this beautiful and positive symbolism into your relationship.
What Is The Best Diamond Cut For Green Diamonds
The most popular shapes for green diamonds include princess, emerald, Asscher, pear, radiant, round, oval, marquise, heart, and cushion. If you're looking for the most recommended shapes, try radiant and cushion, as they complement the diamond's color for your engagement ring.
What Is The Best Metal Color For Green Diamonds?
Fortunately, green diamonds are highly versatile and go well with any metal color. Green diamonds can have a contemporary look when styled with lighter metals and a more vintage feel when paired with rose or yellow gold.
Fancy Red Diamond Engagement Rings
The rarest of all the rare fancy color diamonds are red diamonds. These diamonds are highly sought-after and often only found a handful of times a year. Given that they are so incredibly rare and expensive, many diamond buyers will opt for a lab grown red diamond to set with their favorite piece of jewelry or their dream engagement ring.
Red Diamond Engagement Ring Symbolism
Red diamonds are a symbol of intense passion, power, creativity., and eternal love. They also represent repetition and ritual, a lovely nod towards commitment and perseverance in a relationship. A red diamond engagement ring would be a perfect match for someone who wants to live life boldly and to its fullest.
What Is The Best Diamond Cut For Red Diamonds
As a rule of thumb, choose a cut that would maximize the light that passes through your red diamond to reflect its fiery color better. Shapes like Asscher, emerald, radiant and oval cuts will emphasize the red color best.
What Is The Best Metal Color For Red Diamonds?
You can finish the warm color of a red diamond with almost any metal color. Try a yellow gold setting to give your red diamond a timelessly elegant look. White gold and platinum are also great options if you want your red diamond to have a more modern feel.
Fancy Black Diamond Engagement Rings
Black diamonds have a bold, captivating look. Their rich, captivatingly deep color lends an air of mystery and passion to every piece of black diamond jewelry. Black diamonds have paved the way as a non-traditional engagement ring trend, offering their wearers an alternative or edgy look. These diamonds are unique, with the same hardness and shine as colorless diamonds.
Black Diamond Engagement Ring Symbolism
Black diamonds have all the same meanings as white (colorless) diamonds, like love, strength, and faithfulness. However, their color gives them additional meaning. Black diamonds also symbolize certainty, passion, and longevity, all unique and powerful characteristics in an engagement ring.
What Is The Best Diamond Cut For Black Diamonds
The most popular choices for black diamond shapes are round, oval, and princess. A round cut black diamond engagement ring is perfect for someone looking for a timeless look. Whereas princess or oval cut is ideal for those looking to emphasize the unique beauty of this dark gem.
What Is The Best Metal Color For Black Diamonds?
There are really no rules for which metal will look best for your black diamond engagement ring. White metals, like white gold and platinum, compliment the diamond and give it a cool look while enhancing its boldness. Warmer metals, like yellow and rose gold, will contrast the diamond's color and really enhance the depth of the diamond.
Can You Get A Lab Grown Fancy Color Diamond?
Yes! Lab grown fancy color diamonds are available in every color and are usually the more effective alternative to natural fancy color diamonds. We've mentioned before how some of the rarest fancy colored diamonds are too exclusive, rare, and expensive to get without a massive bank account and the right connections.
So, if you're set on a specific diamond color, and you want to choose your favorite cut, size, and metal setting, all while staying within your engagement ring budget, give a lab created diamond a try! 
Engagement ring customization tip: Try out our very own Ring Studio, a one-of-a-kind engagement ring customization tool that lets you create your ring from scratch while seeing the changes happen in real-time.
We're Here To Help
Finding the perfect engagement ring comes with stress, questions, and a lot of second-guessing. At James Allen, we offer you 100% free advice and will assist you in understanding the best diamond quality for your budget and unique preferences.
Contact our customer service team and chat with non-commissioned diamond and jewelry experts 24/7 regarding any questions you have about buying an engagement ring online and the process around it. 
Happy shopping!
Subscribe to our email list for access to secret sales, practical ring-buying tips, and $100 off your first purchase!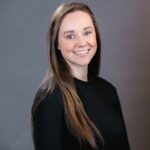 Jessica is a seasoned content writer with four years of experience and a qualified gemologist. She enjoys educating new shoppers on the best practices for buying jewelry.