Just got engaged and want to share the exciting news with all your friends and family? We all know the feeling of wanting to show off your brand new, sparkling engagement ring. Check out our guide on how to take a picture-perfect ring selfie.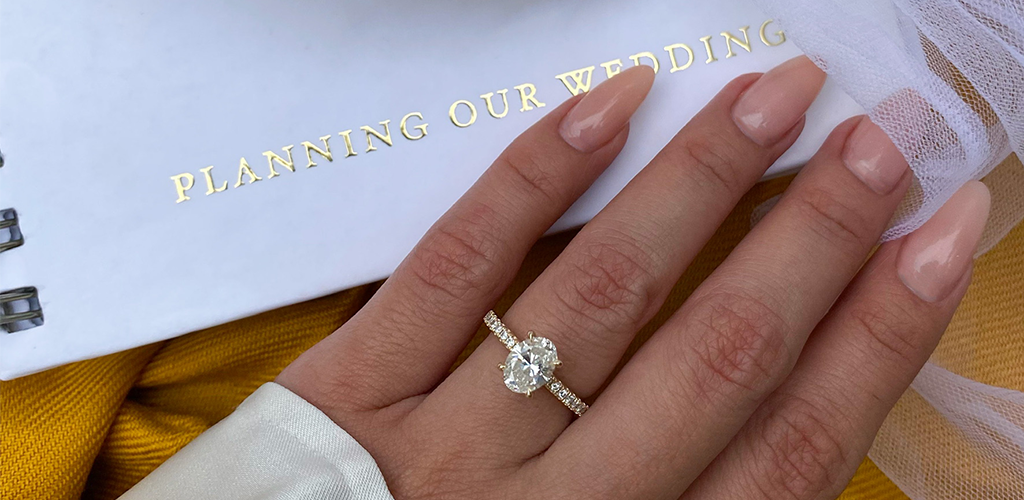 Time to find the best angle, breathtaking background, and strike the perfect pose. And what better way to celebrate National Selfie Day than snapping a stunning engagement ring selfie. We do know this technique comes with its own challenges as we all want the picture to be flawless, especially for social media. Luckily we're here to give you all the best tips and tricks to help you capture that perfect ring selfie. Keep reading to see how to get #RingSelfie ready!
Natural Lighting Is Everything
Good lighting is the most important factor, especially if you want your ring to radiate. And, the best place to capture the perfect engagement ring selfie is outdoors in natural light. As no filters are needed here, nothing will show off your engagement ring's cut, brilliance, and sparkle quite like sunlight
However, if you're in a rush and not outdoors, make sure to set up your shot near a well-lit window for some natural light. Artificial lighting such as a dim or yellow-toned lit room can lead to blurry photos. Also, many people tend to forget that what may look good in person does not always translate well in photos.
Pro tip: Whether you're inside or out, watch out for tricky shadows.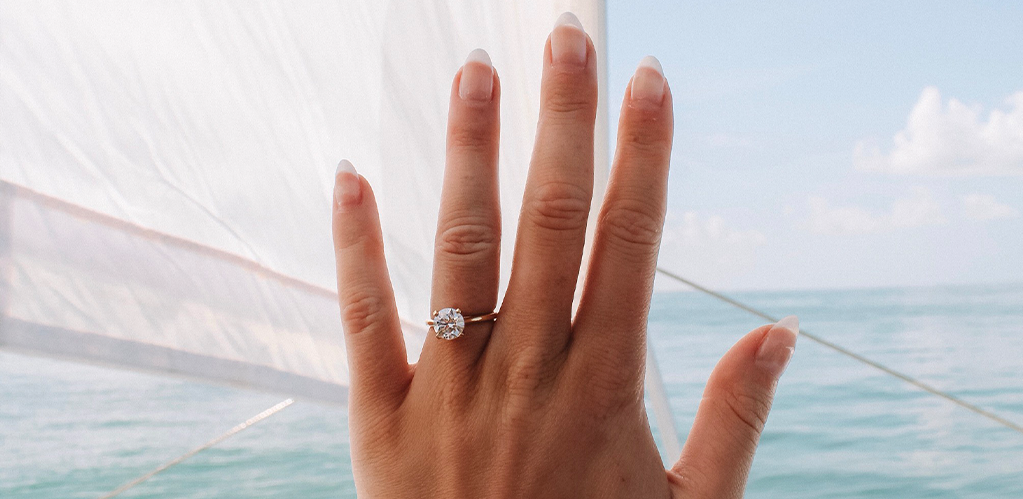 Find The Perfect Background
If you're snapping the shot right after the proposal, we suggest finding that Instagram-worthy skyline or backdrop. After all, your engagement ring is the centerpiece of your ring selfie, but there is no reason you can't enhance it with a gorgeous backdrop.
If you do not have the ultimate background, you could always go with the lovely idea of using a prop. In fact, this is a great hack when you want your pose to look more relaxed and super natural. Some of our favorite props are coffee mugs, a bridal magazine, a glass of bubbly (you're celebrating, after all!), or even putting your hand around your fiancé's arm. The best is to try a few different backgrounds or props so you have plenty of options to choose from when you post it.
Pro-tip: To make your engagement ring selfie POP, why not try using bold, eye-catching colors as your backdrop? This is specifically for people who did not opt for a fancy color diamond engagement ring or gemstone ring which already features beautiful hues.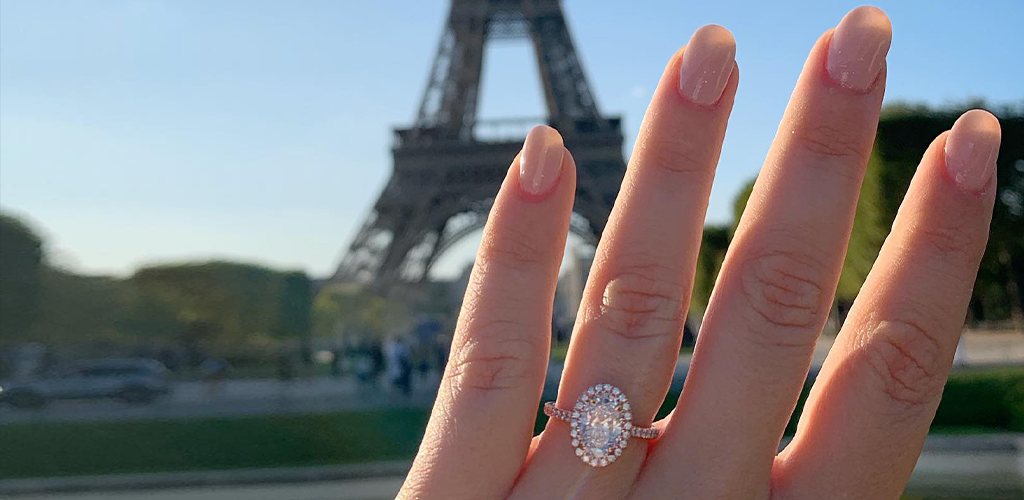 Pay Attention To The Focus
Another important factor in this process is to pay attention to the focus of the image. To get the photo perfectly focused, it's recommended not to rely on the auto-exposure feature on your phone. Instead, want the focus and attention to be on your engagement ring. Simply, touch where you want the camera to focus and hold down for a second or two to get the focus and exposure to lock in place. If you have your fiance' in the background, this trick will blur them and show off your dazzling new rock.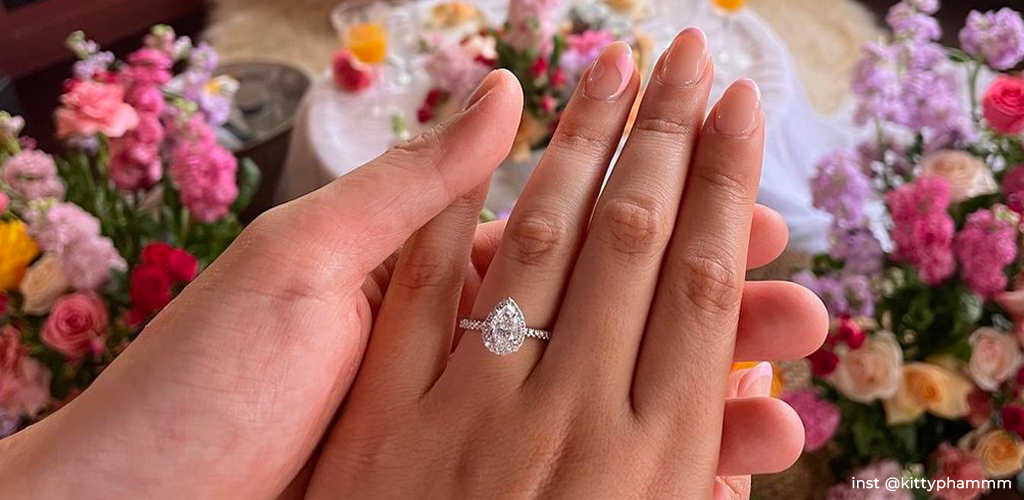 Experiment With Angles
Angles are everything! Don't be shy to play around with different perspectives and angles to make sure you capture all the details and personality of your ring. Additionally, depending on the cut of your diamond, different angles will catch different light and create more sparkle.
Pro tips:
To show off the ring's setting opt for a side shot, whilst a shot taken from above will highlight the diamond's shape.
To make your engagement ring look appear bigger, experts recommend removing all other jewelry so that the focus is entirely on the ring.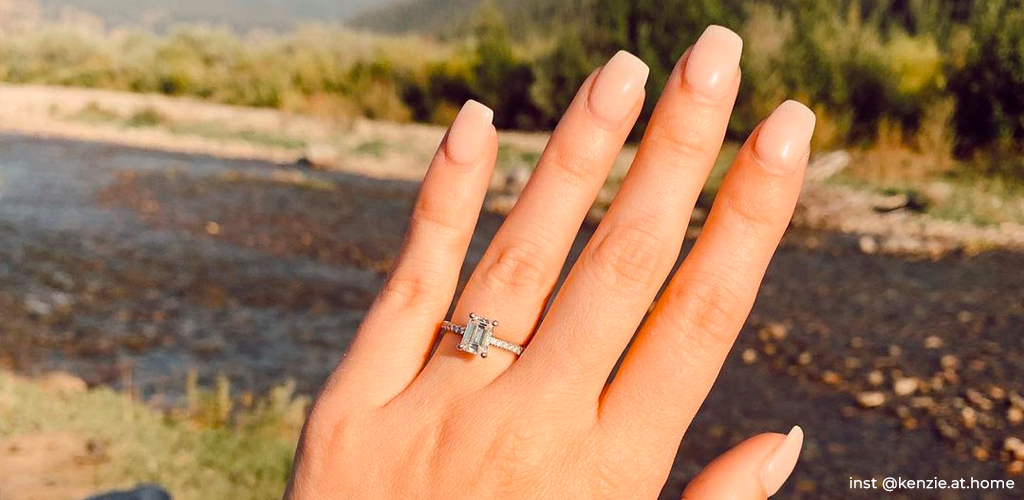 Nail The Manicure
Of course, if your proposal is a surprise you may not be prepared with a beautiful, fresh manicure. But, if you do have some kind of idea that the big question may be coming soon, we highly recommend that your nails look fabulous!
Nothing shows off your engagement ring bling like a rockin' manicure. And, if you ask us, this is for sure a top priority for that polished engagement ring selfie.
Pro tip: Choose a color that compliments your skin tone, or some trendy nail art. Just make sure all the attention is not averted from the bling.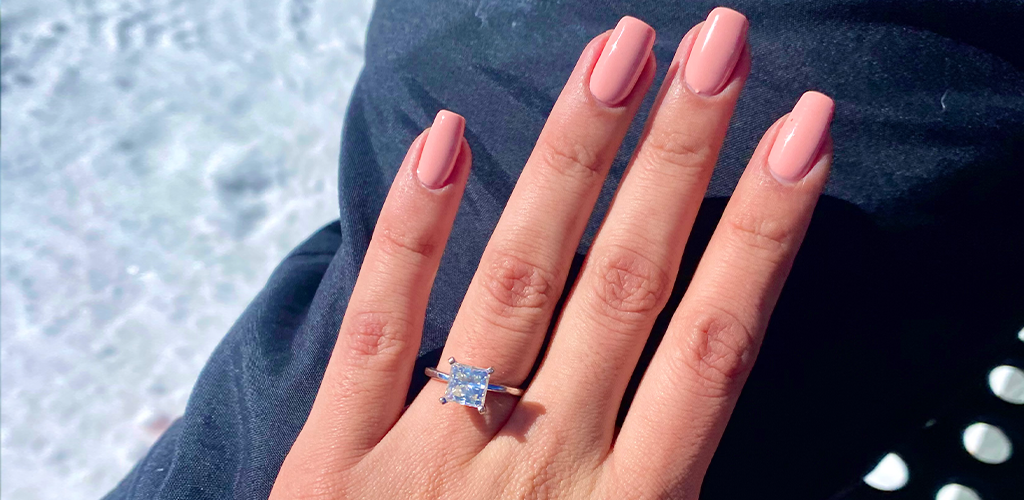 Include Your Fiancé
While the engagement ring selfie is all about the ring, it's important not to forget that this special moment is really about both of you. Make sure to feature them in your post, whether it's mentioning them in the caption or including them in your actual photo. Some of our favorite customer ring selfies feature the newly engaged couple, and we love to see their bliss and excitement shining through.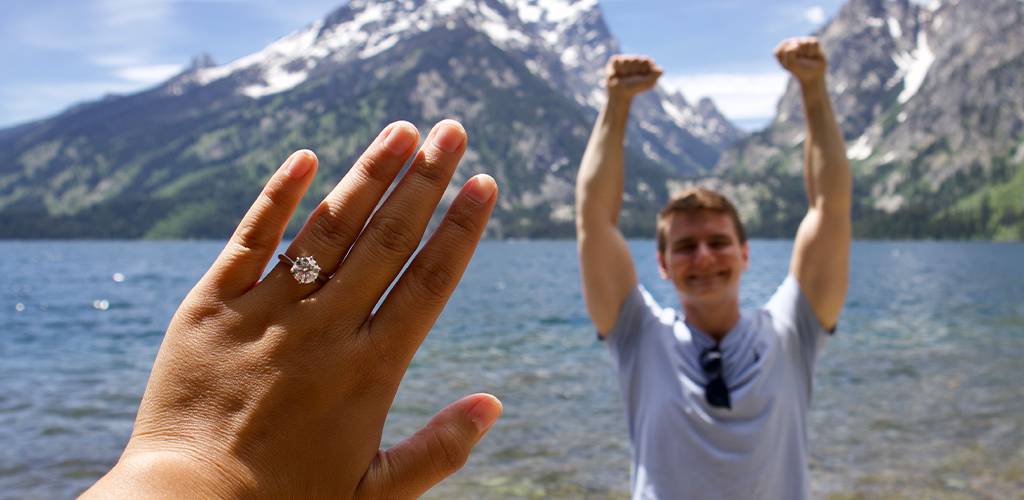 Feature Furry Friends
Who doesn't love sparkling diamonds and adorable pets? And what better way than combining the two to create your greatest engagement ring selfie post?
This is a two-for-one special of Instagram-able pictures: sparkling rings and adorable pets! If you have a sweet dog or cat who loves to be in the spotlight, consider including them in your special moment as a cute way to announce your engagement.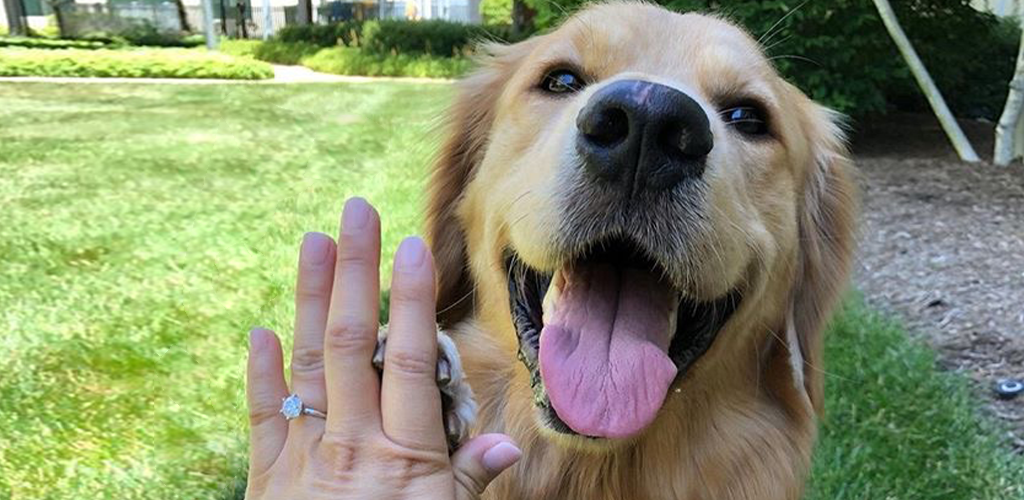 Caption Is Key
Now that you have the beautiful photo ready to post on social media, it's time to caption it. The caption to your engagement ring selfie should convey both this once-in-a-lifetime moment and something special that captures the love of you and your fiance.
It can be sentimental or personal, humorous, fun, or even romantic – after all, this is your moment! Feel free to use emojis too.
Here are some of our favorite captions from our customers:
"Mom and Dad may be engaged, but I still get all the treats!🤪"
"He asked. I said Yes!💍💙"
"Cheers to our next chapter 🥂💍"
"Something magical happened yesterday…💍 ✨"
"Does this ring make me look engaged?💍💎❤"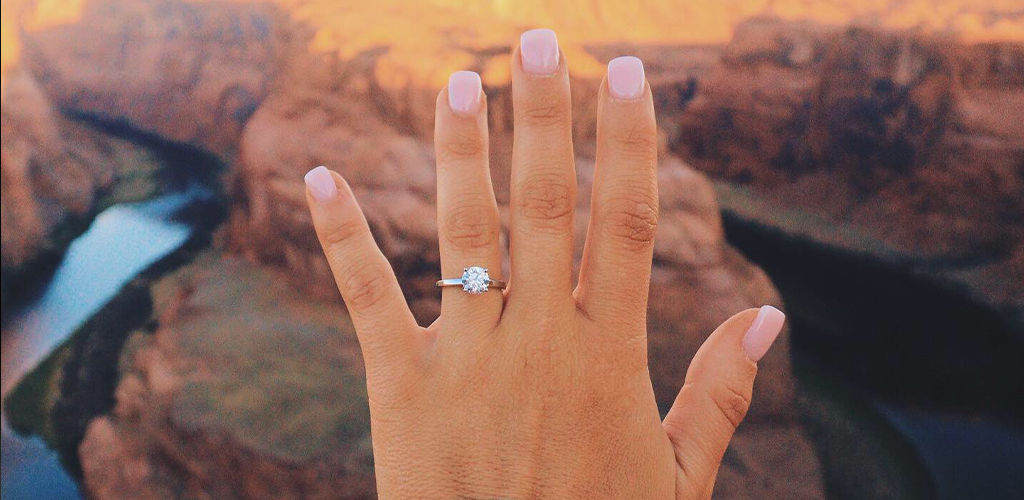 Additional Pro Engagement Ring Selfie Tips
Now that you know how to take the magnificent engagement ring selfie using our tips above, keep these engagement ring selfie etiquette rules in mind.
DO NOT zoom in – your picture will almost always come out blurry, out of focus, or pixelated.
Don't be shy to edit the photo before posting it. There are many great apps and filters to help elevate the quality of your picture and make your ring truly pop. A little editing can go a long way!
Don't forget to relax your hand. Trust us, we know the excitement but the ring selfie pose is supposed to be as natural as possible.
Avoid unsolicited bragging. By all means, show off that stunning sparkler but do so without going overboard. For example, don't mention how many carats your diamond has or how much it costs. Of course, discuss this with close friends and family but preferably not on social media.
Ring Selfie Ideas And Inspiration
Show us your ring selfies! We love seeing your gorgeous JamesAllen.com engagement ring shots! Keep sharing them with us on Instagram, Facebook, or Twitter.
Subscribe to our email list for access to secret sales, practical ring-buying tips, and $100 off your first order!