Finding the perfect ring size is just as important as finding the perfect engagement ring. Read on to find out all the ways you can measure ring size for a surprise proposal!
This task may seem daunting, but don't worry; we've got you covered! We've come up with multiple methods to measure ring size accurately and discreetly.
Whether you opt for our free ring sizer or more straightforward at-home techniques, we're sure you'll get that ring size down without your partner knowing, and you'll be well-prepared for that magical moment. Let's dive in!
Understanding Ring Sizing
Before you embark on your mission to find the perfect ring size, it's important to understand how ring sizing works. Ring sizes are determined based on the inner circumference of the ring, usually measured in millimeters. The standard ring size scale ranges from 3 to 13 for women and 8 to 15 for men, with half-size increments available for a more precise fit.
To measure someone's ring size accurately, you have a few options.
Measure Your Ring Size With A Ring Sizer Tape Measure
Using a tape measure is a convenient and accurate way to determine your partner's ring size. Here's how:
Wrap the ring sizer tape around your partner's ring finger (left or right, depending on their preference.)
Adjust the tape until it feels comfortable, allowing for easy movement.
Read the size indicated on the tape measure where it overlaps.
Related Post: How To Measure Your Ring Size
How to Measure Your Ring Size Using A Ring Size Conversion Chart
A conversion chart is a super valuable tool to translate measurements into the appropriate ring size. Here's how to use it:
Measure the inner circumference of your partner's finger using a string.
Compare the measurement to the ring size conversion chart to find the corresponding size.
How to Measure Ring Size Using String, Paper, and a Ruler
This is a classic method, and it only requires everyday items to measure ring size:
Wrap a piece of string or dental floss around your partner's finger.
Mark the spot where the string overlaps and measure its length.
Use a ruler to determine the measurement in millimeters.
Refer to a ring size chart to find the appropriate size.
6 Ways to Measure Ring Size Without Your Partner Knowing
Maintaining the surprise is essential for your stealthy proposal, so here are six ingenious methods to measure ring size discreetly:
Friend's Insight: Enlist the help of a trusted friend or family member to ask your partner about their ring size without giving away the surprise.
Trace and Sneak: Borrow one of their rings and trace its inner and outer circles onto paper to estimate the size- you can take this to a jeweler for a more accurate sizing!
Paper Slip Trick: Slip one of their rings onto your finger and mark how far it goes. A jeweler can convert this into the correct size. Make sure it's a ring they wear on their ring finger!
String-Length Comparison: Borrow one of their rings and compare its inner circumference to a piece of string, then measure the string. Again, make sure you take the ring they wear on their ring finger!
Virtual Ring Sizer: Take one of their rings and use an online virtual ring sizer tool that allows you to match a ring against a screen to determine the size.
Disguised Discussion: If your significant other isn't too suspicious, casually discuss jewelry preferences and sizing while watching a movie or TV show to gather information or get a friend or family member to start the discussion.
Why Finding The Perfect Size Matters
Why does size matter? Well, a ring that's too tight can be uncomfortable and difficult to remove, while a ring that's too loose might slip off or spin around the finger. Finding the perfect fit ensures your partner can wear their engagement ring with joy and pride daily.
Creative Ways to Find Their Size
Figuring out their ring size without spoiling the surprise can be a fun challenge. Here are some creative ideas to consider:
Friend in Disguise: Ask a friend or family member to casually bring up the topic of rings and sizes in conversation with your partner.
Trace and Sneak: Borrow one of their rings and trace the inside and outside circles on a piece of paper. A jeweler can use these tracings to estimate the size.
Subtle Comparisons: Slip one of their rings onto your own finger and mark how far it goes. A jeweler can determine the size based on your finger.
Sneaky Techniques For Keeping The Ring A Secret
Keeping the proposal a secret can be just as exciting as planning the proposal itself. Here are some tips to help you keep the engagement ring under wraps:
Private Browsing: When researching rings online or checking out ring size guides, use a private or incognito browsing window to prevent any accidental discoveries.
Digital Distraction: Create a folder on your computer or smartphone specifically for ring-related research and label it something inconspicuous.
Temporary Tattoo: If you're worried about hiding the ring at home, consider getting a temporary tattoo to keep the ring safe and concealed.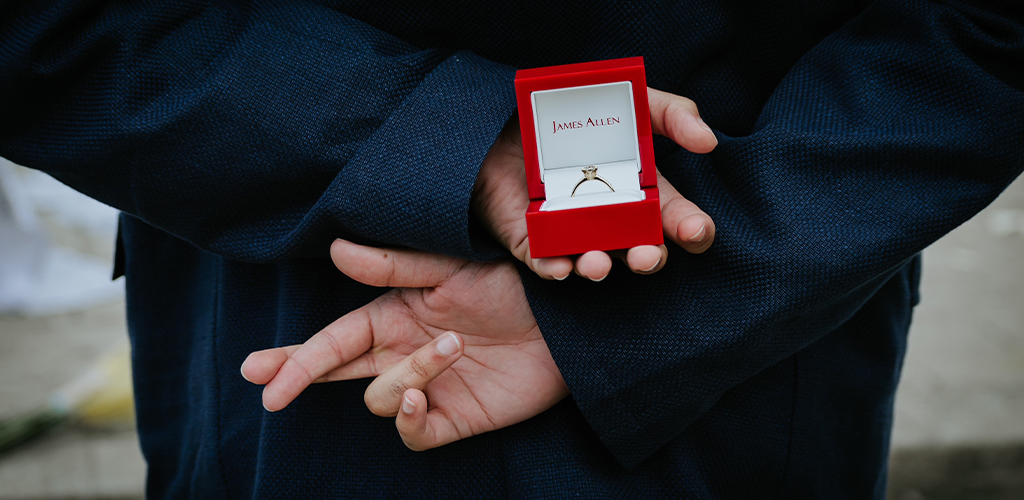 How To Hide The Ring at Home and Abroad
Whether you're proposing at home or on a romantic getaway, keeping the ring secure until the big moment is essential. Here's how to do it:
Travel Tricks: If you're traveling with the ring, keep it in your carry-on bag to avoid any mishaps during security checks. A travel pouch or hidden pocket can also keep the ring discreet.
Home Sweet Hideaway: At home, consider creative hiding spots like a well-disguised jewelry box, inside a book with a secret compartment, or tucked away in a sock drawer.
Which Finger Should You Be Sizing?
The most common finger for an engagement ring is the fourth finger of the left hand. This tradition stems from the belief that this finger contains the "vena amoris" or the "vein of love" that leads directly to the heart. However, cultural and personal preferences vary, so take note of your partner's preferred finger for jewelry.
Easiest-to-Resize Metals
When choosing a metal for the engagement ring, keep in mind that some metals are easier to resize than others. White gold, yellow gold, and platinum rings are generally more malleable and can be resized relatively easily. On the other hand, metals like titanium and stainless steel are more challenging to resize due to their durability.
Related Post: Jewelry Metal Types 101: A Buying Guide
FAQs
How accurate are online ring measurement charts?
Online ring size charts provide a general guideline, but the most accurate measurement can be given by a professional jeweler.
What if the ring is too big or too small?
Most jewelers offer resizing services, so if the ring doesn't fit perfectly, it can be adjusted accordingly. Just remember that not all metals are easy or can be resized.
Can I propose without a ring and choose one together later?
Absolutely! Many couples choose this route to ensure the ring matches their partner's style and preference.
Should I measure in mm or cm?
We find it's best to measure in millimeters (mm) for the most accurate fit. Using millimeters ensures precision and helps you find the perfect fit for your finger.
What happens if I order the wrong size?
Don't stress! If you happen to order the incorrect size, most reputable sellers have a return or exchange policy in place. Reach out to them as soon as possible, and they'll guide you through the process of getting the right size so that you can enjoy your new ring with a perfect fit.
SHOP RELATED PRODUCTS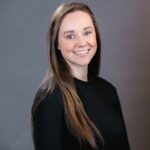 Jessica is a seasoned content writer with four years of experience and a qualified gemologist. She enjoys educating new shoppers on the best practices for buying jewelry.