You've finally found "the one," now you need to find "the ring." This process can often have you feeling like Goldilocks. Looking at ring after ring, they are beautiful, but they aren't quite right. So, it's time to bring out your inner-designer and we are here to help!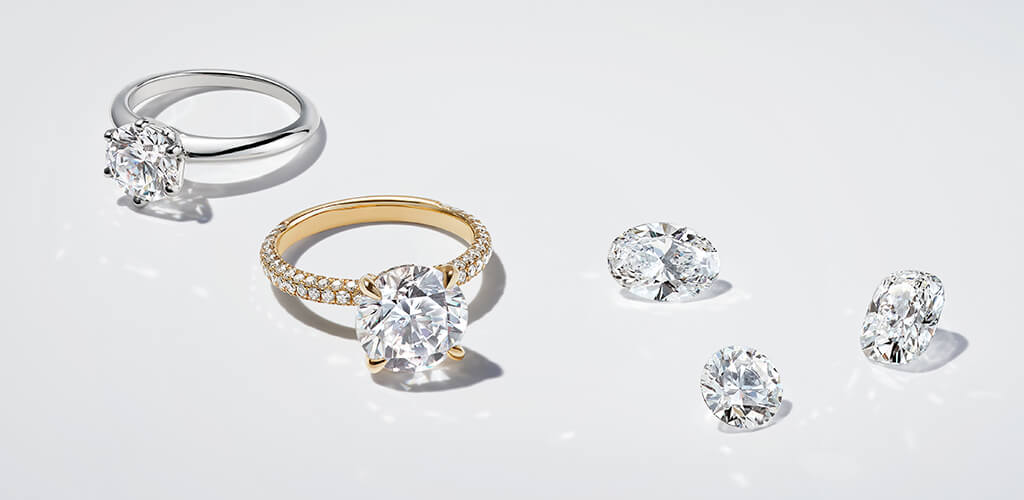 We'll walk you through the entire process (it's WAY easier than you think!) and you'll end up with the perfect ring. The only thing you will need to worry about, is how to pop the big question!
How Much Should You Spend On An Engagement Ring?
This is a loaded question if there ever was one. Here at James Allen, we believe you should spend as much as your budget allows. It doesn't help that there are many myths on the topic: "You need to spend three months salary" or "the ring HAS to be big."
Fear not, we are here to help guide you in creating beautiful, budget-friendly engagement rings. Because creating and buying an engagement ring should be an easy and even, dare we say, a fun process!
Related Post: How Much Should You Spend On An Engagement Ring?
How To Create An Engagement Ring Under $1000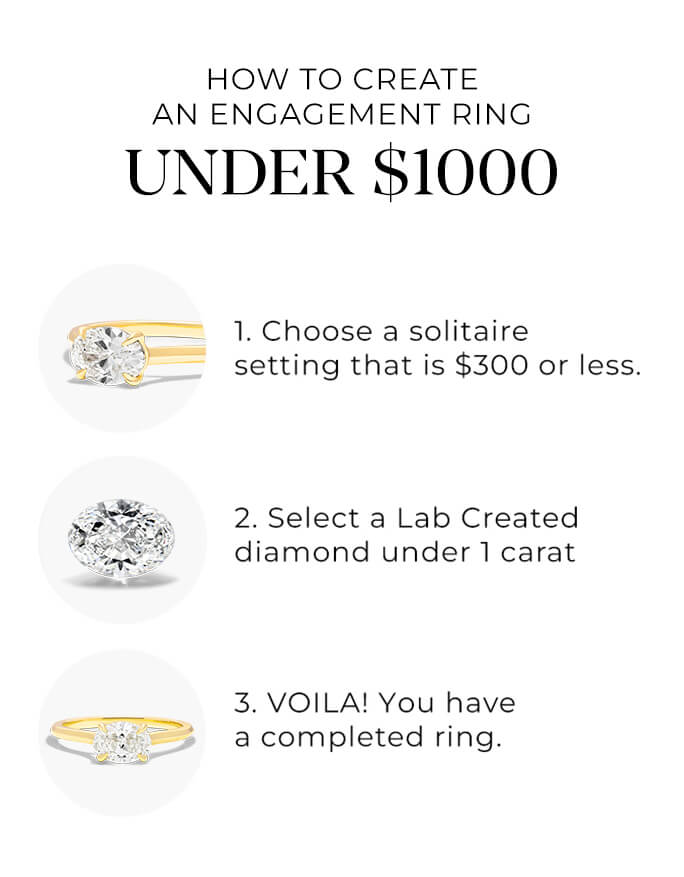 Choose A Setting
First things first, you want to choose a setting. Solitaire settings are not only a great choice when working with a budget, but they are a classic, timeless style. They will also pair beautifully with just about any wedding ring.
Second, choose a setting under $300, which will allow you maximum wiggle room when choosing a diamond for your center stone, i.e. the main event!
Third, choose your metal. We recommend going for a 14K gold setting as these are not only the most budget-friendly, but they are durable, making them perfect for everyday wear. Looking for a metal that will not need replating? Go for yellow gold!
If you feel like splurging a bit here, you can go for platinum. But keep in mind, this metal is as rare as it is beautiful, resulting in a higher price point. Love the look of platinum but not the price? Go for white gold, just keep in mind there will be future costs for replating.
Related Post: White Gold Vs. Platinum: What's The Difference?
Select A Diamond
Now for the star of the show, selecting your diamond. First off, we recommend going for a lab created diamond. Not only can it save you up to 30%, but it is 100% a real diamond in every single way. And just because you are on a budget, does NOT mean you have to compromise on color or clarity.
Want your diamond to punch above its weight? Go for an elongated fancy shape diamond, such as an emerald cut, oval, or marquise. These diamond shapes have large table surfaces, allowing them to appear larger than their actual carat size.
Related Post: How To Choose The Best Diamond Shape And Size For Your Finger
How To Create An Engagement Ring Under $1500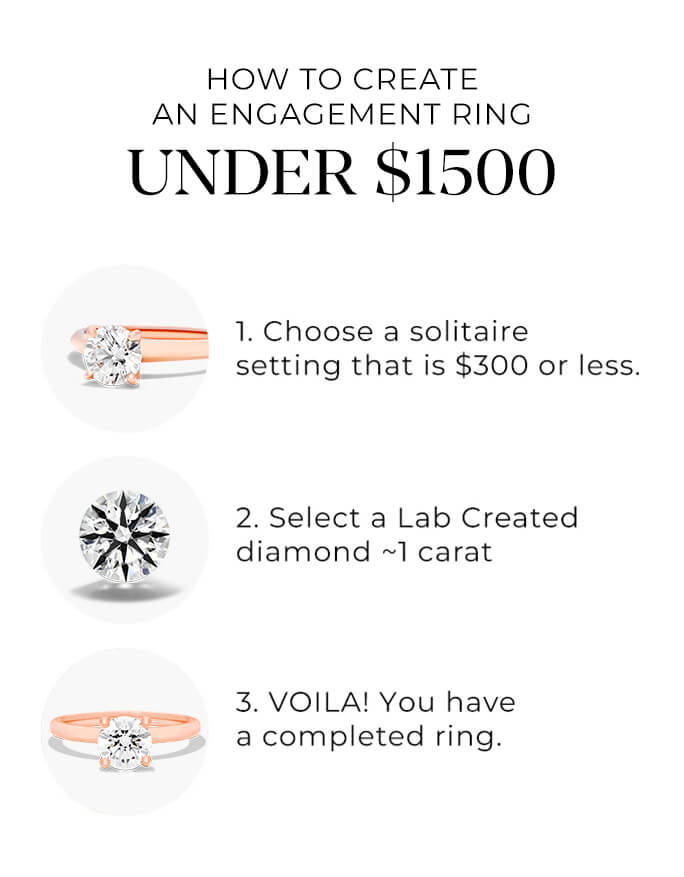 Choose A Setting
The first step is to choose a setting. Similar to the above, we recommend a solitaire setting of no more than $300. Not only are they beautiful and versatile, AND the most popular choice for engagement rings, they are also the most budget-friendly option around. Once you've chosen your solitaire style, you'll need to pick a metal.
Once again, we recommend going for gold here. 14K gold is popular, durable (making it an ideal choice for a ring that will be worn everyday), and available in yellow and white. If you prefer a more low-maintenance metal, go for yellow gold.
Love the look of white gold but want to spend a bit more? Or maybe you have very sensitive skin? Then go for platinum. This metal will be easier on your skin thanks to its purity, however keep in mind, this will also result in that higher price point.
Select A Diamond
Now for the pièce de résistance! Selecting a diamond can be overwhelming, but we are here to help. We recommend choosing a round cut diamond. This diamond shape is not only incredibly popular and shines bright, but, when selecting a lab created diamond, you can choose a whole carat (or just under), and still get a high color and clarity grade.
Prefer an earth created diamond? The rules still apply, but you will need to select either a lower grade diamond or choose a carat weight under half a carat.
Related Post: Lab Grown Diamonds Vs. Earth Created Diamonds: What's the Difference?
How To Create An Engagement Ring Under $2000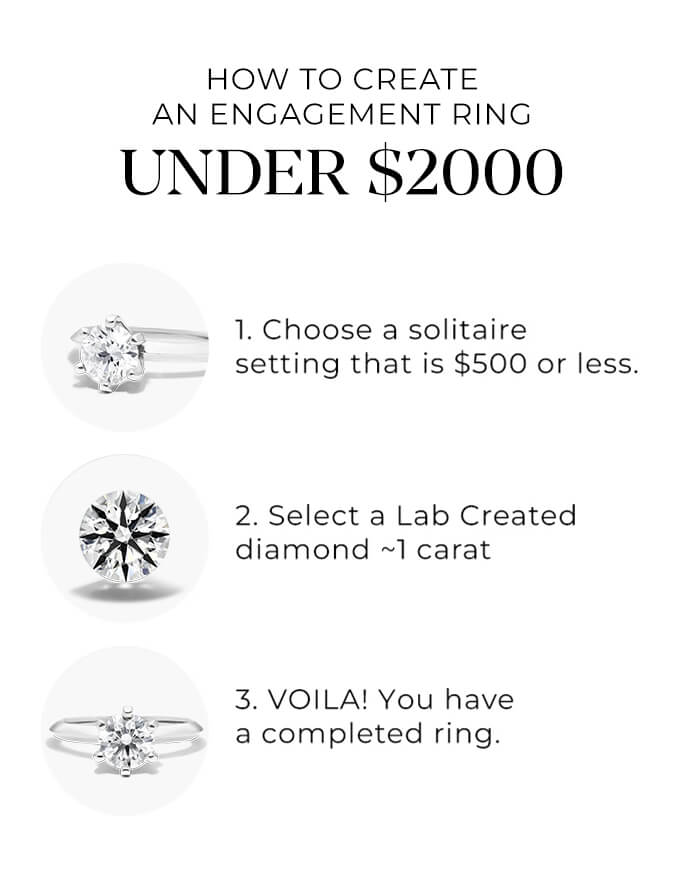 Choose A Setting
Designing an engagement ring with a higher budget allows for more options. In this case, you have two choices. You can go with a classic solitaire setting, choosing a budget of no more than $500 here, and use the rest of your budget to splurge on a big diamond. So if bigger is indeed better for your beloved, this might be the way to go.
Or, you can choose a setting with more sparkle, such as a pavé, halo, or side stone. These settings feature diamonds that will enhance the dazzle of your center stone. They will also come with a higher price point than the solitaire option, resulting in a smaller center stone diamond (if you plan to stay within budget of course).
In this case, you will need to choose a smaller diamond but can design a more unique looking ring. Whichever route you choose, your ring will shine bright!
Select A Diamond
And of course, the main event! While a higher budget can mean you have more options when choosing a diamond, we still recommend going with a lab created option. Saving up to 30% will allow for a significantly bigger carat size and higher clarity grade.
If you prefer an earth created diamond, you will need to select a near-color diamond of SI1 or lower, and a carat size of 0.70 or smaller. We also recommend in this case, to stick to a solitaire setting so you are sure to stay within budget.
Factors To Keep In Mind When You Shop For An Engagement Ring Online
There are multiple things to keep in mind when shopping for an engagement ring, especially online. Check out our tips below to ensure that buying your engagement ring is as seamless as possible…and even fun!
Related Post: The Ultimate Guide To Buying An Engagement Ring Online
Buying Online
Shopping online for an engagement ring has a number of benefits. First of all, if the proposal is a surprise, you can do your shopping whenever your partner is out. Midnight, lunchtime, while they are at work! The options are limitless.
And of course, buying an engagement ring online is great because of the seemingly endless selection of loose diamonds, settings, and ready-to-buy rings. Whatever you are searching for, shopping online will ensure a selection like no other.
Finally, shopping online allows you to take advantage of cutting-edge technology. At James Allen, you can view all our diamonds and rings in our highly magnified 360° HD Diamond Display Technology. This will allow you to look at every nook and cranny, so you can be sure you are buying your perfect diamond.
Access To 24/7 Customer Service
Another great feature to shopping online, at least with James Allen, is access 24/7 to our excellent customer service team. Our experts are always available to answer any questions. So if you need to stealthily shop in the middle of the night, you can chat our experts with any to guide you through every step. Your secret will be safe!
More Engagement Ring & Diamond Variety
As they say, variety is the spice of life. With online shopping, the selection of engagement rings and diamonds is seemingly infinite! Compare lab created with earth created diamonds, compare different styles of rings, and not just the ones limited to a display case.
Thanks to online shopping, you can browse through literally hundreds upon hundreds of different styles, options, and combinations.
Added Technological Features
360° HD Diamond Display Technology: This technology allows you to view and compare diamond characteristics including: cut, color, and clarity, so you can make the best-informed decision.
Real-Time Diamond Inspection: Browse loose diamonds with the assistance of one of our non-commissioned diamond and jewelry experts. Ask questions and review everything together, all for free!
Virtual Try-ON: Don't miss out on trying the ring on just because you are shopping online. See how the ring you design looks on your hand so you can make the most informed decision before such a big purchase. You really can try it before you buy!
Free Engagement Ring Engraving: Give your engagement ring an added level of meaning with a personal engraving. Choose a special date or a private joke, and add it for free!
Matching Bridal Sets: If you like things to match and you want your engagement ring to match seamlessly with your wedding ring, then online shopping is the way to go. Shopping online will allow you to easily see the recommended matching wedding ring when viewing the engagement ring of your choice.
FAQs
What factors do I need to consider when creating an engagement ring budget?
When creating an engagement ring it is important to remember the price of the setting is separate from the price of the diamond. A setting's price will be affected by metal choice and style.
Styles with diamonds such as halo or side stone, will cost more than a metal-only setting such as solitaire. Additionally, a setting with more intricate details can cost me, even if no additional diamonds are involved.
When choosing a diamond, lab created options will cost less than earth created diamonds. And with diamonds, the higher the clarity grades and the heavier the carat weights, the higher the price point.
How can I save money when designing an engagement ring online?
Choose a simple yet stylish setting, such as a solitaire. This is by far the most budget-friendly setting (it is also quite popular). Then go for a lab created diamond, this will truly allow you to get more bang for your buck, saving you up to 30%.
Is it better to choose a diamond or a gemstone for my engagement ring?
This is a matter of personal taste. While diamonds are certainly the more traditional choice, more and more couples are choosing gemstones for a variety of reasons. Whether it is sentimental value, a desire to be different, or a wish to choose a birthstone, both diamonds and gemstones make great choices for engagement rings.
What do I need to keep in mind when choosing the style and setting for my engagement ring?
There are multiple factors to keep in mind when choosing a setting for your engagement ring. Cost, style preference, and of course, life style. If your intended plans to wear their ring every day and have a job that is very hands on, then they may want a sturdier setting, such as the bezel setting.
How can I be sure that I create an engagement ring my partner will love?
This can be tricky. Check out the style of rings and other jewelry your partner wears on a regular basis. Maybe get their friends and family involved. Have you had friends get engaged recently? Make sure to comment on their ring to your partner to get their reaction.
And of course, you can always design the ring together. Rather than ruining the surprise, creating a ring together can be a beautiful bonding experience.
Final Thoughts
At first glance, creating an engagement ring can seem like a daunting process. Even more so when you apply a budget to the situation. But thanks to our wide selection of settings, the options for lab created, as well as earth created diamonds, cutting-edge technology, and 24/7 assistance from our team of experts, making the engagement ring of your dreams is easier than ever.
SHOP RELATED PRODUCTS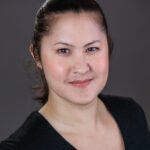 With over 10 years of experience writing and editing on a wide variety of subjects, Sarah is a veteran of the content world. Since joining James Allen, she has focused on all things diamonds and fine jewelry with the goal of educating and empowering consumers.