Earrings are a perfect accessory to wear every day, bringing any look from blah to beautiful. That is why you want to make sure you are wearing the most flattering pair. Read on to learn how to choose the best earrings for your face shape.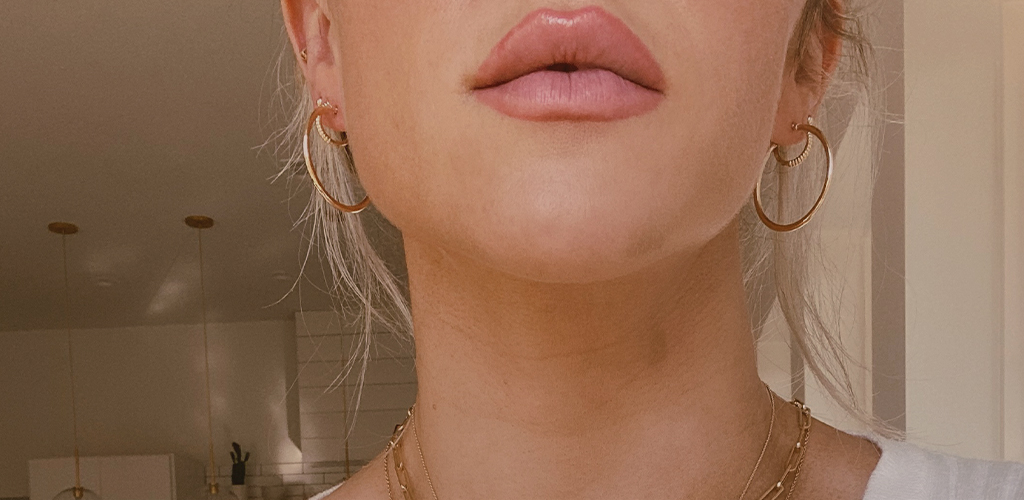 You are uniquely beautiful: your taste, your style, your face. This is why it is important to choose earrings that flatter and highlight your unique beauty. Often when choosing jewelry we take into account many things, does it go with our outfit, is it right for the occasion, can we afford it?
But face shape, which is key for something like earrings, is often left to the side. In this piece, we will explain how to choose the right earrings for your face shape, so that you shine as bright as the pieces you love.
How To Find Your Face Shape
While we are all different, there are five main face shapes: round, heart, square, diamond, and oval. Determining your face shape will allow you the freedom to play and choose the most flattering earrings that also match your personality, lifestyle, and taste in fashion.
How Do I Determine My Face Shape?
Unsure what your face shape is? You are not alone! But never fear because we are here to help you figure out your face shape in just a few easy steps!
Measure from the peak of one eyebrow arch to the other FOREHEAD
Measure from the point of your upper cheekbone to the other CHEEKBONES
Measure your jaw across at its widest point (approximately an inch below your ears) JAWLINE
Measure from the center of your hairline to the bottom of your chin FACE
If the numbers for 2 and 4 are similar and are higher than 1 and 3, you have a round shaped face. If 1 is higher than 3, and 2 is about the same as 1, with a narrow jawline, you have a heart shaped face.
If all your measurements are similar, you have a square shaped face. If 4 is the highest number, followed by 2 then 1, with 3 being the smallest, you have a diamond shaped face. If 4 is higher than 2, and 1 is higher than 3, you have an oval shaped face.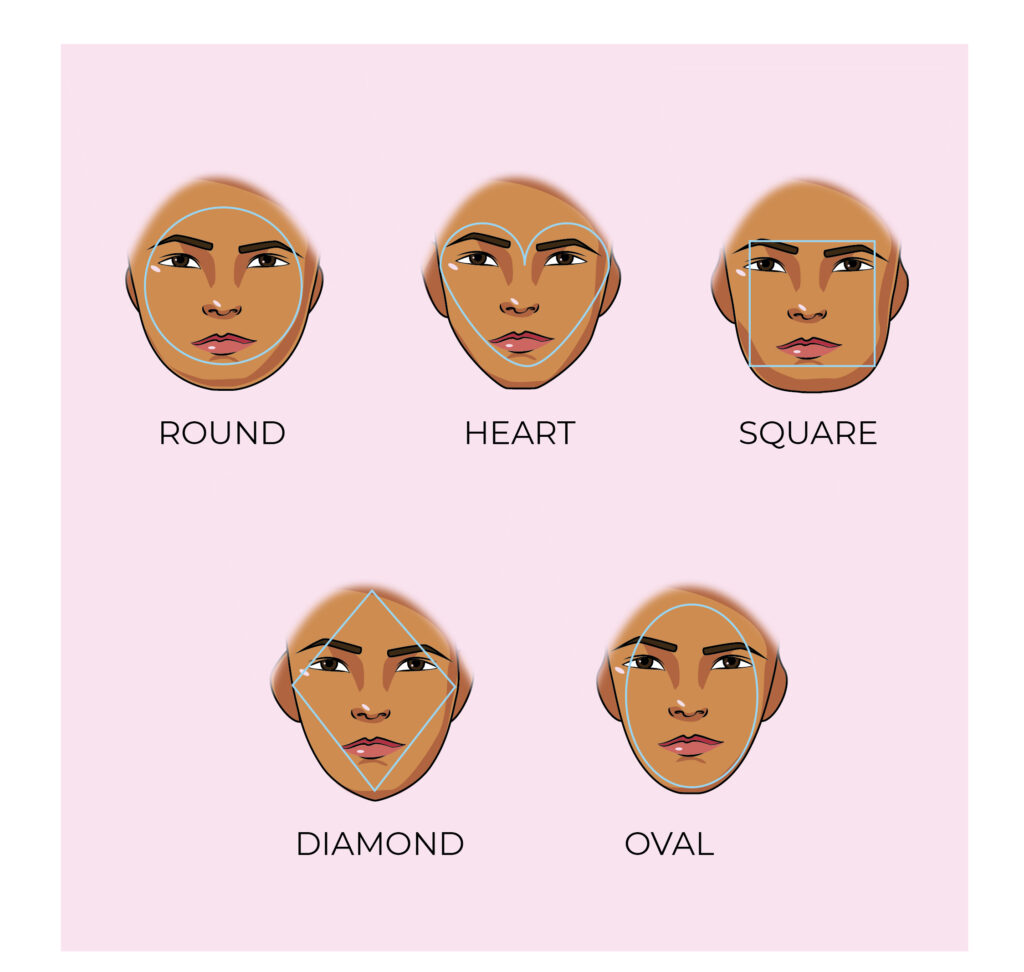 Round Face
Round-shaped faces are greatly flattered by long, dangling or drop earrings, which have a lengthening effect. Long, slim earrings will compliment the roundness of your face's shape. Tassels are another great, stylistic way to add a lengthening effect using earrings.
Most experts recommend avoiding rounder, wide, and chunky earrings, as these shapes can enhance the roundness of your face.
Check out these options from James Allen and check out our entire earring collection for more!
Heart Face
Heart-shaped faces are most flattered by earrings with a wide bottom, creating a proportional balance. Your face's shape screams love, grab earrings that do the same by choosing earrings that start slim at the top and get wide at the bottom.
Check out these options from James Allen and keep in mind that earrings that stick close to the face like studs and clusters flatter equally as well.
Square Face
Square-shaped faces look great with earrings that Softline your beautifully strong jawline. Go for earrings that are round or have flowing styles with fewer angles. It is best to choose earrings that balance the strength of your face's angles; hoop earrings are a great option here.
Classic yellow gold hoops or sparkling gemstone hoops, the shape of this timeless style will enhance any look while flattering your face.
Diamond Face
The highlight of diamond-shaped faces is usually the eyes at the widest part of the face. Enhance this gorgeous feature with earrings such as studs that stay close to the ear to create balance.
The key with a diamond-shaped face is to balance out the widths and angles. Sticking to simple, classic styles, that are also versatile, will best achieve this.
PRO TIP: GO FOR A CLASSIC PAIR OF DIAMOND STUDS & CUSTOMIZE THEM BY CHOOSING YOUR METAL, STYLE, DIAMOND SHAPE, AND DIAMOND SIZE!
Oval Face
Oval-shaped faces are flattered by the largest variety of shapes, both a blessing and a curse. You can wear almost anything, but the options are enormous! Studs, hoops, small drops, huggies and more all highlight your face's shape.
Try these fabulous styles from James Allen:
But be careful, earrings that dangle too much or have a large drop, as this can elongate the face more than is desired.
The Best Earrings For Your Face Shape
| | |
| --- | --- |
| Round | Long, dangling |
| Heart | Close to the face, thin at top and widens at the bottom |
| Square | Medium to long rounded edges |
| Diamond | Close to the ear or wider at the bottom |
| Oval | Pretty much anything! |
FAQs About Earrings For Your Face Shape
Got some more questions? You're not alone! See below for some more info on finding the perfect earrings for your face shape!
What earrings look good on any face shape?
Hoop earrings are a universal classic. Coming in a variety of sizes and shapes! Go for large, small, long, or round, classic metals or dazzling diamonds, you are sure to find the perfect pair to flatter your face!
Simple studs are also a fantastic choice as they look good on everyone! A cute pair of gold clusters, a great pair of gemstone studs to mark your birthday or a perfect pair of diamond studs to match your tennis bracelet.
What about bone structure?
Your face's bone structure, while a clear part of your face shape, has additional considerations. A general rule of thumb is that the finer your bone structure, the finer your earrings need to be.
If you have a thinner bone structure, go for earrings that are more delicate, gentle, and thin. Faces with more medium bone structure should be like goldilocks, go for earrings that are not too thin but not too thick. If you are rocking a large bone structure, then go for those chunky earrings you've been dreaming of, your bones will support them!
What earrings make your face look slimmer?
No one style slims every face shape, however, a good rule to follow is to avoid round, particularly large round earrings. This shape will give the appearance of widening your face and make it look fuller.
How do I know which earrings look best on me?
The earrings that will best on your face are the ones that make you smile the brightest! Choosing an earring recommended for your face shape is a great way to start, take into account your personal style, the event, and your outfit, and will sparkle as bright as a diamond!
What other factors should I consider?
Lifestyle, environment, personality, and skintone are all factors to keep in mind when shopping for earrings or any fine jewelry.
Your office may have a more conservative vibe, in this case, stick to classic styles in gold and save the more artsy, dangly pieces for after work. If you are more active or physically busy throughout the day, small studs and other earrings close to the face will be best to avoid getting in the way while still shining bright.
Earrings are a great way to express your personality as well. If you are more artsy, you may prefer something more dangly with more intricate detail. If you live for the drama, go for bold colors and shapes. Are you a classic? Go for those classic shapes and styles.
And of course, skin tone. Different metals suit different skin tones better. Cooler skin tones look best with white gold or platinum, warmer skin tones look best with yellow gold, and neutral skin tone looks great with both. Want to know more, including figuring out your skin tone?
Check out our blog HERE to learn how to choose the right jewelry for your skin tone.
Final Thoughts
When it comes to fashion, the rule is there are no rules. As we have seen, different shapes flatter the uniqueness of different facial shapes.
The thing to keep in mind while shopping is to look at earrings whose features are the opposite of your face. This way, no matter what your face shape, the earrings will balance out proportions and highlight your best facial features.
But no matter what your face shape is, the most flattering earrings are the ones you love! Whether long and dangly, spectacular studs, classic hoops, dazzling diamonds, precious pearls, or gorgeous gemstones, James Allen has the earrings for you.
SHOP RELATED PRODUCTS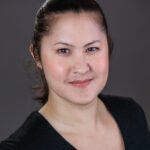 With over 10 years of experience writing and editing on a wide variety of subjects, Sarah is a veteran of the content world. Since joining James Allen, she has focused on all things diamonds and fine jewelry with the goal of educating and empowering consumers.