Want to shine like a Kardashian? Join us as we explore Kourtney Kardashian's stunning sparkler.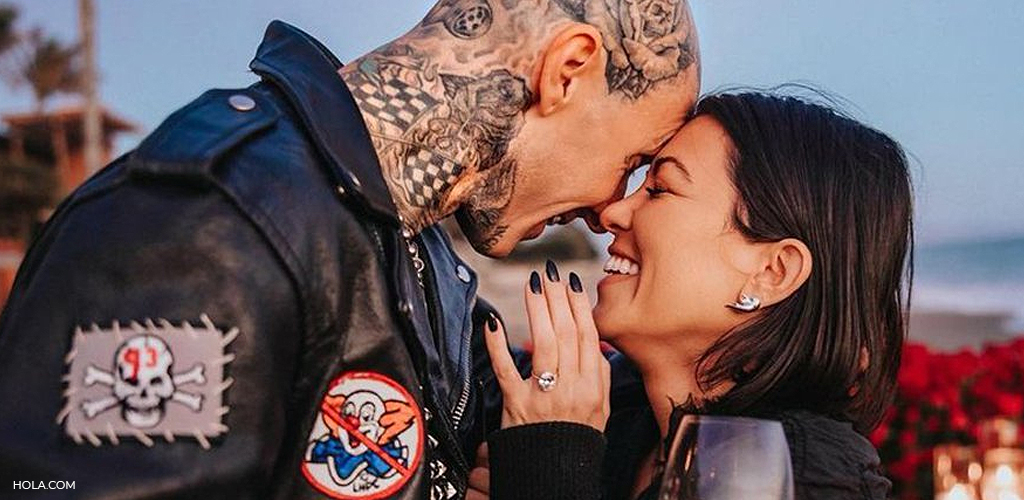 Congratulations are in order for the newly engaged, pop-punk couple! Blink-182 drummer Travis Barker got down on one knee and proposed to the Keeping Up With the Kardashians star, Kourtney Kardashian, in October 2021. Everything about the evening was nothing short of perfect and romantic. And we definitely can't wait to see their wedding.
Rumors were confirmed at the beginning of 2021 after paparazzi footage of the two stars surfaced, the lovebirds were spotted enjoying each other's company while out to dinner. However, while their relationship might seem relatively new to some, the pair have actually been longtime pals and neighbors.
Unlike her famous sisters who enjoy the spotlight, Kourt is usually pretty private about her love life. But this time around, she's been doing things a lot different with her musician bae from many public displays of affection to new ink and more. Fans have loved watching their love blossom all over social media from the day they became 'Instagram official'.
Kourtney Kardashian's Engagement Ring Pictures
Naturally, everything about the proposal was absolutely breathtaking. From the heart-shaped display of red roses and candles at a beachfront hotel in California to the post-engagement dinner, where the couple was joined by their close friends and family. And of course, the spectacular ring!
After the news traveled around the world, Kourtney later confirmed the couple's engagement on social media by posting one of their sweetest moments from the evening and captioned the post, "Forever". Luckily for us, we got to get a closer glimpse of the romantic occasion when more stunning photos were posted, including Kourtney's incredible rock on her left hand.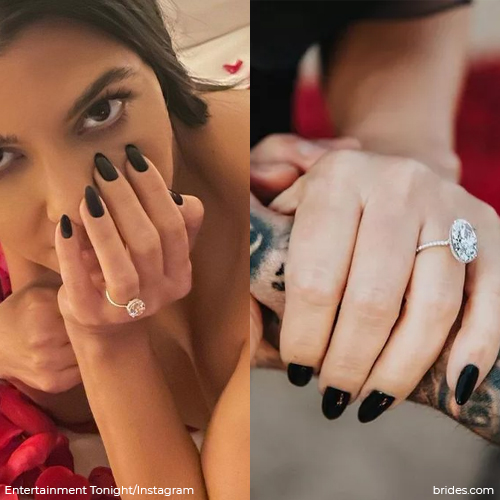 What Diamond Shape is Kourtney Kardashian's Engagement Ring?
The center stone on Kourtney's engagement ring is an oval-cut diamond.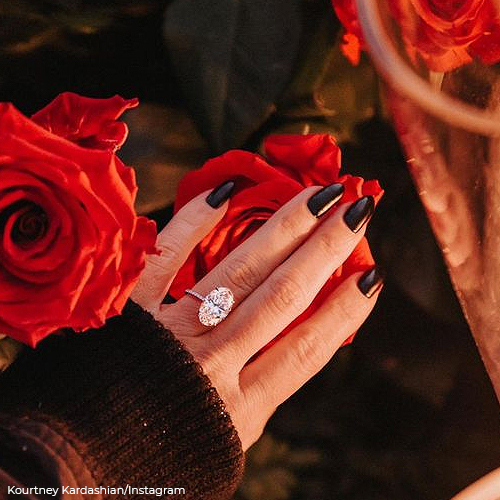 Insiders revealed that Travis Barker worked closely with a bespoke jewelry designer to create Kourtney's gorgeous showstopper. Her ring includes an elongated oval-shaped solitaire diamond sitting upon a slim white-gold or platinum pavé band.
While the eldest Kardashian sister has always been about "less is more", it's no wonder that her engagement ring is both simple and clean.
And, since this is Kourtney's first engagement, it goes without saying that this is a huge deal. Kardashian's massive diamond sparkler is estimated to be between 10 and 12 carats and around $1M. But, you can now get a ring just like it (for a lot less) only at JamesAllen.com.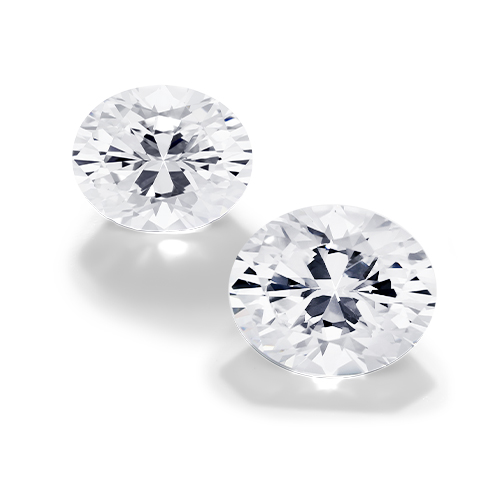 Oval engagement rings are a stunning choice and appeal to a variety of brides. One of the many reasons why oval-shaped engagement rings are becoming increasingly popular is because it not only lengthens the finger but also give the appearance of a larger diamond.
An oval cut diamond is actually very much underestimated even though they are versatile and distinctive, compared to other diamond shapes.
Oval-shaped diamonds pair perfectly with almost every setting and are perfect for the person who is looking for a timeless ring with a touch of individuality.
Kourtney Kardashian's Engagement Ring Lookalike
If you're inspired by the future Mrs. Barker's engagement ring and want to mimic her simplistic style, you've come to the right place! The ring is not a complicated one to replicate, due to its classic and sophisticated appearance.
At James Allen, we have designed a very similar and elegant diamond ring, highlighting the oval cut diamond. However, made with a smaller carat weight allowing the price to perfectly suit your budget.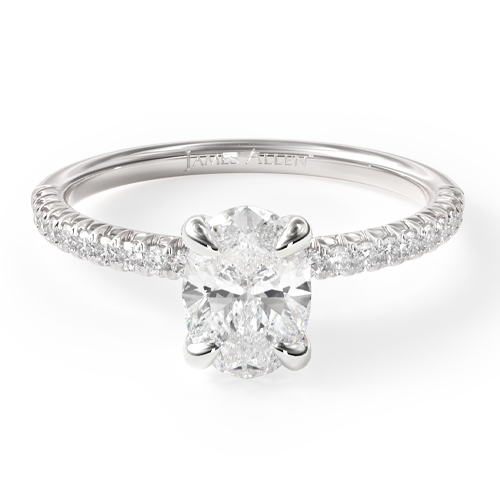 This French Cut pavé diamond engagement ring has been designed to maximize the amount of light that hits the diamonds from all sides. The custom-tailored prongs are set into the ring's shank, allowing a variety of bands to sit flush with the engagement ring. This ring is a very close match to what Kourtney has. However, you can also customize this ring in our ring studio with any diamond shape to suit your personal style.
This stunning ring is also available in various metal types (White Gold, Yellow Gold, Rose Gold And Platinum), and can be fitted with a lab-created or earth-created diamond.
Kourtney And Travis's Engagement Pictures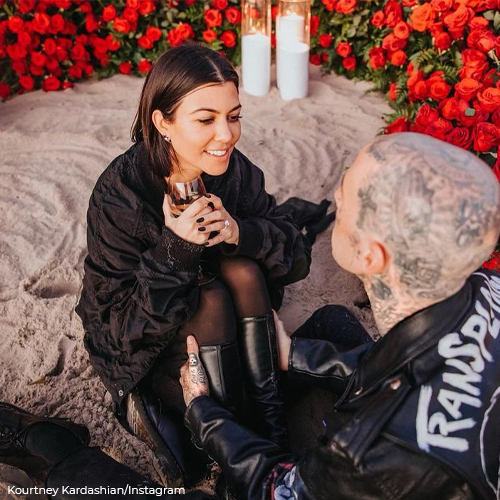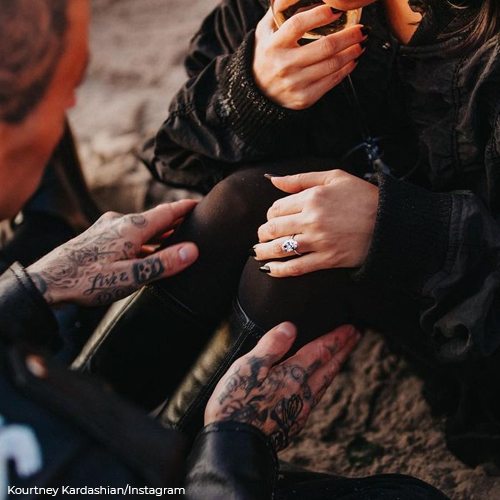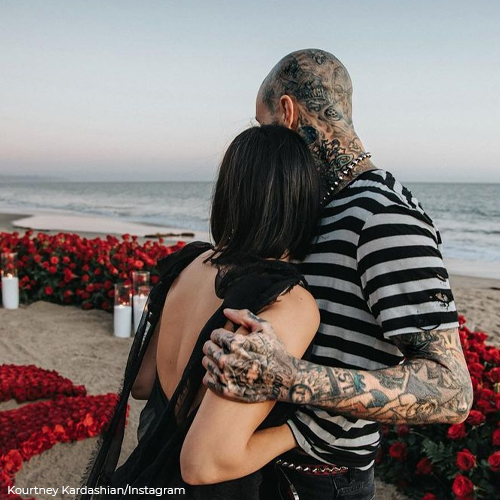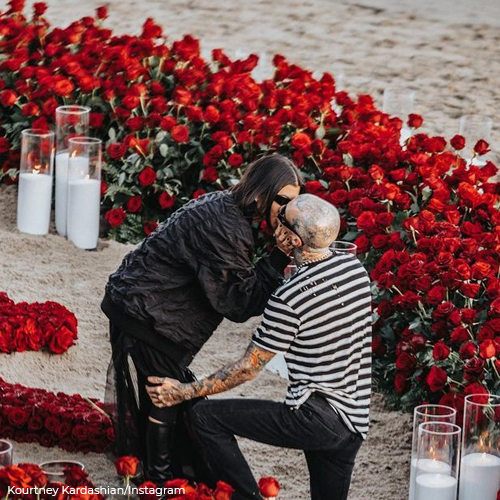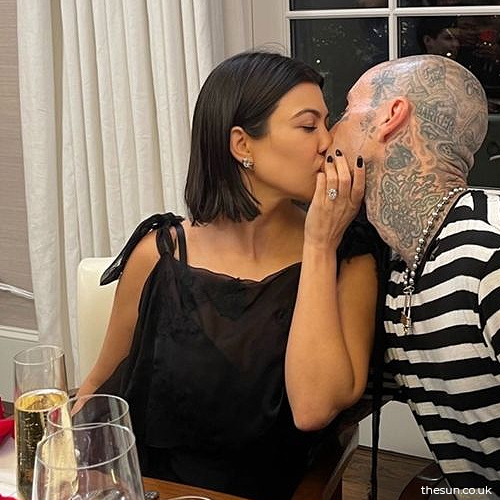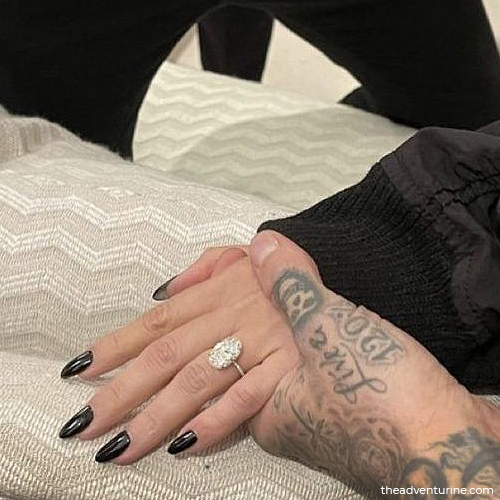 Why don't you jump into the designer seat to build your own, Kourtney Kardashian-inspired engagement ring? Start HERE
5 Reasons Why Oval Cut Diamonds Are So Timeless And Trendy
Oval diamonds are not just brilliant and dazzling, they have many other advantages too. Let's take a closer look at some of the reasons this shape is so popular.
Contemporary – oval cut diamonds have indeed been around for centuries, however, it wasn't until the late 1950s that the modern oval cut became an addition to diamond engagement rings. Invented by expert diamond cutter Lazare Kaplan of Russia, this cut elongates that traditional round shape. Oval cut diamonds lack sharp angles, which makes them less vulnerable to chipping, compared to other shapes.
More Affordable – oval cut diamonds are considered to be one of the "fancy shaped diamonds". This means that a fancy shaped diamond is any type of diamond that is not a round brilliant diamond. All fancy shaped diamonds, including oval diamonds, are more affordable than round diamonds.
Another advantage of oval cut diamonds is their timeless, yet still eye-catching style. Oval diamonds are quite classic and sophisticated. Visually, they're similar to round diamond gemstones, with their elegant, rounded shape. Yet, their elongated look is just different enough to give them a striking, unique look that makes them stand out.
Versatile – one of the reasons why oval diamonds have spiked in popularity, is due to the fact that the shape of the diamond suits a wide variety of ring designs. Whether you're wanting to go for the minimalist solitaire setting on a delicate band or opt for a more romantic design that includes Pavé embellishments, the wide selection of styles truly allows for something for everyone.
Unique – did you know that the oval cut diamond is not just unique in design but also in cut? This is because every oval diamond possesses its own individual length and width. The length to width ratio ultimately reveals how long and thin or wide and round your oval diamond will be. Now, this may sound very complicated but in actual fact, it is only the length measurement of a diamond divided by its width. Many experts say that the ideal length-to-width ratio of an oval is 1.35-1.50. A diamond that falls within this range will not be too round, or too pointy! The perfect, elongated oval shape helps give the illusion of greater length on a finger.
We're Here To Help
Buying an engagement ring comes with stress, questions, and a lot of second-guessing. At James Allen, we're here to offer you 100% free advice and will assist you in understanding the best diamond quality for your budget and unique preferences.
Contact our customer service team and chat with non-commissioned diamond and jewelry experts 24-7 regarding any questions you have about the ring-buying process.
SHOP RELATED PRODUCTS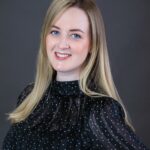 An experienced content writer with four years' experience, Tarryn enjoys educating and guiding jewelry shoppers, providing them with valuable insights and best practices for making informed purchases.