Emerald cut engagement rings are elegant, popular, and timeless. It is no wonder this distinctively glamorous shape has long been a favorite of royals, celebs, and of course, brides everywhere.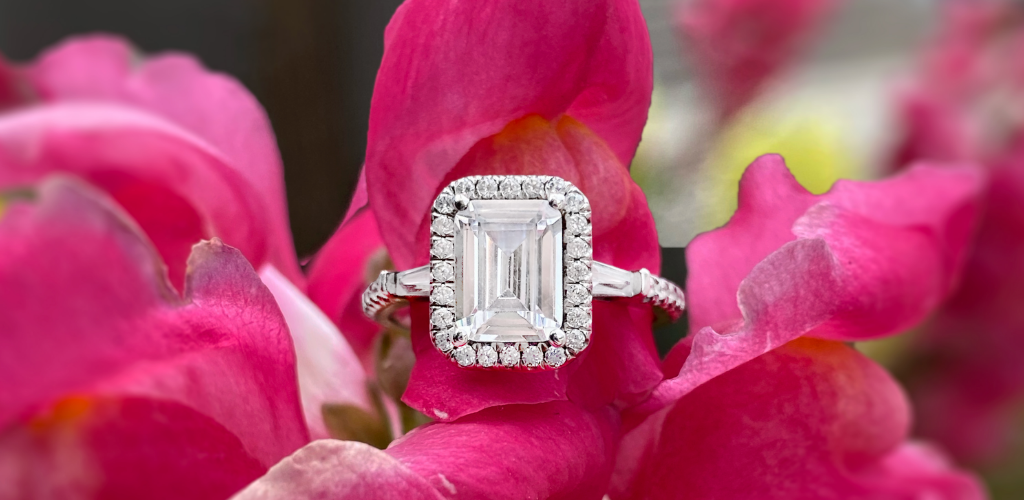 Emerald cut engagement rings favor an art deco style. Hugely popular in the 1920s, they are once again seeing a resurgence. Their long, clean lines, geometric shape, and brilliant reflections make them a fantastic choice.
Named after the technique used to cut the center stone, emerald cut diamond engagement rings have an enduring style. Their many facts and straight lines also make them appear bigger and brighter than their carat size.
So whether you go for a classic halo setting or a modern east-west setting, your emerald cut engagement ring is sure to always be in fashion.
What Is An Emerald Cut Diamond?
So what exactly is an emerald cut diamond? Is it an emerald? Is it a diamond? Don't worry, we'll explain. We understand the name seems a bit confusing. Emerald cut diamonds derive their name from the technique used to cut the diamonds, which was originally used to cut emerald gemstones.
They feature long lines and a rectangular shape with cropped corners, which helps them be as durable as they are brilliant. Another reason they are so popular is that you can choose a larger size without a larger price tag. This is because of their lines, which show ample reflections and allow them to shine bright, showcasing their size better than their counterparts.
Glitz, glamor, and timeless elegance, an emerald cut engagement ring will never steer you wrong.
The History Of The Emerald Cut
Dating back to the 1500s, emerald cut diamonds are one of the oldest diamond shapes around. The technique for crafting emerald cut diamonds was originally used on emerald gemstones, to give more durability to the stone, long considered to be softer and more brittle.
The success of this technique caught the attention of jewelers and was quickly put into use for cutting diamonds. Eventually, the style of this cut created the name of the diamond we know today, emerald cut diamonds.
The cut then gained popularity in the art deco movement of the 1920s and has remained popular since then. From royals to your favorite celebrities, emerald cut diamond engagement rings are a style staple sure to impress.
Lab Created Emerald Cut Diamonds
Emerald cut diamonds are already more affordable thanks to the lower demand and losing the least amount of carat weight in the cutting process. Another way to save is to choose a lab created diamond.
Lab grown diamonds are popular for many reasons, including being a more affordable option than their earth created counterparts. Emerald cut diamonds, like all diamonds, whether they come from a lab or deep in the earth, have the same properties and visual appearance.
Another perk, lab created diamonds, including emerald cut diamonds, are far less environmentally problematic. Saving money, helping mother earth, and shining just as bright? Sign us up! Click here to check out our supply of lab created emerald diamonds!
Choosing An Emerald Cut Diamond: Pros & Cons
Pros Of Emerald Cut Diamonds:
More bling for your buck
Durable
Slimming to your finger
Cons Of Emerald Cut Diamonds:
More easily shows inclusions
Better clarity requires a higher color grade
Supply is not as plentiful as other cuts
Buying An Emerald Cut Engagement Ring
So you've chosen an emerald cut diamond, now for the ring. Where to begin? You've already completed a big hurdle by choosing your center stone. Now it's time to choose the ring setting. Metal, side stones, styles, the choices can seem endless and overwhelming, but we are here to help.
While there's really no setting emerald cut diamonds look bad in, below you can read about the settings that will best highlight your emerald cut diamond. Need some inspo? See examples in each section. From pavé to vintage, we've got you covered.
Pavé Emerald Cut Engagement Rings
A pavé engagement ring is a great choice as it will always up the sparkle. Keep the focus on your center stone while still having that extra wow factor. After all, bling begets bling, right? This elegant setting works in yellow or white gold, as well as rose and platinum. Amplify your emerald cut diamond while adding to its shine with a perfect pavé setting.
Solitaire Emerald Cut Engagement Rings
The solitaire setting is a fabulous choice as it keeps the focus on your emerald cut diamond. Simple and sophisticated, this setting works in yellow, white, and even rose gold, as well as platinum. A setting that is anything but basic, a solitaire engagement ring will always be in style.
Bonus, solitaires are a great setting for the budget-conscious as well.
Three Stone Emerald Cut Engagement Rings
If you love the bling of a pavé ring but want a bit more oomph, a three stone setting is for you. Go for a cohesive look by choosing emerald cut side stones or mix it up and contrast the emerald cut with shapes such as pear or Asscher cut.
Vintage Emerald Cut Engagement Rings
If your love of emerald cut diamonds comes from its art deco origins, a vintage style setting is for you. Pay home to a by-gone era with an emerald cut engagement ring that captures that vintage feel with a modern flair. Make a statement with one of these sophisticated settings.
Emerald Cut Engagement Rings On A Hand
You love the shape of the stone but will it work on your hand?
Emerald cut diamonds have an elongating effect, making them incredibly flattering. If there is a concern or a desire for elongating the finger, then emerald cut diamond engagement rings are a great choice.
Because of their large table surface, they also appear larger than the actual carat size, so if you feel bigger is better, an emerald cut engagement ring will look fab on your hand.
Check out this inspo below and get your own!
FAQs About Emerald Cut Engagement Rings
Is emerald cut OK for engagement rings?
The emerald cut is a great choice for engagement rings. Whether choosing a diamond or a gemstone, the emerald cut is elegant, timeless, and looks good alone or with additional sparkle.
Why are emerald cut diamonds cheaper?
While historically popular and rising, emerald cut diamonds are not as in demand as more traditional round cut diamonds, for example. Therefore, the lower demand allows their price to be lower.

Another fun factor is that the technique used to create emerald cut diamonds loses minimal carat weight, so this low price comes with maximum shine.
Do emerald cut diamonds look better in white or yellow gold?
Emerald cut diamonds look great in both white and yellow gold so the real answer is, it is up to you! Yellow gold will bring out the color of a diamond more, while white gold will give your emerald cut diamond a cooler tone.
Many prefer white gold with diamonds because it will hide any possible inclusions the best. This is especially true for emerald cut diamonds with their large facets.
Is emerald cut classy?
The emerald cut is the epitome of class. Reminiscent of the many historical and current fashion icons who sport them, emerald cut diamonds and gemstones are as classy as they are iconic.
Final Thoughts
Emerald cut engagement rings offer timeless, elegant, and luxurious style. Bigger brilliance without the price to match, emerald cut engagement rings are perfect if you are looking for a center stone with a more durable cut, a diamond that shines above its carat weight, and a look that is classic yet modern.
Celebrate your love in style with an emerald cut engagement ring from James Allen.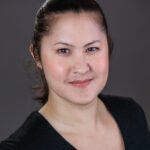 With over 10 years of experience writing and editing on a wide variety of subjects, Sarah is a veteran of the content world. Since joining James Allen, she has focused on all things diamonds and fine jewelry with the goal of educating and empowering consumers.