Deciding between yellow gold vs. white gold? Let us help!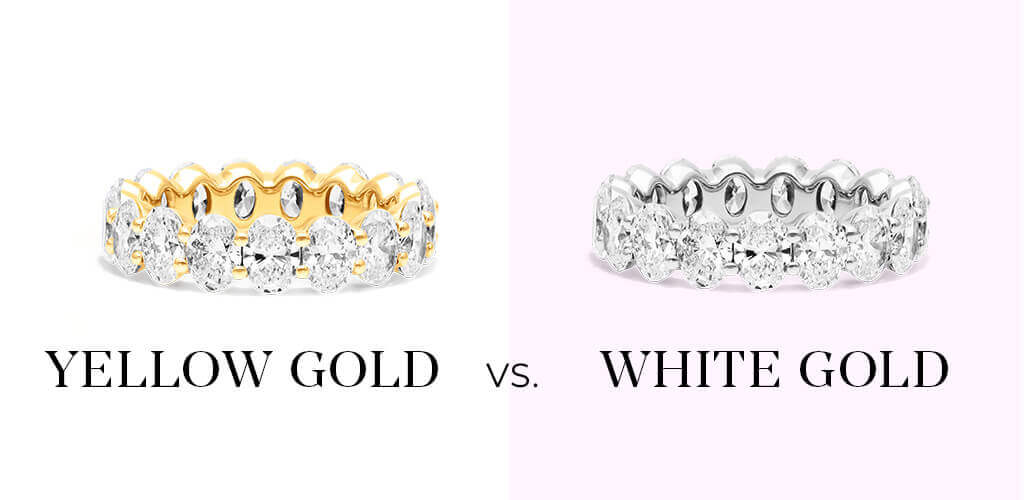 Gold has long been a classic metal choice for any piece of jewelry- and for good reason! Gold is both strong and stunning.
But when shopping for engagement rings, wedding bands, or even fine jewelry, it's a good idea to determine the differences between yellow and white gold.
Apart from looking different from one another, each metal feels different on the skin, can have different price tags, and vary in durability.
In this blog, we're going to break down the key differences between yellow gold and white to make your decision making process as easy as possible.
What Is White Gold?
Despite common misconceptions, white gold is always made up of pure gold and at least one other metal.
When the second metal (commonly palladium, nickel, or silver) is added to the gold base, it affects its color and strengthens it.
On its own, pure gold is quite soft and malleable. Alloy metals strengthen the gold while keeping its quintessential shine!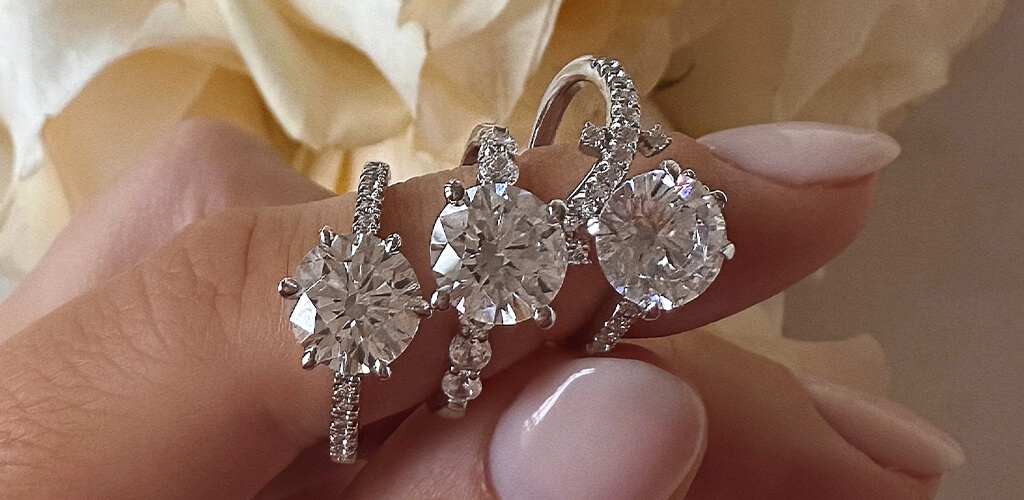 Interestingly, white gold is not completely white until it is plated with the precious rhodium. This rhodium coating adds a lustrous sheen to the jewelry and protects it from scratches. And an added benefit is that very few people are allergic to rhodium!
At the end of the process, white gold is sleek and shiny- similar to platinum or silver.
What Is Yellow Gold?
Did you know that yellow gold is not pure gold? Yellow gold is composed of pure gold and at least one other white metal. For example, 18K gold is a mixture of 75% pure gold and 25% other white metals.
This is a breakdown of the common types of gold:
24K – 100% pure gold
22K – 92% gold and 8% alloyed metals
18K – 75% gold and 25% alloyed metals
14K – 58% gold and 42% alloyed metals
As you can see, the higher the karat number, the more pure gold there is.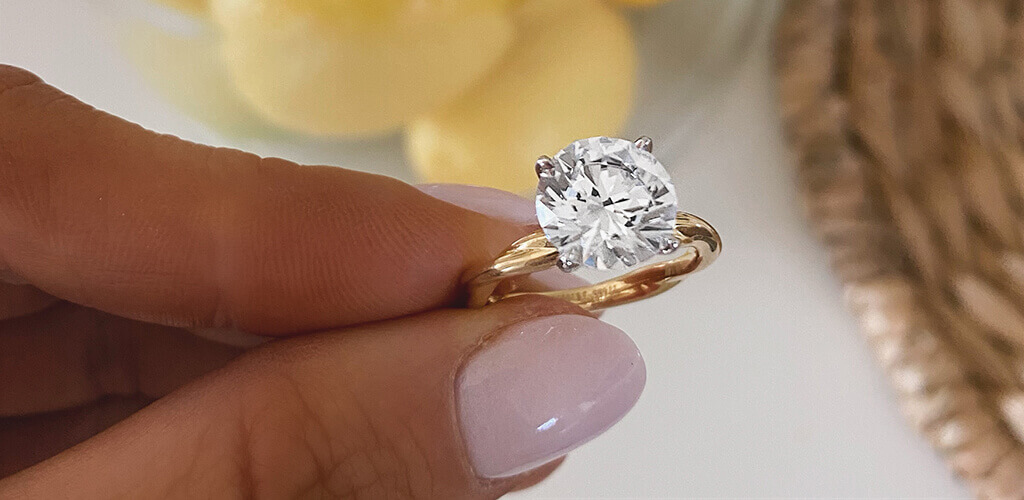 Unfortunately, pure gold is far too soft to be worn as everyday jewelry. So white metals are added to strengthen the metal and give it that soft and creamy yellow that we all know and love.
Yellow gold has a rich history that dates back thousands of years. Due to its historical rarity, gold was seen as a symbol of wealth and status. And even today, yellow gold remains highly desirable and sophisticated!
What Is The Difference Between Yellow Gold & White Gold?
The most obvious difference between these two beautiful metals is their color. White gold has a silvery tone, while yellow gold has that classic golden hue.
If you want to wear a metal color that looks best with your skin tone, match your metal to pre-owned jewelry, or include certain gems onto your metal, the color will make all the difference.
Since the properties are mostly the same, it all comes down to visual preference. That being said, both metals have their own pros and cons. Keep reading to find out what they are in more depth!
Yellow Gold vs. White Gold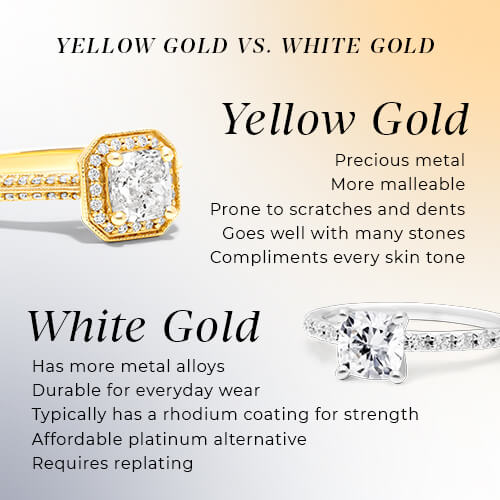 Advantages And Disadvantages Of Yellow Gold vs. White Gold
Durability
Yellow gold is the most expensive and the least durable of the two metals. Yellow gold is more prone to scratches and dents, making it not the most durable option. This metal will also require regular polishing to keep its shine.
On the other hand, white gold has far more resistance to wear and tear. With its rhodium plating, white gold jewelry pieces have a shiny and strong finish. Unfortunately, this plating can wear off over time and may reveal the yellow-ish color underneath. While white gold is a stronger alternative to yellow gold, it still requires proper care and maintenance.
Neither metal is hassle-free, but white gold is generally the safer and stronger option.
Price & Affordability
Believe it or not, yellow gold and white gold are frequently equal in cost. This is especially true if the percentage of pure gold is the same. For example, 14K white gold will be comparable in cost to 14K yellow gold.
In some instances, white gold may be slightly more expensive due to the rhodium plating.
At the end of the day, these two metals are rarely placed at drastically different price points.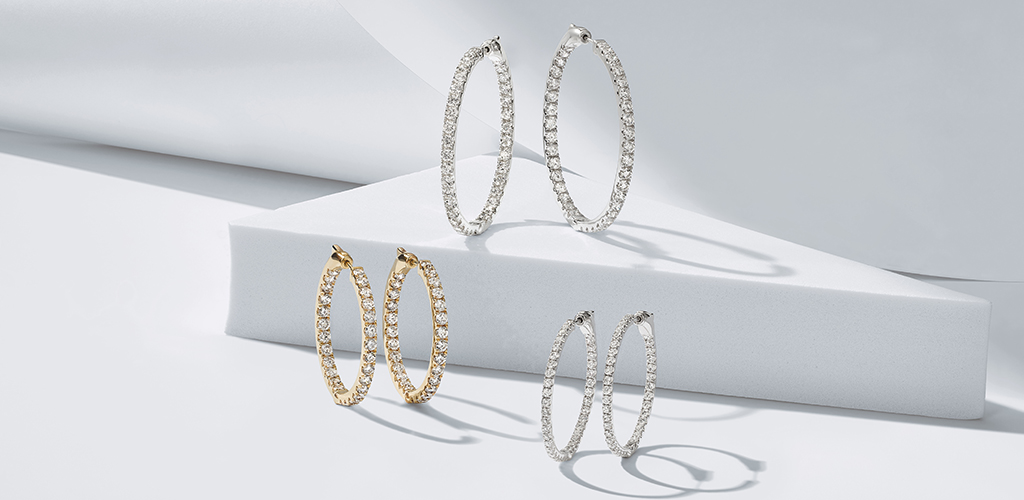 Hypoallergenic Properties
Generally, white gold is considered to be more hypoallergenic than yellow gold. This is because of the alloyed metals that are added to the base (such as nickel or palladium), which are less likely to cause allergic reactions.
That being said, it is still very possible that someone may also have a sensitivity to white gold. It's worth noting that even though white gold is considered hypoallergenic, it is not completely free of allergens.
If you know that you have sensitive skin or are prone to allergies, it's always best to consult with a dermatologist or a jeweler before buying gold jewelry of any kind.
Especially when deciding on an everyday piece of jewelry- it's best to make sure you'll be comfortable!
Color
As we know, the color of these two metals is their key difference.
In general, yellow gold tends to compliment warm skin tones beautifully. Yellow gold will bring out the warmth of yellow, olive, or medium-dark skin tones, creating a radiant glow.
White gold, on the other hand, tends to compliment cool skin tones well. White gold can give you a fresh and vibrant look if you have slightly paler skin with pink or red undertones.
That being said, it is so important to remember that personal preference plays a huge role in choosing your color of gold. Some people may prefer the classic and traditional look of yellow gold, while others may prefer the modern and sleek look of white gold, regardless of skin color.
Wear what you like and what makes you feel good!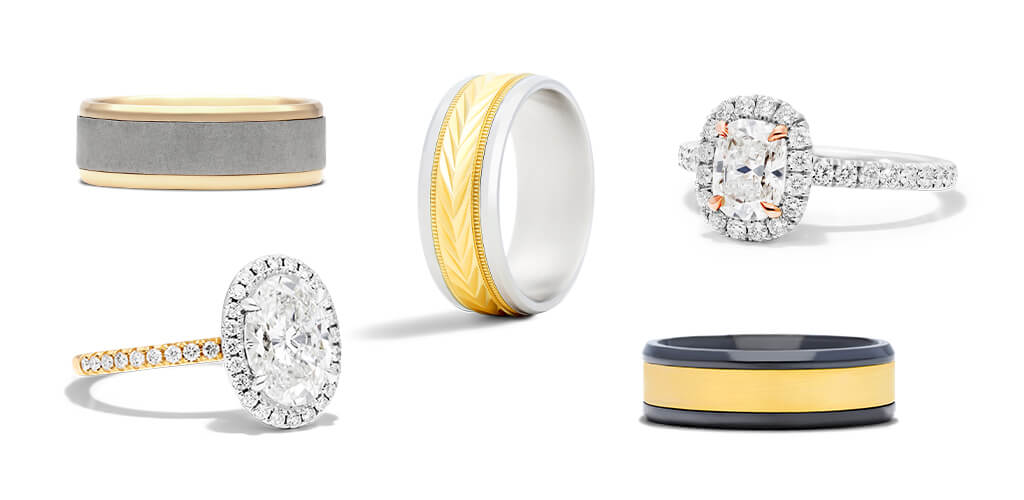 Weight
The weight difference between yellow gold and white gold can vary depending on the specific piece of jewelry, but in general, the weight of the gold itself should be roughly the same.
The difference in weight between the two comes from the other metals used to alloy it. White gold typically requires more alloy metals than yellow gold to achieve its silvery color, which can make it slightly heavier. But this difference in weight would be minimal and barely noticeable when being worn.
Ultimately, weight should not be a significant factor when deciding on a type of gold- both are durable and long-lasting choices for your jewelry.
Popularity
The popularity of yellow gold versus white gold really depends on what type of jewelry you're looking at.
In a very general sense, white gold has risen in popularity, especially in engagement rings. White gold has a modern and sleek appearance that appeals to many young people moving away from the traditional look of yellow gold.
On the other hand, yellow gold remains a timeless choice that is still popular in wedding bands and many types of fine jewelry.
Why Choose A White Gold Engagement Ring?
There are plenty of reasons why white gold will make a great metal for your engagement ring!
The color of white gold is very similar to that of platinum but is less expensive, making it a more affordable option for the same look!
White gold is also a durable metal that can withstand everyday wear and tear, making it a practical choice for your engagement ring.
White gold is incredibly versatile; it will look good with a number of gemstones and styles! They even say that white gold tends to reflect the sparkle of any diamonds on your ring, enhancing their size and brilliance!
Why Choose A Yellow Gold Engagement Ring?
You simply cannot go wrong with a yellow gold engagement ring! This is a metal that has been used in jewelry for centuries!
Yellow gold has a warm, classic, and traditional appearance that many find attractive. Evoking these feelings suits engagement rings perfectly.
Also, if your ring has diamonds or warm-toned stones such as ruby, morganite, and purple sapphire, gold will pair nicely.
Because of yellow gold's prevalence in jewelry, finding a wedding band or fine jewelry to match it will not be hard. Plus, they say yellow gold looks good on everyone!
FAQs
Which is better, white or yellow gold?
This all comes down to personal preference! If you have cool toned skin, white gold may be better for you. If you like the classic look of traditional jewelry, yellow gold may be better for you. It all depends on what you are looking for in your jewelry. Wear whatever feels best to you!
Is yellow gold more expensive than white gold?
Generally, the answer is no. More often than not, yellow gold and white gold with the same amount of pure gold will cost the exact same. If they're not, it's actually more likely that white gold will be more expensive due to its rhodium plating.
Does white or yellow gold last longer?
With the proper care, both yellow gold and white gold can last a very long time!
Even though the rhodium plating that is often coated on top of white gold strengthens the metal, it can wear off over time and need to be reapplied.
Unlike white gold, yellow gold doesn't require plating or re-plating.
It's important to remember that all gold jewelry will eventually show signs of wear and tear and may need to be polished or repaired over time.
Is yellow gold out of style?
Not at all! While white gold has definitely risen in popularity recently, yellow gold is as strong as ever. Yellow gold can still be found in engagement rings, wedding bands, and all types of fine jewelry. Just like diamonds, they say yellow gold is never out of style!
Final Thoughts
With two stunning metals to choose from, it can be tricky to figure out which one is best for you. At the end of the day, it all comes down to personal preferences and needs. Whether you decide on donning a silvery white gold piece or a creamy yellow gold piece, you'll know they're both stunning.
Check out all that James Allen offers- in yellow and white gold!
SHOP RELATED PRODUCTS
Armed with five years of writing experience, Rachel aims to turn dense topics into easily understandable content, one shining word at a time.