In the world of precious metals, white gold and silver are two of the most popular choices. For people who love the look of pure silver or white gold, both these metals add a certain zest to many types of jewelry. Something that is very different from other metal hues such as rose or yellow gold.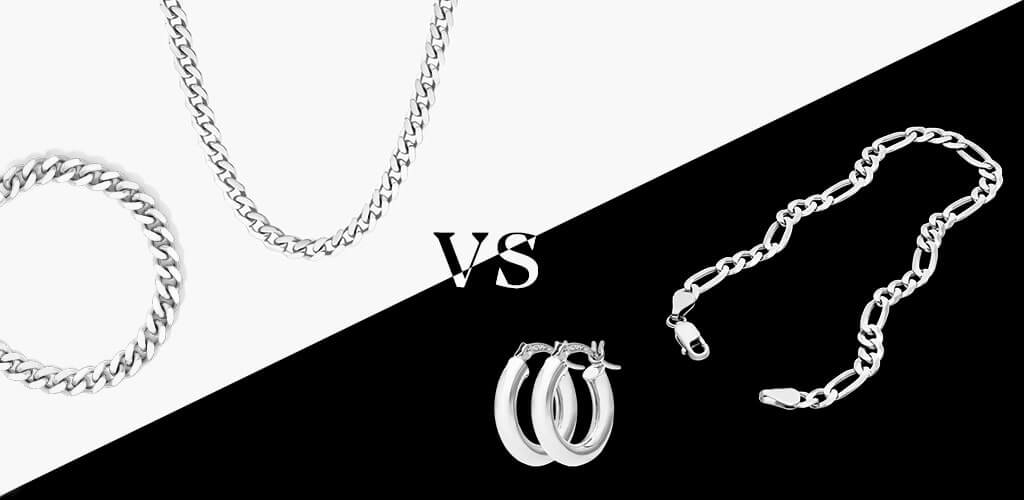 While both white gold and silver are beautiful and versatile metals, they do have some advantages and drawbacks that are worth considering before deciding on your next piece of fine jewelry. We have put together a detailed comparison of silver and white gold to help you decide which metal is best for you. Here is everything you need to know.
What is White Gold?
White gold is a type of gold that is mixed with other metals, such as nickel, palladium, or silver, to create a white-colored alloy. As a final step, rhodium is plated over the resulting metal to enhance its luster and durability. The purity of white gold is measured in karats, with 14K and 18K being the most common options for jewelry. A classic, timeless look makes white gold a popular choice for engagement rings, wedding bands, and other fine jewelry pieces.
Pros and Cons Of White Gold
There is no universal rule that white gold is better than silver or vice versa. Depending on your needs, each metal has its advantages. While some people prefer white gold for certain pieces, others may opt for silver. Let's take a closer look at the pros and cons of white gold.
| | |
| --- | --- |
| PROS | CONS |
| Versatile | May tarnish over time |
| Durable, strong, and perfect for everyday wear | Scratches easily |
| Good investment & maintains its value for a long time | May contain nickel, which can cause allergic reactions in some people. |
What is Silver?
Silver is a naturally occurring precious metal that has been used in jewelry for centuries. It has a soft, lustrous appearance and is loved for its affordability. While silver is beautiful on its own, it is often alloyed with other metals, such as copper, nickel or zinc, to increase its durability and strength The most common type of silver used in jewelry is sterling silver, which has a purity of 92.5%, with 7.5% made up of other metals.
Pros and Cons Of Silver
Just like with white gold, silver has both advantages and disadvantages. So what are they? Let's find out.
| | |
| --- | --- |
| PROS | CONS |
| Hypoallergenic | Tarnishes quicker |
| More affordable and budget friendly | Requires frequent cleaning and polishing |
| It can also be polished to maintain its shine | Some think it has an "cheaper" look |
| Softer than white gold | |
How To Tell The Difference Between Silver And White Gold
Because of their similar appearances, it is sometimes difficult to distinguish white gold from silver. However, there are a few key differences that can help you tell them apart. While at first glance silver and white gold may appear to have a similar hue, silver has a grayish-white hue, whereas white gold has a distinctly white shade.
Color:
Remember that the composition of white gold includes yellow gold and an alloy metal like nickel that gives gold its white hue. It is then plated with rhodium, which provides it with an elegant, mirrored finish.
On the contrary, silver carries a grayish-white hue with a brighter, more reflective color than white gold. Even though the difference may be subtle, it is often noticeable when the two metals are compared side by side.
Markings:
Both silver and white gold are typically stamped with tiny markings that indicate their purity, but it's important to know that the markings will be different on each metal. Silver is usually stamped with a hallmark that indicates its percentage of purity (e.g. "925" for sterling silver, which is 92.5% pure silver), whereas white gold is usually stamped with its karat (e.g. "14K" for 14 karat white gold, which is 58.5% gold).
Tarnish:
Silver tarnishes over time, developing a dark patina. However, it can be polished off with a silver polish or a home remedy that will quickly restore your jewelry. White gold, on the other hand, does not tarnish, but it can become dull over time and may need to be polished by a trusted jeweler to restore its shine.
Price:
White gold is usually more expensive than silver because it contains gold and has a higher density. On the other hand, silver is among the most affordable types of metal for fine jewelry, especially for earrings and bracelets. But it's important to note that the extra durability of white gold does increase the price tag of the metal.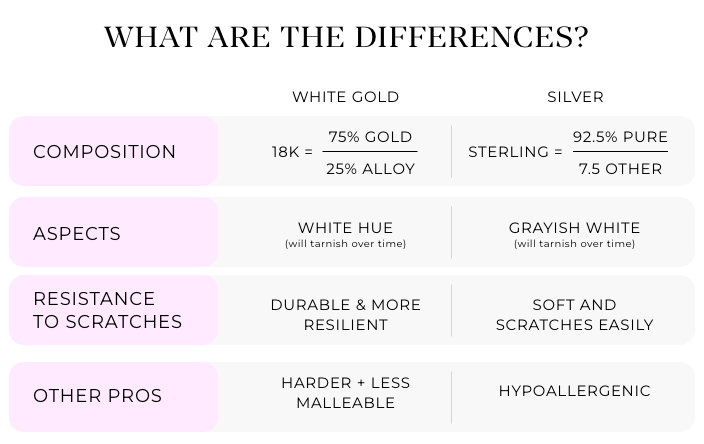 FAQs
Is white gold or silver better for engagement rings?
Both white gold and silver can make beautiful engagement rings, but white gold is generally considered to be a more durable option. However, if you are looking for a more affordable option, silver can be a great choice.
Which metal is more expensive, white gold or silver?
White gold is typically more expensive than silver because of its composition. Pure gold is a precious metal and is more expensive than silver, and the additional metals mixed with the gold in white gold also contribute to its higher cost.
Are you able to distinguish white gold from silver just by looking at them?
White gold and silver can look similar at first glance, but there are some differences that can help you distinguish between them. White gold has a brighter, shinier appearance than silver, which has a softer, more matte finish. Additionally, white gold may have a slightly yellowish or grayish tint due to the gold content, while silver is pure white.
Can I wear white gold and silver jewelry together?
Yes, of course! You can mix and match white gold and silver jewelry to create a unique, layered look. However, it's important to be aware that sterling silver and white gold don't necessarily look exactly the same, so you can't always style to match perfectly. But combining the metals creates a beautiful and harmonious mix of modern jewelry styles
Final Thoughts
Picking out a metal is a very important element in any jewelry purchase. With so many different types of metals it can be challenging to find the perfect metal type for your next piece of gorgeous jewelry. Ultimately, choosing between silver and white gold comes down to a few factors: preference, budget, and of course the jewelry type you want to wear. Both metals are beautiful and popular choices, but which one is right for you? 
At JamesAllen.com, there are many beautiful options that fit any budget and personal preference to create your perfect look!
Subscribe to our email list for access to secret sales, practical ring-buying tips, and $100 off your first purchase!