Since 2006, as a leading e-commerce jewelry and loose diamond retailer, we've had the privilege of helping numerous customers deepen their understanding of gold jewelry.
From Karat to Carat, and the measurement of the purity of gold, it's totally understandable they can all be confusing. Ready to learn more about high karat gold? Let's dive right in!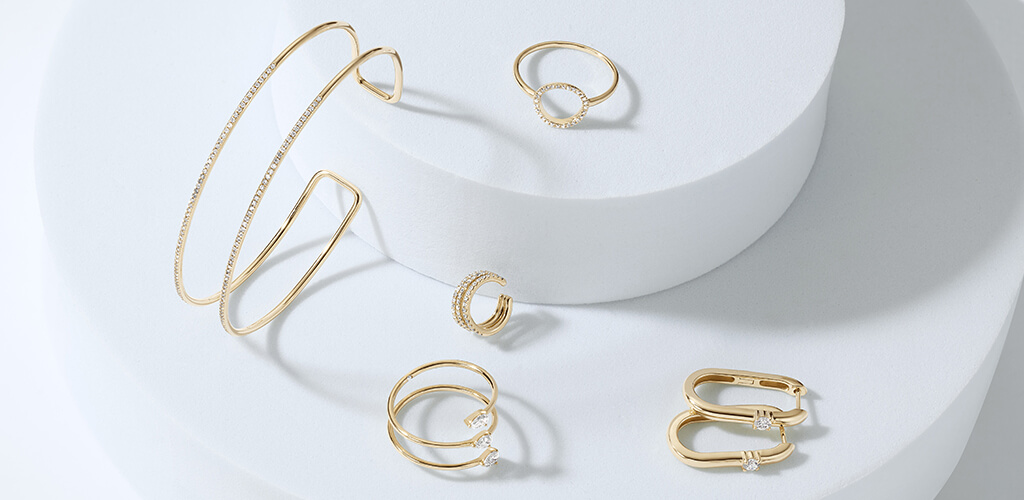 What is a Karat?
Karat is outlined as a measurement of the purity of gold. In the world of fine jewelry, understanding gold's purity is essential.
Think of 24 karat (24K) gold as nature's gold, untouched and pure with no other metals. While 18 karat (18K) gold is 75% of that pristine gold, blended with 25% of other fine metals. There's also 14 karat (14K) gold, which contains 58.3% gold and 41.7% other alloys. Lastly, 10 karat (10K) gold, is often considered to be the least pure gold on the market for 'gold jewelry'. Gold accounts for 41.7% of its composition, while other metals make up 58.3%.
At JamesAllen.com, we believe in precision and authenticity. While these percentages do vary slightly, it's important to remember that this may be the case as jewelers perfect their craft finding the perfectly toned metal that works best for them. However, any gold jewelry labeled with a specific karat will closely align with the standards set by the millesimal fineness chart.
What's the Difference Between Karat and Carat?
"Karat" and "Carat" are two terms that are often confused with one another. For a better understanding, keep scrolling.
| | | |
| --- | --- | --- |
| | Karat | Carat |
| Purpose | Measures the purity of gold | Measure the weight of gemstones or diamonds |
| Usage | Primarily in the jewelry industry to indicate the purity of gold | Used globally in the gemstone and jewelry industry to denote the size of diamonds and other gemstones. |
| Representation | "K" as in 24K for pure gold | "Ct" or "ct" to denote weight, e.g., 2 ct diamond |
| Fun Fact | The higher the karat, the purer the gold | Most diamonds lose the majority of their carats in the process of being cut. |
Gold Terms to Know
Karat (K): A unit of measurement used to express the purity of gold in an alloy. Pure gold is 24 karats, while alloys are represented as fractions of 24.
Alloy: A mixture of two or more metals, often used in combination with gold to enhance its properties like strength and color.
Hallmark: A stamped mark on gold items that indicates their purity and authenticity, usually accompanied by the karatage (e.g., "18K").
Assay: The process of analyzing the composition of a metal to determine its purity.
Fining: A process used to remove impurities from gold by melting it with substances like borax or saltpeter.
Malleability: The property of gold that allows it to be hammered, rolled, or shaped without breaking.
Gold Plating: The process of depositing a thin layer of gold onto the surface of another metal through electroplating.
Refining: The process of purifying raw gold through various chemical and physical processes to remove impurities.
What Are The Advantages And Disadvantages Of High Karat Gold?
The allure of high karat gold is undeniable, but how does it fare in practical terms? Let's unravel some of the advantages and disadvantages.
| | |
| --- | --- |
| Advantages | Disadvantages |
| Contains fewer alloy metals | Generally more expensive |
| Has a rich and vibrant hue | Prone to scratches and dents |
| Pure gold does not tarnish or corrode | Usually requires frequent polishing and reshaping due to its softness |
| Unlikely to cause allergic reactions | More challenging to resize compared to lower carat jewelry pieces |
How to Choose the Best Karat for You
When choosing your gold jewelry karat, it's important to think about your style and the item's function. For pieces such as engagement or wedding rings, you'll want 18K gold at the very least due to the balance between its purity and durability. Since we use our hands on a daily basis, it's easy for rings to be scuffed on a daily basis.
In contrast, when it comes to jewelry items that are less susceptible to damage, such as earrings or pendants, it's entirely reasonable to indulge in 24K designs. These pieces usually rest gently on the body, minimizing the risks of scratches or dents.
Related blog post: 14K Gold vs. 18K Gold: What's The Difference And Which "K" Is Right For You?
What Is Gold Purity?
Gold purity refers to the proportion of actual gold content within a given item or alloy. It is an important metric in the jewelry industry that helps to indicate the quality and value of a gold piece.
This purity is commonly measured in two main ways: first through the karat system, which scales from 1 to 24 (with 24 karats indicating pure gold), and the millesimal fineness, which is measured in parts per thousand. For instance, in the karat system, 18K gold signifies that the alloy is made up of 18 parts gold and 6 parts other metals.
Understanding gold purity helps consumers gauge the authenticity, value, and quality of their gold possessions.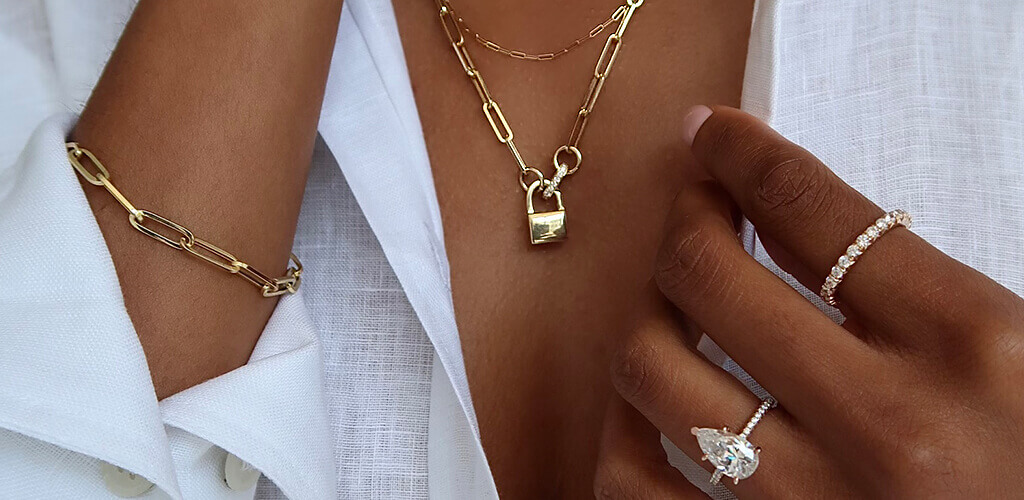 What Is the Difference Between Pure and High Karat Gold?
Each piece of jewelry is characterized by its karat or the amount of pure gold used. Pure or 24-karat gold is 100% pure gold. And, high karat gold refers to any piece with more than ten karats of pure gold. Generally, high-end jewelry is made with at least 10K gold.
What Is the Highest Karat of Gold?
The highest karat of gold is 24K gold. 24-karat gold is 100% pure and does not contain any other metals. This makes it the purest gold available, meaning, it has zero impurities and is usually softer than lower karats such as 10K and 14K.
As we mentioned previously, gold comes in various karat levels, indicating its purity. The higher the karat, the less the metal is mixed with other metals during refinement. While 24K gold has the highest purity, its ability to bend restricts its use in jewelry pieces like wedding bands, especially when detailed designs or subtle curves are desired. On the other hand, 10K gold, comprising of 41.7% pure gold, is celebrated for its durability and is frequently chosen for crafting jewelry.
Does a Higher Karat Mean Higher Quality Gold?
You may have heard that 24K gold is the "highest" karat gold. But high karat doesn't directly translate to higher quality. But let's break it all down for you. It does mean that 24K gold has more actual gold in it compared to, say, 14K or 10K. That makes it more valuable, sure, but not always "better" for every purpose.
Here's why: 24K gold is super soft. Imagine trying to make a sculpture with soft clay versus firm clay. The softer it is, the trickier it gets. That's why you don't see a lot of jewelry made from 24K gold. On the flip side, 18K gold hits that sweet spot. It's both gorgeous to look at and strong enough for pieces like rings, earrings, and bracelets. Think of it as the MVP in the gold world – bringing both beauty and strength to the table.
How Can You Tell if Gold Is Real?
The best way is to take your gold jewelry to a reputable jeweler who can test it
Check to see if it has been stamped (real gold should be stamped somewhere with its karat measurement (usually 10K, 14K, or 18K).
Alternatively, fill a bowl or glass with water, and drop the gold into it. If it floats, it's not real gold. It's likely genuine if it sinks since real gold is quite heavy.
FAQs
Can I wear high-karat gold jewelry every day?
Yes, of course, you can wear high-karat gold jewelry every day! However, it's important to note that due to its purity and softness, it is more susceptible to scratches and dents. Such jewelry should be handled with caution during activities that could damage it.
How do I determine the authenticity of karat gold jewelry?
To determine the authenticity of karat gold jewelry, firstly, you check for a hallmark or stamp indicating the gold's purity, e.g., "14k" or "18k". You can also make sure to buy from reputable sources or brands to ensure quality and authenticity. Otherwise, consider having your gold jewelry tested by a professional jeweler.
Does a Higher Karat Mean Higher Quality Gold?
Yes. In general, a higher karat indicates a greater percentage of gold in the alloy and, therefore, a higher degree of purity. For instance, 24-karat gold is considered pure gold, while 18-karat gold contains 75% gold. Quality is subjective; even though higher-karat gold is purer, it may be less durable in certain jewelry applications due to its softer nature.
SHOP RELATED PRODUCTS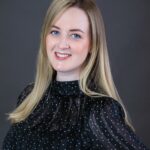 An experienced content writer with four years' experience, Tarryn enjoys educating and guiding jewelry shoppers, providing them with valuable insights and best practices for making informed purchases.