Ever wondered what a fancy yellow diamond or canary diamond is? We've got all the answers to your yellow diamond questions, from their origins to their color grading and so much more!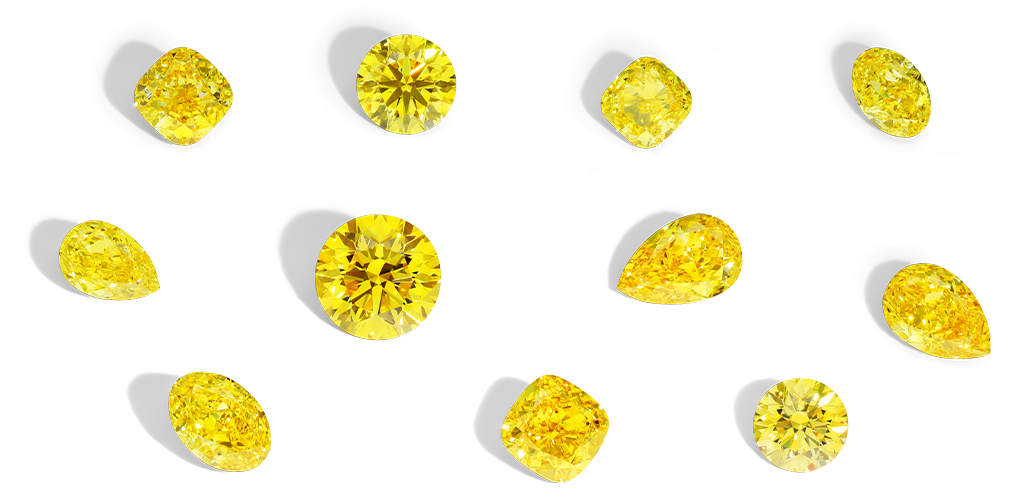 What Is A Fancy Yellow Diamond?
Yellow diamonds, or canary diamonds, are part of the fancy color diamond group. Fancy yellow diamonds get their stunning golden glow from a small part of nitrogen that's contained in their structure. The more nitrogen, the deeper the yellow shade.
Regular colorless diamonds may contain a yellow tint in them depending on their grading. However, when the color reaches a certain level and becomes the dominant color it falls into the fancy color diamond category and its value rises.
Fancy yellow diamonds come in all shades, from pale yellow to intense yellow. These diamonds may also contain shades of other colors, such as orange and brown. Diamonds with the pure intense or vivid yellow hue are known specifically as Canary Diamonds or Yellow Canary Diamonds.
What Is The Origin Of Fancy Yellow Diamonds?
Yellow diamonds get their summery color from the presence of nitrogen in their composition. The nitrogen molecules absorb blue light, making the stone appear yellow. Depending on the amount of nitrogen, a yellow diamond could range from light to vivid yellow.
A little nitrogen may put a colorless diamond in the H or L color grading, which, for a colorless diamond, isn't attractive to diamond buyers. Whereas diamonds with more nitrogen become increasingly yellow, which turns them into an asset and a rare sought-after gem.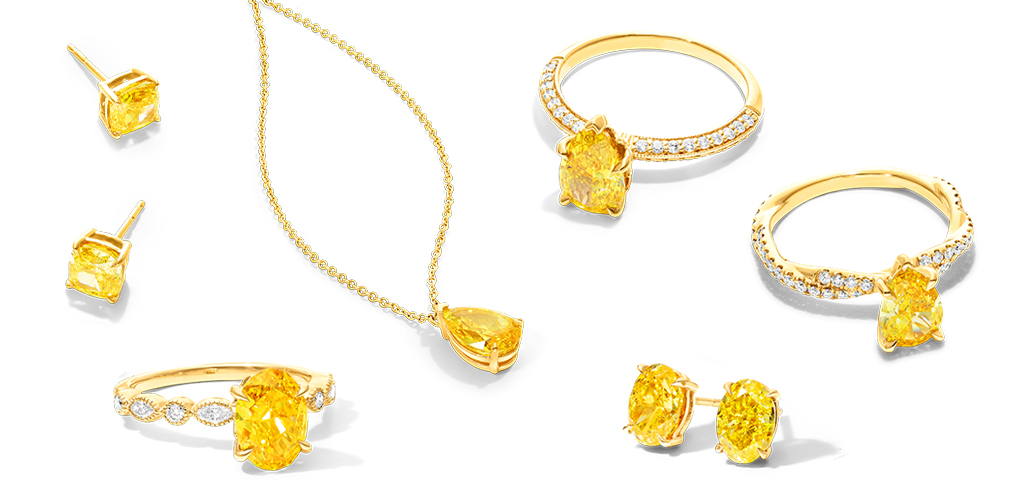 What Are Canary Diamonds?
Canary Yellow Diamonds are the most desirable and valuable type of yellow diamond. Like the canary bird, these diamonds exhibit a deep, intense yellow hue, as opposed to a dull or light yellow tinge that can be considered a negative in colorless diamonds.
Officially, canary diamonds are simply fancy yellow diamonds, graded anywhere from fancy intense to fancy vivid on the GIA color scale. Canary Yellow is a casual term used for yellow diamonds with pure yellow color.
Canary Yellow Diamonds are rare and beautiful which ultimately means they come with a higher price tag and resell value than most other yellow diamonds.
Yellow Diamond Color Grading
White diamonds are graded on a color scale of D to Z, with D being a colorless diamond and Z having a distinct yellow or brown tint. If the scale were to continue past Z—all the way to a rich, yellow color—you'd have a Fancy Vivid Yellow Diamond. In other words, yellow diamonds are fully saturated with yellow and carry no traces of whiteness whatsoever.
The GIA color grading scale for yellow diamonds is:
Faint
Very Light
Light
Fancy Light
Fancy
Fancy Intense
Fancy Vivid, Fancy Deep, or Fancy Dark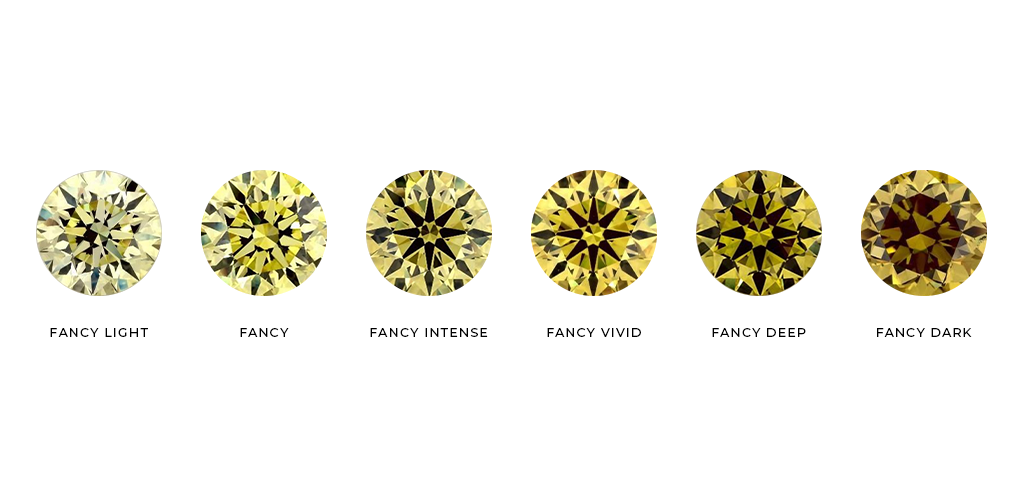 Are Fancy Yellow Diamonds Expensive?
Fancy Yellow Diamonds can cost anywhere from around $2,500 per carat to $20,000 or more per carat, depending on a number of factors. For a decent quality 1 carat yellow diamond, you can expect the price to be at least $3,000-$3,500.
Factors that influence the price of yellow diamonds include:
Yellow Color Grade: "Faint" or "Very Light" yellow diamonds are much cheaper, while Fancy Intense and Fancy Vivid diamonds are much more expensive.
Supporting Colors: the highest-priced yellow diamonds are those with a pure yellow color (like Canary Diamonds) or diamonds with an orange or green overtone. On the other end, brownish-yellow diamonds are often (though not always) cheaper.
Cut and Clarity: like colorless diamonds, the 4Cs play heavily into the price of yellow diamonds.
Carat: yellow diamonds at high carat weights are much rarer than smaller diamonds, and thus command a higher relative price.
Are Yellow Diamonds Real Diamonds?
The short answer is yes! Yellow diamonds are 100% real and absolutely breathtaking. Not only are these diamonds real but they are extremely valuable and created in the same natural process as colorless diamonds.
On a side note, lab grown fancy yellow diamonds are also just as real as natural mined diamonds. Lab created diamonds are synthetically, chemically, and optically identical to earth created diamonds. Despite their differences, some may argue that the process behind lab grown diamonds is more environmentally friendly, and creates stunning diamonds that are significantly cheaper.
What Cut Is The Best For Yellow Diamonds?
While colorless diamonds tend to radiate brilliance as round cuts, a round cut might have the opposite effect on yellow diamonds. It turns out that a round cut might dilute the color of yellow diamonds, while radiant, and cushion cuts help to deepen the color of a yellow diamond.
Radiant and cushion cut diamonds are very similar in regard to how the faceting system and shape of these stones balance the vibrant color to achieve the highest sparkle possible. The faceting of these diamonds maximizes the saturation of the color while still maintaining the highest levels of fiery brilliance.
What Metal Color Is The Best For Yellow Diamonds?
With a yellow diamond, you can really play around with metal colors depending on the shade of your yellow diamond. Yellow diamonds have unique opportunities to either contrast or compliment when it comes to different metal colors.
Engagement ring settings usually come in a variety of metals, including platinum, white gold, yellow gold, and rose gold.
We recommend platinum or white gold for fancy deep and vivid canary yellow diamonds. The contrast these light metals will create with the intense yellow colors ensures that your engagement ring stands out.
Likewise, combining a yellow center diamond with colorless side stones, or in a halo setting, can accentuate the main diamond and make it pop.
Alternatively, a darker setting like yellow or rose gold can make a yellow diamond appear deeper and more intense than its color grade. This can allow you to save by purchasing a faint or light-colored diamond, which will have a darker appearance when reflecting the color of its setting.
What Ring Setting Is The Best For Yellow Diamonds?
Our top three picks for yellow diamond engagement ring settings are halo and side stone settings.
Halo settings also look stunning with radiant and cushion cut diamonds and help to maximize the diamond sparkle and will make it appear larger.
Side stones are perfect to highlight your yellow diamond and add to the uniqueness of your ring. Side stone settings come in various chic and bold designs with many different diamond accents- also available in various diamond cuts.
Do You Get Lab Created Yellow Diamonds?
Fancy yellow lab created diamonds do exist and are found in every yellow shade and diamond size and cut. Lab grown diamonds are particularly popular in online jewelry retail stores, and are significantly cheaper than natural diamonds, as they are easier to come by.
The downside is lab diamonds are not as rare as natural diamonds and thus carry very little resale value. However, if you simply want a beautiful diamond for the lowest price, you can consider going with a man-made diamond.
FAQs
Can yellow diamonds fade?
A real yellow-colored diamond's color will never fade and it won't require any special treatment to maintain its natural color. Of course, it's important to clean your diamond on a regular basis to remove dirt, creams, and other unwanted materials.
Aren't yellow-colored diamonds a bad thing?
Regular colorless diamonds with a certain degree of yellow or brown tints are regarded negatively and are cheaper than completely colorless diamonds. However, once the color reaches a level where it is the dominant color, the diamond is then categorized as a Fancy Colored Diamond, and its value begins to rise, given its new title.
What is the price of a 1 carat fancy yellow diamond?
Depending on the color grade and cut of the 1 carat fancy yellow diamond, you can expect to pay between $2,500-$20,000. That number could greatly decrease if you chose to opt for a 1 carat lab created fancy yellow diamond.
Where is the best place to buy a fancy yellow diamond?
The best place to buy a fancy yellow diamond depends on your desire. You may get a better variety of diamond cuts and color grade options online than in-store. However, if you're looking for a lab grown yellow diamond, online diamond retailers tend to have a larger inventory to choose from.
Are yellow diamonds rare?
Yellow diamonds make up 60% of fancy color diamonds. While they aren't the rarest fancy color diamond, they are rare and they can be quite expensive.
Final Thoughts
At James Allen, we have over 500,000 diamonds, all certified conflict-free. We are proud to go above and beyond many of the current industry requirements and standards to ensure we are offering you the best quality diamonds from the most responsible sources.
Visit our Education Center to read everything you need to know about selecting the best center diamond for you. View your favorite diamond choices in 360° HD with a free consultation. You can even try out our engagement ring customization tool to create the ring of your dreams with your ideal yellow diamond!
SHOP RELATED PRODUCTS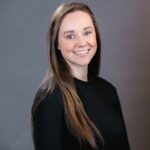 Jessica is a seasoned content writer with four years of experience and a qualified gemologist. She enjoys educating new shoppers on the best practices for buying jewelry.