Have your eye set on a particular diamond shape and you are looking for the best mounting to make it shine? Read on for the best engagement ring setting for any diamond shape.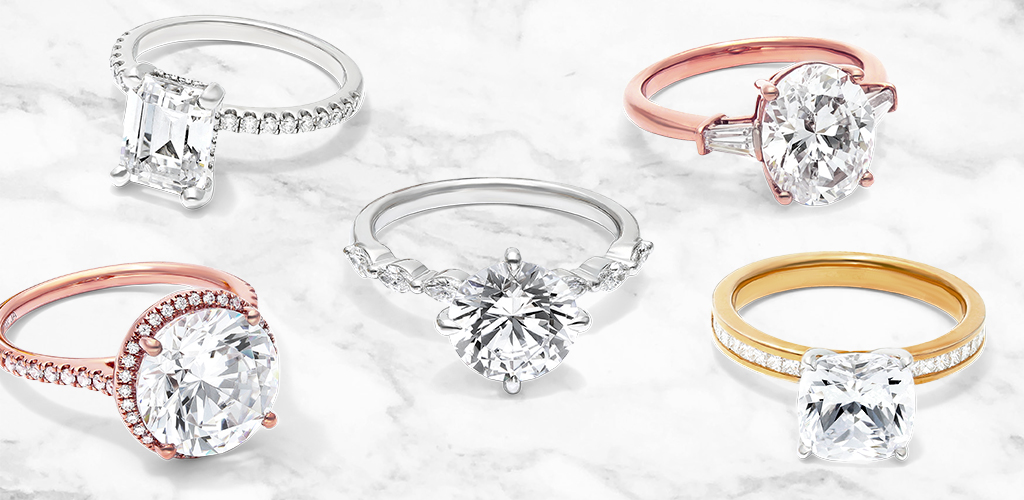 Over time, popularity shifts between which diamond shapes are going to offer the most finger space coverage and sparkle. No matter your preference, there's a unique diamond for everyone and yearly engagement ring trends to help sway you.
You can choose one of two ways to design your custom engagement ring at James Allen: 1) you can start with a setting and then choose a diamond to match, or 2) you can start with a diamond and then choose a complementary setting.
If you're the latter, this is your how-to guide. Each diamond shape has its own unique qualities and it's crucial to know how to best show them off.
Deciding Your Diamond Shape
If you're looking for an elongated shaped diamond for your favorite engagement ring setting, it's sure to provide two elegant optical illusions.
Because these shapes look larger than they really are, they are quite easy on your wallet. You can definitely spend less and still get a sizable diamond to flaunt. In fact, a 1-carat oval diamond has 10% more facets than a 1-carat round brilliant diamond. And the more facets your diamond boasts, the more it glitters.
These diamonds look larger than their carat weight.
They seem to lengthen the wearer's finger.
How should you complement the length of a marquise, pear, or oval shape in your ring setting? Tapering.
Ring shanks that widen and taper into the diamond, whether via split bands or side stones, provide an elegant transition that also emphasizes the stone's breadth.
Marquise Cut
The pointiest diamond shape of them all isn't for the faint-hearted. This boat-shaped diamond is bold and growing in popularity as a must-have for 2022. Marquise cut diamonds are known for their historical heritage and go back centuries — once being modeled by royalty.
This cut is not only perfect for most diamond engagement rings but compliments other gems like sapphires, rubies, and emeralds.
Our recommendation: Marquise cut diamonds shine their brightest when centered in a bypass shank pavé setting.
Bypass Pavé Kite-Set Engagement Ring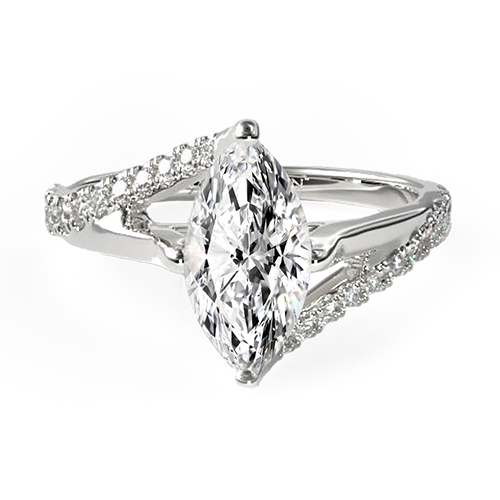 "if the value of the ring was measured in beauty alone it was worth every penny" -Adam S.
Pear Cut
Go asymmetrical! This shape combines the best of two worlds: round brilliant and marquise. The curve of a round diamond gradually leads into the pointed elegance of a marquise. A pear cut diamond can offer more finger coverage and give the added illusion of a larger diamond than a round cut diamond with the same carat weight.
Our recommendation: Pear cut diamonds are best set in a north-south orientation and receive that "wow" factor when complemented by side-stone ring settings.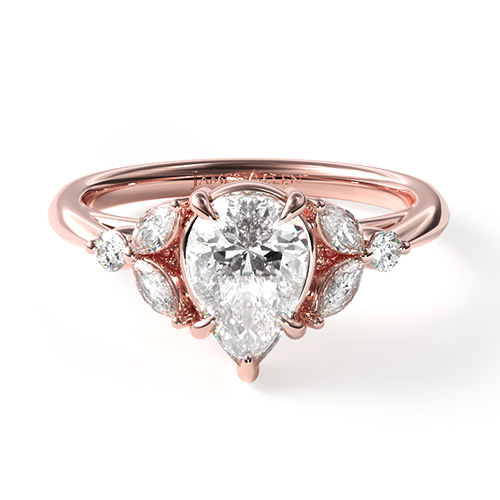 "I am really happy with how my ring turned out. This band is dainty and classic looking. It pairs perfectly with my pear diamond." -Elvia D.
Oval Cut
Oval cut diamonds are a popular shape with many advantages.
They have no sharp corners, meaning they're less prone to catching on clothes.
They have all the beauty of the classic round diamond with the perks of a lengthened shape.
Each diamond has a unique length-to-width ratio, meaning you can find a unique shape that suits your style.
Ovals that are longer are considered more elegant, while wider shapes display less of a bow-tie effect. Generally, the appearance of a bow-tie shadow in an elongated shape is considered less desirable, but it's really up to the personal taste of the wearer. Finally, this diamond has no sharp corners, making it a better investment if you're afraid of chipping.
Our recommendation: 2022 has deemed oval cut diamond solitaire engagement rings a fan favorite. Hop on this growing trend and slip on a classic in yellow or rose gold.
Classic Split Shank Solitaire Engagement Ring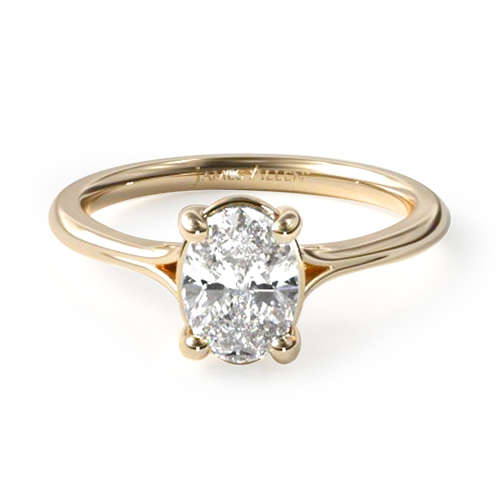 "This ring is comfortable, the band is thin and petite just how I wanted it. The diamond is SOOOOO SHINEY!!!! Of course the pictures cannot do it justice. Pure perfection here." – Kylee B.
Square Shaped Diamonds For Engagement Rings
Squarish shapes are some of the oldest diamond shapes, and they still hold that classic charm. The following four shapes benefit from angular settings that mirror their straight edges.
Lines, squarish side stones, and edged bands all enhance their angular facets.
Princess Cut
Princess cut diamonds, like round cuts, typically contain 58 facets that function to maximize light dispersion for optimal fire and brilliance. All of these facets pack a massive amount of light into a neat little square.
Our recommendation: Princess cut diamonds are for the bold and royalty needs a strong entourage— so the only setting worthy of this firey brilliance is a side-stone setting with stunning diamond accents.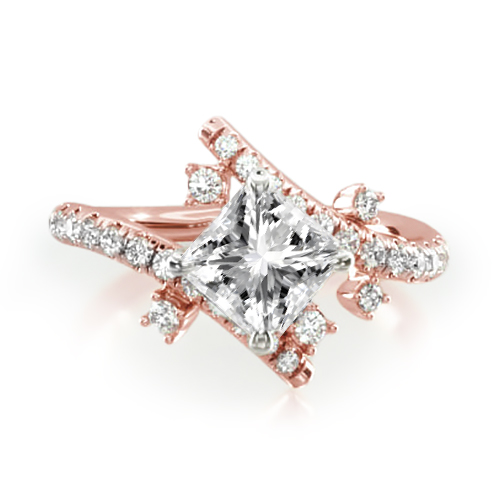 "The rose gold blossom band is wonderful and with the diamond they all glitter and sparkle together so much, that it can't help but draw everyone's attention!" -Stephen L.
Emerald Cut
An emerald cut diamond's limited facets tend to reveal inclusions, making it the perfect cut for flaunting a diamond's clarity. Aim for an emerald cut stone with minimal inclusions. Emerald cut diamonds also reveal color more easily than other shapes do, so choose a high color grade if you're setting your diamond in white metal.
However, setting a "warmer" diamond in yellow or rose gold will make the diamond appear more colorless; you can opt for a lower color grade and invest your money in clarity.
Even though an emerald cut diamond is squared, it's also elongated. This means that its length creates the optical illusion of elegantly "lengthening" the wearer's fingers.
Our recommendation: Emerald cut diamonds make a statement on their own and so we say keep it simple with a small twist. Set your emerald diamond at an east-west orientation in a timeless solitaire setting.
East-West Knife Edge Engagement Ring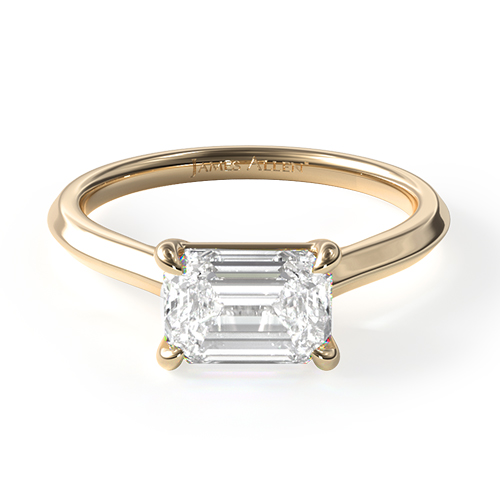 "Would highly recommend this unique east-west setting. I love it!" -Julia W.
Radiant Cut
Made up of a staggering 70 facets on their pavilion and crown, radiant cut diamonds can disperse more light than other square and rectangular-shaped stones. Practically, this translates into way more brilliance and fire than is found in traditional step cut diamonds.
Radiant diamonds tolerate a good amount of inclusions; in fact, when it comes to clarity they're pretty much the opposite of emerald cut diamonds. If you're thinking about purchasing a radiant diamond, save money on clarity and invest in the most colorless diamond you can.
Our recommendation: Radiant cut diamonds have a softer side than most square-shaped diamonds. You can make sure your diamond is the center of attention by having it set in an unforgettable channel setting.
Bow-Tie Channel Set Engagement Ring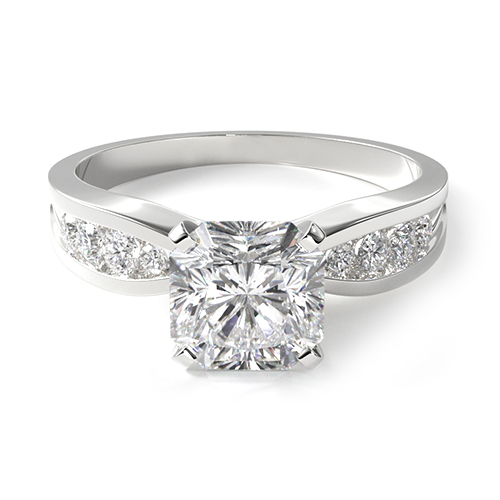 "It was one thing to be impressed enough on the online shop with how the ring would look, but when it arrived and I saw it with my own eyes I was lost for words!" -Baxter W.
Asscher Cut
The Asscher cut is the even-sided cousin of the emerald cut. It's all the beauty of an oblong emerald cut, concentrated into a squared shape. The many, close-set concentric facets give off a "hall of mirrors" effect which is undeniably eye-catching.
These stunning diamonds are clear and bright, often sparkling the way they do because of their centralized facets.
They won't give the same finger coverage as a pear or oval shape, but their unique pattern is enchanting for anyone looking to wear vintage glamor.
Our recommendation: Asscher cut diamonds are the embodiment of art deco making their ideal ring setting a vintage design or a channel setting for the minimalist wearer.
Thin Channel Set Engagement Ring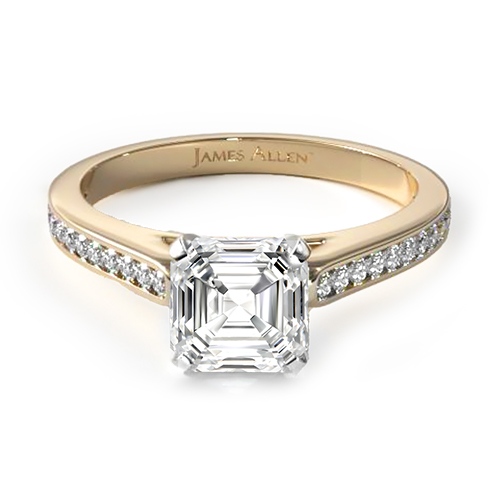 "I don't know what I can say. The product in my hand is way better-looking than the model picture." -Mattias R.
Round Shaped Diamonds For Engagement Rings
Rounded diamonds are some of the most agreeable shapes in that they suit nearly every setting. Their soft edges work well in a range of styles, but they're the best set off in settings that hug their curves. Go for halos and other settings that surround your main diamond with accent stones.
Cushion Cut
A squarish shape with rounded corners, the cushion cut diamond has been beloved for over a century! It's a descendent of one of the first widely popular cuts from the 18th century, the old mine cut.
However, cushion cut diamonds contain more delicate facets and a lower crown. This shape is experiencing a resurgence in popularity as couples throwback to the classics.
Their soft pillow-like appearance is a pleasant contrast from our other favorite fancy shaped diamonds, which sport sharper edges. We highly recommend this shape if you're looking for a delicate temperament diamond.
Our recommendation: Cushion cut diamonds look exceptional in halo settings which will, without doubt, create an enchanting display of glittering brilliance.
Cushion Outline Pavé Engagement Ring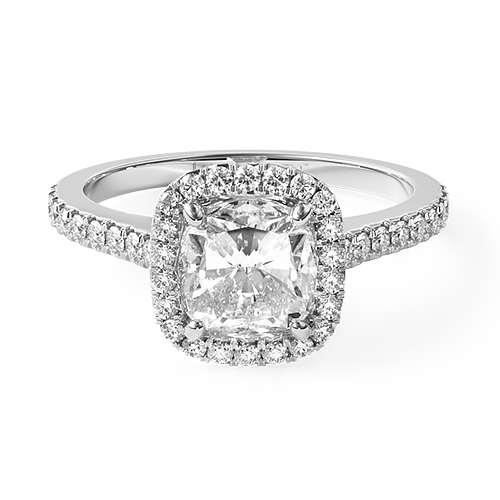 "The cushion frame, the diamonds on the top and around its edge, really gives it originality and intriguing appeal. It showcased my diamond's brilliance while adding a lot of pop to my fiancé's finger." -Ryan L.
Heart Cut
This romantic shape isn't for the faint of heart. Heart shaped diamonds put a modern twist on the classic round brilliant cut. With a round diamond's beloved facet pattern, and a cheeky heart shape, these stones are made for ring shoppers who have no problem progressing tradition.
Our recommendation: There's no denying that a heart cut diamond makes a statement no matter the chosen ring setting. However, a halo setting is the only way to truly amplify this unique diamond shape.
Shared Prong Marquise Halo Engagement Ring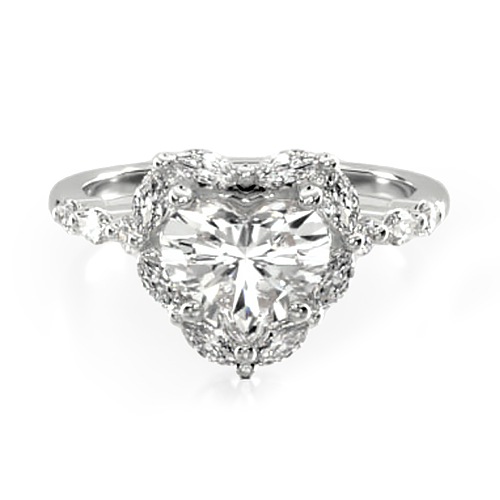 "Amazing shopping experience and a beautiful selection. My fiancé loves her ring!" – Joseph L.
Round Cut
Boasting 58 glittering facets and in a perfectly symmetrical cut, the round brilliant diamond is, by far, the best-selling diamond shape on the market. After all, how do you improve on perfection? Its peerless charm suits every ring setting.
There's a reason it's the most popular center stone for engagement ring buyers. You will never go wrong with a timeless round cut diamond in any ring setting you choose because it shines just as bright in a simple solitaire setting as it would be surrounded by side stones or adorned in a pavé halo.
Our recommendation: If you choose to go with a round center stone, you'll give yourself the best opportunity to pick any ring setting that truly speaks to your unique personality and style.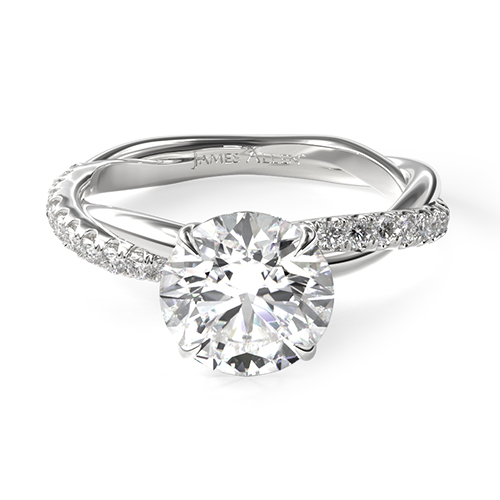 "Simple elegance. My now fiancée wanted something that was not just a ring, but that would not overtake her finger!" -Adolfo L.
Need a hand to find the perfect diamond shape to go with your ideal ring setting? Inspect the diamond of your choice in 360° HD and 40x zoom with the guidance of a professional gemologist!
Our Real-Time Diamond Inspection is a game-changer for online ring shoppers.
Make The Most Of Your Diamond Shape:
Subscribe to our email list for access to secret sales, practical ring-buying tips, and $100 off your first order!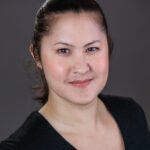 With over 10 years of experience writing and editing on a wide variety of subjects, Sarah is a veteran of the content world. Since joining James Allen, she has focused on all things diamonds and fine jewelry with the goal of educating and empowering consumers.