When shopping for that perfect piece, you want everything to be just right. From the design to the diamond to the metal. You've decided to go for a white metal look, but now there's one more step. White gold or platinum? Read on to find out the differences, so you choose the best metal for you!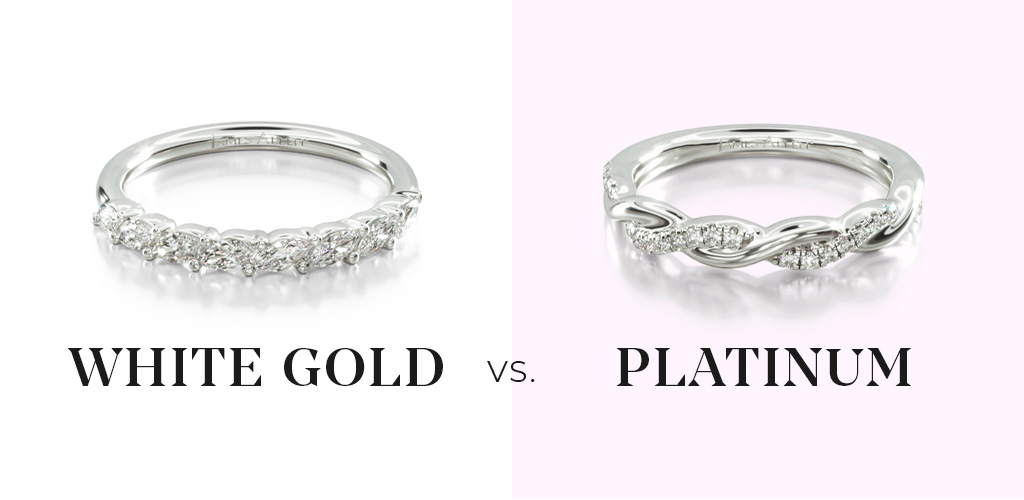 White gold vs. platinum, what is the difference? They look the same, right? While they have similarities, they are certainly not the same. From price to durability, look (yes look!), and so much more! We know it's a lot but don't worry, we are here to break down the differences and help make sure you pick the perfect metal for that perfect piece.
What Is White Gold?
First off, what is white gold? Let's answer that here! White gold is a type of gold (duh!), but not a pure white metal. It does not happen naturally but is instead a combination of alloys and is created when you mix yellow gold with nickel or zinc, and finish off with rhodium plating.
What Is Platinum?
Now, what is platinum? Platinum is a rare, pure metal that gets its color naturally. It is 95% platinum with 5% mixed alloys. Its name originates from the Spanish Platina, a diminutive of Plata, or silver. While it may have a similar appearance thanks to its color, platinum is very much its own metal.
What Is The Difference Between White Gold And Platinum?
White gold and platinum are great choices if you prefer the look of a white metal.
So which is better? What's the difference? While visually similar, this is really where their similarities end.
White gold has a very different chemical makeup from platinum, making one metal better for some designs and uses and the other metal better for other designs and uses.
Each metal has both advantages and disadvantages, so let's dive in so you can pick the right metal for your fabulous engagement ring, wedding ring, and fine jewelry.
Platinum vs. White Gold
Platinum and white gold can seem so similar that it is hard to know which one is best. But seem is the key word here! From price point, to durability, to purity, platinum and white gold are very different.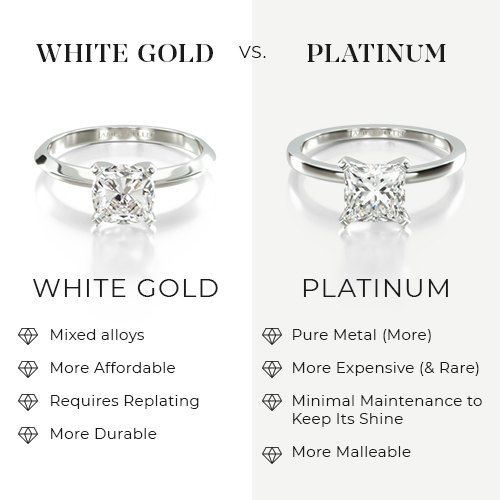 Advantages And Disadvantages Of White Gold vs. Platinum
Platinum is not necessarily better than white gold and vice versa. Each metal has its advantages, making them better suited for your needs. Many people prefer white gold for certain pieces and platinum for others. It all depends on the item, your lifestyle, and your budget, among others. Read on for the deets and see which metal is right for you.
Durability
White gold is quite durable, this goes for 14K white gold and 18K white gold. Yellow or rose gold has a bigger difference in durability (read more HERE). However, because white gold is plated in rhodium, 14K and 18K white gold has similar durability and is favored for everyday use.
This plating, however, also makes white gold more vulnerable to wearing away, or thinning over time, which can require white gold pieces to be replated. (Replating is not standard or automatically required but subject to use and wear and tear.)
Platinum is also fairly durable and heavier since it is a purer metal. However, it is more malleable, or bendable, than white gold. Additionally, it is more susceptible to scratches and small dents, thanks to this bendability.
Price & Affordability
Budget is always something to consider when investing in a piece of fine jewelry, an engagement ring, or a wedding ring. White gold is generally more affordable than platinum, because platinum is a more pure metal, it is typically also more expensive.
Prices, however, fluctuate as the price of gold and the metals that make up white gold can increase for various reasons. So while white gold is generally less expensive than platinum, this is not always true depending on market considerations.
Finally, the cost of replating white gold is something to consider. While the initial out-of-pocket costs of white gold may be cheaper, if you need to replate your piece, then this is a future cost to keep in mind.
Hypoallergenic Properties
Both metals are completely safe to wear, but if you have sensitive skin, you know just how important it is to be extra careful.
As we spoke about earlier, white gold is plated in rhodium, when this wears off and the white gold metal mix is exposed, which can irritate sensitive skin, and possibly cause an allergic reaction.
Platinum is a more pure metal and the most hypoallergenic metal used in fine jewelry. Generally speaking, if you have very sensitive skin, have allergies, sensitives, or are worried about such issues, platinum is the expert recommended choice.
Color
While to the untrained eye, white gold and platinum may look the same, they are quite different. Yes, both are members of the "silver" family, however, if you look closely, they are quite unique in their appearance.
Platinum is a naturally white metal, while white gold is more off-white, having a grayish tint due to being made with yellow gold, which is then plated with rhodium to give it its white color. As the rhodium plating fades, white gold's bright color will fade.
Alternatively, because platinum is naturally bright white and a pure metal, its color will not fade.
Weight
Normally, you NEVER ask someone their weight. But in this case, we'll allow it, and even recommend it! Platinum is denser and thus heavier than white gold. White gold may be more comfortable for earrings while the weight of a platinum ring may be more bearable.
If you are going for a larger piece, white gold may be the more comfortable way to go.
Popularity
This is a tough one, because white gold and platinum are both incredibly popular. Many people choose both metals for different reasons. In fact, white gold engagement rings are increasingly popular.
14K white gold engagement rings in particular are very popular because of their durability, making them great for a piece that you wear every day.
However, platinum JUST edges out white gold on the popularity scale thanks to its rareness. There is also an association of elegance and luxury with platinum that for many, make it the popular choice.
Why Choose A White Gold Engagement Ring?
There are a number of reasons to choose a white gold engagement ring: cost, durability, and lifestyle. If you are going for a larger ring, or just prefer a lightweight band, then white gold is the choice for you.
Another reason we have not discussed is pairing, if you are planning to get a white gold wedding ring, then experts advise you to go with a white gold engagement ring. This ensures a seamless, coordinated look. Need some ideas? Check out the options below or go to JamesAllen.com for more!
Why Choose A Platinum Engagement Ring?
If you prefer a brighter color, without replacing any coating, then a platinum engagement ring is the choice for you. Similarly, if you have sensitive skin, or allergies are an issue, then stick to platinum for its hypoallergenic properties.
Platinum is also a great choice if you are going for a more detailed engagement ring, as the metal is the expert choice to highlight intricacies such as milgrain and filigree. Check out these choices for some inspo!
FAQs About White Gold vs. Platinum
Can you tell the difference between white gold and platinum?
Yes, but it's not so easy. White gold has a slightly more grayish color than platinum and is a bit lighter in weight. So can you tell the difference, it really depends on you. How closely are you analyzing the pieces of jewelry, how much of an expert are you, and what are you looking for.
Does platinum lose its shine?
Yes, but not as quickly as white gold and it will not require replating. Platinum will lose its shine over time due to natural wear and tear, however, you can easily regain this shine with a simple cleaning to restore its luster.
Is platinum shinier than white gold?
While white gold and platinum are both shiny and beautiful, white gold is the shinier metal while platinum is the brighter metal due to its purity. Both metals require maintenance to keep their shine.
Is white gold out of style?
White gold is always in style. While it may not always be trendy, this traditional metal for engagement rings makes it a timeless style.
Does white gold fade over time?
In a word, yes. White gold fades over time due to its rhodium plating wearing away. This is easily fixed with replating every few years (replating timeline depends on usage and other elements).
Final Thoughts
There are no rules here, white gold or platinum, you can't go wrong. You have to consider multiple factors and decide on the best metal for you. Still unsure about which metal to invest in? Contact us at JamesAllen.com and we'll be happy to answer all your questions.
SHOP RELATED PRODUCTS