Wondering how to choose an engagement ring? Get to know any ring like the back of your hand with our Virtual Engagement Ring Try-On.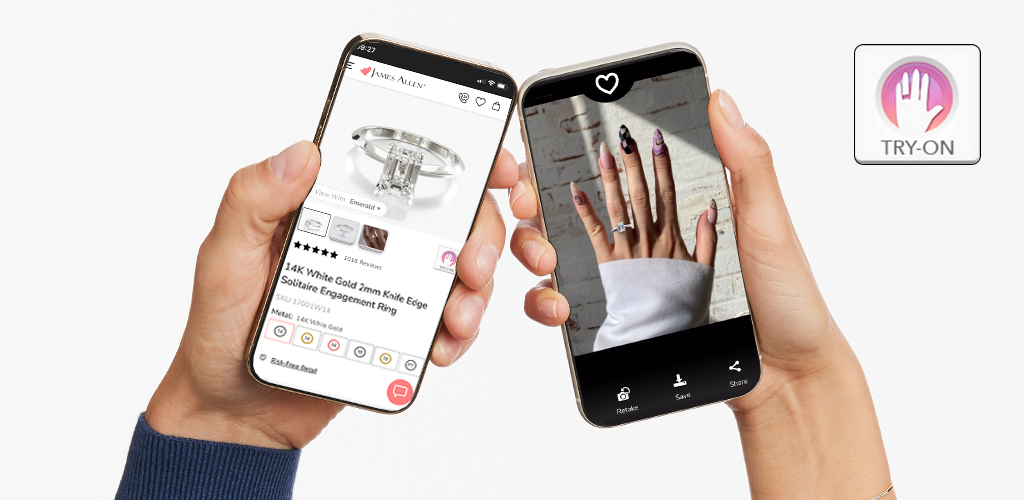 It looks beautiful on the site, but how will it look on your finger? Here's how to find out, using only your smartphone!
At James Allen, we believe your ring-trying experience should suit your lifestyle. It's only natural to want to try before you buy, especially with a purchase as important as an engagement ring. So what could be better than trying on an endless selection of rings at any time or place? 
What Is A Virtual Engagement Ring Try On?
Our nifty Virtual Engagement Ring Try-On lets you actually wear your favorite James Allen rings with some convenient point-and-click smartphone magic. This innovative feature eliminates much of the guesswork commonly associated with ring shopping…, and it's super addictive!
You'll find yourself trying on rings while waiting in line for coffee, watching Netflix on the couch, or at 2 a.m. when you can't sleep. Your ring, your schedule, your convenience.
FYI: This is an engagement ring-only, smartphone-only feature. Wedding rings and laptops need not apply.
Brick-and-Mortar Try-On vs. Virtual Try-On
| | | |
| --- | --- | --- |
| Make an appointment with a jeweler | vs. | Open JamesAllen.com on your smartphone |
| Drive to a jewelry store | vs. | Browse rings in your spare time |
| Try on a limited ring selection | vs. | Take your pick of hundreds of rings, on demand! |
| Field the expectations of a commissioned salesperson | vs. | Try on rings without the pressure of a salesperson |
| Struggle to remember which rings you liked best | vs. | Compare and revisit your favorite rings as much as you'd like! |
It's pretty clear what the best choice is. Now open your phone, follow along, and let's get started!
How It Works
Ready to get your engagement ring on? Grab your phone and follow these three easy steps. Will this work on your desktop? No. This is a smartphone-only feature.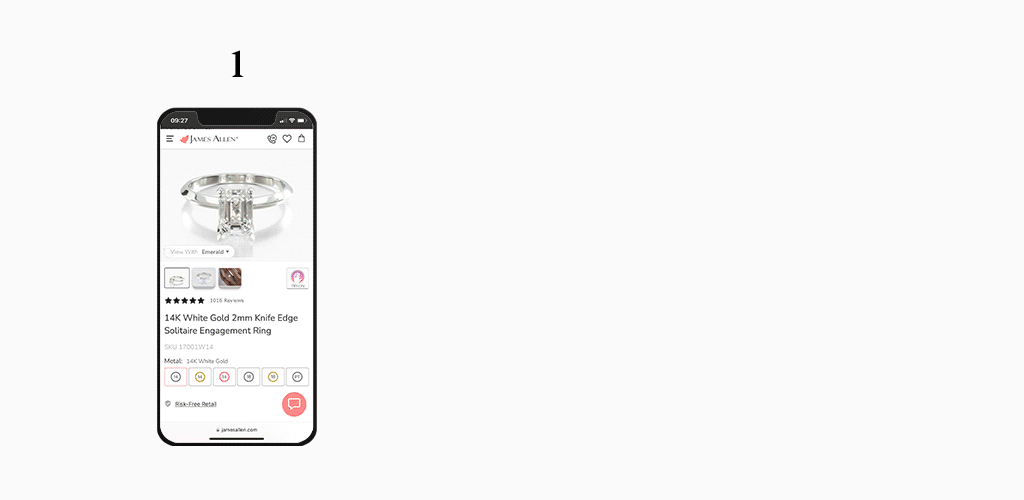 Step 1: Tap the 'Try-On' Icon
If a certain engagement ring piques your interest, visit its product page to virtually try it. Click the "Try-On" icon to get started.
Step 2: Snap a Shot of Your Hand
You'll be prompted to take a photo of your hand. In this photo, you'll be able to superimpose your chosen ring. You can resize, rotate, and even change out various diamond shapes! You'll get an accurate idea of how nice your hand looks, be-sparkled.
Step 3: Share Your Bedazzled Hand!
Send to your partner, get second opinions from friends and family, or post to your followers on social media to brag that you've found the one! It's super simple to loop others in on your ring decision.
The Real Benefits of the Virtual Ring Try-On
The beauty of an on-the-rack item isn't a guarantee of its suitability off-the-rack. Quite a few aspects of an engagement ring can only be taken into account by slipping it onto your finger. Here's what you can learn via the Virtual Try-On:
Which Metals Suit Both Your Skin Tone and Diamond Color
Should you choose white gold or platinum? What about 14k or 18k gold? White metals suit cooler skin tones and colorless diamonds. On the other hand, warm metals like yellow gold or rose gold look incredible on warmer skin tones, and are great at hiding less-sought after yellowish diamond tones.
Related Post: White Gold Vs. Platinum: What's The Difference?
Which Diamond Shape Best Complements Your Finger Length
If you'd like your fingers to appear longer, go for elongated and tapered shapes like oval, marquise, or pear. If you're a fan of chunkier, bolder styles, then you've got to try on Asscher, emerald, or princess. And if more delicate, rounded styles look perfect on your digit, you can't go wrong with a heart, cushion, or classic round brilliant.
Which Styles are too Simple, Which are too much, and which are Just Right?
This is all up to your individual taste! You've got complete freedom to try on, test out, and push your ring-style boundaries.
Get started on your search by browsing these rings on your smartphone!
How To Find Your Ring Size
Found your ring? Now find your ring size! James Allen offers free ring sizing for up to 1 year after your purchase. If you live in the United States, you can even get your ring resized locally at a location near you.
You have 4 ways to ensure that your ring will fit you properly:
Step 1: Use a Ring That Fits
Hold your good-fitting, non-engagement ring up to your screen and adjust the circles on the screen to fit around it. Click "apply," and we'll tell you your ring size!
Step 2: Measure Your Finger
Use a length of ribbon or twine to measure the circumference of your finger. Type in your finger measurements in either inches or millimeters and we'll calculate your ring size.
Step 3: Convert From Other Units
Tell us if you know your Australian, British, Canadian, or German ring size, and we'll convert it for you.
Step 4: Request a Free Ring Sizer
Starting from scratch? Request a free ring sizer, and we'll mail you a plastic ring sizer!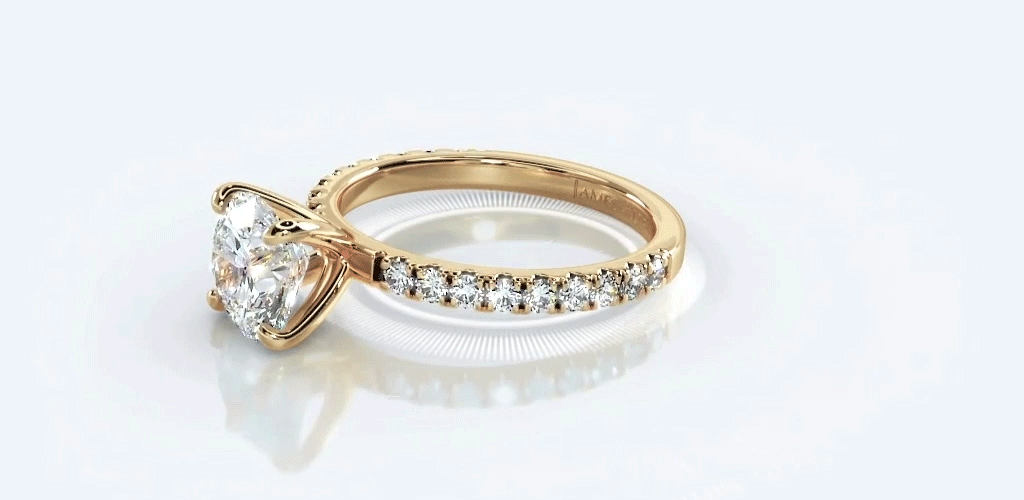 Write Your Own Inscription
This is love, in your own words. To top off the ring shopping process, engrave your ring for free at checkout! Choose from two different fonts: script or block letters.
Don't forget to get the inscription inspired! Before you inscribe, be sure to have a look at dozens of our customers' real-life engraved rings!
FAQs
How should I prepare for trying on engagement rings?
Before trying on engagement rings, doing some research and preparation is a good idea. Start by setting a budget, considering your partner's style preferences, and getting your ring size measured. This information will help narrow your choices and make the process more efficient.
Is it common to try on engagement rings without your partner?
Yes, it's quite common for one partner to try on engagement rings without the other. This can be a practical way to explore options and gather ideas. However, communication is key. Discuss your findings and preferences with your partner to ensure you're both on the same page regarding the final choice.
What etiquette should I follow when trying on engagement rings?
When trying on engagement rings, it's important to be respectful of the jeweler's time and inventory. Always make an appointment to ensure you receive proper assistance. Handle the rings with care, and don't be afraid to ask questions or request to see specific styles. Remember that trying on rings is part of the process, and there's no obligation to make a purchase during your visit.
How many engagement rings should I try on before making a decision?
There's no set number of rings you should try on before making a decision. It varies from person to person. It's a good idea to try on various styles to see what suits your taste and looks best on your hand. Once you find one that feels right and fits your budget, you'll know you've found the perfect engagement ring.
SHOP RELATED PRODUCTS