While popping the question, and the engagement ring that goes with it, can get the bulk of the attention, the wedding ring is just as important. A crucial part of the wedding ceremony and a symbol of your everlasting love and commitment, you want to make sure the wedding ring you choose is perfect.
From different delicious metals, sparkling diamonds and gemstones, and numerous styles, choosing the right wedding ring can be overwhelming. That's where we come in! Read on to find out everything you need to know about getting the perfect wedding ring.
What Is A Wedding Ring?
So what IS a wedding ring? While the engagement ring is what you wear when you are intended to be married, the wedding ring is what you exchange during the ceremony and what you wear once you are officially married.
What Does A Wedding Ring Symbolize?
A wedding ring marks the love between you and your partner and is a symbol to the world of your commitment to each other that you wear and see everyday.
Your wedding ring is emblematic of your wedding vows, a beautiful reminder of the meaningful words you said to your partner on that special day.
The Difference Between A Wedding Ring And a Wedding Band
This one is easy, there isn't one! Wedding rings and wedding bands are the same things. The terms are used interchangeably and both refer to the ring you exchange during your wedding ceremony to symbolize your commitment to your partner.
Wedding Rings For Women
Simple wedding rings
Many people prefer a simple wedding ring for women, such as a plain gold band style or a dainty wedding ring. This can be due to religious customs, personal style, or simply to match their engagement ring. This classic, clean style is also great if you have smaller hands.
Diamond Wedding Rings
A diamond wedding ring is the perfect way to increase the sparkle of your engagement ring and show off your personal style. Eternity rings are a great way to go if you love endless sparkle!
Just as the name says, eternity rings offer eternal shine through diamonds that go all the way around the band, giving you the ultimate bling from every angle.
If you opted out of an engagement ring or opted for a simpler engagement ring, then a diamond wedding ring is the perfect opportunity to add bling to your symbol of love.
Gemstone Wedding Rings
Gemstones are a great way to add sparkle and shine to your wedding ring while also getting a burst of color. Choose your favorite color, your birthstone, or maybe the stone of the month you got married in; whichever gemstones you choose, these are a great way to showcase your personal style.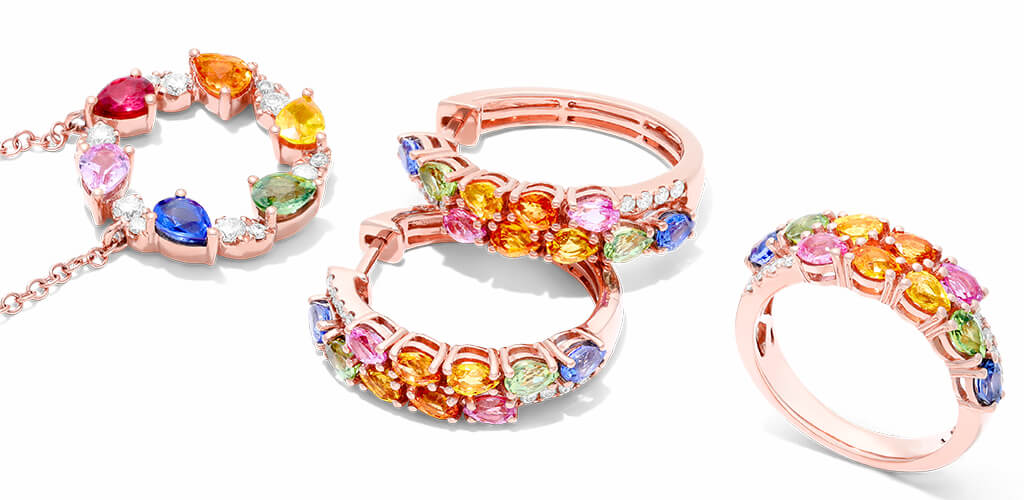 Simple Engagement And Wedding Ring Combinations
Simply sparkling, if you sport a channel set or pavé engagement ring, a diamond wedding ring will seamlessly and flawlessly add the perfect amount of dazzle.
Prefer a more traditional look? Pair a wonderfully minimalist solitaire with a clean, cool wedding ring like these two, which were simply made for each other…just like you and your love.
No matter which style you prefer, James Allen has the matching set for you. Let us take the guesswork out of it!
Popular Metals Used In Wedding Rings
The choices when it comes to wedding rings for women are available in platinum, yellow gold, white gold, and of course, rose gold.
Platinum
Platinum is popular because it is strong, pure, and rare. It is also hypoallergenic, so it is a great choice for anyone with allergies or skin sensitivities. And while platinum carries a higher price point, it wears well over time, so it is a good investment.
White Gold
If you love the look of platinum but prefer a lower price point, or simply prefer to be adorned in gold, then white gold is the metal for you.
Yellow Gold & Rose Gold
Love gold but want some color in your band? Go for classic yellow gold! Want color but prefer something with a bit more romance? Rose gold is the perfect choice. Not sure if platinum or white gold is for you? Find out here!
Just like engagement rings, metals for wedding rings vary in popularity, and many factors must be considered. Make sure to take the following into consideration when choosing the metal for your wedding ring:
Matching to your engagement ring
Matching to your partner's ring
Personal style
Budget
How to Wear Your Wedding Ring
Many cultures see women wearing their wedding ring on the ring finger, on the left hand. This originated in ancient Greece with the belief that a vein there that leads to the heart is the vein of love. However, in other cultures, women wear the wedding ring on the ring finger on the right hand.
Still, others wear it on either hand, but not on any particular finger. Ultimately, there are no hard and fast rules for this. Where you wear your wedding ring is entirely up to you.
Should You Get Matching Wedding Rings?
Once again, this is entirely personal to you and your partner. You may opt for a more simple, classic wedding ring while your partner may prefer something more alternative and modern. Or perhaps you want a ring that perfectly matches your engagement ring, while your partner wants a style all their own.
Many couples now also shop for both engagement and wedding rings together. This can allow you to match your wedding rings to your engagement ring and each other. Matching wedding rings can be a beautiful way to symbolize your commitment, but don't forget this is a ring you will wear every day.
So whether you match it to your partner's ring, your engagement ring, or showcase your individual style, make sure it is a ring you love.
How To Find Your Wedding Ring Size
Here are a few easy ways you can find your wedding ring size:
Professional Jeweler: Visit a reputable jeweler and have them professionally measure your ring size.
Ring Sizing Kit: Use a ring sizing kit, available online or in jewelry stores, which provides a range of ring sizers for accurate measurement.
Existing Rings: If a ring fits well, place it on a ring sizing chart to determine the size.
Finger Measurement: Wrap a strip of paper or string around the intended finger and mark where it overlaps, then measure the length in millimeters.
Online Ring Sizing Tools: Many jewelry websites offer online tools to help you measure your ring size accurately at home.
Ring Size Chart Conversion: Convert the measured circumference or diameter into a ring size using a ring size conversion chart.
Simply click here to order your free James Allen ring sizer directly to your home. And hey, don't worry! Even if you still get it wrong, James Allen will resize your ring once for free within one year of your purchase.
How Much Should Your Wedding Ring Cost?
Just like how much you should spend on an engagement ring, the amount you spend on your wedding ring is very personal. If you prefer a classic, plain metal band, then your costs will be lower. However, if your style is a blinged out eternity ring, then you will need to budget a bit more for all those dazzling diamonds.
Whether you choose to start with a classic and move to sparkle for an anniversary, there is no should here. The amount you spend will be related to your budget and style.
FAQs
Who buys the man's wedding ring?
Traditionally, the bride buys her groom's wedding ring, and he buys his bride's wedding ring. However, more and more couples are splitting these costs and avoiding the whole you buy him and he buys yours. Other couples make this a family affair. Maybe your family will buy your future husband his ring. Like so many things, who pays for the ring is a personal decision.
Can a woman just wear a wedding ring?
Of course! You can wear whatever you want! And in fact, many women are hopping on this trend. Go for a glorious anniversary or eternity ring to get a wedding ring with all the bling.
Which hand do you wear my wedding ring on?
Traditionally, many wear their wedding ring on the ring finger on their left hand, the same as their engagement ring. However, some cultures wear the wedding ring on the right hand, separate from the engagement ring. Where you choose to wear your wedding ring is entirely up to you. Just think about it before, so you are sure to get the right size.
Do you still wear your engagement ring after you get married?
Most people wear their engagement ring together with their wedding ring. This is why so many women match their wedding ring to their engagement ring, even picking them out at the same time to ensure continuity in style. However, this is totally your decision. If you want to save your engagement ring for only special occasions, then you do you boo!
Conclusion
Buying a wedding ring can be a daunting process. Luckily James Allen is here to take the guesswork out of it. Whatever your style and budget, we have the ring for you! Choose your metal, choose your look, check your size, and rock a ring that shines as bright as you!
SHOP RELATED PRODUCTS