When is an engagement ring more than an engagement ring? When it's part of a stackable wedding set! A wedding set can contain more than an engagement ring and a wedding ring – and we'll show you how to create your custom wedding stack with stackable wedding rings!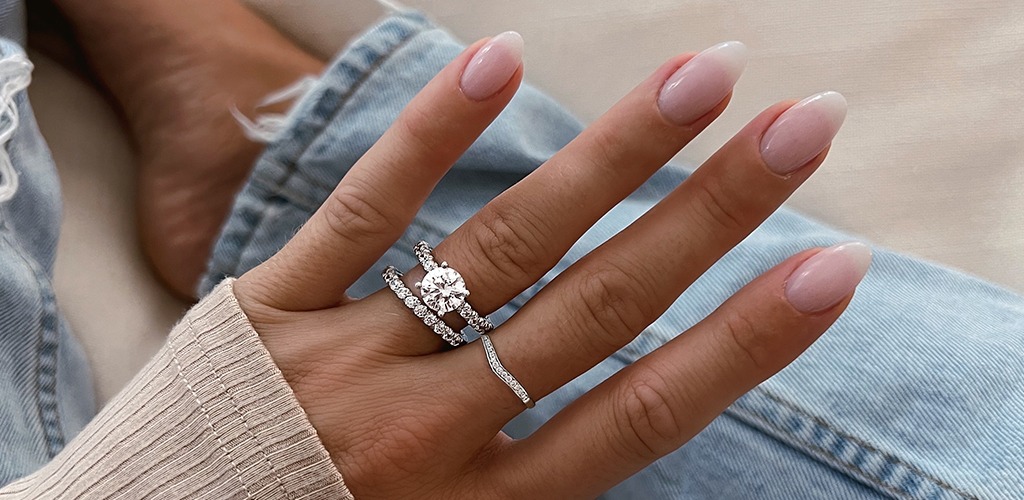 Here's how to stack the deck in your favor: start with your engagement ring. Have a good look at its characteristics and choose a matching wedding ring. In many cases, this is where the complementary calculations stop. However, most people, over the course of their married lives, mark special occasions with meaningful rings. And these subsequent, stackable rings can become part of an incredible ring stack that will be all yours.
Engagement ring + wedding ring + …?
Which stackable wedding rings will make their way into your stack? You've got options.
Anniversary rings
What's the most obvious continuation to a wedding stack? An anniversary stack! An anniversary ring can look however you'd like, but traditionally each diamond on an anniversary ring represents a year of married life. Have a look at our full anniversary ring gallery and see which setting you love best.
Graduation rings
Do you know what complements a shiny new diploma? A shiny new ring! It's actually becoming quite popular to celebrate a graduation with an engagement-style ring: a metal band with a stunning center stone.
Marking the birth of a baby
You've brought an actual life into the world. Wow. You're kind of a hero. New mothers deserve new sparkle, that's what we always say. Choose your baby's birthstone or a diamond representing the baby's order: 1 diamond for your first child, 2 for your second, etc.
Birthday rings
30? 50? 77? Which birthday is particularly significant for you? Mark the occasion with a ring in your birthstone or your favorite metal!
Memorial rings
Keep the memory of a loved one present and close to your heart with a meaningful ring. It could be their birthstone or a particular pattern that reminds you of them.
Accomplishment rings
You've gotten a raise, you've beaten an illness, you've achieved a long-held personal goal. Celebrate yourself, or recognize a loved one who's done something incredible that doesn't deserve to go overlooked.
How do I stack my wedding set?
There are quite a few ways to wear a wedding set, and the same goes for the rings you stack onto it.
If you wear your wedding and engagement ring together, you can place your subsequent rings on either side of your stack.
If you wear your wedding and engagement rings on opposite hands, then you can add rings to either hand according to whatever looks best.
Of course, you can also add rings to fingers that aren't sporting your two stunners, but then it wouldn't be a ring stack, would it?
Open Ring Stacks
If you've got a ring with an elongated center stone like marquise, oval, or pear, then open stackable wedding rings are quite a fitting option. The end of your engagement ring stone will nestle smoothly into the gap of your open ring.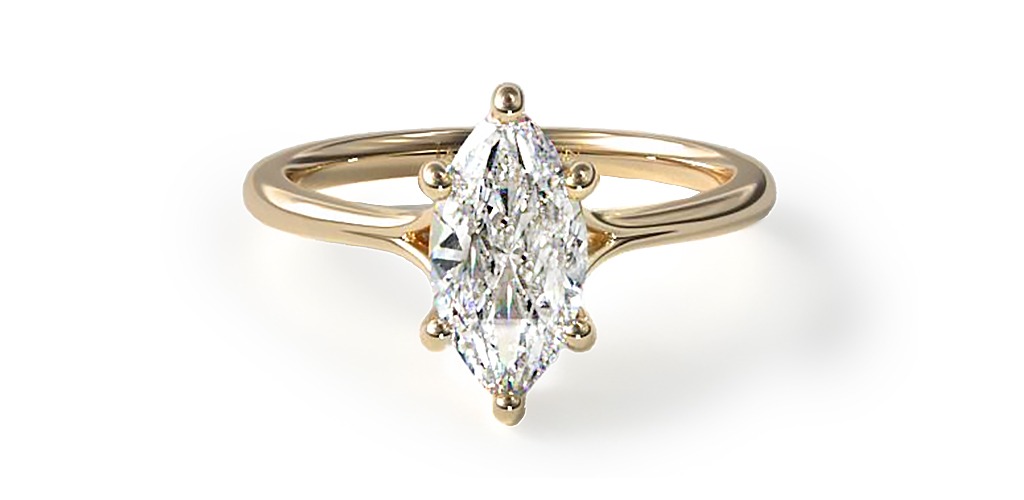 Single- and Double-Banded Rings
This is the blingy choice! Choose the single band as your wedding ring, and save the double for your next special occasion – or vice versa. No matter what, your wedding stack is going to pop.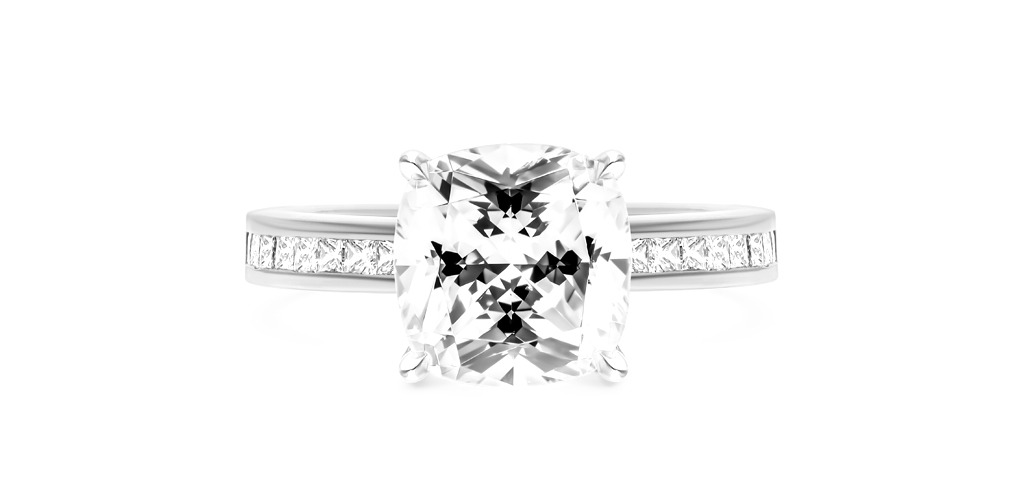 Curved Wedding Rings
Curved stackable wedding rings look amazing with uniquely-shaped engagement rings. And you can keep adding curved wedding rings, either identical or in variations, to your stack throughout the years.
The Delicate Stack
Keep your stack simple and elegant with minimalist rings! This ensemble complements a less-ornate engagement ring like a solitaire or bezel-set ring.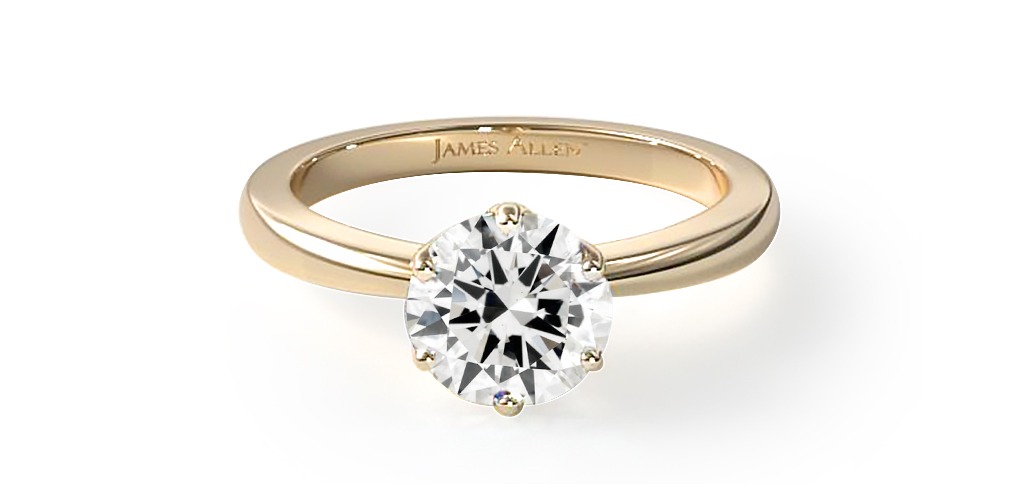 Yellow Gold and Diamond-Forward
Give your ring stack a sunny shine with these exceptional yellow gold rings. With unparalleled designs you won't find anywhere else, these singular rings are deserving of a solid gold match.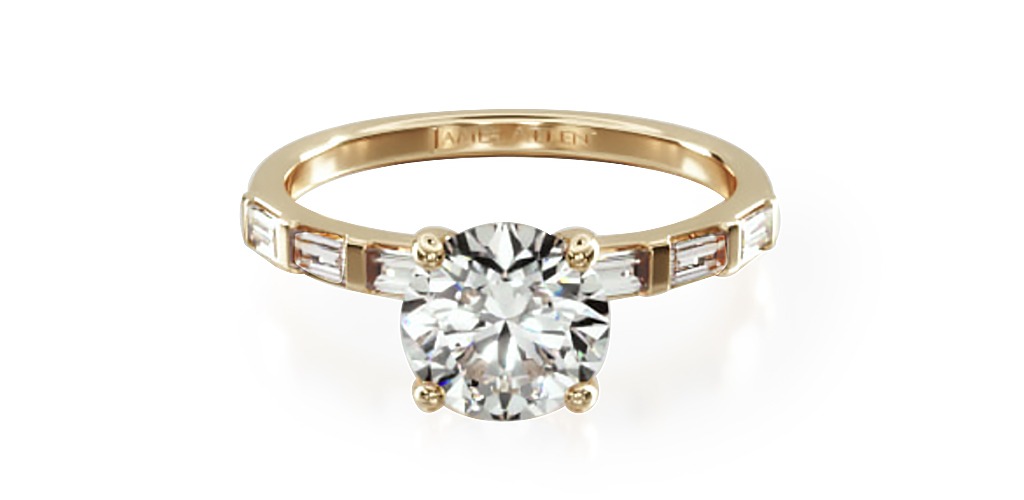 A Bouquet of Rose Gold
Rose gold is both sturdy and gorgeous: the copper content that gives it its characteristic rosy shine also makes it pretty low-maintenance. Rose gold rings retain their shine. No tarnish, no way!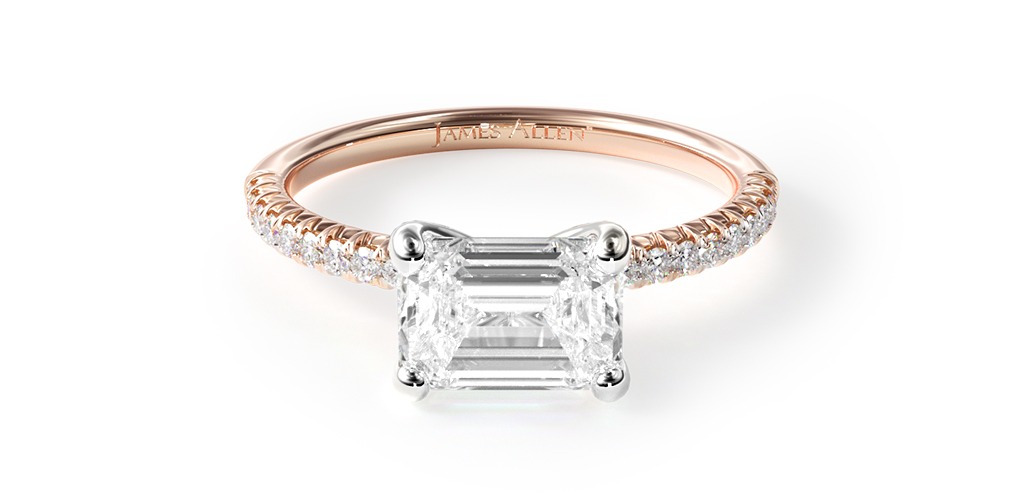 In Other Words…
You don't have to start planning a wedding ring stack the moment the proposal's over, but it's good to keep it in mind. Most ring-wearers add rings to their stack to mark meaningful occasions: most commonly anniversaries, but also for a wide range of personal milestones. Whatever your ring signifies, you can stack it any which way you want. It can hug your wedding ring, your engagement ring, or even go in between if you'd like. Stack it as high as you'd like! Why stop at just three rings?
More Blow-Your-Stack Jewelry
Subscribe to our email list for access to secret sales, practical ring-buying tips, and $100 off your first purchase!