Learn how to wear stackable rings based on your personal style for any occasion!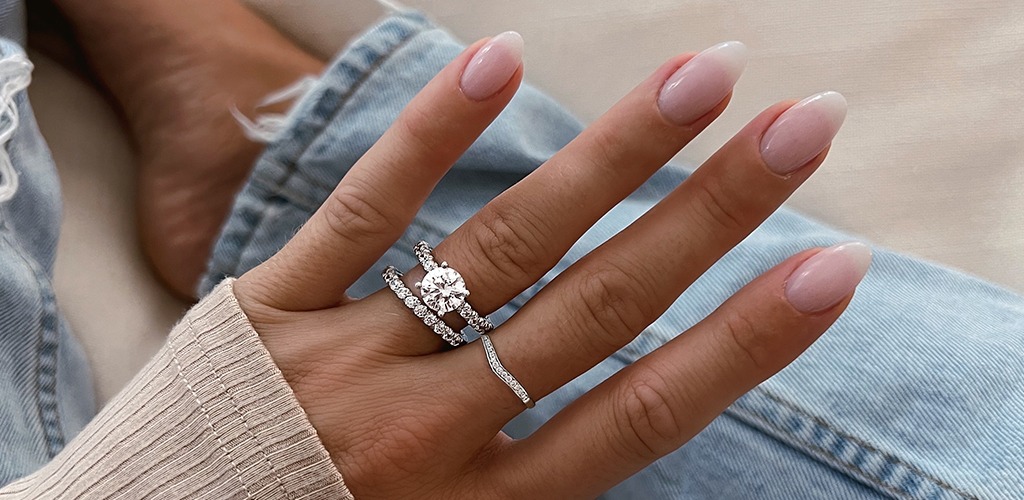 Stackable rings have taken the world of jewelry by storm, providing a versatile and chic way to style your fingers. These delicate pieces offer the freedom to mix and match, allowing you to create a personalized and distinctive look suitable for any occasion.
Whether you lean towards minimalist elegance or prefer to make a bold statement, stackable rings are your ultimate accessory. In this guide, we'll show you 9 imaginative ways to flaunt stackable rings to elevate your daily and night looks!
What Are Stackable Rings?
Stackable rings are a trendy type of jewelry designed to be worn together on the same finger or across multiple fingers. They're thinner and more delicate than traditional rings, allowing for easy layering and customization.
Why Should You Wear Stackable Rings?
Stackable rings are a seriously fun and expressive trend. You can mix and match different metals, styles, and designs to create a unique, personalized look that suits your style. And it's all-inclusive!
Stackable rings offer versatility and endless possibilities for expressing your creativity, whether you prefer a subtle and minimalist appearance or want to make a bold fashion statement.
Minimalist Marvel
Embrace the beauty of simplicity by layering thin bands in the same metal for an elegant and understated aesthetic. Women's gold rings are particularly popular for minimalists.
Combine metals like rose gold, yellow gold, and silver to create a subtle contrast that complements your overall style.
Opt for delicate designs adorned with small stones or engravings for a touch of refined sophistication.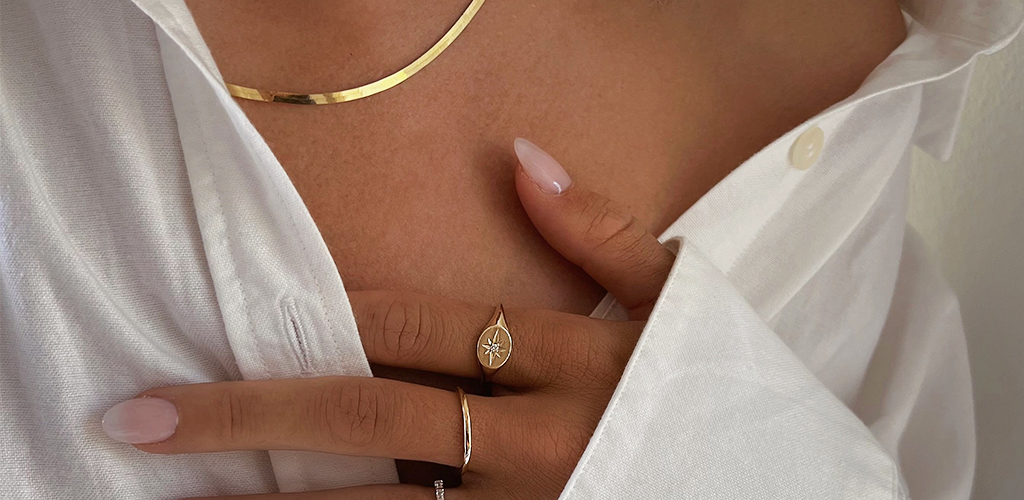 Mix and Match
Play around with various ring styles, including eternity bands, solitaires, and midi rings, for a dynamic and eclectic appearance.
Fearlessly combine rings with distinct texture, such as hammered and smooth, to create a bold contrast.
Solo Stunner
Allow a solitary stackable ring to shine by either stacking it with midi rings or wearing it as a stand-alone piece.
This approach works exceptionally well with rings boasting larger gemstones or unique focal points.
Ring Party on Every Finger
Spread the love for stackable rings by embellishing each finger with an assortment of rings for a boho-chic vibe.
Select a theme, like earthy tones or ocean-inspired hues, to seamlessly tie together your finger party.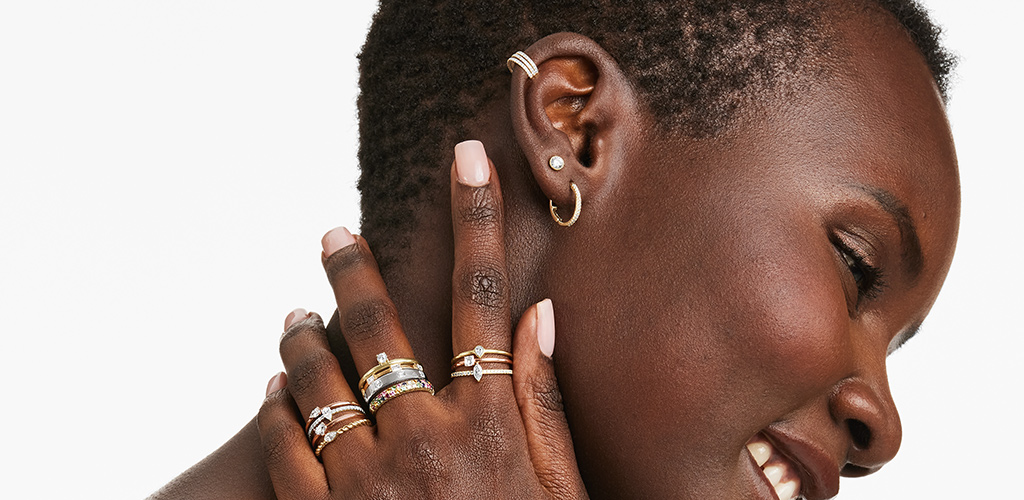 Birthstone Bliss
Craft a stack using rings featuring the birthstones of your cherished ones, adding a touch of meaning and sentimentality.
Experiment with diverse cuts and settings to emphasize the distinctive beauty of each birthstone.
Bold and Beautiful
Make a striking impression by stacking chunkier rings featuring unique textures or intricate patterns.
Experiment with diverse shapes and sizes, pairing broader bands with slimmer ones to generate visual intrigue.
Choose fancy shaped eternity rings or vivid enamel to inject a burst of personality into your stack.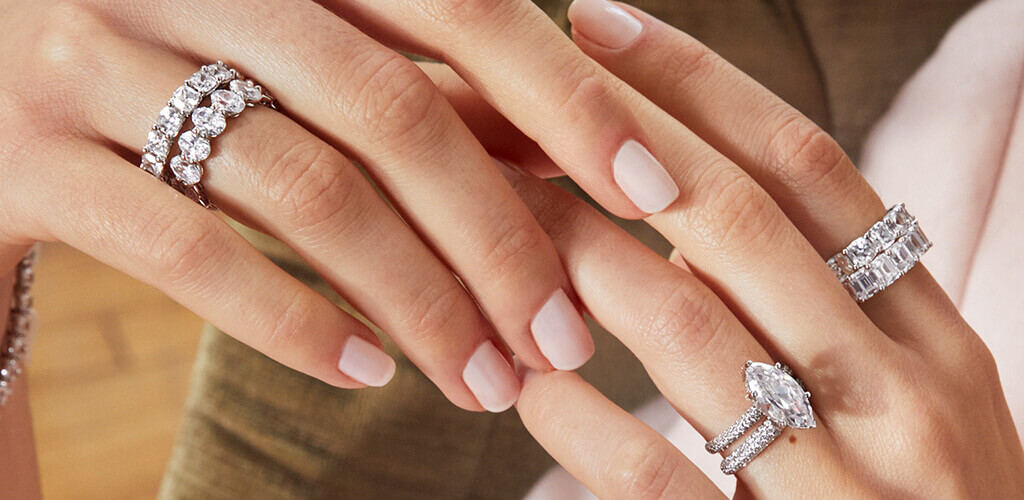 Delicate Midi Magic
Embrace the midi ring trend by placing stackable rings on the upper section of your fingers.
Opt for slim bands embellished with subtle details to create an enchanting and captivating look.
Symmetrical Sophistication
Achieve a polished and well-balanced appearance by wearing an equal number of stackable rings on both hands.
Maintain a consistent style or metal to uphold an organized and refined look.
Vintage Vibes
Infuse your stackable rings collection with vintage-inspired pieces showcasing intricate filigree or art deco designs.
Infuse modern elements into the ensemble to keep your look current and fresh.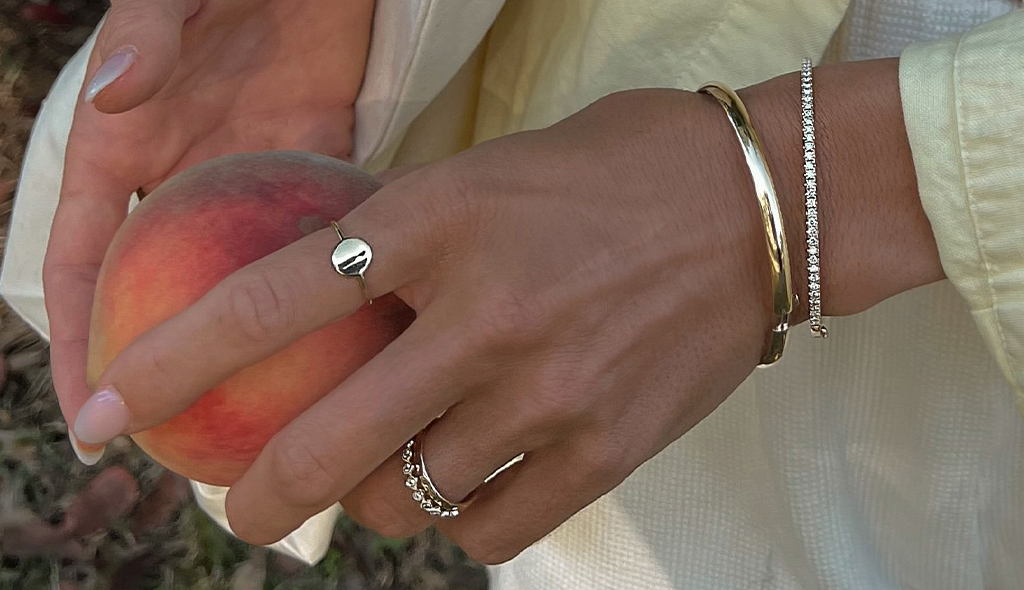 Stackable Rings: Additional Tips and Tricks
Stackable rings open up possibilities for expressing your personality and style. Here are some extra tips to maximize your ring-stacking adventures:
Play with Proportions: Experiment with rings of varying thicknesses to create an appealing visual contrast.
Mix Metals with Confidence: Don't hesitate to blend different metal types; the contrast can add dimension and flair.
Prioritize Comfort: Since you're layering multiple rings, ensure they fit comfortably without causing discomfort.
Balance Matters: When stacking rings on one finger, try to balance sizes and styles for a harmonious effect.
Theme it Up: Create themed stacks based on your mood or the season, allowing for effortless style transitions.
Coordinate with Nails: Match your nail polish with your ring stack for an added touch of coordination.
Layer with Bracelets and Watches: Pair stackable rings with complementary bracelets and watches for a well-coordinated look.
FAQs
Can I mix different metals when stacking rings?
Mixing metals adds a modern and eclectic flair to your look. Just ensure a unifying element, such as a similar texture or stone.
Can I stack rings on all fingers?
You can stack rings on one or multiple fingers, creating endless style variations. Just ensure the rings on each finger complement each other.
How do I prevent discomfort when stacking multiple rings?
Choose rings that fit comfortably on each finger, and avoid stacking too many thick bands on one finger. It's all about finding the right balance.
Are there any rules for mixing different ring styles?
While there are no strict rules, sticking to a common theme or metal can help maintain a cohesive look. However, don't be afraid to experiment and break the rules!
Can men wear stackable rings?
Absolutely! Stackable rings are not limited by gender. Men can embrace this trend by choosing rings that reflect their style and personality.
How can I make my engagement ring work in a stack?
Consider using stackable bands that complement your engagement ring's design. Opt for a curved band that fits around the engagement ring's setting.
Start Stacking
Stackable rings are a fantastic avenue to explore your creativity and fashion sense. Whether you opt for a minimalistic approach or relish mixing bold styles, a stackable ring combination is waiting to enhance your individuality. Ready to shop your newest ring obsession? Visit us at JamesAllen.com and we'll help you find the perfect accessory.
SHOP RELATED PRODUCTS