We've taken the time to break down all major considerations to help you find the perfect men's wedding band to symbolize forever.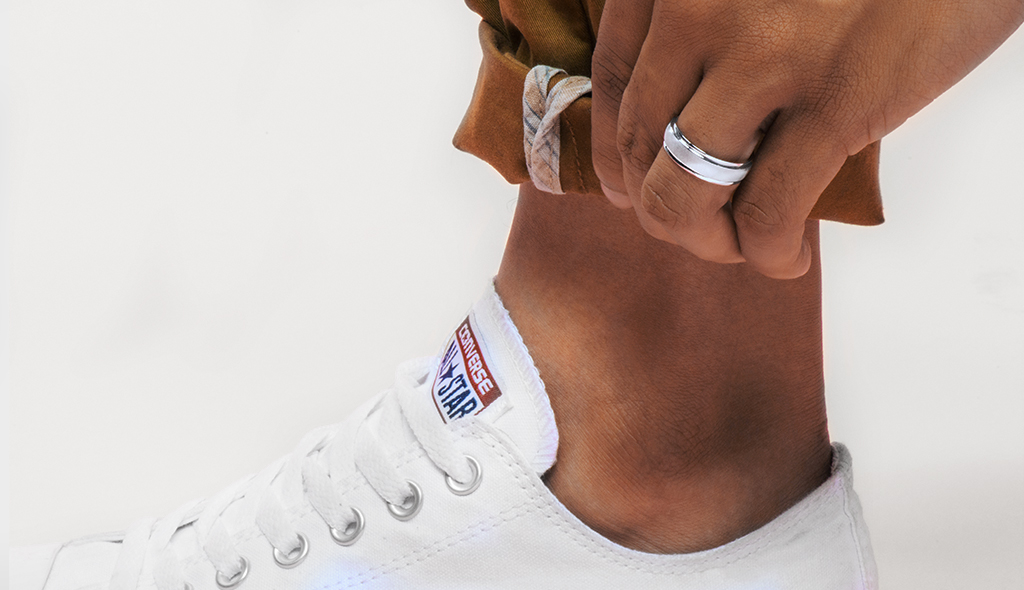 We know how important it is to find a wedding ring that fits your unique lifestyle. There are men's wedding bands that cater to just about any lifestyle and hobby we can think of. From classic yellow gold to stylish black wedding rings, dynamic metal options make it easier to enjoy your favorite activities without stress.
Whether you're the kind of man who enjoys leisure or one who spends his time doing extreme sports, there is a metal and style that is the ideal fit for you. We've even considered that you might be both these men in one fun package – there's a ring for that, too.
Take all your possible questions and worries, and allow us to confidently help you find the perfect wedding ring that will sit on your finger the day you say "I do." Scroll down to see our six important factors to consider when buying the wedding ring your soon-to-be spouse will melt over. And if your partner is sitting right beside you now, remember they know best.
Make Yourself Comfy
Having a comfortable men's wedding band is essential for any man who might be wearing this type of jewelry for the first time. A softer metal like white or yellow gold is the best option here. Men working with their hands or those in an office space will benefit most from this metal while looking great at the same time. Gold rings may need some minor buffing and polishing in the long term, but they're a popular classic for a reason.
Both these metals are valuable and less expensive than platinum. White gold is slightly stronger with a cooler undertone, while yellow gold is more malleable and warm. One of the most comforting attributes of these metals is that they suit just about anyone and leave no room for insecurities or fuss.
When we talk about comfortability, we're also going beyond metal and venturing towards ring style. Familiarize yourself with the term "comfort-fit." This term is generally used to describe a ring that has a domed interior. This style is perfect if you want to avoid irritants to your skin and uncomfortable cuts to your finger.
Titanium is also a softer metal that offers its wearer more comfort and is a lighter weight than steel. It's perfect for family men who want a durable yet comfy metal that can survive everyday wear.
Durable For Your Lifestyle
Active lifestyles can mean anything from regular sports to high-intensity construction jobs. Investing in a ring with high durability is the only way to save yourself the grief and frustration of having to fix scratches or breaks on your wedding ring.
Platinum is the first metal that comes to mind when we talk about durability. It's rare and dense, making it suitable for rougher lifestyles. A bonus to look forward to when investing in this metal is the fact that it will likely last a lifetime while maintaining its beauty. Take it from us, this metal is perfect for men's wedding bands and a smart buy as a future family heirloom.
Next, let's dive into cobalt chrome™. This metal will maintain its original condition even under the most intense wear and tear. It's lighter than platinum, making it easier to wear, and it comes in various styles.
Scratch Resistant Rings
No one enjoys seeing scratches on their property. Not on our phones, cars, and certainly not on our wedding bands. The issue is, no matter what we do, scratches appear out of nowhere regardless of what protective measures we take. This is especially true if you're a man who enjoys the outdoors or works in an industry where bumping his ring is a given.
Fret not, we have a solution to your problem. Tungsten is, without a doubt, the most scratch-resistant metal that exists. Incredibly, the only material out there that would be able to scratch your wedding ring is a diamond. It's a tough metal making it impossible to bend out of shape and, unfortunately, impossible to resize.
Another favorite is the metal tantalum. It's an excellent choice for men's engagement rings as it's highly durable against scratching and breakage. It's an oddly vibrant futuristic metal and is virtually indestructible. Like tungsten, this metal is perfect for men working in harsh conditions, especially fields with chemicals and heat.
Best Hypoallergenic Metals
Being active may cause your hands to sweat and develop ring rash but there are some metals that can prevent this extremely well. Keep this list of all the hypoallergenic metals in mind when you purchase your ring:
Tantalum and Cobalt Chrome™ (without nickel) are great for medical and chemical applications because it's both hypoallergenic and bio-compatible.
Tungsten is also hypoallergenic and a great substitute for those allergic to yellow gold wedding bands.
Platinum is hypoallergenic and a perfect replacement for white gold men's wedding bands because it has no traces of nickel.
Titanium is also safe to wear and anti-allergenic.
Platinum is 95% pure, making it the most hypoallergenic metal choice.
Ceramic contains no unwanted components in its composition.
Aesthetically Pleasing
Beauty is in the eye of the wedding band holder, and that's why we can't tell you which ring is the most handsome. We can, however, let you in on which of our rings frequently make the bestsellers list and those that have a little extra pizazz. After all, there's no shame in wanting your ring to be an extension of your unique style and personality.
If you like being outside and active, it's likely one of these metals will have a pattern that mirrors your hobby. If you prefer office life and are more easygoing, yellow and white gold, along with platinum are softer metals that can be engraved for a more personal and intimate touch.
Tantalum, Cobalt Chrome, Titanium, and Tungsten are high on the list of stylish wedding bands for men who want that extra appeal to their ring. While the classics are always timeless, these metals are making the rounds with their exciting designs and unique styles. 
Affordable Quality
A wedding band isn't an easy purchase or one you should take lightly. It's a long-term investment in a piece of jewelry that you'll not only be wearing forever but also represents your love and commitment. In short, it's a pretty big deal.
Lifestyle plays a significant role in how much you're willing to spend on your wedding band, and so let's compare two scenarios. If you see yourself in a fast-paced, rough, and tough environment with the need for durable wear, then it's obvious you'll need something that is damage-resistant and low maintenance. In this case, your best option is cobalt chrome™. Its combination of affordability, durability, scratch resistance, hypoallergenic qualities, and general look makes it the best choice for very active lifestyles on a budget.
Our other scenario is that you're the kind of man who is relatively active – not too intense – looking for a high-quality ring with extra shine and immortality. Your ideal wedding ring would be made from Platinum, the rarest metal that needs a bit of upkeep but holds great prestige.
Final Thoughts
When it comes to picking the right men's wedding band for you, James Allen has all the tools and convenience you need to find the perfect fit. Visit our wedding ring page for all you need to know about the different metals, styles, designs, and more!
Looking for more wedding band inspo? Check out our wedding ring series here:
Subscribe to our email list for access to secret sales, practical ring-buying tips, and $100 off your first purchase!