When it comes to buying an engagement ring online, take it from those who have perfected the art of getting it right time and time again. Join us as we explore the many tools available to you for your online ring shopping experience.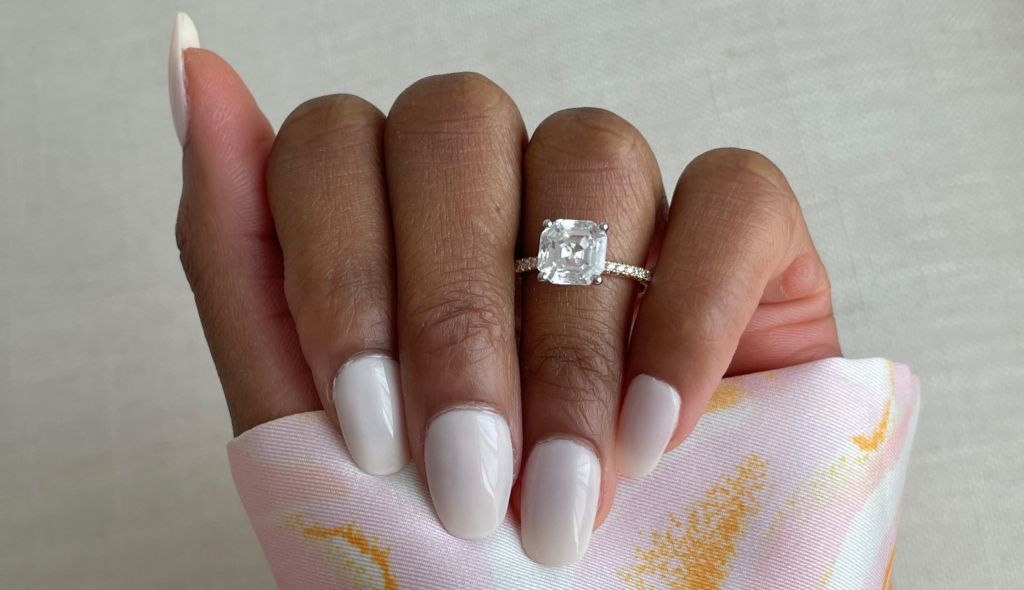 The Choice Between Lab-Created Diamonds Or Earth-Made Diamonds
When buying an engagement ring online, you'll find you have a wider variety of diamond and gemstones center stones available to you. While some people prefer the traditional natural diamond, the perks for investing in lab created diamond alternatives are growing.
Lab grown diamonds and earth-created diamonds are optically and chemically identical. If you were to have both diamonds professionally inspected, you would find no differences. The only noticeable difference is the price tag. A lab created diamond is by far the more budget-friendly option.
Our wide range of loose diamonds includes a TrueHearts™ collection of cut-to-perfection lab-grown diamonds. Whatever your preference, you'll have one of the largest collections of loose diamonds to choose from.
Custom-Designed Rings
A customized ring is not only a great way to remain in control of the design and online buying process, but it also gives you the best chance to add a personal touch to your engagement ring.
We've even got you covered if your ideal ring is something you'd like to design from scratch by yourself.
The Ring Studio is a new feature at JamesAllen.com that allows you nearly unlimited customization options:
Start with a setting or create a custom engagement ring from scratch
Choose your head along with your shank and precious metal
Finally, add your dream diamond or gem in any fancy shape and preferred carat weight.
Our customization technology allows you to go further and add that something special to your ring to make it truly unique.
Full Transparency With 360° Display Technology
Feeling uncertain is not a good look for anyone committed to buying an engagement ring online. That is why every diamond we have is photographed with 40x or greater magnification in 360°. This can help you genuinely understand the diamond's beauty, shape, cut, color, clarity, and sparkle like never before.
It is the most vivid 360° diamond video viewing experience in the world, and you can have it at your convenience in the comfort of your own home. This technology leaves nothing to the imagination and allows you and your partner to make the best possible decision outside of an actual showroom.
Virtual Try-On
It looks beautiful on the site, but how will it look on your or your partner's finger? Believe it or not, technological innovation is making that worry a thing of the past. All you need is a smartphone!
We believe your ring-trying experience should suit your lifestyle. When purchasing an engagement ring, it's even more important to try it on before making your final decision.
So, how does this make buying an engagement ring online more convenient? With our virtual engagement ring try-on, you're able to snap a shot of your hand and virtually place your ring of choice on your finger for you to oh and ah at, eliminating any second-guessing you might have. What can be better than trying on an endless selection of rings at any time or place?
FYI: This is an engagement ring-only, smartphone-only feature. Wedding rings and laptops need not apply.
Find The Perfect Diamond Using The Four C's
Buying your engagement ring online is easy when you have an education center at your disposal. Here are a few key points to understand before picking out that perfect center stone:
Cut
The first, and arguably most important, C is the cut of the diamond. Here you can decide between several fancy shapes like pear, oval, marquise, and cushion-cut, to name a few. If your partner wants their diamond to really sparkle and shine, spend some extra time choosing which cut might match their preference best. The classic round cut is usually the most flawless and brilliant. 
Color
The color grade of your diamond can range from D-K. Most diamonds have a visible trace of yellow in their body color, whereas white diamonds are colorless. Fine white diamonds are pretty rare, and you also have some unusual natural colors to choose from, better known as fancy colored diamonds. The closer to a colorless diamond you go, the more expensive it will be.
Clarity
The clarity of your diamond may differ depending on whether it has any natural external blemishes or internal inclusions. Here, you may be looking for a diamond with zero imperfections or maybe one with a bit of character to it. The clarity of a diamond is directly impacted by its cut, something for you to keep in mind.
Carat
The final C is carat, referring to the standard weight of your diamond or gem. One carat is 0.20g, and most couples are comfortable going with an engagement ring that has a center stone from 0.50 to 1.5 carats. Here, your partner may already have a size in mind or might be more concerned with getting a whiter or clearer diamond instead of a bigger one. It always helps to ask or find out.
Most Popular Fancy Shaped Diamonds
As we mentioned before, diamonds can be cut into various round, square, and elongated shapes.
Buying an engagement ring online allows you to choose from a wider variety of fancy shaped diamonds. The most popular center stone choice is the brilliant round cut, followed by the oval cut. Both diamond shapes can offer you maximum sparkle.
For something that'll give your partner a slimmer-looking hand, try out the elongated diamond cuts like a marquise or the very elegant pear-shaped diamond.
For a bolder touch, take the emerald, princess, and Asscher cuts for a 360° HD spin and watch them shimmer on your setting of choice. Whether you're looking for the most romantic shaped diamond or one that'll give your partner the most finger coverage, you'll have more variety and chances to get it right if you customize your ring online.
We're Here To Help
Finding the perfect engagement ring comes with stress, questions, and a lot of second-guessing. At James Allen, we offer you 100% free advice and will assist you in understanding the best diamond quality for your budget and unique preferences.
Contact our customer service team and chat with non-commissioned diamond and jewelry experts 24-7 regarding any questions you have about buying an engagement ring online and the process around it.
Happy shopping!
Subscribe to our email list for access to secret sales, practical ring-buying tips, and $100 off your first order!