Will 2022 be the year of your proposal? Start off on the right foot by taking a look at what's trending in the world of engagement rings. Learn from real-life James Allen customers about what they love best, and why!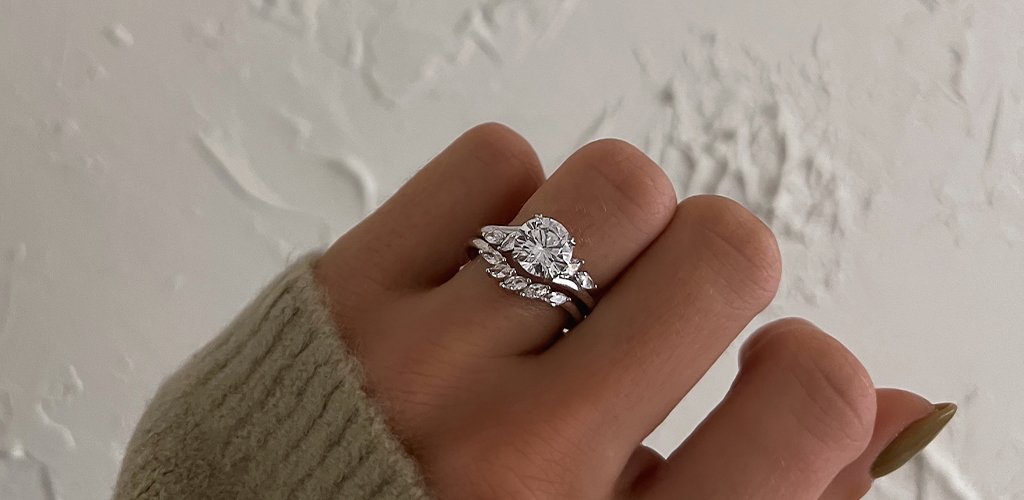 As we watch 2021 disappear into the back mirror, we're looking ahead to 2022's already-trending rings. After the upheaval of the past two years, it's becoming clear that ring-shoppers are finally feeling more stable and certain regarding the future – and they're no longer holding back on the sparkle. 2022's looking like it's going to be the year of the bling. Get ready for large diamonds and lots of them!
Pavé Rings
Pavé is popular, has always been popular, and we're confident in saying that pavé engagement rings will continue dominating in 2022. They're beloved due to their impact: size ratio. Pavé diamonds are tiny – so they're affordable, and pavé rings normally contain dozens of them – so you get ALL the facets. Why aren't pavé rings more expensive, if they're set with so many stones? Well, it's because diamonds increase in value as their carat weight goes up, but the price increase is somewhat exponential. In other words, a ring with a handful of tiny diamonds with a total weight of 1 carat will almost always cost less than a single, 1 carat diamond engagement ring. You get more diamonds, and you pay less.
About those facets. Pavé-set diamonds give rings a uniquely glittery quality, thanks to the hundreds of delicate facets that refract light in different directions with even the slightest shift of the finger.
Side Stone Engagement Rings
In 2022 it became clear that ring-shoppers weren't holding back on the bling. If pavé adds substantial sparkle, side-stones add even more. The larger stones, with their larger facts, refract light quite impressively. Side stones give off less of a glittery effect and more of a "segmental" effect; broader gleams of light that catch the eye one by one.
Matching Ring Sets
2022 is all about matching sets. There's something particularly satisfying about a wedding ring that's literally made for your engagement ring. Your center diamond is lovely on its own, wait until you see how it looks with your custom-made wedding band!
Advantages of matching wedding sets:
No need to search for a wedding band
It's guaranteed that your wedding set will sit perfectly flush to your engagement ring
More of a good thing: if you love your engagement ring, you'll get more of what you love in your wedding ring
All-in-one purchase: you can purchase both your rings at once, which can save you money.
Drifting Marquise Engagement Ring
Blossom Tree Diamond Engagement Ring
Woven Solitaire Engagement Ring
Scattered Blooms Engagement Ring
Lab Created Diamond Engagement Rings
We've said it before, and we'll say it again: lab created diamonds are the stones of the future. Though lab created diamonds were popular before 2020, the COVID pandemic and supply chain disruptions made them an even more attractive choice for ring shoppers.
Their attractive pricing and superb quality earned them first place on diamond enthusiasts' wishlists, particularly those who are budget-conscious; for the same price as an earth-created diamond, consumers can get a lab created diamond that's 30% larger!
We don't see this trend waning; on the contrary, sales of lab-created diamonds have continued to increase year after year. Despite their different origins, earth-created and lab created diamonds are 100% chemically and structurally identical.
The difference in price comes from the fact that it's much easier, and quicker, to grow a diamond in a lab than it is to locate and wrest it from deep within the earth. Creation process aside, once they arrive at your door they are completely identical regarding quality, durability, and sparkle. That's why we consider lab-created diamonds to be the ultimate life hack.
The Last Word
If you're shopping for rings in 2022, look to your peers for inspiration. And they're definitely not skimping on the sparkle! Keep an eye out for pavé, side-stones, matching sets, and lab-created diamonds. But most importantly, choose what suits you. Still unsure? At JamesAllen.com we're at your service 24/7.
Get Your Trend On
Subscribe to our email list for access to secret sales, practical ring-buying tips, and $100 off your first purchase!