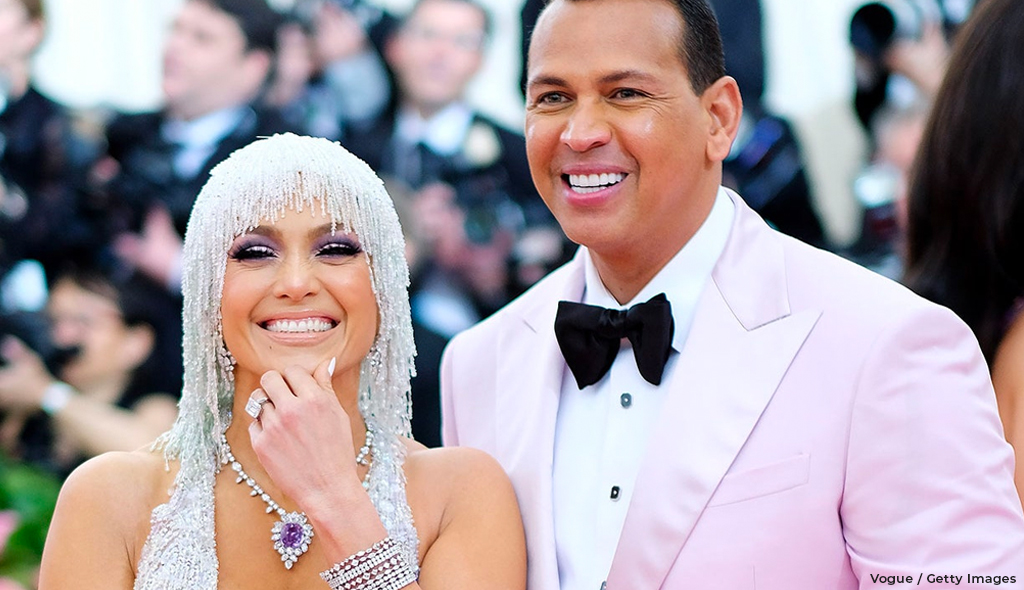 It's no secret Jennifer Lopez has seen her fair share of over-the-top engagement rings, and every one of them has been drool-worthy. One, in particular, has been the envy of many. J.Lo's most recent engagement ring, courtesy of now-ex, Alex Rodriguez, became Insta famous on March 9, 2019, when the couple announced their engagement. 
The couple first began dating back in 2017 and gave us all the feels with their picture-perfect relationship. A-Rod popped the question during their vacation in the Bahamas with a classic sunset beach proposal. And to top it off, we got to see that beauty up close with a fantastic ring shot shared by them both online.
Here's all we know about J.Lo's gorgeous diamond sparkler and where you can find a ring just like it at JamesAllen.com.
We'll share:
What style J.Lo's engagement ring is
The diamond shape
The diamonds carat size
How much the engagement ring is worth
Where you can find the lookalike
Jennifer Lopez's Engagement Ring Pictures
The two shared this shot of them holding hands as they both show off J.Lo's engagement ring, which is glowing as bright as the bonfire behind it. The second image is taken from a distance and manages to capture the dazzling diamond rock from afar.
What Style Setting is JLO's Engagement Ring?
J.Lo's sparkler is a three-stone setting featuring an emerald-cut diamond. The band is either white gold or platinum.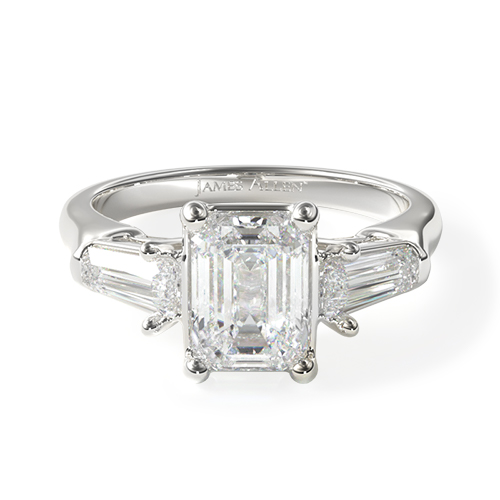 Three-stone engagement rings are a sure way to make sure the center stone pops and shines with an intense sparkle. The two side stones not only sit flush against the center stone but truly bring out its magnificence and size.
For this particular engagement ring, A-Rod chose a three-stone setting. Three-stone rings feature two side stones that accentuate the size and brilliance of the center stone.
What Diamond Shape is JLO's Engagement Ring?
The center stone on J.Lo's engagement ring is an emerald-cut diamond.
Like other fancy shapes, emerald cuts are excellent at consuming much of the rough diamond's carat weight. They're cheaper than round-brilliant cut diamonds but require less manufacturing to be cut. That means they waste less raw material.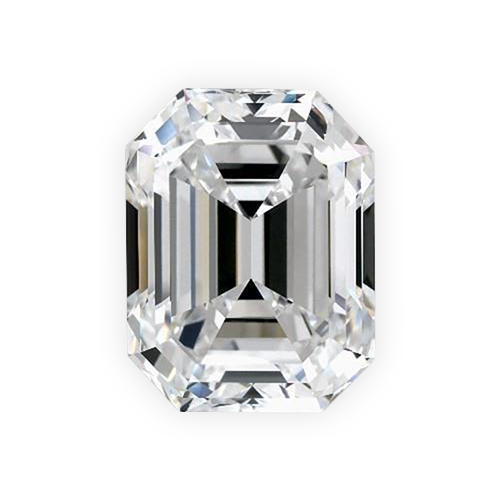 The emerald cut has been worn, first by royalty, since the 1500s. It evolved from the table-cut and has become a preferred cut as it reduces the pressure during the cutting process, and as a result, prevents unwanted chips in the diamond.
A popular choice among celebrities, the emerald cut offers a powerful combination of understated light return and intense clarity.
This elongated shape is cut in such a way that it has a large surface area, making the wearer's hand look elegant and slimmer, while the diamond beams from every angle.
How Many Carats is Jennifer Lopez's Engagement Ring?
It's clear Alex wanted his woman to have nothing but the best, and he accomplished this by getting her a massive 15-carat emerald-cut showstopper.
This diamond appears to be colorless and possibly to be collection grade quality, which is the highest diamond quality available.
How Much Did J.Lo's Ring Cost? And What's It Really Worth?!
While love doesn't cost a thing in her books, J.Lo's engagement ring certainly broke the bank. Experts estimate the diamond sparkler to have cost between $1 million to $3 million.
Looking at an emerald-cut with excellent specifications (D Color, IF Clarity) at James Allen the estimate seems accurate.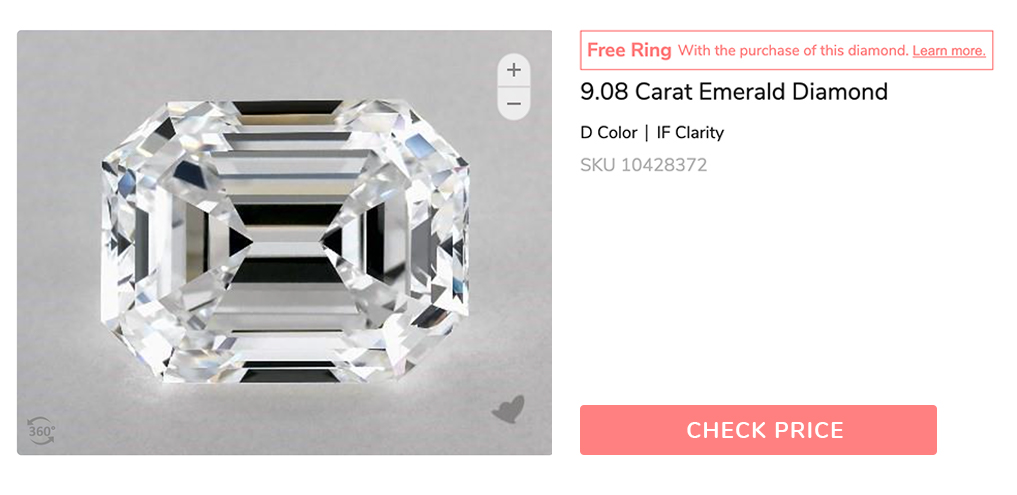 Jennifer Lopez Engagement Ring Lookalikes
This ring isn't a complicated one to replicate, given its modest sophistication. Here are two budget-friendly, yet stunning lookalikes, that will have you looking and feeling like a star.
First, we have an almost identical match with James Allen's tapered baguette three-stone diamond engagement ring. You can find it here.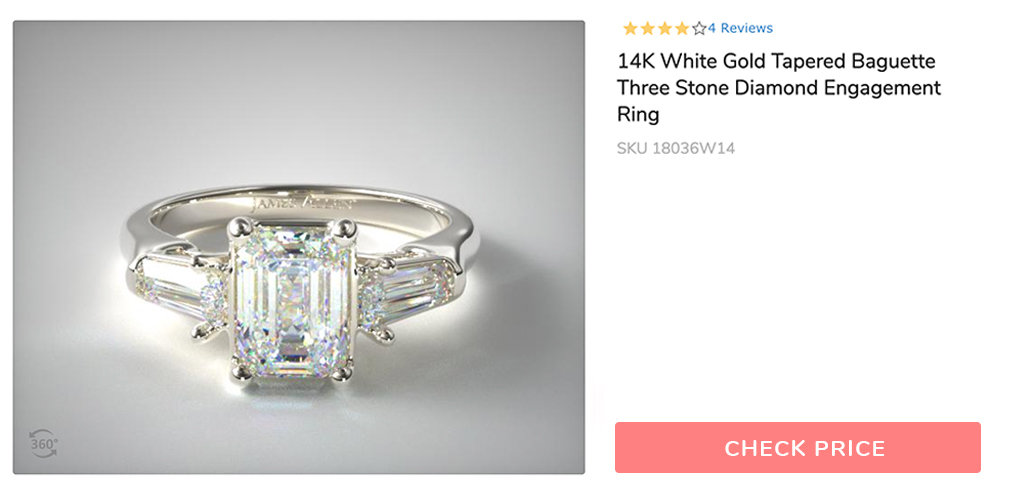 The Second is another three-stone emerald cut center but with an added flair of two more fancy-shaped diamonds. If you're looking for something similar but not identical, then this three-stone pear-shaped J.Lo engagement ring lookalike could be the one!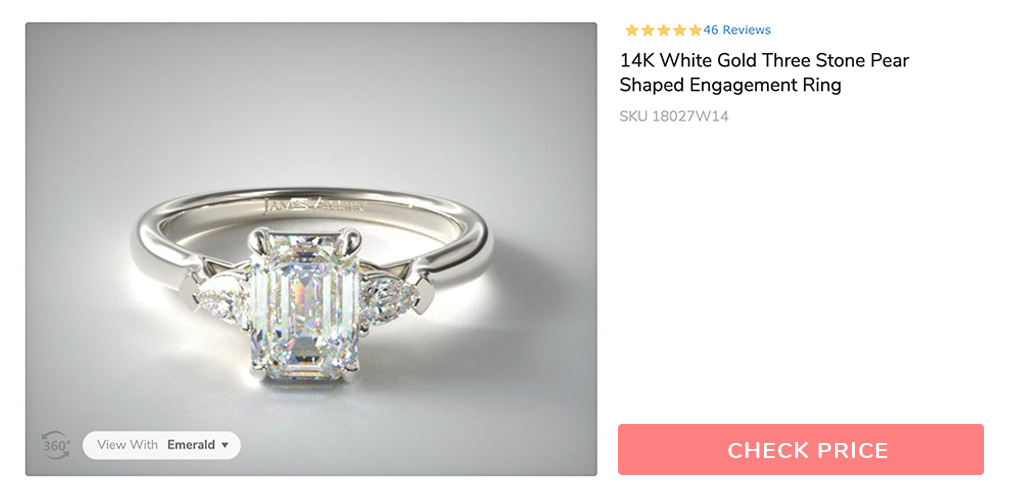 We're Here To Help
Buying an engagement ring comes with stress, questions, and a lot of second-guessing. At James Allen, we're here to offer you 100% free advice and will assist you in understanding the best diamond quality for your budget and unique preferences.