Engagement rings can be more than just beautiful; they can tell a story as well. Three stone engagement rings offer both personality and additional sparkle. Wondering if the style is right for you?
Keep reading to learn everything you need to know about this unique yet stunning ring setting.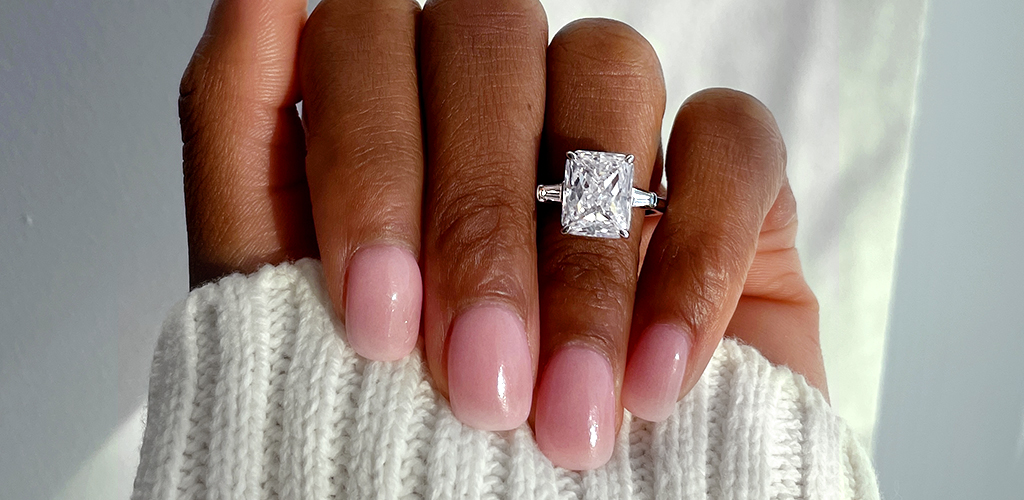 Recent years have seen a rise in popularity of three stone engagement rings, also called "trinity rings," "trilogy rings," and "trio" rings. In addition to their beauty, versatility, and symbolic meaning, they give you a little extra bling! Three stone engagement rings are among the best options for those seeking a ring with deeper meaning.
What Is A Three Stone Setting?
A three stone engagement ring commonly features three diamonds. In addition to its beauty and versatility, this engagement ring setting is rich with symbolism and personal significance. Traditionally, each of the three stones represents the past, present, and future of a relationship.
There are no strict rules when it comes to picking your dream engagement ring. It can be molded to fit your own meaning and significance. You may also find inspiration in these beautiful meanings:
The holy trinity – According to religious believers, the three stones could represent the Father, Son, and the Holy Spirit, to guide and mentor the couple through life.
Friendship, Love, and Fidelity – Another interpretation holds that these three important qualities are essential for a successful relationship.
Family – Some couples view three stone engagement rings as a representation of their family. The three stones can portray family in many beautiful ways. For example, the center stone can represent the parents, while the side stones symbolize two children. Or, the side stones can represent both parents, while the center stone signifies children.
Although each stone may vary in size, the center stone is usually larger than the two side stones. With this design, you can incorporate gemstones or opt for diamonds in classic or nontraditional shapes. The sky truly is the limit here.
Pros & Cons Of A Three Stone Setting
A three stone engagement ring truly is a beautiful choice. Just like with every ring setting and style, there are, of course, advantages and disadvantages.
Pros:
Symbolic meaning
They're versatile with endless design options
Maximum sparkle
Cons:
Requires more cleaning and maintenance than a single stone design
Side stone diamonds can steal the center stone's brilliance if they are poorly selected
What Are The Most Popular Diamond Shapes For 3 Stone Engagement Rings?
It's so important to choose the diamond shapes carefully, especially if you're going for different types of stones. Although three different shapes will give you a very unique and contemporary look, make sure that the side stones complement the middle stone shape.
Cushion Cut Three Stone Engagement Rings
Known for its soft shape and vintage look, the cushion cut halo engagement ring makes an alluring option. If you like both round halo rings and princess cut halo rings, the cushion cut makes the perfect middle option.
Round Three Stone Engagement Rings
Three round diamonds are the most traditional three stone engagement ring design. Some three stone round diamond engagement rings spotlight a large center diamond with more petite side diamonds. While other rings feature a round center diamond and smaller side diamonds that complement the main stone, providing a balanced look that many people love.
Three Stone Engagement Rings On Hands
How to Care For Your Three Stone Engagement Ring
For many women, their engagement ring is the first piece of fine jewelry that they'll wear every day. It's natural to look down at your ring and wonder how to keep it sparkling! Here are a few steps you can follow to keep your ring looking as eye-catching as ever:
Fill a shallow bowl with warm water
Mix the water with a few drops of soap or mild dishwashing detergent
Gently place your ring inside and let it sit there for a few minutes
With a soft-bristled toothbrush (or jewelry cleaning brush), scrub the diamond, rinse it, and pat it dry.
And then you're done! Make sure you clean your ring at least once every few weeks to keep it bright and shiny!
Tips On Shopping For Three Stone Engagement Rings
One of the most important things to keep in mind when buying a three stone engagement ring is the type of lifestyle you or your bride-to-be has. Generally, a more active lifestyle tends to give more opportunities for the ring to get snagged or damaged. This also applies to people with physically active jobs or hobbies.
Choose all three stones or diamonds from the same color grade unless you're looking for a contrast in the stones.
A lab created diamond is definitely worth considering if you're looking for more value for your money.
Inspect each diamond carefully with our remarkable Diamond Display Technology and get help from one of our diamond experts. We offer a free, interactive Real-time Diamond Inspection service. With the use of Super Zoom magnification, our experts will walk you through the specifications of your diamonds.
FAQs
What does a three stone engagement ring symbolize?
Traditionally, the three stones in a three stone ring tell the story of a couple's past, present, and future together. It is believed that the center stone of the ring symbolizes the couple's present and its side stones represent the couple's past and future.
When did three stone rings become popular?
Three stone engagement rings originated during the Georgian era, but their popularity surged during the Victorian and Art Deco eras, continuing into the Mid Century. Different three stone styles have evolved as well, making it a very popular choice today.
Are 3 stone engagement rings more expensive?
Three Stone engagement rings can be more expensive compared to other ring settings. This is because there is more than one stone.
Let's Wrap Things Up
Three stone engagement rings are very meaningful and there are amazing designs that fit different budgets. Whether you're interested in a unique three stone engagement ring or a more classic design, this engagement ring style is always a lovely choice thanks to its deep meaning.
And really, there are no fixed rules!
Still searching for the perfect engagement ring? Don't hesitate to reach out to us at JamesAllen.com. Our customer service team is here to assist 24/7.
Subscribe to our email list for access to secret sales, practical ring-buying tips, and $100 off your first purchase!