A super bowl ring is the ultimate goal for every football player. Big bling that represents winning the big game. Tremendous diamonds that highlight the path to glory; that shine a light on the sacrifices, the aches and pains, the plays, and the practices. So what is the story behind these diamonds and gems that make up this championship hardware? And how can you get your own similarly impressive glitz?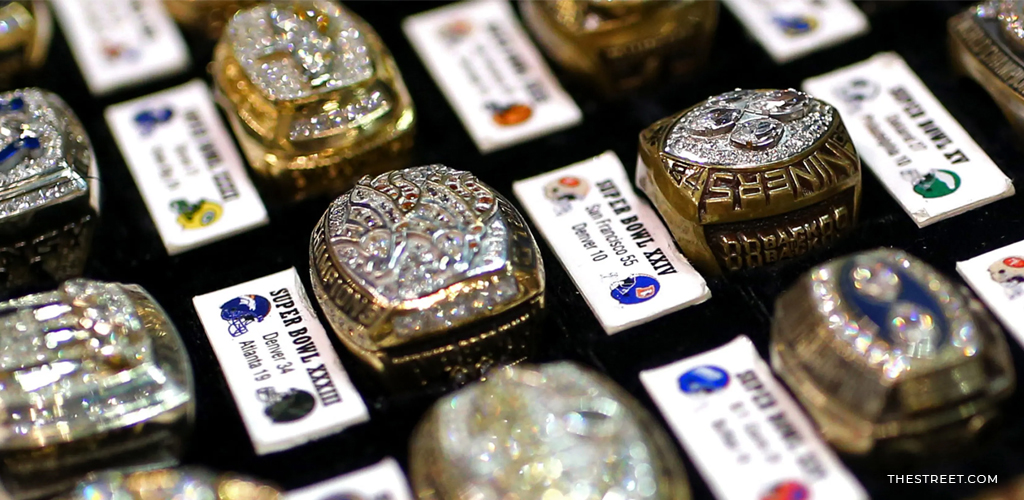 Champion, this is what every athlete strives to be called, and in football, it's Super Bowl Champion. Once you win, you are a champion for life. The winning team gets a custom made ring, with diamonds and precious gemstones that highlight the team's colors. Each ring is specifically designed for each team.
Whether you are an owner, a player, an executive, or just a rabid fan, the Super Bowl ring is one of the most heavily coveted and analyzed pieces of jewelry. How will it look, what will its value be, and what gemstones will be used? No matter how the design turns out, Super Bowl rings are the top sparkles in sports.
Super Bowl Flash
The Super Bowl is not known for its simplicity. From the multi-million dollar, celebrity filled commercials, the coveted half-time show, to the fans themselves, this is THE game. And that is why this big game is marked with big bling.
Super Bowl rings are highly coveted and valued piece of jewelry. They are earned through blood, sweat, and tears. But the big sparkling rings that we know today, did not start out this way.
The very first Super Bowl ring, earned by the Green Bay Packers in 1967, had a single gemstone and was valued at approximately $1,500. The second Super Bowl ring, also earned by the Packers, had a slightly higher value of $1,900. Now we are in the year of Super Bowl LVI, where the bling factor has multiplied to the umpteenth degree!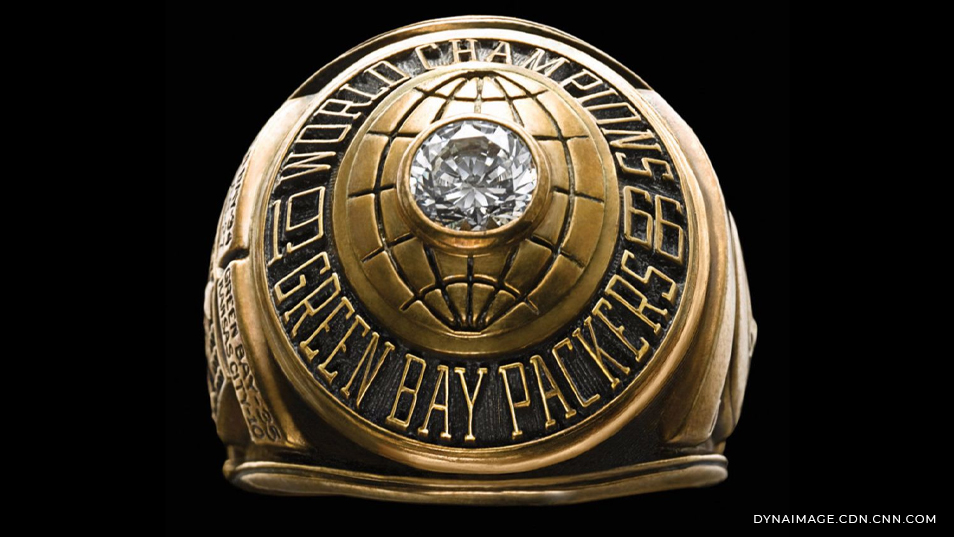 "WINNING is not everything–but making the EFFORT to win is." – Vince Lombardi, Green Bay Packers
Looking for simple sparkle reminiscent of this historic hardware? Choose a 3 carat solitaire diamond engagement ring. 
Most Valuable Sparkle
A Super Bowl ring is invaluable to its recipient, but the value of these rings has increased dramatically over the last several decades. Super Bowl rings are now valued between $30 – $50,000, approximately $5,000,000 for a whole team. Although the exact costs are often kept secret.
A ring can increase in value if the recipient is a superstar (think Aaron Rodgers, Tom Brady, and John Elway). The number of diamonds and gemstones also affects the value of a ring. The bling of the ring has increased with every passing year. More diamonds, more gemstones….higher value and more shine!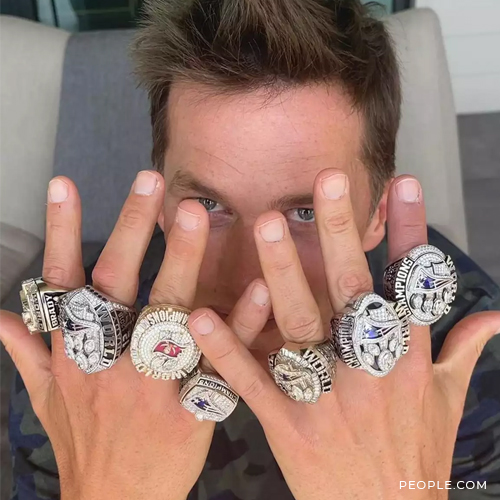 By 2015, when the Seattle Seahawks won the Super Bowl, their ring was worth approximately $36,000 and featured almost 300 gemstones. When the Philadelphia Eagles won in 2018, their ring had 127 diamonds on the bezel, representing the sum of the jersey numbers of the players who performed the key play that secured their victory.
The entire ring had over 200 diamonds and almost 20 sapphires. In 2019, the New England Patriots' ring showcased over 400 diamonds and dozens of sapphires.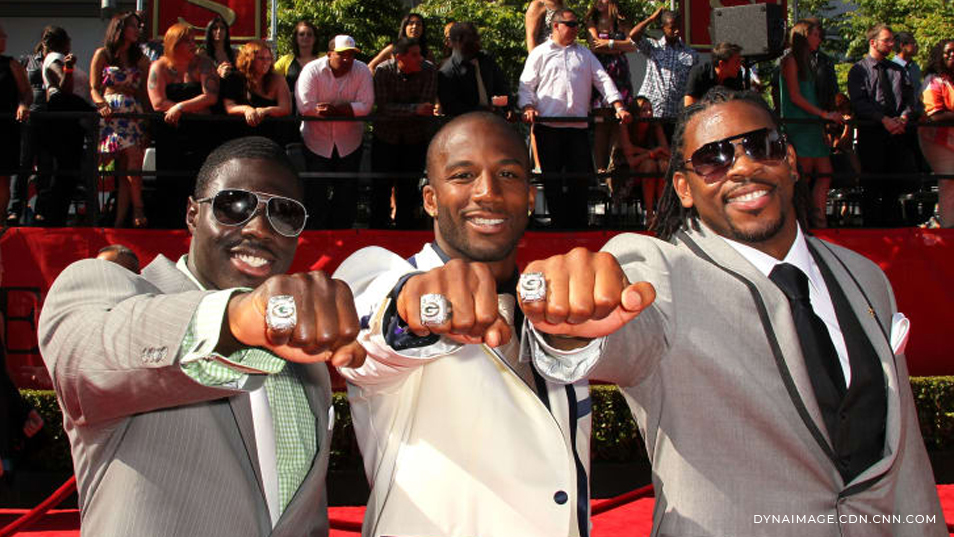 "When you're GOOD at something, you'll tell everyone. When you're GREAT at something, they'll tell you." – Walter Payton, Chicago Bears
This Ring Is Hereby Given To….
The rings are not only worn by the players. The owner, executives, and many others in the organization that makes up an NFL team also get a ring. Anywhere from 300 to almost 1,000 rings are made for a winning team.
Less expensive versions, with fewer precious gemstones or less valuable metals, are sometimes made for staff members. But it is the players who rock the version that could blind you with its bling.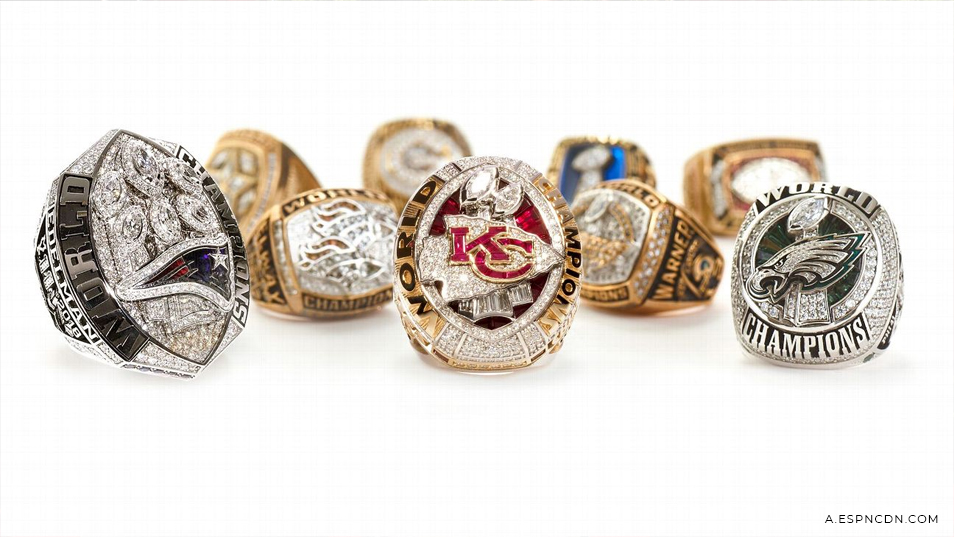 "A CHAMPION is simply someone who did NOT give up when they wanted to." – Tom Landry, Dallas Cowboys
A Super Bowl ring's sparkle can be seen from across a crowded room. While most of us will never earn a Super Bowl ring, James Allen can help you to get our own Super Bowl size sparkle. Our selection of 3-carat diamond and gemstone rings will have you feeling like you won your own big game!
Super Bowl Inspired Bling
Shine as bright as the Green & Gold
Get this bling without the blood, sweat, and tears
Glimmer more than a Texas belt buckle
Get twinkle that dances more than a Bronco
Glitz to make the whole Bay go WOW
Brilliant like the lights of New York City
The Super Bowl Championship ring is so much more than diamonds, gemstones, and precious metals. Like many rings, it carries meaning. Hard work, sacrifice, pride: a Super Bowl ring is coveted by every football player.
Luckily, James Allen has many rings that will allow you to rock that Super Bowl glam without all the bruises.
Check out celebrity and athlete engagement rings and looks here:
Sofia Vergara * Hailey Bieber * 2020 Oscars * Royal Engagements * Pippa Middleton * Miranda Kerr * NBA Inspired * MLB Inspired * Gwen Stefani, Demi Lovato, & More!
Subscribe to our email list for access to secret sales, practical ring-buying tips, and $100 off your first purchase!